The end of December through January is a fun time to be in London.  Christmas may have passed, but the atmosphere is still quite festive, and there are loads of events to ring in the New Year and get you excited about the start of the year.   Below are some of the major events and activities to entice you to plan a visit to our fair capital London which continues to bounce back with an increasing number of tourists!
1. London New Year's Eve Fireworks
On New Year's Eve in Central London, the New Year welcome will normally start on the Southbank (it is now a ticketed event), but there are great viewing spots to see the fireworks at Parliament Square, Trafalgar Square Waterloo Bridge, and on higher ground outside of Central London such as Hampstead Heath, & Primrose Hill. In keeping with tradition, Big Ben will ring in the New Year at the stroke of twelve.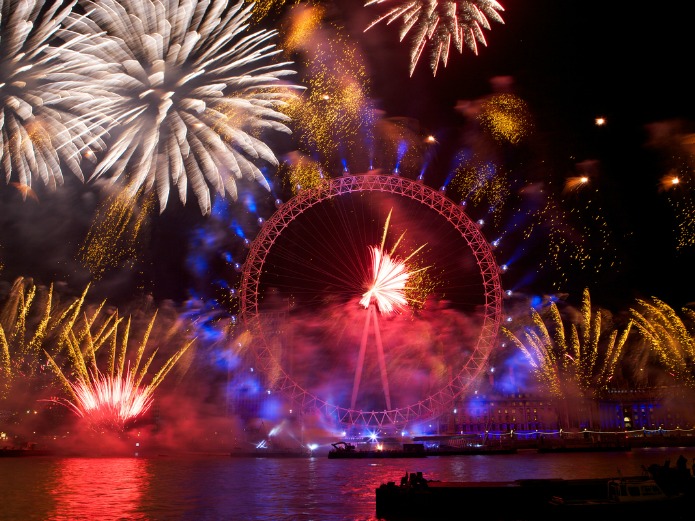 London New Year's Eve Fireworks. Photo Credit: © Visit London.
2. Serpentine New Year's Day 10k Run
After welcoming in the New Year, what can you do? The food and drink has taken its toll on the body; maybe a walk in the fresh air will help reinvigorate you and help with planning how the New Year will be. What about going places or taking up a new hobby? Well, you can combine the two – why not head for Hyde Park and watch or participate in the Serpentine New Year's Day 10k run. The 10k run starts at 11 am in Hyde Park and is run on entirely traffic-free paths through Hyde Park, with the majority of the race taking place in Kensington Gardens. Runners complete two short laps in Kensington Gardens before returning to Hyde Park, finishing on the north side of the Serpentine by the Boat House. Whether you decide to participate or not, you can follow the course as it takes in many iconic landmarks, including Kensington Palace, Italian Gardens, and the Henry Moore statue in Kensington Gardens.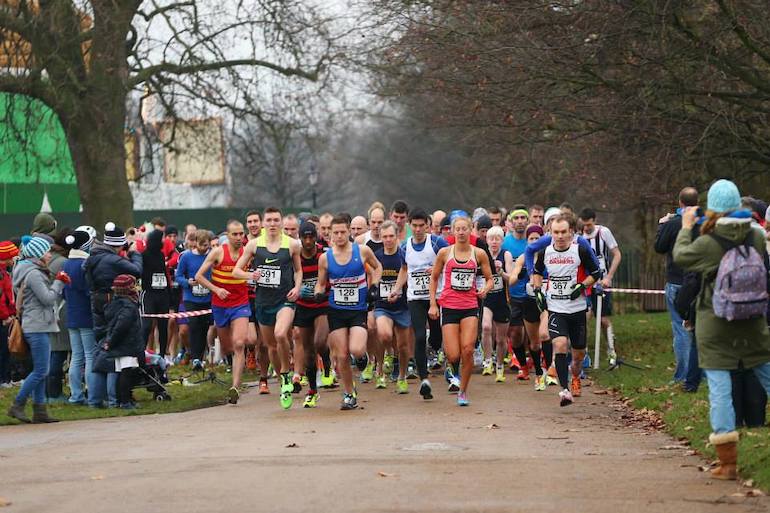 Serpentine New Years Day 10K. Photo Credit: © Serpentine Running Club.
3. London's New Year's Day Parade
The first of January is traditionally the day to see the Greatest Show on Earth – London's New Year's Day Parade, which has taken place for the last 30+ years.   The route will pass famous sights on its way from Piccadilly to Whitehall. You will see floats, cheerleaders, and marching bands from the United States, Europe, and of course, the United Kingdom.   Overall, it is a great party atmosphere and another wonderful way to celebrate the New Year in London.  Attendees can line the route along Piccadilly, Regents Street, Pall Mall, Trafalgar Square, and Whitehall.   For the pavilion, ticket holders should arrive at 11:00 am, with the show starting at 12 noon.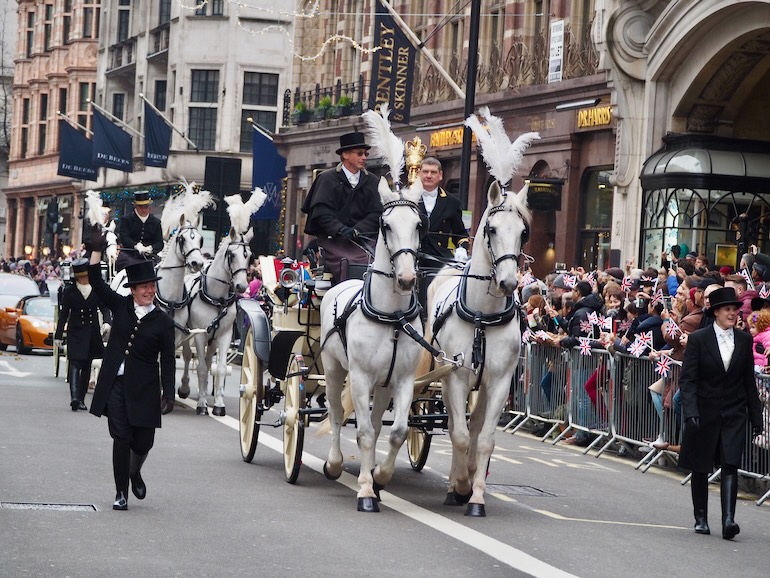 Crowd lining parade route London New Year's Day Parade. Photo Credit: © Ursula Petula Barzey.
4. Shopping in London
Shopping in London during the New Year offers you bargains, treats, and many special experiences in all the major shops and department stores in places like Regents Street, Oxford Street & Knightsbridge. Why not look at the top ten London department stores for more suggestions on where to shop.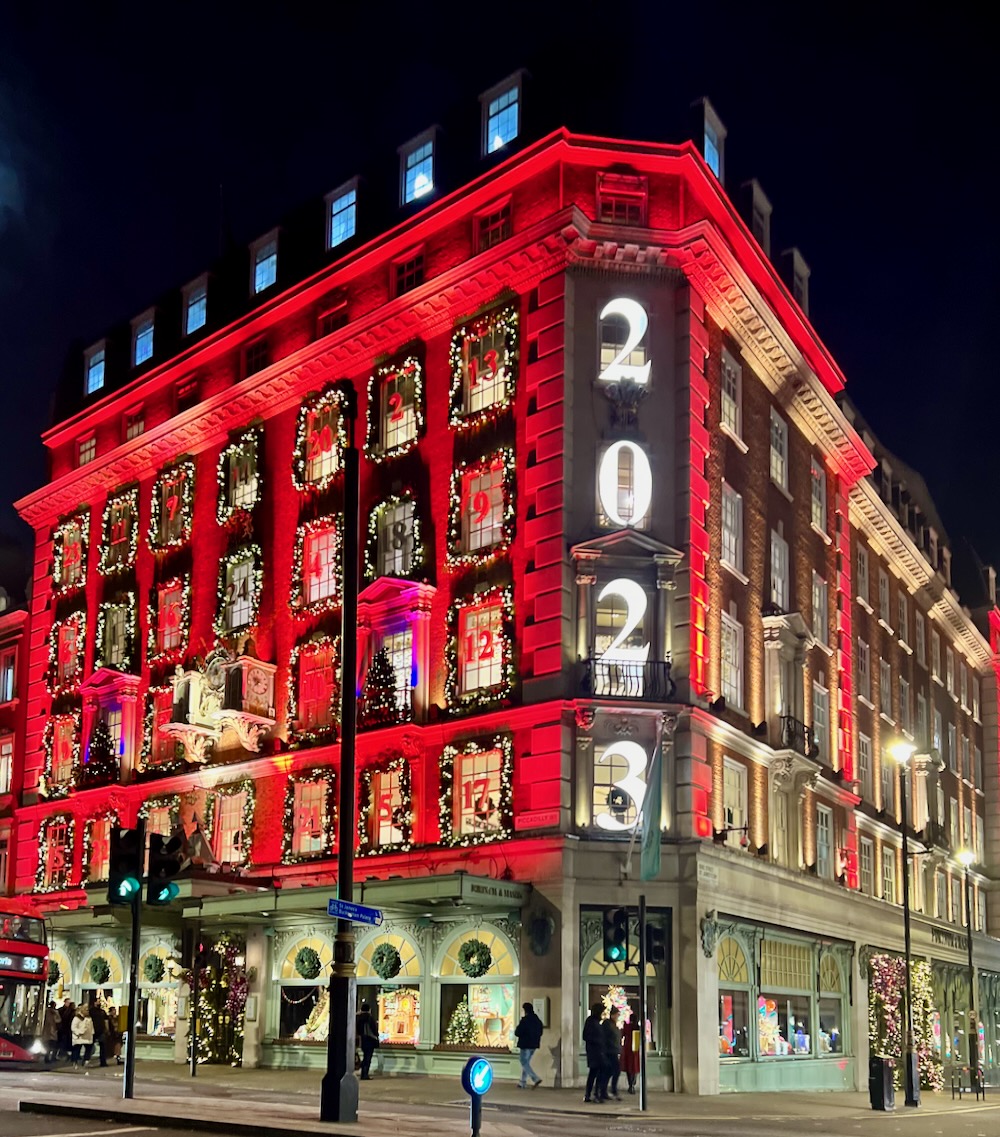 Fortnum & Mason Christmas Decorations 2023. Photo Credit: © Ursula Petula Barzey.
5. Explore London with a Blue Badge Tourist Guide
With fewer people out and about, the New Year in London is a great time to explore with a knowledgeable and qualified Blue Badge Tourist Guide.   They can help you organize visits to well-known tourist attractions like Westminster Abbey, the Tower of London, and Windsor Castle.  They can also offer more custom-based private tours aligned with your interest (i.e., Black British History, Harry Potter, Royal London, Legal London, William Shakespeare, etc.).  You can find the right Blue Badge Tourist Guide using our  GuideMatch service!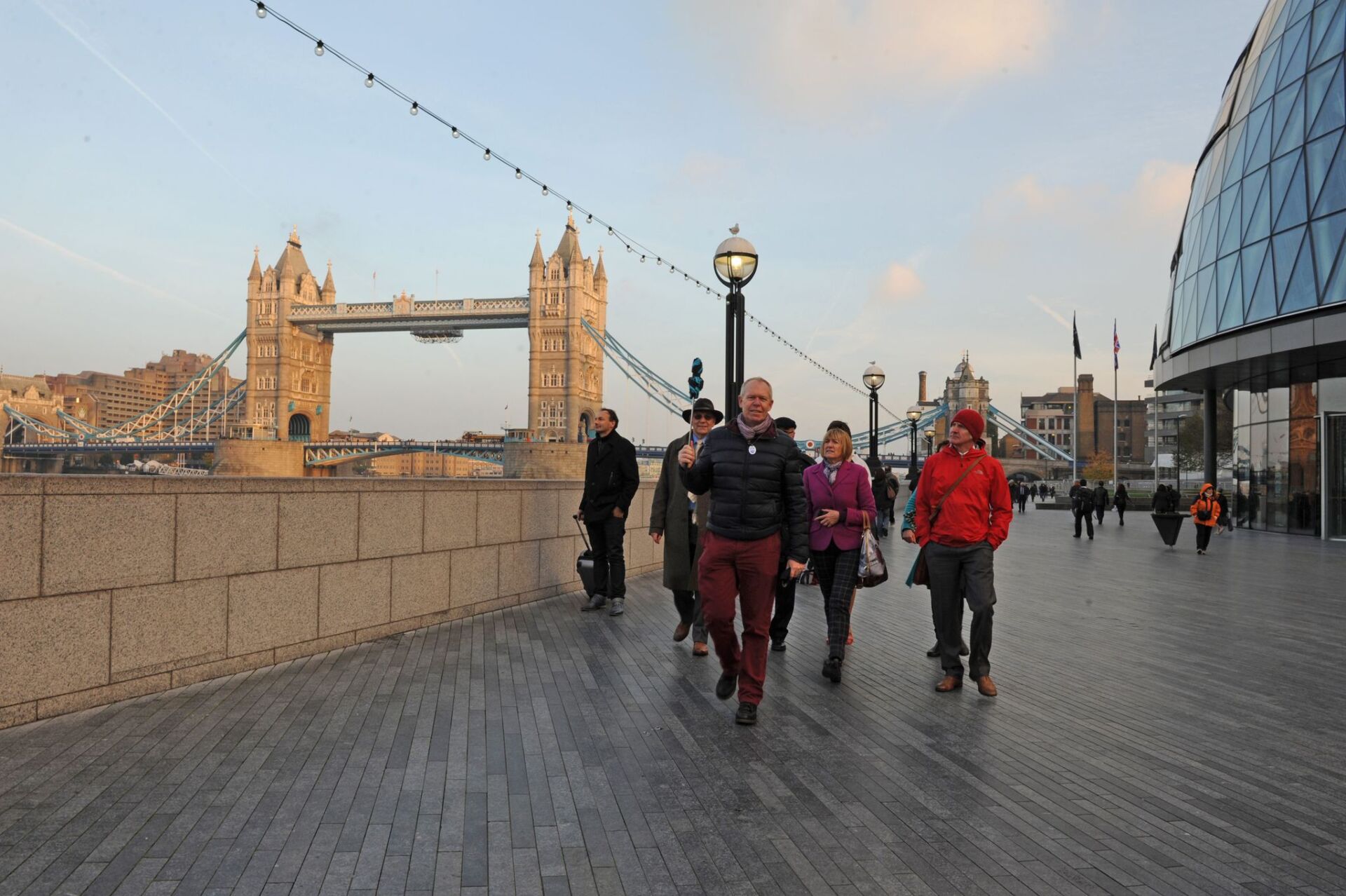 Blue Badge Tourist Guides in action near Tower Bridge.
With that, here is wishing you a fun-filled holiday season and a Happy New Year!