10 Interesting Places To See When Visiting London's South Bank And Bankside In Southwark
Southwark is a borough in South London that has much to offer visitors. The areas of the South Bank and Bankside are situated by the River Thames and have been a particular draw for many visitors. You can stroll along the banks of the Thames any time night or day to enjoy the scenic views, go to the theatres, art galleries, enjoy the street entertainment, seasonal fairs or dine al-fresco. The South Bank and Bankside areas compete very favourably with the West End as fun and interesting places to visit!
So, as we make our way from the South Bank to Bankside here are ten attractions you may wish to visit:
1. The London Eye is one of the most popular attractions on the South Bank with annual visitor numbers at approximately 3.5m making it is more popular than the Taj Mahal in India! Opened in 2000 as part of the celebrations welcoming in the new millennium, it stands 135m (443ft). Take a 30-minute ride in one of the 32 capsules and see the views of London. They say on a clear day you can see up to 40km (25miles) – looking westwards you might be able to see Windsor Castle. The London Eye also is a place for romance, since its opening there have been over 6000 proposals of marriage and more than 500 weddings and Civil Partnerships.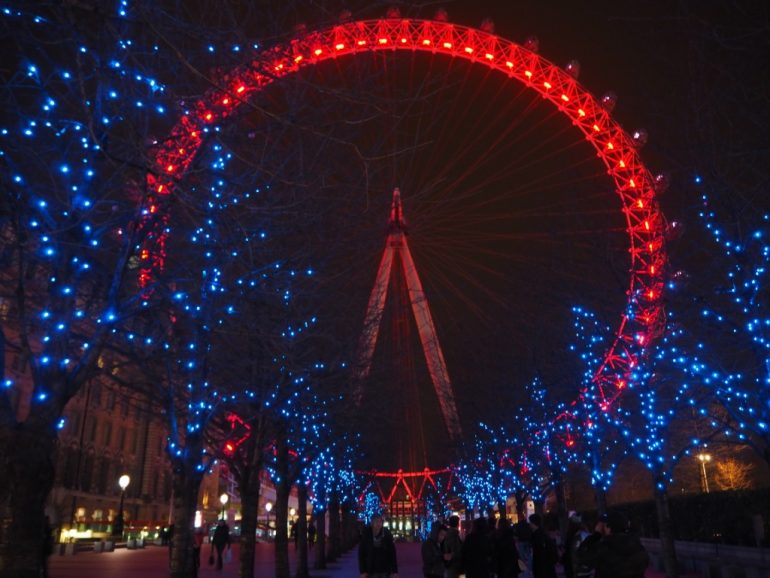 South Bank – A view of the iconic London Eye at night. Photo Credit: ©Ursula Petula Barzey.
2. Nearby is The Undercroft – considered to be the home of British skateboarding, where you can watch skateboarders hone their skills in an area they regard as their spiritual home for the last 41 years. Or, bring your skateboard and have a go! The Undercroft was subject of redevelopment and the skateboarding community came together and petitioned to keep their "home." Their story was made into a short documentary called "You can't move history."
3. The National Theatre was opened in 1975 but as a theatre company it has been in existence since 1963. It has presented over 800 productions; some transfer to the West End and to Broadway with live broadcast productions in cinemas across the UK and internationally. Dame Maggie Smith of Downton Abbey fame was among the first actors invited by Sir Laurence Oliver, its first artistic director to join the company. Over the years, other notable actors have performed at this prestigious theatre: Benedict Cumberbatch (Sherlock), Adrian Lester (Primary Colours) & Dame Helen Mirren. Head inside to the first floor where there is a walkway that is freely accessible and shows some of the workshops behind the scenes. Access is via the Dorfman Theatre.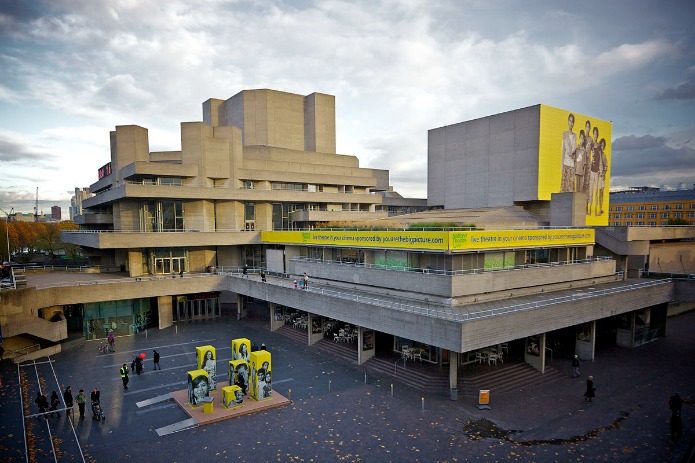 National Theatre London. Photo Credit: © London & Partners.
Continuing on Eastwards from South Bank you arrive at Bankside. In the 16th century it was known for seedy taverns, villains, gambling, brothels and theatres. Today it is a cultural haven linked to the City of London by the Millennium Bridge.
4. The Tate Modern – whatever your view is about modern and contemporary art, this former power station that opened in 2000 has proven to be a popular art gallery with annual visitor numbers reaching 4.7m in 2015. The gallery displays works by famous artists such as Picasso, Dali, Giacometti, Bacon, Rothko, Emin and Warhol. There are art installations and artwork on display that may challenge the viewer's perception of what is art. The largest exhibition space is the Turbine Hall reserved for large installations – Carsten Höller's installation of slides called Test Site (2006) was one such piece that benefitted from its full height and length (35mx152m). In June 2016, the gallery was expanded with a new 10-storey wing – the Switch House which offers new exhibition space that includes areas for performance art. An added bonus for visitors is a viewing platform from which to view London's skyline. Why not consider visiting Tate Britain as well using the Tate To Tate riverboat service from Bankside Pier to Millbank Pier during the galleries opening hours.
5) Shakespeare's Globe Theatre – is situated minutes away from The Tate Modern and what a contrast in architectural style. Opened in 1997 the Globe was the inspiration of the American actor Sam Wanamaker. It is a reconstruction of the original 16th century Globe Theatre in the traditional style with timbers, wattle and daub, lime white washed walls, and a roof made with water reeds. Why not experience 16th century theatre where the actors perform on a stage without the aid of modern technology i.e. no microphones, and the audience, known as groundlings stand throughout the performance come rain or shine as there no roof to cover the hole in the middle! The site of the original Globe is a few hundred yards away and is now a housing estate. Close by to the Globe Theatre is the Sam Wanamaker Playhouse that replicates the 17th century inside theatres lit by candlelight.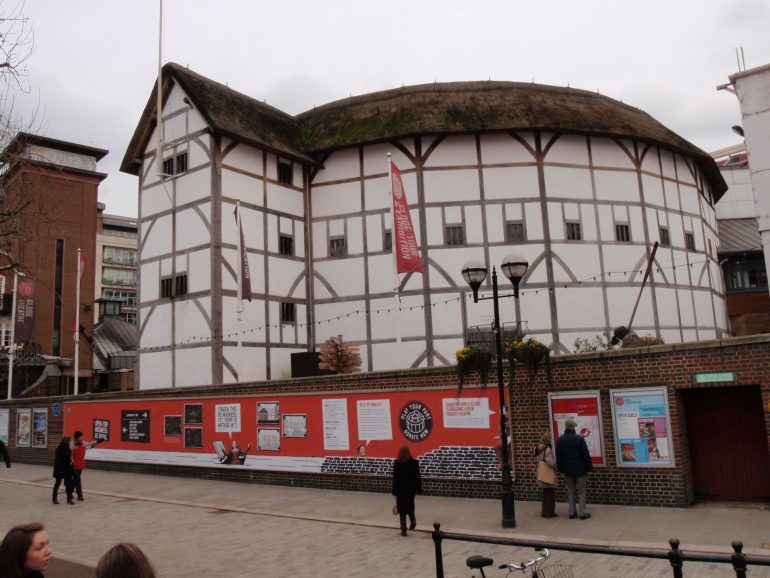 Shakespeare's Globe Theatre. Photo Credit: ©Themis Halvantzi-Stringer.
6) The Anchor Bankside is a pub situated facing the River Thames. The current building dates back to the 18th century but there has been an ale-house or tavern on this site for more than 350 years. Shakespeare, it is said, frequented a tavern on this site as did other famous Londoners over the centuries, notably the famous 17th century diarist Samuel Pepys who sought shelter from the Great Fire of 1666 that ravaged the City of London recording what he saw in his now famous diaries; Dr. Samuel Johnson the compiler of the first English Dictionary was also a regular visitor. Inside the pub, you find there is a jumble of rooms, stairwells and cubby-holes that hints to the pub's murky past as a brothel, smuggling den, gambling, bear baiting and if you saw the film Mission Impossible, espionage where Tom Cruise is seen sitting outside the pub having a pint!
7. Borough Market – a foodie's delight. It is London's oldest food market. Close to London Bridge, it celebrated its 1000th birthday in 2014. The market is very popular; offering a wide variety of produce and culinary delights it does not disappoint. The visitor is enticed into the hustle and bustle of the market by the smells of food being freshly cooked by street food vendors offering tasty food from around the world there is something for most discerning palates. Borough Market also puts on annual events such as Shrove Tuesday which is celebrated with pancake races, Bastille Day where French food and wine is promoted and snail racing! For Harry Potter fans, The Market Porter pub next to the Borough Market was transformed into the Third Hand Emporium in the film Harry Potter and the Prisoner of Azkaban.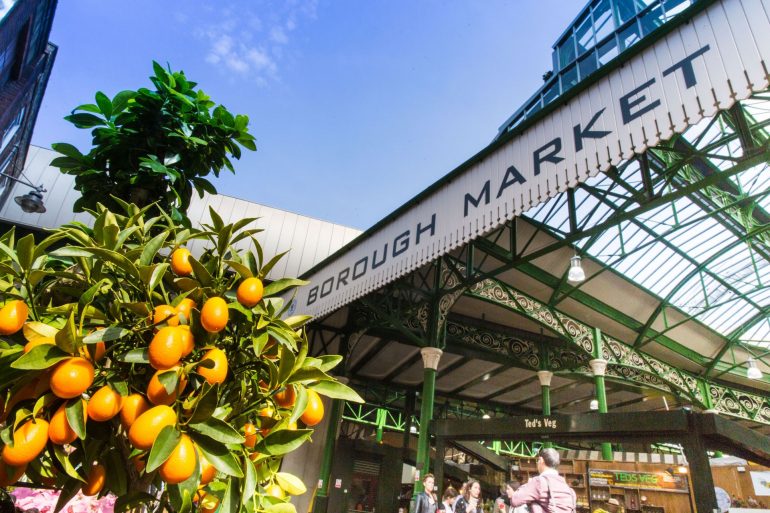 Borough Market with oranges. Photo Credit: © London & Partners.
8. The Clink Museum is a former prison that was founded in the 12th century. The phrase 'in the clink' became a broad term for going to jail. The prison was once connected by underground tunnels to a former Bishop's palace that was located nearby. It was used for troublesome priests, religious dissenters and petty criminals from the neighbouring inns and brothels. Venture below ground and discover what it was like to live in damp insanitary conditions.
9. Southwark Cathedral stands close to Borough Market and London Bridge. It is believed that there has been a church on this site since 606 AD or even earlier. It is the oldest cathedral church building in London. Two notable people from the 17th century who lived in Southwark are associated with the church – John Harvard, founder of Harvard University was baptised here in 1607. In the same year William Shakespeare's younger brother Edmund was buried here. Inside the church there is a memorial to an American who fell in love with the English Cathedral Choral tradition but is better known for his musicals such as Showboat and the Sound of Music – Oscar Hammerstein ll. He provided £2000 in his will to support two choir boys at the Cathedral and are, to this day, known as the Hammerstein Chanters. A major feature of the scholarship was the opportunity to see many classic performances in the West End.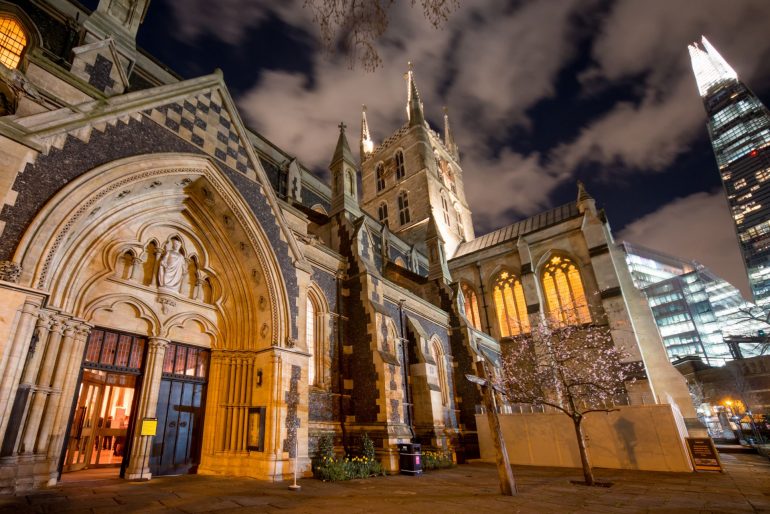 Southwark Cathedral at night. Photo Credit: © London & Partners.
10) London Bridge seems to be the only bridge in the world that has a very old nursery rhyme associated with it – "London Bridge is falling down, falling down". The current bridge opened for traffic in 1974; the previous bridge built in the 19th century was dismantled and re-built brick by brick by its new owner over Lake Havasu in Arizona USA! There have been several bridges on this site linking the City to the area beyond its control. But as a traveller during the 14th – 18th century heading towards the City a clear warning to behave could be seen on the bridge approach – severed heads of those executed for treason! The head of William Wallace was said to be the first to appear in 1305, starting a very gruesome tradition!
Is there more to see and do in the South Bank and Bankside area? Yes there is and by hiring a Blue Badge Tourist Guide, they will ensure you don't miss anything that will help make your time a unique and enjoyable experience.

Angela Morgan
I keep falling in love with this wonderful city! Join me and have a love affair of your own with London with its rich history and contributions from its diverse communities over the ages. Visit amazing sites and attractions here in London and beyond; I will do my best to…
You may also like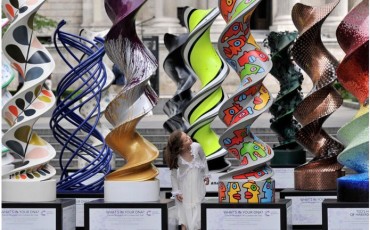 20 July 2015
21 DNA-inspired double helix sculptures have appeared across London as part of Cancer Research UK's campaign to raise awareness and funds for the Francis Crick Institute, a world-leading centre of biomedical research and innovation due to open in 2016.
Read more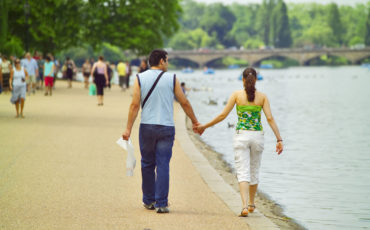 24 January 2018
You don't have to wait for Valentine's Day to plan a romantic day or  vacation in London. You also don't need to limit yourself to traditional romantic gestures such as cards, flowers, chocolates and candlelight dinners while in London. You can create a more memorial experience by exploring and experiencing the best that London has to offer with your significant other.  With this in mind, below are 5 suggestions of romantic things to do in London.
Read more