No fictional character has been portrayed more often on stage and screen than Sherlock Holmes. Fans flock from all over the world to see the locations where he lived, worked and brought justice to Victorian London. The BBC's Sherlock series starring Benedict Cumberbatch and Martin Freeman has only increased his popularity. As such, below are 10 things that may surprise you about Sherlock Holmes.
1. Sherlock Holmes appears in 56 short stories and 4 long ones by Sir Arthur Conan Doyle. The first two, A Study in Scarlet and The Sign of Four, were long stories and did not catch the public imagination. It wasn't until Conan Doyle wrote short stories for The Strand magazine that Holmes became famous overnight five years after his first appearance.
2. Professor Moriarty features in only two of the stories. The first to be published is The Final Problem, in which Holmes says to Watson 'You have probably never heard of Professor Moriarty' and Watson replies 'Never'. This is a shocking lapse of memory because in The Valley of Fear, which was published later but happened earlier, Holmes asks 'You have heard me speak of Professor Moriarty?' and Watson says 'The famous scientific criminal, as famous among crooks as he is unknown to the public'.
3. The first story is A Study in Scarlet, the first episode in the BBC Sherlock series is A Study in Pink. In the 2017 series the first episode is The Six Thatchers, a reference to The Six Napoleons, where busts of Napoleon are smashed all over London. In 2017 Lady Thatcher got the smashing treatment. Some people allege that the BBC was anti-Thatcher!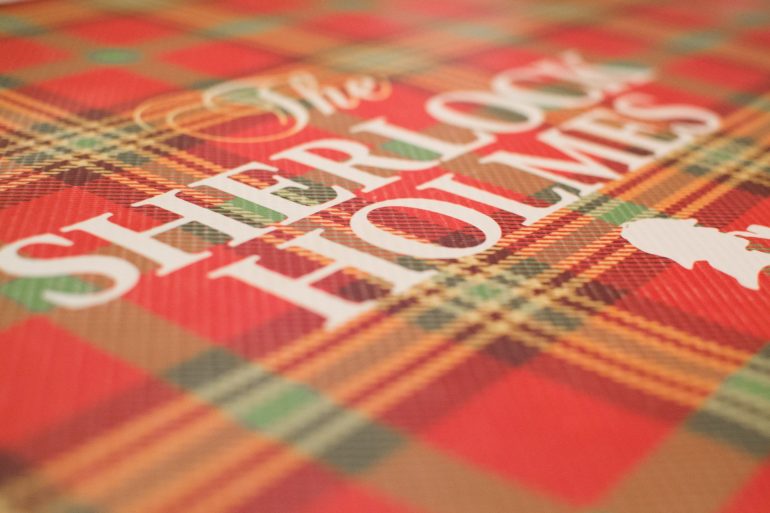 Sherlock Holmes Book Pattern. Photo Credit: © Tookapic/Pixabay.
4. Number 221B Baker Street has never existed. In 1886 when A Study in Scarlet was written Baker Street only went up to number 92 and we start our tour in what was then York Place. This doesn't stop the Sherlock Holmes Museum claiming to mark the spot and before the museum opened nearby The Abbey National office employed a secretary to answer all the mail that came for the great detective. On the tour we will seek more likely sites for 221B.
5. Holmes' deerstalker hat and meerschaum pipe are not mentioned anywhere in the stories. In the first two long stories the illustrations show Holmes and Watson wearing top hats and frock coats. The figure of Sherlock Holmes as we think of him now comes from Sidney Paget, illustrator for The Strand magazine. He gave Holmes his deerstalker hat and Inverness cape. As to the pipe – all will be revealed on the tour.
6. Paintings by Holmes' great uncle are on show in London. In the story of The Greek Interpreter Watson asks Holmes if his faculty of observation is the result of his own systematic training. Holmes answers '..my turn that way is in my veins and may have come from my grandmother, who was the sister of Vernet, the French artist.' By popping into The Wallace Collection we prove the truth of this statement.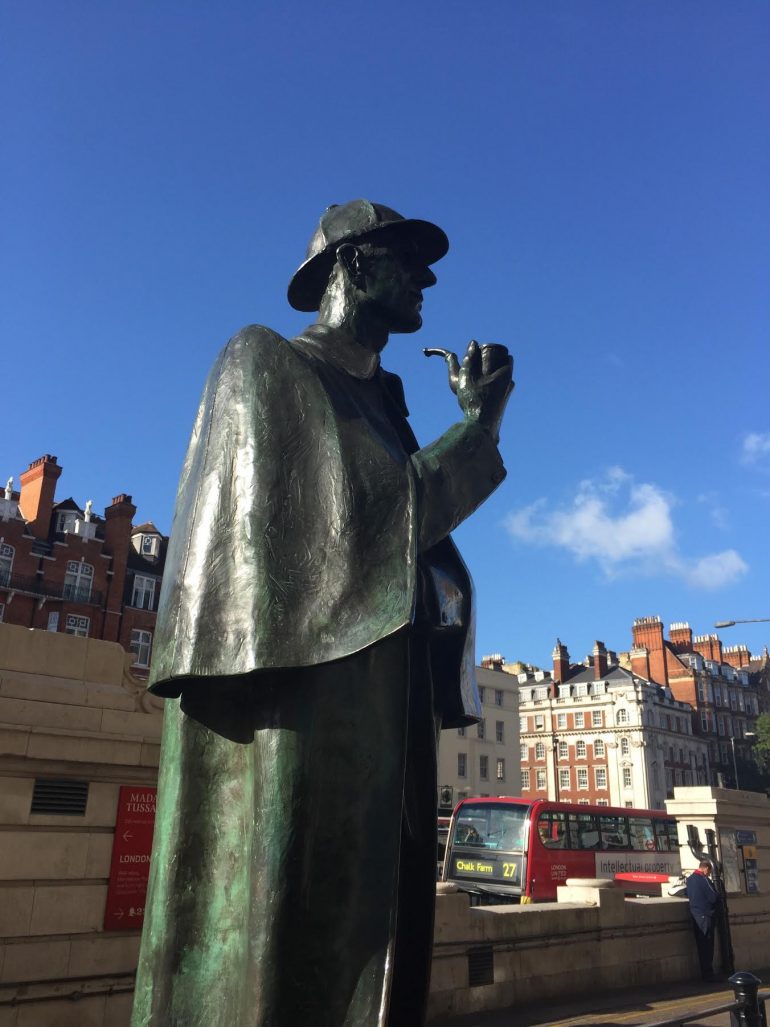 London: Sherlock Holmes Statue by John Doubleday at 4 Marylebone Road. Photo Credit: © Glyn Jones.
7. Sherlock Holmes never went to school. He startles Watson by his total ignorance of the solar system which is of no use to him as a detective. He also knows nothing of Rugby football (Watson had played for Blackheath, then a top team). Holmes is very skilled in single sports such as fencing, shooting, boxing and a form of Japanese wrestling called baritsu, which will save his life later, so we assume a private tutor educated him.
8. Sherlock Holmes definitely went to university. In The Missing Three-Quarter he admits that he was not a sociable undergraduate, having only one friend at college. But which university? The same story takes our heroes to Cambridge, described by Holmes as 'an inhospitable town', whereas The Creeping Man is set in 'Camford' but is clearly Oxford, as it has quads rather than courts, and here Holmes can recommend the port at The Chequers. QED it's Oxford.
9. Holmes describes his brother Mycroft as 'one of the queerest men'. We don't hear of Mycroft until the story of The Greek Interpreter. He is seven years older than Sherlock and would be an even greater detective if only he would bestir himself, pick up a magnifying glass and look for clues. Instead the 'absolutely corpulent' Mycroft only leaves his rooms in Pall Mall to cross the road to the Diogenes Club, 'one of the queerest clubs in London and Mycroft is one of the queerest men'. (Queer meant strange in those days.)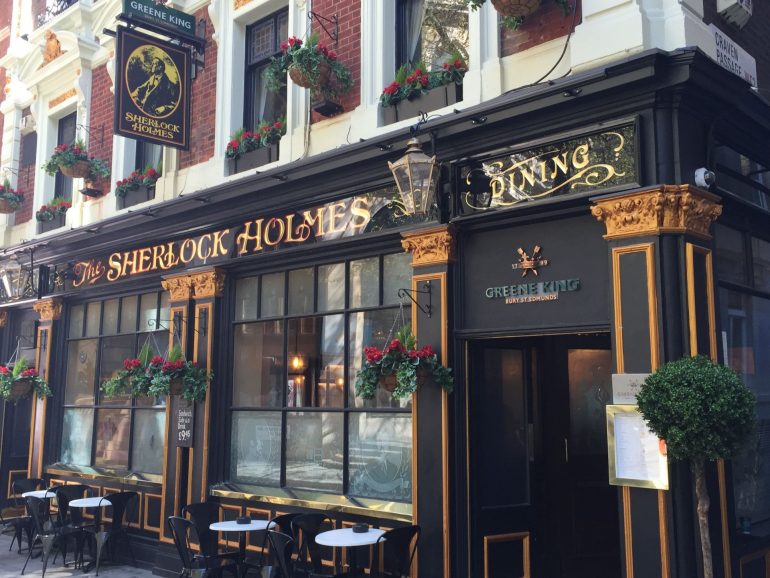 London: The Sherlock Holmes Pub near Trafalgar Square. Photo Credit: © Glyn Jones.
10. Sherlock Holmes is the only fictional character to have been made an honorary fellow of the Royal Society of Chemistry. It happened in 2002 when a member of the society, fortunately named Dr John Watson, draped the medal on a ribbon over the head of the statue of Holmes outside Baker St station. His speech said 'Sherlock Holmes was way beyond his time in using chemistry as a means of cracking crime. Holmes was using what would one day be forensic science in detection. Thanks to this science today more crimes are solved than ever before'. A great man indeed.
So come and join a Blue Badge Tourist Guide for a tour of detection and exploration. Magnifying glasses are optional. As Holmes was wont to say 'The game's afoot!'