Since 1769, famous artists, aspiring professionals and amateurs have submitted their work for the event of the summer – the Royal Academy of Arts Summer Exhibition. It is the world's oldest open-submission exhibition that had famous artists such as Reynolds, Constable and Turner; amateur artists such as Winston Churchill (1955) showing off their talents at this prestigious event. This is a popular event with an annual 200,000 people visiting the exhibition.
Today, artists applying for inclusion in the Summer Exhibition must pay £25 for every submission. Approximately 12,00 submissions are received and they are assessed by the Summer Exhibition Selection and Hanging Committee, chaired by the President of the Royal Academy. 1200 works are chosen ranging from paintings, sculptures to breath-taking art installations that are displayed in various rooms including the famous courtyard. There is practically something for everyone interested in art and architecture.
This year's theme is vibrant colour. So, visitors will enter the Royal Academy and walk up a very colourful and mesmerising staircase created by Scottish artist Jim Lambie. Amongst the other exhibitors are Academy members Grayson Perry, Anish Kapoor and Anthony Gormley.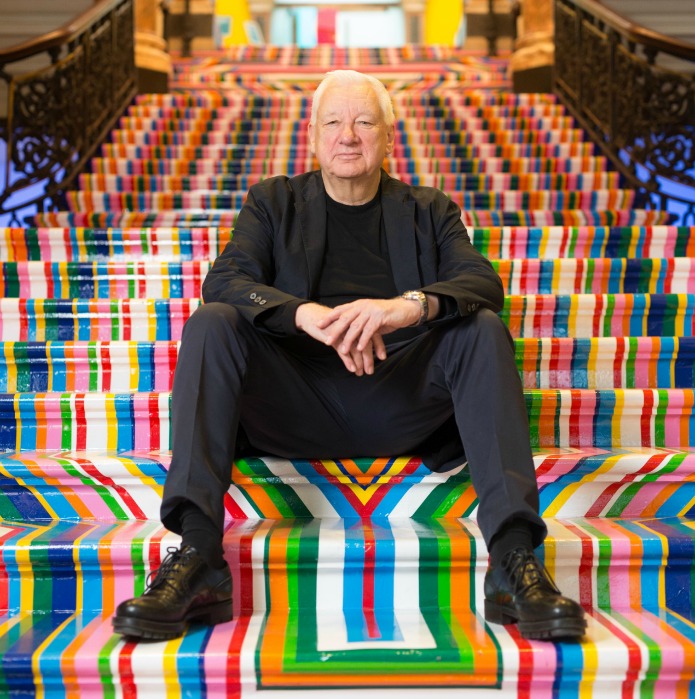 Michael Craig-Martin CBE RA unveiling a new site-specific artwork by Jim Lambie for the Summer Exhibition 2015. Photo: © David Parry, Royal Academy of Arts.
Prior to the general opening of the exhibition, the main event is called "Varnishing Day", the day that, according to popular legend, artists would come to add a final coat of varnish to their paintings. This is demonstrated well in the award winning film Turner starring Timothy Spall in the title role. Today it is usually a private viewing of the art exhibition prior to the public opening.
A Summer Exhibition tradition that has continued is a procession of Academy members from Burlington House to St James's Church, Piccadilly where a service is held. At the opening reception the shortlists for various prizes are announced. Previous winners included Mark Quinn (2001), Yinka Shonibare(2010); last year's winner of the Charles Wollaston Award Wolfgang Tillmans was the first photographer to win this coveted accolade.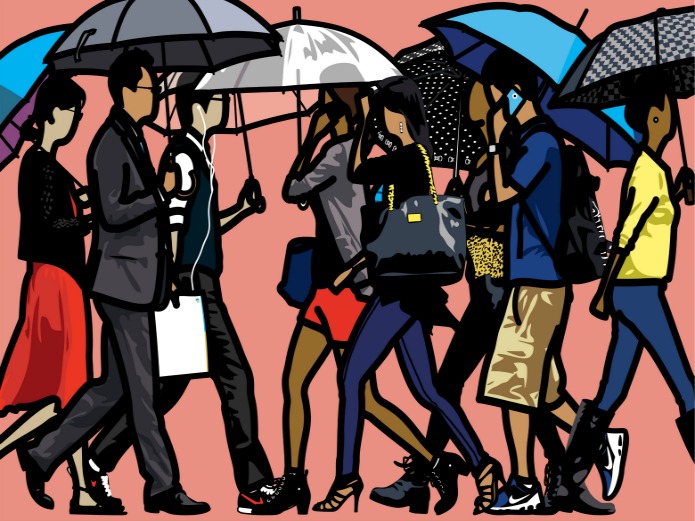 Julian Opie, Walking in the rain, Seoul. Photo: © Julian Opie.
Many of the works in the exhibition will be on sale; you have a chance to own some original art while supporting the historic Royal Academy schools. Artwork sales help the Academy to continue the free tuition for graduate students. Note to budding artists – registration for 2016 Summer Exhibition opens next January! You may be exhibiting your art in the heart of Piccadilly and grabbing the attention of art lovers around the world!
The Summer Exhibition opens to the public 8 June until 15 August 2015. Entrance fees apply. The Royal Academy is situated in Burlington House situated on Piccadilly.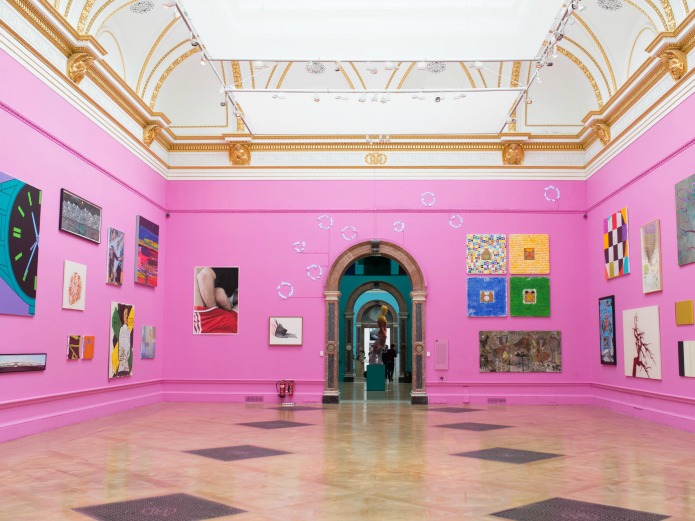 Gallery III of the Summer Exhibition 2015. Photo: © David Parry, Royal Academy of Arts.