The English painter David Hockney was born on 9th July 1937 in Bradford, Yorkshire. At the time of writing, he is still going strong in his mid-eighties and a new exhibition of his work is on display at the Fitzwilliam Museum, Cambridge. It includes a recent self-portrait by Hockney.
David Hockney studied in Bradford and at the Royal College of Art, where he was displayed alongside Peter Blake in an exhibition called Young Contemporaries in 1960. Blake later designed the cover for the Beatles album Sergeant Pepper's Lonely Hearts Club Band.
From an early age, Hockney displayed talent as a painter and his work became fashionable and collectable. He held the record for the highest price paid for a work by a living artist for Portrait of an Artist (Pool with Two Figures) which was sold by Christie's at an auction in New York in 2018 for ninety million dollars (seventy million pounds) but has since been exceeded by the price paid for a work by the American artist Jeff Koons.
Hockney's painting shows two men, one swimming and the other, Hockney's lover and fellow artist Peter Schlesinger, looking at the swimmer. It is one of the many paintings Hockney produced which were inspired by the swimming pools he saw in Los Angeles. One of the best known of these is A Bigger Splash which belongs to and can be seen at the Tate Britain Art Gallery in London.
David Hockney has painted portraits of many people he knows, including almost all of his friends. One of the best known of these is the double portrait Mr and Mrs Clark and Percy which can also be seen at the Tate Britain gallery. Mrs Clark is the fashion designer Celia Birtwell who was married to Ossie Clark for five years between 1969 and 1974 and has remained a close friend of Hockney. The couple is pictured in their flat in Notting Hill with their cat. It was actually called Blanche but Hockney purloined the name Percy from one of their other cats.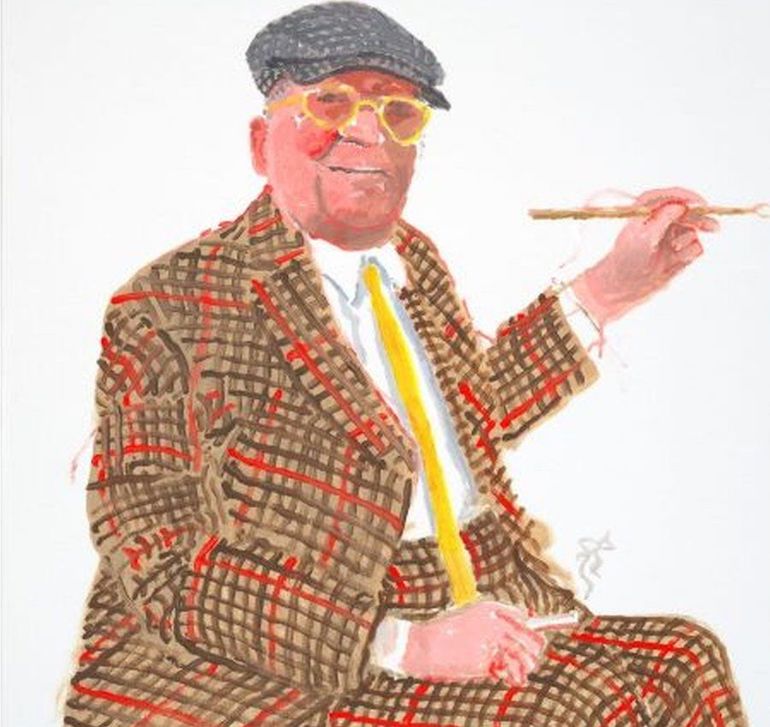 David Hockney Self Portrait, 22 November 202, Acrylic on canvas, 36 x 30 inches, © David Hockney.
Hockney has always been a restless experimenter and has explored new forms using photography and digital drawing techniques. In this, he is following a tradition that stretches back to Ingres' use of camera lucida and the camera obscura used by Canaletto. Today many of his paintings are created on his iPad and his work shows an abiding fascination with the way that a three-dimensional world can be represented in two dimensions.
David Hockney has always been a talented draughtsman and often paints the countryside of his native Yorkshire using traditional watercolours. He also owns a house in Normandy in northern France and was confined there during lockdown, a time he describes as "fantastic" as it allowed him to concentrate entirely on his painting. One of the paintings he created during this time is a self-portrait wearing one of his trademark colourful suits.
In the Fitzwilliam galleries, Hockney's work is shown in conjunction with works by other famous artists such as Vincent Van Gogh, Claude Monet, John Constable and Andy Warhol. Hockney's Eye, The Art and Technology of Depiction is at the Fitzwilliam Museum and the Heong Gallery in Downing College, Cambridge between 15th March and 29th August 2022. The exhibition is free and supported by The Fitzwilliam Museum Development Trust, the Rothschild and Ross Foundations, Heong Gallery 1717 patrons and several individuals.