The first female Yeoman Warder appointed at the Tower of London was Moira Cameron who comes from Scotland and took up the role in 2007. Like all Yeoman Warders, who are often called Beefeaters, she was a former non-commissioned officer who had served in one of Britain's military forces – the army, navy, air force, or royal marines – for a minimum of twenty-two years with an 'unblemished record' and had been awarded a good conduct medal. As an often repeated Beefeater joke has it, 'that just means we never got caught.'
The Tower's Yeoman Warders are usually happy to be referred to as Beefeaters, although this is a nickname rather than an official term. No one is quite sure where it came from but it is usually thought that people assumed that those who looked after the monarch could enjoy a rich meaty diet similar to that of the kings and queens and others in the royal court.
Moira was not the first woman to apply to become a Yeoman Warder but was the first to be accepted by the Tower as competition for the position is always fierce. She has said: 'To girls and women who would like to follow in my footsteps, I'd say don't follow my footsteps – make your own path and only deviate from it unless you really want to.'
Yeoman Warders at the Tower (Beefeaters) should not be confused with Yeoman Warders at the Palace of Westminster, sometimes known as Yeoman of the Guard, whose job is to guard the Monarch at the Palace of Westminster. The Yeoman Warders at Westminster have a cross shoulder harness on their ceremonial uniforms as this was needed to carry an old-fashioned musket known an arquebus. At the Tower of London,  the main job of a Yeoman Warder, apart from guarding this important 900-year-old royal building, was to look after the prisoners who were sent there by the monarch. For this reason, they have a waist belt for carrying keys and the title of Gaoler is second in rank only to that of Chief Yeoman Warder.
Although the role has traditionally been held by men since the order was founded by Henry the Seventh in 1485, three women have been accepted as Beefeaters. They live at the Tower with their families and conduct regular tours of this historic building. Yeoman Warders also take part in the Ceremony of the Keys when the Tower is closed at 10 pm. The ceremony has been held every night since the Yeoman Warders were founded over 600 years ago.
Moira Cameron joined the ranks of the Yeoman Warders after more than two decades in the British army, first as a telegraph operator for the Army Signal Corps and later after training as an accountant. She served in England, Northern Ireland, and Cyprus and reached the rank of Warrant Officer before leaving the army. She was greeted at the Tower with the traditional toast 'May you never die a Yeoman Warder', referring to the fact that, after their service, Yeoman Warders normally retire and it is hoped they will enjoy a long retirement.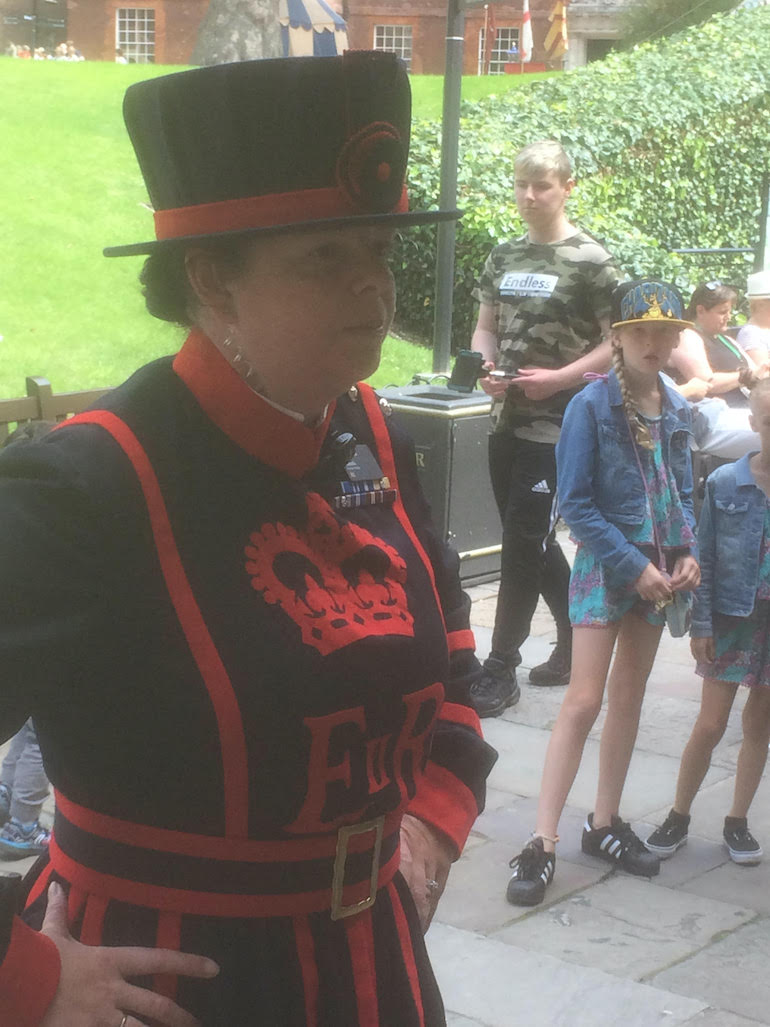 Yeoman Warder aka Lady Beefeater Amanda Clark at Tower of London. Photo Credit: © Edwin Lerner..
Ten years after she was appointed as the first female Beefeater in 2007, Moira was joined by Amanda Clark who had served in the Royal Logistics Corps for 22 years and completed tours in Germany, Bosnia, Kosovo, Iraq, and the Falkland Islands. Like Moira, Amanda lives 'above the shop' at the Tower in an apartment she shares with her husband. Yeoman Warders have to rent a home at the Tower as they are constantly on guard there.
After joining the ranks of the Yeoman Warders, Amanda had to learn the ropes before she was able to conduct tours of the Tower for visitors (normally near to three million a year). While on probation Amanda described herself to me as a 'baby Beefeater' but is now a well-known and accepted part of the community at the Tower of London.
Moira and Amanda were joined by a third female Yeoman Warder, Emma Rousell from Derby, who was appointed in September 2021 together with Paul Langley. Paul and Emma had both served in the Royal Air Force before being selected to become Yeoman Warders.
Blue Badge Tourist Guides and Yeoman Warders can both conduct tours of the Tower of London, guides for coach and private parties and Beefeaters, as they are known around the world, for members of the public who can easily join their tours at the entrance to the Tower of London.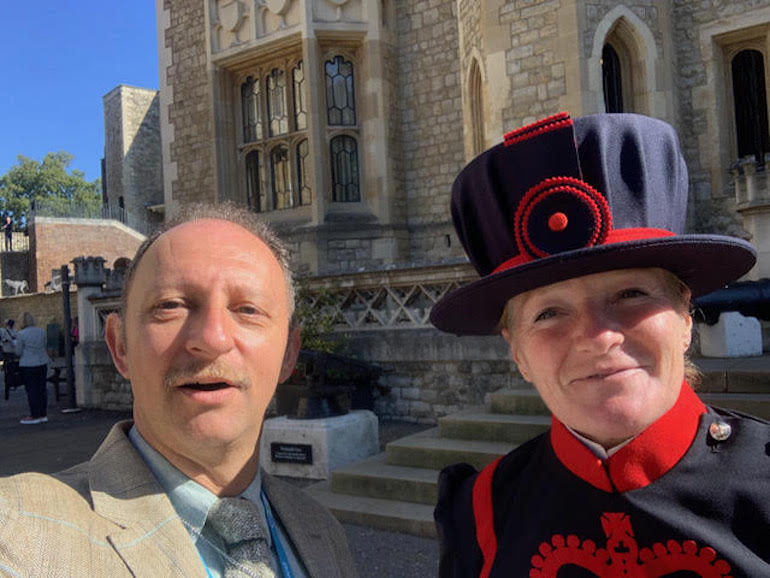 Yeoman Warder Emma Rousell and Blue Badge Tourist Guide Russell Nash. Photo Credit: © Russell Nash.