Touring London is a great way to top up your step count and burn off calories. So why not reward yourself for all that hard work? Blue Badge Tourist Guides know where to go for the tastiest treats, and nothing beats ice cream on a warm day. In no particular order, here are some of the best ice cream shops in the capital, tried and tested by this Blue Badge Tourist Guide (well someone had to do it).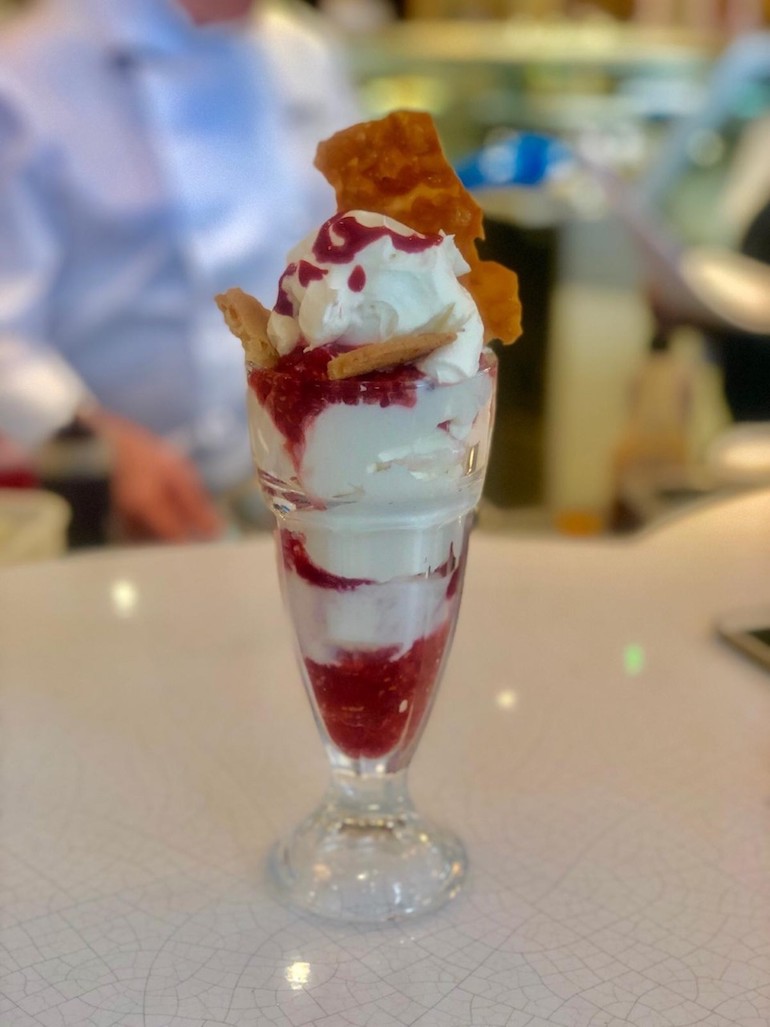 Sundae Ice Cream from The Parlour at Fortnum & Mason. Photo Credit: © Fortnum & Mason.
Best Ice Cream In London
Amorino – the one with flower power
Location: Branches around London including in Soho, Covent Garden, Long Acre, Charing Cross and Westfield shopping centres.
Amorino is a chain, but don't let that put you off. They offer a great variety of ice cream and sorbet flavours. Just choose your favourites and they'll turn them into a beautiful ice cream flower – and you can pick as many flavours as you want. I like to combine creamy coconut with bitter dark chocolate and tongue-achingly sweet Dulce de Leche. They also do waffles, crepes, and ice cream-filled macarons.
Yorica! – the allergen-free one
Location: 130 Wardour St, Soho, London W1F 8ZN
Allergic to nuts, dairy, gluten, eggs, soy or other ingredients used in ice cream? Then you'll love Yorica. Their product is made from coconut and rice milk and excludes 14 common allergens. To help keep the shop free from contamination, they don't even accept payments in cash. The most popular choices here are the Combo Waffles and the double chocolate and popcorn ice creams.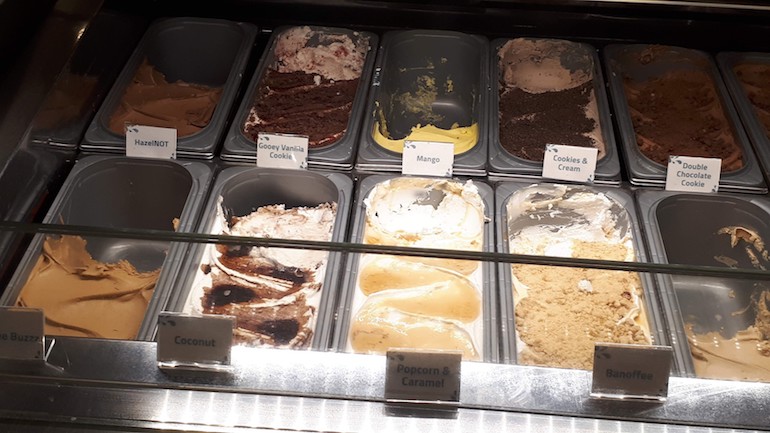 Yorica! 'Gelato.' Photo Credit: © Diane Williams.
Gelupo – the one for unusual flavours
Location: 7 Archer St, Soho, London W1D 7AU
If you're adventurous when it comes to your ice cream, drop by this little store in Soho. You'll find flavours and combinations you've never seen before – all handmade on the day in the shop's kitchen. When I visited, the menu featured 23 flavours including Mango Sticky Rice, Ricotta Sour Cherry, Hot Cross Bun and Creme Brulee. There's often a queue outside, but it's well worth the wait.
Snowflake Luxury Gelato – the one that puts ingredients first
Location: 102 Wardour St, Soho, London W1F 0TP plus branches in Edgware Rd, Westbourne Grove and Selfridges
The ethos behind this outfit is very simple: to create amazing gelato handmade from the very best ingredients. So, for example, they only use organic Jersey milk and pistachios from Sicily. Most popular flavours are their Great Taste Award- winning raspberry sorbet, the salted caramel gelato and an incredible dark chocolate sorbet with such a powerful chocolate punch you can't quite believe it's dairy free (it definitely is.) And if you're vegan, you'll love their avolato – like gelato but made with avocado.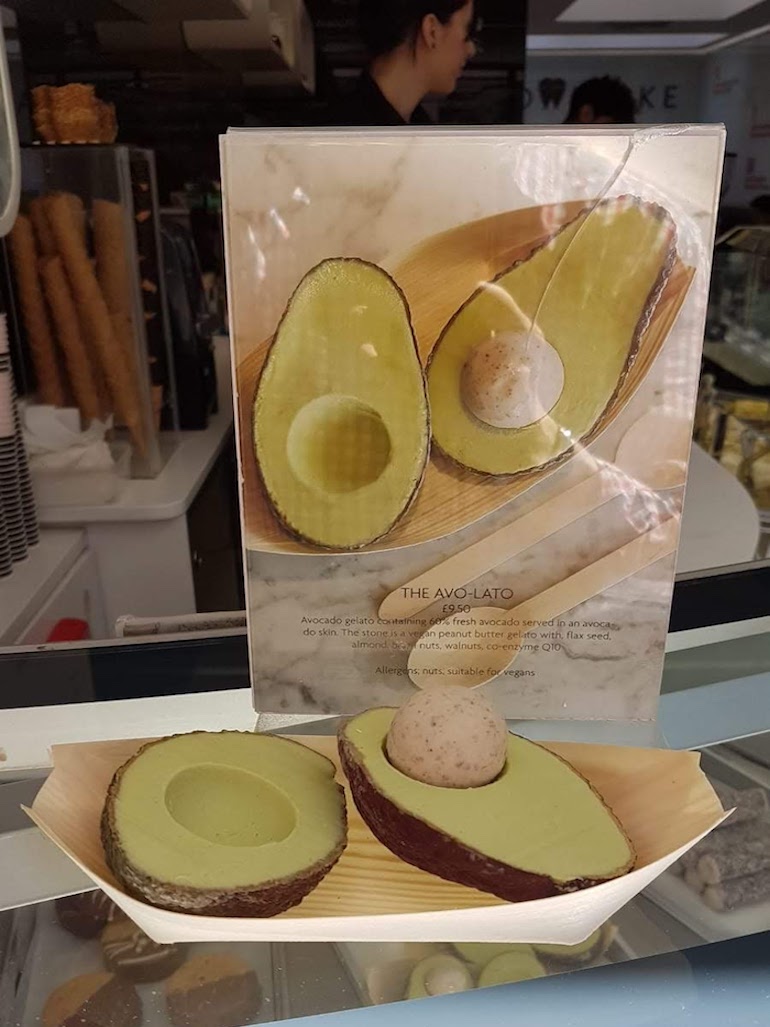 Dairy-free 'Avolato' from Snowflake. Photo Credit: © Diane Williams.
Grom – the one with a distinct Italian flavour
Location: 16-18 Piccadilly, London W1J 0DF
This Italian gelato company is a welcome addition to the London foodie scene. Pop into the stylish little store in Piccadilly and see gelato made fresh at the counter. Flavours include traditional Italian favourites….coffee, stacciatella, Italian nougat, pannetone and cassata Sicilian. Grom are proud to point out that they never use artificial colouring or flavours. And for those concerned about animal welfare, all eggs used are cage-free. As well as cones, there are refreshing sorbets on sticks (posh ice lollies to you and me) made with 50% fruit and tubs of gelato to take away.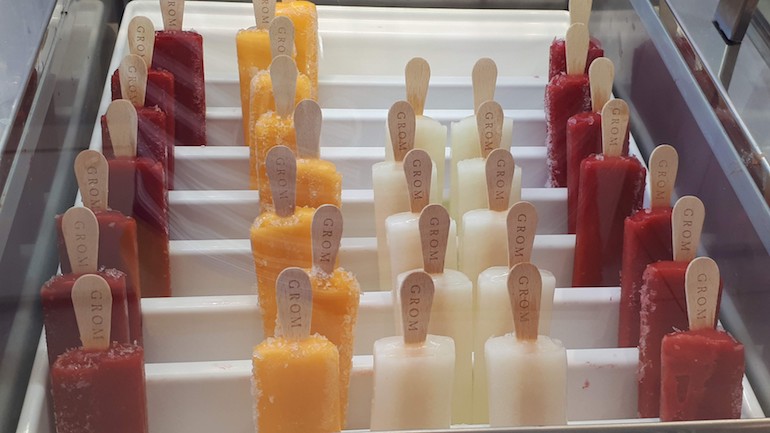 Sorbets on sticks from Grom. Photo Credit: © Diane Williams.
The Parlour, Fortnum & Mason – the posh but child-friendly one
Location: 1st floor, Fortnum & Mason, 181 Piccadilly, St. James's, London W1A 1ER
The Queen's favourite grocery store, Fortnum & Mason, is already on many visitors' must-see lists. So if you're popping into stock up on foodie presents to take home, why not sit down and reward yourself with an ice cream in The Parlour upstairs? In this pretty (and very Instagrammable) space, you can enjoy artisan coffee, sandwiches and, most importantly, amazing ice cream sundaes. You can choose from the menu or build your own sundae (kids will love this.) While they wait for their ice cream, young visitors are kept busy with crayons and colouring sheets.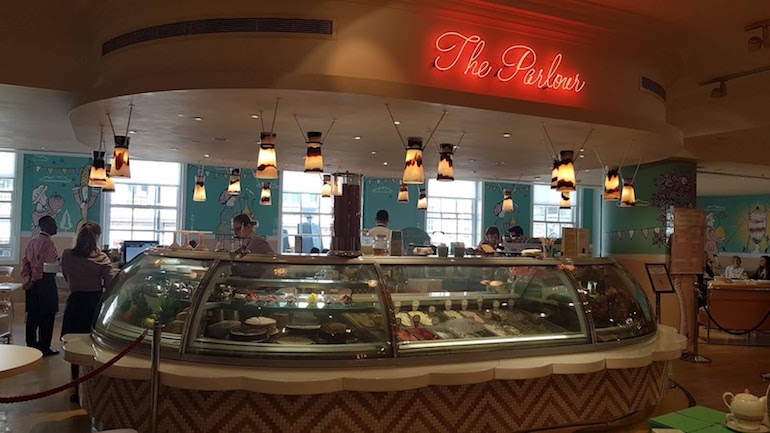 The Parlour at Fortnum and Mason. Dairy-free 'Avolato' from Snowflake. Photo Credit: © Diane Williams.
Gelateria 3Bis – the one in Borough Market
Location: Borough Market, 4 Park St, London SE1 9AB
Borough Market near London Bridge is foodie heaven, and more and more visitors are including it on their itineraries, especially those who book a London Southwark & South Bank Tour with a Blue Badge  Tourist Guide. A great way to finish off your lunch is with ice cream from Gelateria 3Bis, located in one of the old warehouse buildings around the market. Gelateria 3Bis came to London from Rimini, where they still have two shops. With a great choice of flavours and toppings, you can create your own ice cream or frozen yoghurt masterpiece. And as if that isn't enough, they'll also offer to fill the bottom of your cone with liquid chocolate!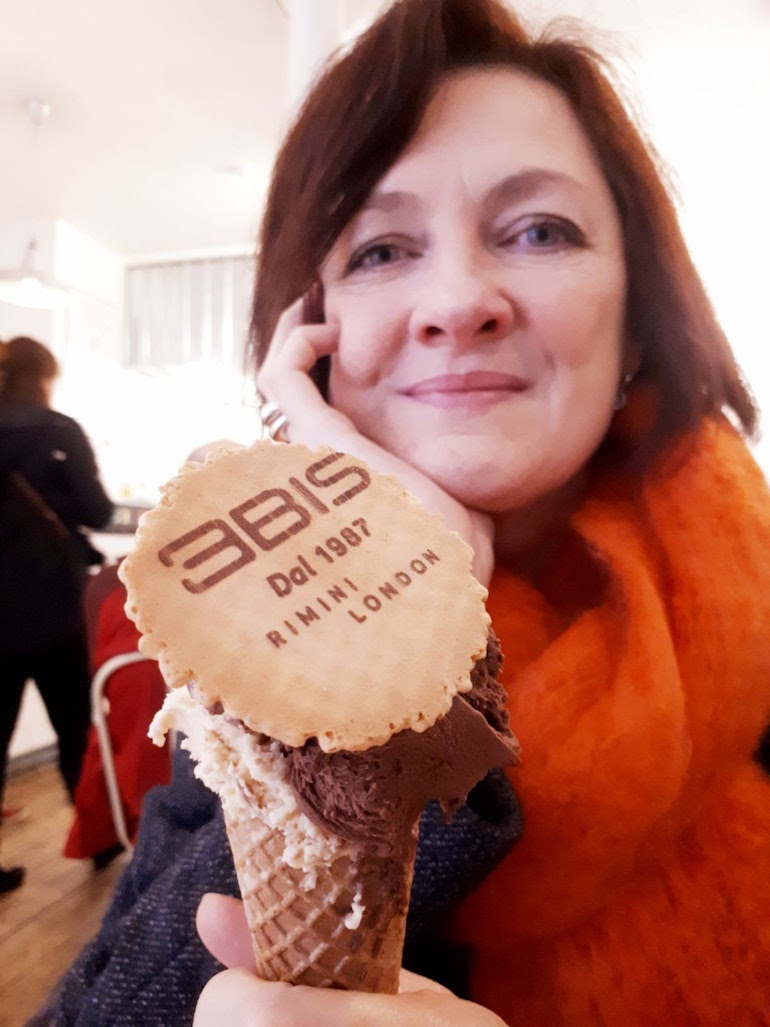 Blue Badge Tourist Guide Diane Williams at Gelateria 3Bis Borough Market in London. Photo Credit: © Diane Williams.
You've got your ice cream. Where to now?
We're lucky to have lots of green spaces in London where you can wind down and watch the world go by. So grab your ice cream and let your Blue Badge Tourist Guide lead you to one of London's delightful garden squares or parks, take you on a relaxing riverside stroll or share one of their other favourite places to chill out.