There's no doubt that going to brunch can be the highlight of a great weekend. Like with many culinary traditions, the origins of the meal called brunch aren't entirely clear. Some food historians suggest it may have sprung from huge feasts held in England after a hunt. (We do know that the word first appeared in print in an 1895 Hunter's Weekly article.) Others think it may relate to the big meal Catholics would have after mass.
By the 1930s, the idea of a late morning meal had been made increasingly popular by Hollywood stars taking the train across America and stopping in Chicago to break up the journey.
Hotels were keen to get in on the act, and they benefited from most restaurants being closed on Sundays. As church attendance declined in the years following World War II, people began looking for new social activities that also allowed them to sleep in a little (much like today). Restaurants soon joined the party and began offering a wide selection of enticing foods and introducing brunch cocktails such as the Bellini and Bucks Fizz – and a perfect food and drink pairing was created.
Fast forward to 2019, and brunch remains many people's favourite meal.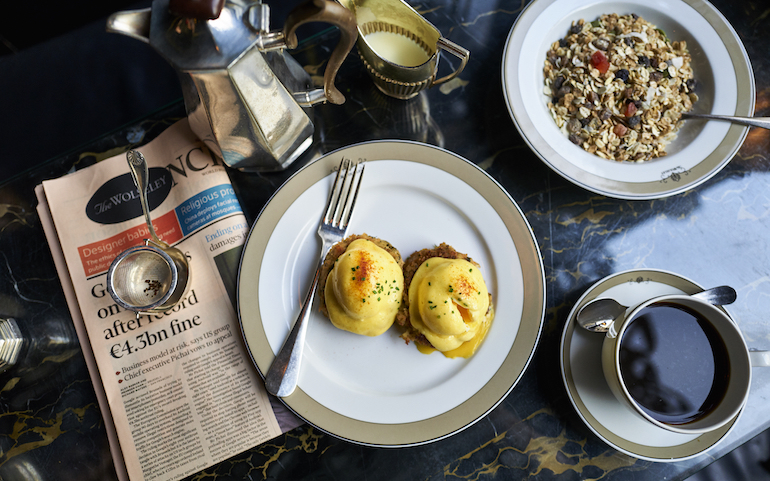 Brunch in London: Fishcake and Muesli at The Wolseley. Photo Credit: © David Loftus via The Wolseley.
Best Brunch in London
Here are a few brunch recommendations in London, brought to you by a hungry Blue Badge Tourist Guide:
If you want somewhere fancy, try The Wolseley on Piccadilly. It's a beautiful all-day cafe restaurant in grand European style. The building, constructed in 1921, originally housed the short-lived Wolseley car showroom and then was a bank right up until 1999. Often good for celebrity-spotting, the Wolseley is owned by well-known London restaurateurs Corbin and King, who also own the equally impressive Delaunay and Brasserie Zedel, among others. Specialities include fried haggis and duck eggs with whiskey sauce, and for some fond childhood memories, you can have boiled eggs and "soldiers" (strips of toast for dipping).
Maybe a spot of brunch before a matinee at the theatre? And where better for a river view than The Swan at Shakespeare's Globe. To quote the bard himself, "Sit down and feed, and welcome to our table" (As You Like It). Their Eggs Benedict was voted top 10 in the capital by the Evening Standard.
For something different, head to Dishoom. The Indian café now has five London locations, and restaurants in Edinburgh and Manchester too. Try their signature bacon naan bread graced with a little cream cheese, chili tomato jam, and fresh herbs. For extra wow factor from the surroundings, visit the Kensington branch with its Art Deco/jazz vibe. (This is probably the easiest location to get a table, as the others can have big lines).
Another chain option, but an absolute must is Caravan. Originally in King's Cross (part of the new Granary Square development), they now also have restaurants in the City of London, Fitzrovia, Exmouth Market, and Bankside. Wonderful dishes with fresh ingredients – from the traditional English breakfast to a heavenly combination of baked eggs, tomato pepper ragu, rose harissa, chickpeas, Greek yoghurt, flatbread and merguez sausage – delicious!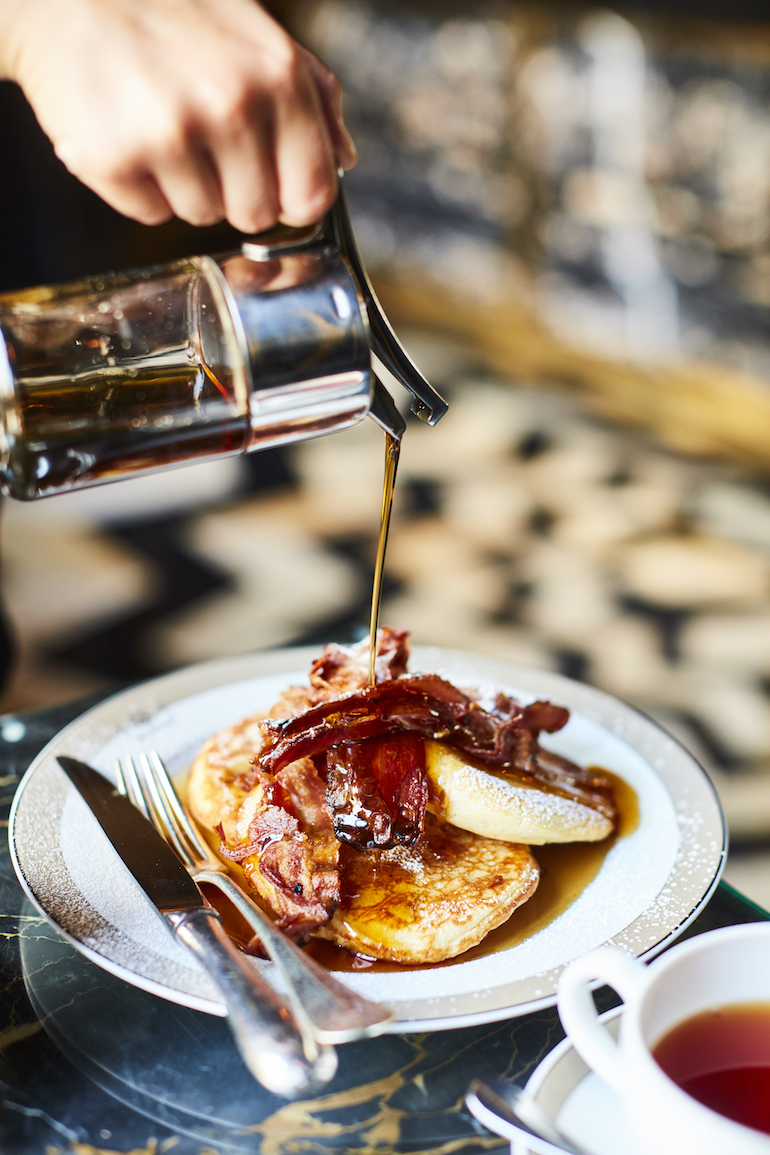 Brunch in London: Pancakes with Bacon at The Wolseley. Photo Credit: © David Loftus via The Wolseley.
If traditional is more your thing, two absolute gems are Regency Cafe and E. Pellicci:
Regency Cafe on the Pimlico/Westminster border is an Art Deco cafe that has featured as a location in the TV drama Judge John Deed, as well as in films including Layer Cake, Brighton Rock and Pride. The ultimate "greasy spoon", the Regency has been serving "fry-ups" since 1946. They're closed on Sundays.
E. Pellicci is an East End institution. In 1900, Priamo Pellicci started to work for a little cafe in east London. When the café's owner decided to leave, Pellicci bought it from him. He then ran the place successfully with his wife, Elide, and her initials were used for the café's name after her husband died. Here you can enjoy savoury classics like bubble and squeak (made from boiled potatoes and cabbage), mixed grill, and liver and bacon. If you want something sweet, they also offer Sultana Sponge (aka Spotted Dick) and Jam Roly-Poly. The service is among the friendliest in London, and they really do make everyone feel like a local – kind of like the bar in "Cheers", but in a café!
Though brunch takes its name from breakfast and lunch, personally I associate it much more with breakfast, just a bit later and more indulgent than on a working day.  For that reason, and if the queues are anything to go by, The Breakfast Club has to deserve a mention. Taking its name from the classic 1980s Brat Pack movie, it has multiple locations including Soho (the original), London Bridge and Spitalfields. You can have your eggs every which way, along with stacks of pancakes, breakfast burritos and porridge for the healthy eater. It's worth noting that they offer 50% off their classic dishes for those over 65, and they have also won awards for their charity and community work programme.
And in case you were worried we weren't going to mention smashed avocados, the Instagram stalwart…Here are a few suggestions for where to get your favourite green superfood to both snap and scoff:
Palm Vaults, Hackney
Farm Girl, Chelsea
Avobar, Covent Garden
Electric Diner, Notting Hill
Believe it or not, the World Avocado Organization has recreated London's tube map to show the best avocado dishes all around the capital! You can find it online.
While by no means exhaustive, hopefully this list will whet your appetite and have you hankering for all things brunch in London. If you want to see how London has transformed itself into one of the top food destinations in the world, consider using a Blue Badge Tourist Guide to take you on a food experience in these exciting culinary times. R.I.P. beige food!