Visitors to London often want to try Indian food, one of Britain's most popular cuisines. The United Kingdom celebrates National Curry Week every October. Although curry is an Indian dish modified for British tastes, it is such a favourite with locals that it contributes more than £5 billion to the British economy. Hence it was hardly surprising when in 2001, Britain's Foreign Secretary referred to chicken tikka as a true British national dish.  Read on for some tips on the best places for Indian food in the capital, as well as some fascinating history and fun facts – including which restaurant shares a birthday with Her Majesty the Queen.
History of Curry in London
In the 18th century, East India Company men returning home wanted to recreate a slice of their time spent in India. As early as 1733, curry was served in the Norris Street Coffee House in London's Haymarket. By 1784, curry and rice had become specialities in some popular restaurants in the area around Piccadilly.
The first purely Indian restaurant was the Hindoostanee Coffee House, which opened in 1810 near Portman Square in London's Mayfair area. The owner of the restaurant was a fascinating character who served in the army of the East India Company as a trainee surgeon. With his coffee house, Mohamed tried to provide both authentic ambience and Indian cuisine "at the highest perfection." Guests could sit in bamboo-cane chairs surrounded by paintings of Indian scenes. There was also a separate smoking room for hookahs.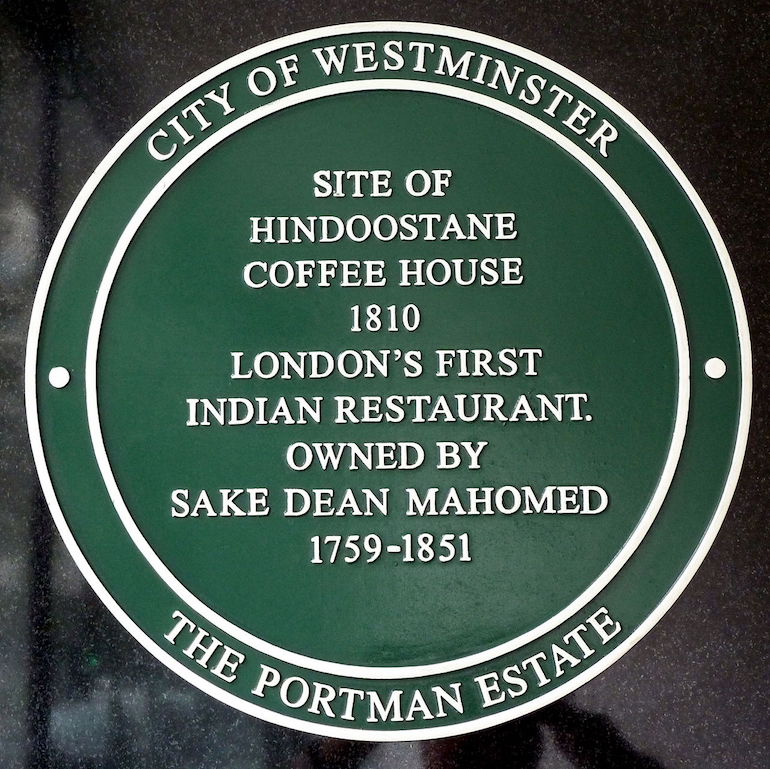 City of Westminster plaque for Hindoostane Cofee House, London's first Indian restaurant. Photo Credit: © Simon Harriyott via Wikimedia Commons.
By the 1840s sellers of Indian products were trying to persuade the British public with the dietary benefits of curry. According to them, curry aided digestion while stimulating the stomach and invigorating blood circulation. Curry also gained popularity as an excellent way of using up cold meat.
Queen Victoria was particularly fascinated by India. This was evident at her private retreat Osborne House on the Isle of Wight, where she collected Indian furnishings, paintings, and objects. The Durbar Room was decorated with white and gold plasterwork in the shapes of flowers and peacocks. Victoria employed a 24-year-old Indian servant named Abdul Karim, known as the Munshi, who became a close friend. According to Victoria's biographer, Karim impressed the monarch with chicken curry, dal and pilau.
Best Indian Restaurants In London
By the early 20th century, Britain had become home to around 70,000 South Asians, mainly servants, students and ex-seamen. A handful of Indian restaurants sprang up in London. The first high-end establishment opened in 1926, the year Her Majesty was born. Called Veeraswamy, it was founded by Edward Palmer. His great-grandfather, William Palmer, was a general in the East India Company and was married to Begum Fyze Baksh, a Mughal princess. Veeraswamy customers included the Prince of Wales (later Edward VIII), Winston Churchill and Charlie Chaplin.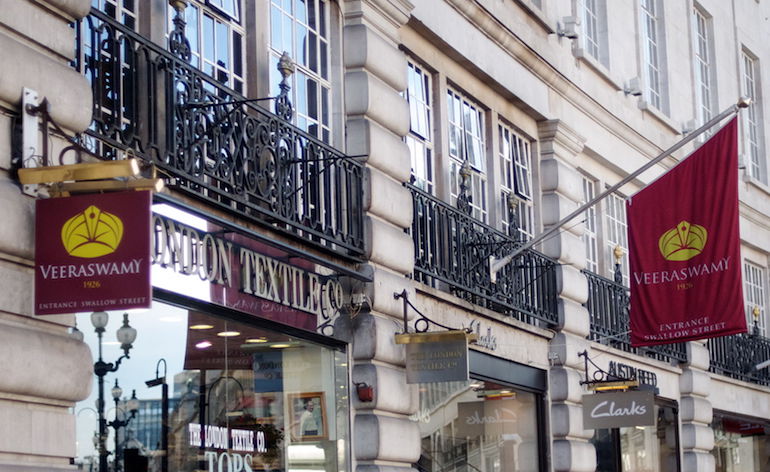 Entrance to Veeraswamy Indian Restaurant in London. Photo Credit: © Alex Muller via Wikimedia Commons.
Curry was yet to establish itself firmly in British cuisine. In the 1940s and 1950s, most major Indian restaurants in London employed ex-seamen from Bangladesh, particularly from Sylhet. Many of these seamen aspired to open a restaurant of their own, so they bought bombed-out chippies and cafes selling curry and rice alongside fish, pies, and chips. They stayed open after 11 pm to catch the after-pub trade. Eating hot curry after a night out became a tradition. As customers became increasingly fond of curry, these restaurants discarded British dishes and turned into inexpensive Indian takeaways and eateries.
After 1971, there was an influx of Bangladeshi immigrants into Britain. Many entered the catering business. Today there are more Indian restaurants in Greater London than in Delhi and Mumbai combined.  Veeraswamy, which overlooks Regent Street, is still going strong. When I admired their homemade chutney on a visit, I was given a pot to take home.
The India Club is another old favourite of Blue Badge Tourist Guides. Hidden up a flight of stairs at 143 Strand, it was established more than 50 years ago to promote Indo-British friendship. Its founding members included Jawaharlal Nehru and Lady Edwina Mountbatten. The building was also a base for the new India League. For a generation of pioneering migrants, it became a home away from home. The interior remains a piece of living history. Whilst not claiming to be a gourmet restaurant, it is worth noting that here you can eat your fill of tasty Indian food for less than £10.
However, in a recent informal poll, guides rated the Dishoom chain as number one for the most delicious Indian food outside the subcontinent. Dishoom style their restaurants on the old Zoroastrian Irani Cafes in Bombay, where people from all walks of life were welcome. There are ceiling fans, bentwood chairs and sepia family portraits. Most importantly, the food is sensational, with Chicken Ruby and House Black Dahl being particular favourites. Your guide will know which of their restaurants require reservations and when to visit the others to avoid long lines. You could hire a guide for a London Food Tour visiting Soho or Shoreditch/Spitalfields and finish with brunch or early lunch at a Dishoom restaurant.
Our London visitors also love the Masala Zone chain with its bright welcoming décor, Roti Chai near Oxford Street, and Cinnamon Spice in Baker Street.
View this post on Instagram