What could be more quintessentially English than afternoon tea? This is often one of the top items on London visitors' itineraries, but many are unsure of where to go or surprised by how expensive it can be.
I've been enjoying and writing about the afternoon tea ceremony since I first moved to London 30 years ago. How times have changed! The landscape has grown, both in terms of price range and creativity of menus. Restaurants and hotels have become more imaginative with themed teas, such as the Mad Hatter Tea at the Sanderson Hotel and the fashion-orientated Pret-a-Portea at the Berkeley.
Years ago, children were reluctantly tolerated. Now they are feted with special menus.
Another big improvement is that there are more budget-friendly options available. Now, many bakeries and small restaurants offer afternoon tea service, expanding the market.
Even modern dietary trends are accommodated. Many establishments now offer gluten-free and vegan versions of afternoon tea.
So it seems as if just about everyone can enjoy afternoon tea. But first, a few clarifications. You will not be having "high tea." High tea is a decidedly different affair than afternoon tea. High tea was traditionally a meal for working classes when they returned home from factories or farms and is associated with the northern part of the country. It would have comprised hearty dishes like meat pies and potatoes. Afternoon tea is a far more genteel affair, associated with delicate pastries and finger sandwiches. (Note that some hotels market their tea ceremonies as "high tea" in deference to their many overseas visitors.)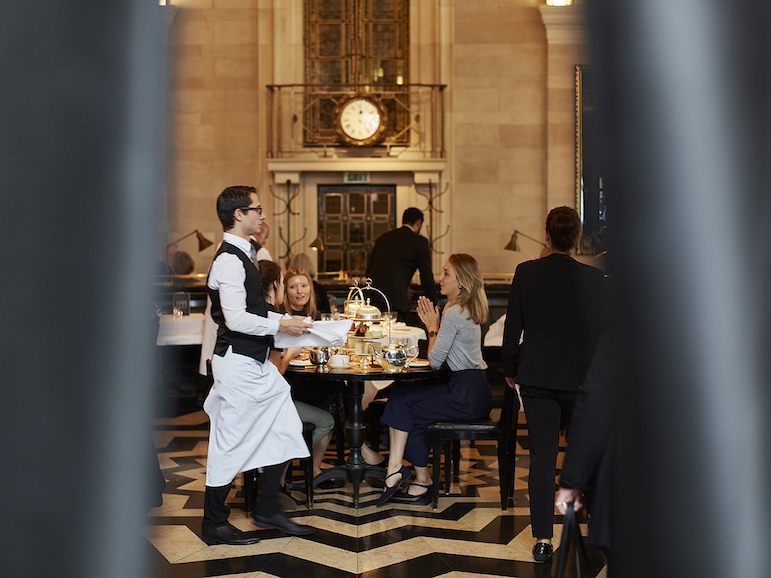 Afternoon tea at the Wolseley in London. Photo Credit: © The Wolseley.
History Of Afternoon Tea
The very polite ceremony associated with elegant drawing rooms is largely attributed to Anna, the seventh Duchess of Bedford. During the early 1800s, the evening meal was served at about 8 p.m. among the aristocracy. Anna felt decidedly peckish during that long lag time between midday and evening meals, so she began inviting friends to join her at home for pots of tea accompanied by cakes and pastries. As the century wore on and people were able to get out more, hotels began to take up the slack where "at-home" entertainment left off.  Afternoon tea would often be accompanied by music, and even tea dances became popular.
Traditions that began at the London department store of Fortnum & Mason and the Ritz Hotel still continue today. At many of the top London hotels, you will sip your tea to the accompaniment of gentle piano music.
The ceremonies at large hotels are indeed expensive. But it helps if you think of it as a special meal out. Afternoon tea in London has actually become popular during recent times of economic turmoil, as more people turn to the tea ceremony to mark a special event instead of a more expensive dinner.
Most establishments will bring unlimited refills of tea and usually about as much food as you can eat. If your server doesn't offer additional scones or sandwiches, just ask. At lower-priced restaurants, though, expect just one serving.
It's comforting to realise that in this topsy-turvy world, the afternoon tea ritual is still much the same as when Anna enjoyed it with her friends.
A few tips before you partake:
Book a table well ahead of arrival in London if you want to enjoy one of the formal teas at a major hotel. The lead time can be 3-6 months, and snagging a table at Christmas means even more advanced thinking.
Most hotels do special Christmas menus during the holiday season. The food not only differs from the usual fare, but it comes at a premium price.
Dress accordingly, Sir. Some of the high-end hotels (most notably, the Ritz) will insist on a jacket and tie, and they will loan you well-used attire if you have dared to show up without your own.
If you can't finish, don't worry. Servers are accustomed to packaging leftovers in boxes that are almost as much fun as the tea itself.
Following is a guide to some of the best afternoon teas in London with a range of prices and styles. Please note that menu offerings and prices listed may have changed since the publication date. 
Afternoon Tea In London For True Tea Connoisseurs 
Claridge's is the grand dame of tea ceremonies; Anna would be pleased. This one exudes class, and although it costs more than others, you will leave feeling pampered. Tea is served in the mirrored foyer of the hotel, so you can watch all the beautiful people come and go. Overflow guests are seated in the Reading Room, just off the main room. It is worth requesting the main room if you want a more full-on experience.
Tea is taken very seriously here. You usually will be served by a tea sommelier who describes brews with the sophistication of a wine steward at a top restaurant.  Sommeliers encourage diners to have different teas with each course. Claridge's special White Silver Tip is so delicate you can just about feel the sunshine that dried the young leaves.
Classic sandwich flavours are presented with an elevated twist. Recipes might include truffle egg mayonnaise and watercress or English cucumber with minted crème fraiche. It's all high-quality ingredients – no processed meats here. Delicate pastries like Exotic passion fruit baba and Caffee Saint Honore caramelised puff are photo-worthy as well as delectable.
Concoctions are meticulously arranged on Claridge's trademark green and white china, adding to the glamour. Staff will fawn throughout. We certainly wouldn't want the floor to be cluttered, so ladies' handbags get their own stand.
The Traditional Afternoon Tea at Claridge's is £85.00 (£105 from 7 November 2023 for Festive Afternoon Tea); children's tea is £40.00.
Address: Claridge's, Brook Street, London, W1K 4HR.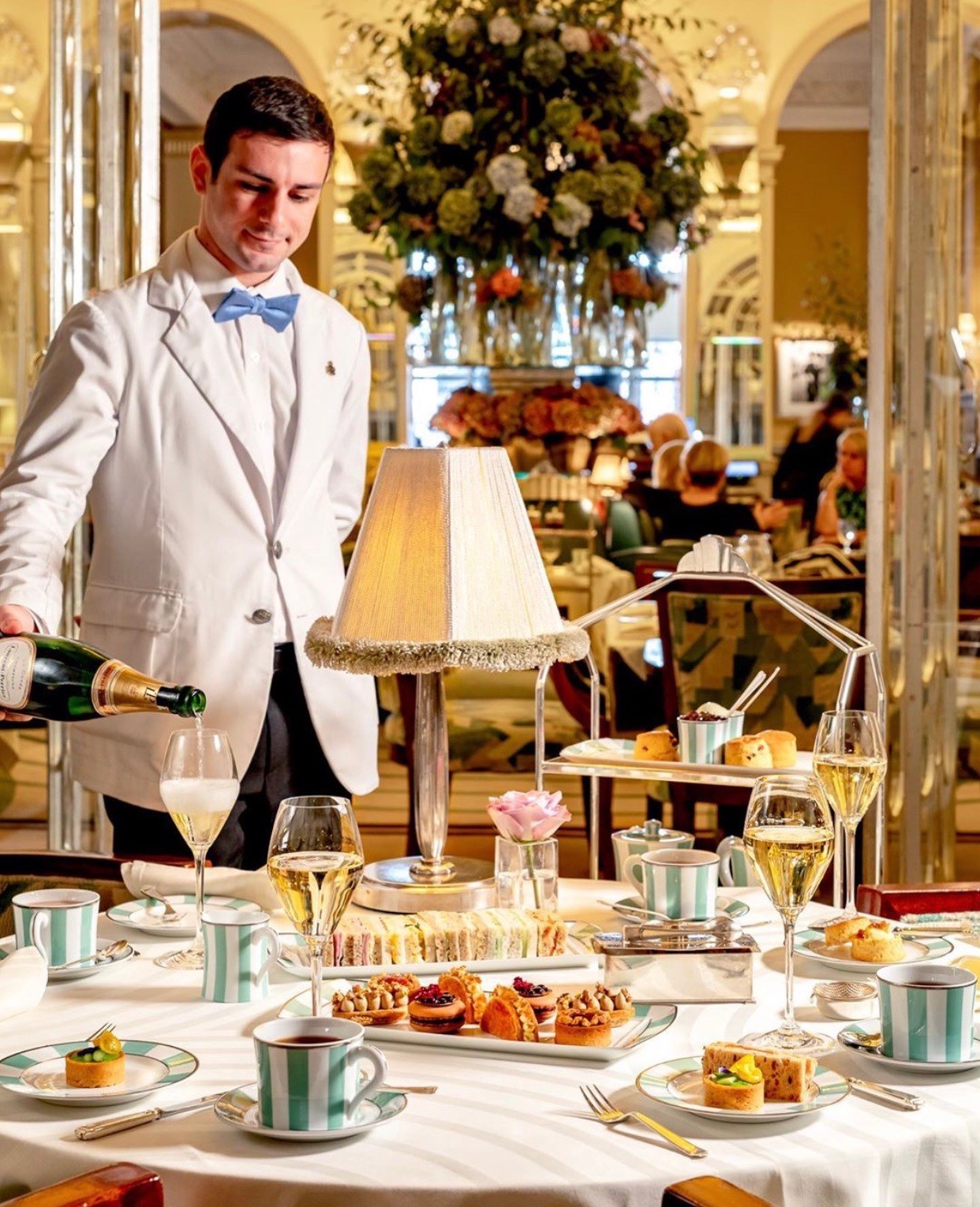 Afternoon Tea at Claridge's Hotel in London. Photo Credit: © Claridge's Hotel.
Afternoon Tea in London for Art Deco Fans
Step back to the Gilded Age at the Beaumont in Mayfair to take tea, as Jay Gatsby might have. The proper British ceremony is here but with a nod to American tastes, with offerings that might include pastrami on rye or chicken Caesar. Seated amidst the book-lined shelves and dark panelling, you will feel as if Gatsby invited you for a private afternoon. The live piano music perfects the ambience.
The Afternoon Tea and Vegan Tea are each £66; the Children's Tea is £28.
Address:  The Beaumont, 8 Balderton St, Brown Hart Gardens, London W1K 6TF.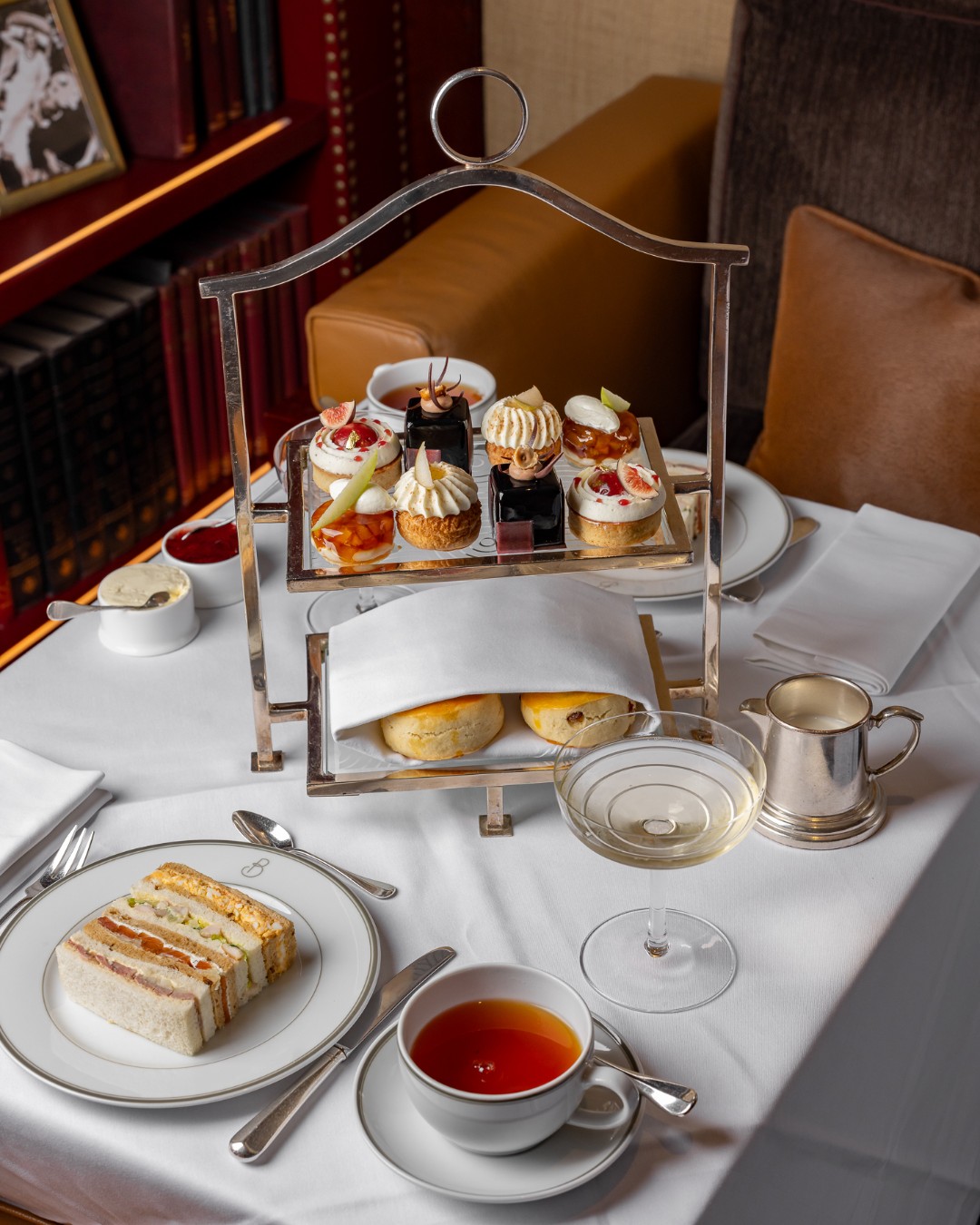 Afternoon Tea at The Beaumont Hotel in London. Photo Credit: © The Beaumont.
Afternoon Tea In London For Affordable Glamour 
There is no bad table at the Wolseley; all the chairs and banquettes have a view of the tall, arched windows or the enormous iron chandeliers of this glorious 1920s building. The spectacularly high vaulted ceilings and all-day menu contribute to the European café ambience here; there are moments you'll swear you're in Paris. If you're looking for an affordable option, in a magnificent setting, this is the tea for you.
The huge archways and marble pillars of this grand room were originally designed to showcase cars at the headquarters of Wolseley Motors. Despite the grand setting, cars didn't sell very well, so when Wolseley Motors went bankrupt, Barclays Bank moved in until 2003. That's when it began its incarnation as a restaurant, the brainchild of Corbin & King, the restaurateurs behind some of London's other big brasseries, including The Delaunay and Zedel.
Sandwiches, scones and pastries arrive simultaneously on a three-tiered pastry stand; there is no delineation between courses as at the big hotels. But that can be fun – you can break with tradition and go straight to cake! It's always busy here, so service can be a bit distracted. Because of the all-day menu, not everyone will be having tea; you might be surrounded by people enjoying an early dinner or late lunch.  A second round of sandwiches won't be offered, but if you ask, you shall receive. All in all, good value as long as you are not a devout foodie.
The Classic Afternoon Tea at the Wolseley is £44.50 per person, and the Champagne Afternoon Tea is £56 per person.   A traditional cream tea (just scones and tea) is £19.50 per person.
Address: The Wolseley, 160 Piccadilly, London, W1J 9EB.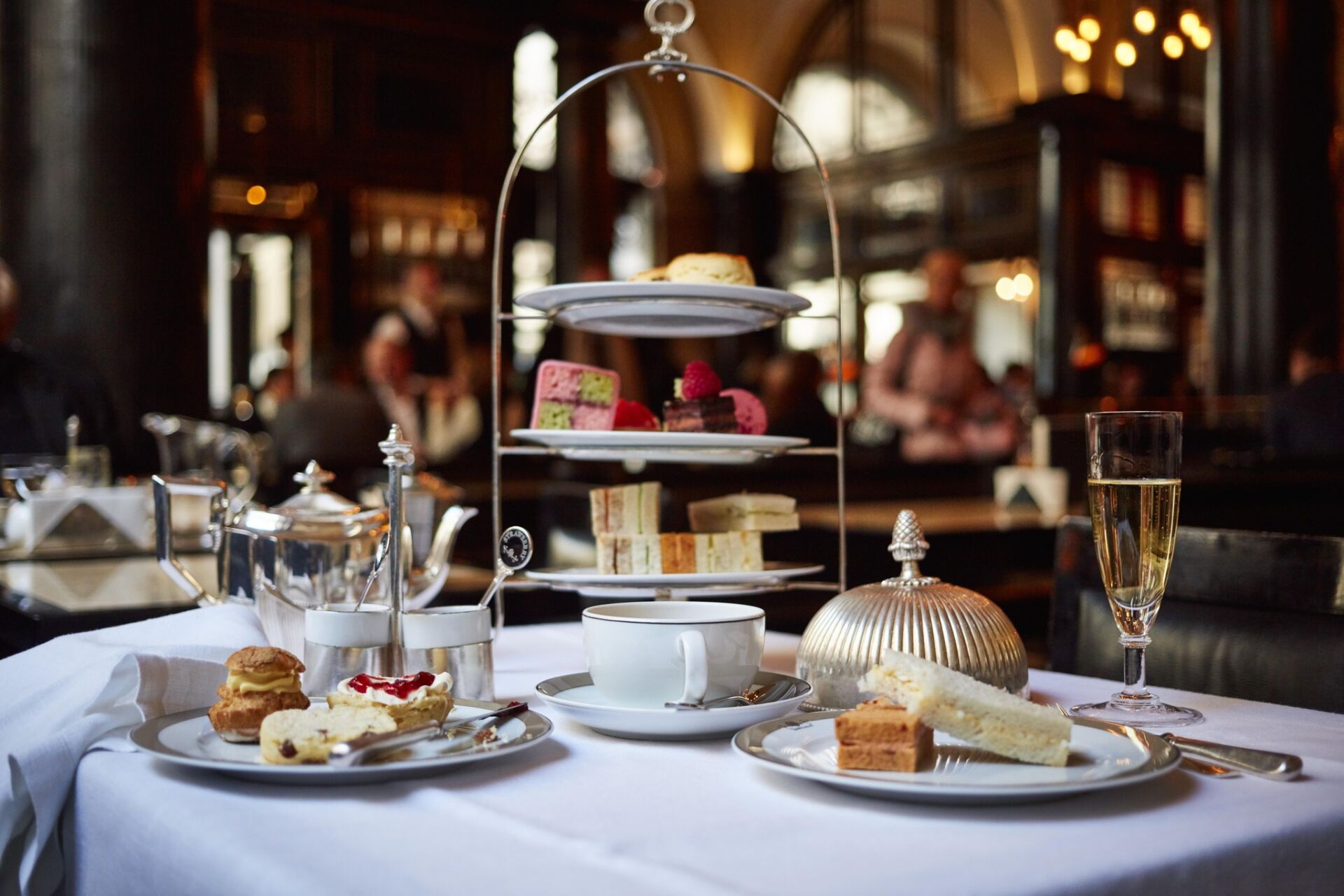 Afternoon Tea at The Wolseley Hotel in London. Photo Credit: © The Wolseley.
Afternoon Tea In London For Those Who Want Something A Bit Different 
Fortnum & Mason is virtually synonymous with tea. The main shop, located on Piccadilly, was founded in 1707 and has been serving tea since 1926. In 2018, an outpost opened in one of the City of London's most beautiful buildings, The Royal Exchange. You will sip your tea in the heart of history at London's first trading centre. The original Exchange has been rebuilt several times; today's building, now a shopping arcade, dates from Queen Victoria's watch in 1844.
The tables are laid out beneath the super-high, sky-lit ceiling. You are surrounded by luxury shops, so it's not an intimate occasion, but the joy of spending time in this grand building is its own reward. There is an all-day menu, so not everyone will be having afternoon tea during your visit. A three-course tea is served for half the price of the one at Fortnum's more formal restaurant back at headquarters. And there is absolutely no pressure to dress up.
The Classic Afternoon Tea at the Courtyard, Royal Exchange, is £38 per person, and the Champagne Afternoon Tea is £48 per person.
Address: Fortnum & Mason, The Courtyard at The Royal Exchange, London EC3V 3LR.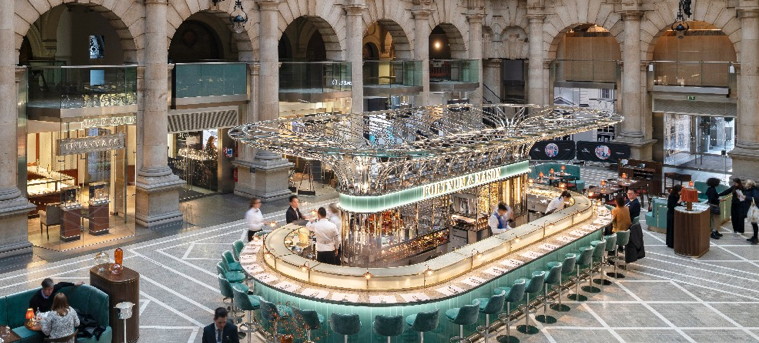 The Royal Exchange is a stunning location for afternoon tea.  Photo Credit: © Fortnum & Mason.
Afternoon Tea In London For Children (Or Children At Heart) 
You can't help but feel happy at the Willy Wonka-themed tea at One Aldwych. This one's for kids (or nostalgic adults), not only because of the Charlie-themed pastries but also because the savoury portion of the tea goes beyond standard sandwiches to concoctions with direct references to Dahl's classic story. Selections include a spinach roly-poly and a "not quite as it seems" beetroot macaron. The playful presentation of pastries is the highlight, with Hair toffee mousse and a caramel chocolate milkshake (mixed by a waterfall). Scones come with, of course, Snozberry jam.
If you really want to push the boat out, sample one of the special fizzy cocktails.
Staff are great at making children feel special. Tea is served in a bright room, and the atmosphere is considerably less formal than other hotel teas. One Aldwych is also ideally situated if you are headed to the West End theatre afterwards.
The Classic Afternoon Tea at the One Aldwych is £70 per person, and Champagne Afternoon Tea is 85 per person.  For Children (12 and under), it is 50 per child.
Address: One Aldwych, 1 Aldwych London WC2B 4BZ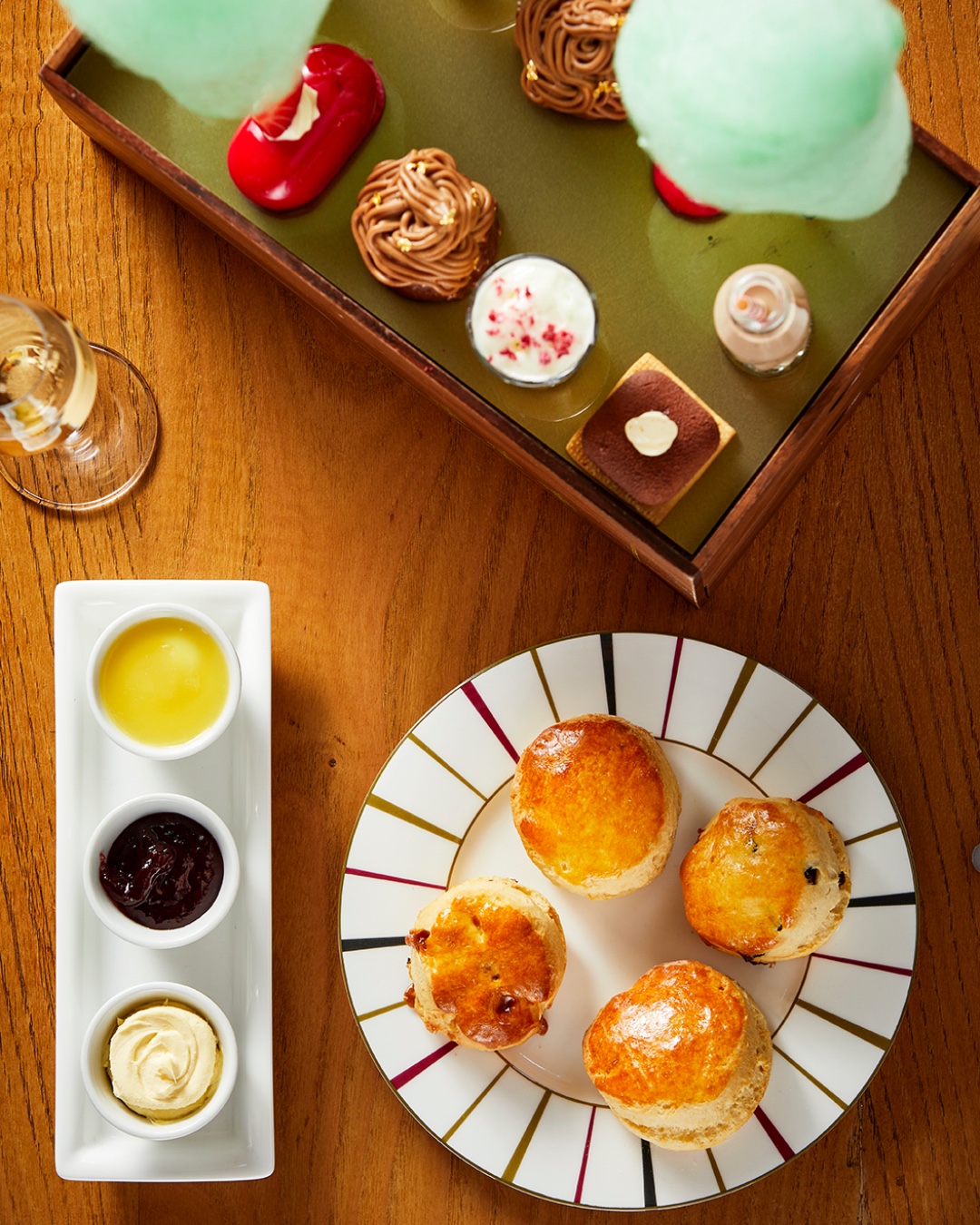 Afternoon Tea at One Aldwych Hotel in London. Photo Credit: © One Aldwych.
Afternoon Tea In London For Fashionistas 
What better way to cap off a shopping excursion in Knightsbridge than by munching on miniature fashion treats? Afternoon tea at the Berkeley is like a simultaneous art exhibition and fashion show. Staff are accustomed to serving well-heeled shoppers who strut over in their high heels from nearby Harvey Nichols and Harrods.
The menu changes twice yearly as pastry chef Mourad Khiat highlights current fashion events and trends in the city.  He actually visits the catwalks to design his own collection. Pastry selections have honoured various designers with impressive concoctions based on their creations. Remember that oh-so-pink Molly Goddard dress that Killing Eve's Villanelle wore in Paris's Place Vendome? It was recreated here in a cinnamon financier with hot pink spun sugar. (Glitter added table-side.) There was also an incredibly detailed model of the popular Le Micro Chiquito handbag.
The cakes are so extraordinary that you might be tempted to save them. But don't – this is fashion made for eating.
Afternoon Tea at Prêt-à-Portea is £80 per person;
Address: The Berkeley, Wilton Place, London SW1X 7RL.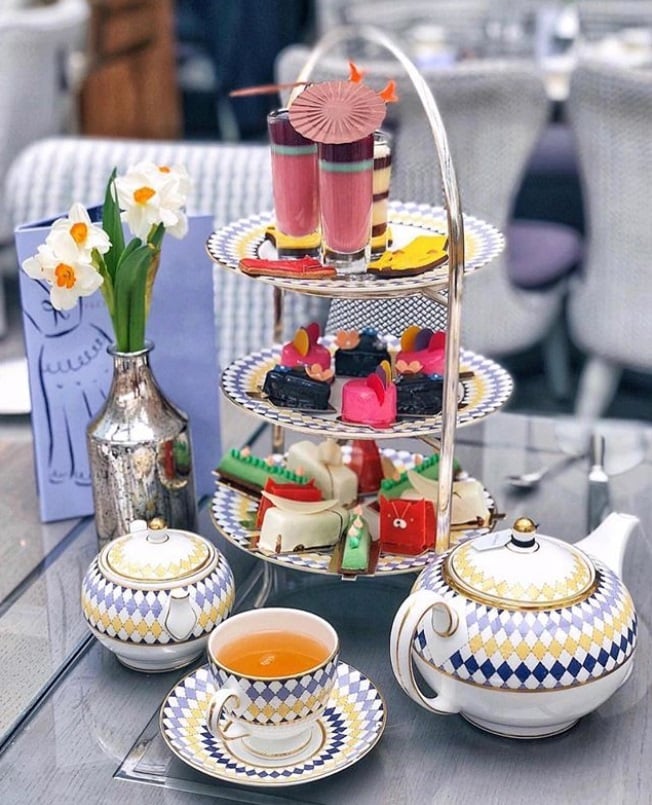 Afternoon Tea at The Berkeley Hotel in London. Photo Credit: © The Berkeley.
Afternoon Tea In London For Those Who Like An Adventure 
If you're travelling with sulky teens, the B Bakery afternoon tea bus is the one for you. It's hard not to smile when you are presented with a full tea spread on a double-decker bus. The food doesn't measure up to a high-end hotel, but then those formal dining rooms don't whiz past Westminster Abbey while you're sipping your tea. Alas, no bone china on this trip, but you will leave with a souvenir drinks cup. A couple of caveats: You absolutely cannot be late, and the route is subject to change depending on traffic conditions, so don't have your heart set on seeing particular landmarks. But it's great fun.
Brigit's Bakery Afternoon Tea Bus is £45 per person and departs from several central London locations.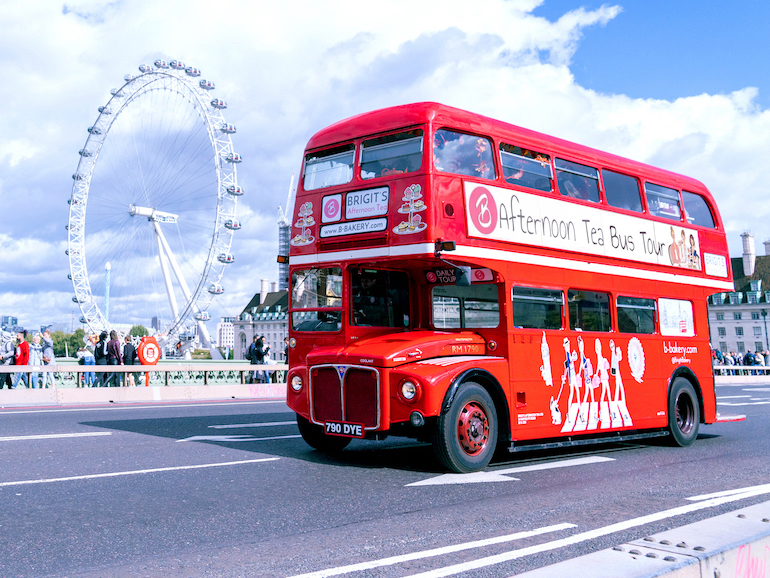 View the sites of London while sipping tea.  Photo Credit: © Brigit's Bakery.