If you are looking for a quintessentially British event in February then you must witness Pancake Day racing. The old religious festival of Shrove Tuesday is when Christians ate a rich meal using butter and sugar before beginning the fast of Lent. This day always falls 47 days before Easter Sunday, so the date varies from year to year and falls between February 3 and March 9. This year, Shrove Tuesday will take place on 17th February.
As part of Shrove Tuesday festivities there are usually pancake races which are thought to have begun in 1445. The story goes that a woman in Olney, Buckinghamshire lost track of time while cooking on Shrove Tuesday and when she heard the church bells ringing, ran out of her house all the way to the church carrying the frying pan. Now whether this story is true or just folklore passed down from one generation to the next, pancake races are now firmly a part of Shrove Tuesday throughout England.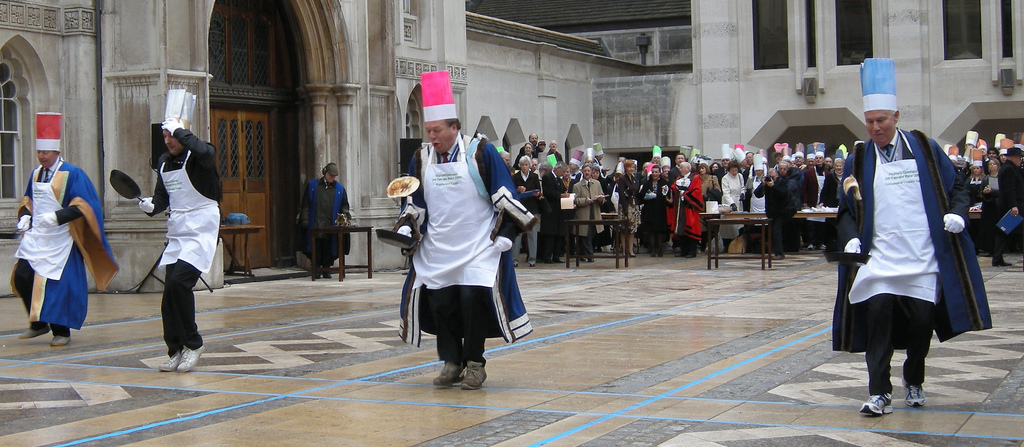 City workers during 2009 Pancake Day Race in Guildhard Yard. Photo: ©Martin Deutsch.
The object of a pancake race is to run while holding your frying pan and flipping the pancake in the air as you go and there are many held throughout the city of London. Below are some of the more popular ones to watch.
Parliamentary Pancake Race– at 10am in Victoria Tower Gardens, the Houses of Parliament will take on members of the press. 

Poulters Company Pancake Race– at 11.30am in Guildhall Yard, representatives of the Guildhall livery companies with take part in a race. 

Better Bankside Pancake Day Race– from 12.00 at Borough Market, various teams will be raising money for the Paintings in Hospitals charity. 

Great Spitalfields Pancake Race– at 12.30pm at the Truman Brewery, the Alternative Arts Organisation will host the race in aid of the London Air Ambulance. 

Leadenhall Market Pancake Race– at 1pm at Lamb Tavern, teams comprised of businesses from the market and surrounding area will offer its first hundred spectators a free lemon and sugar crepe.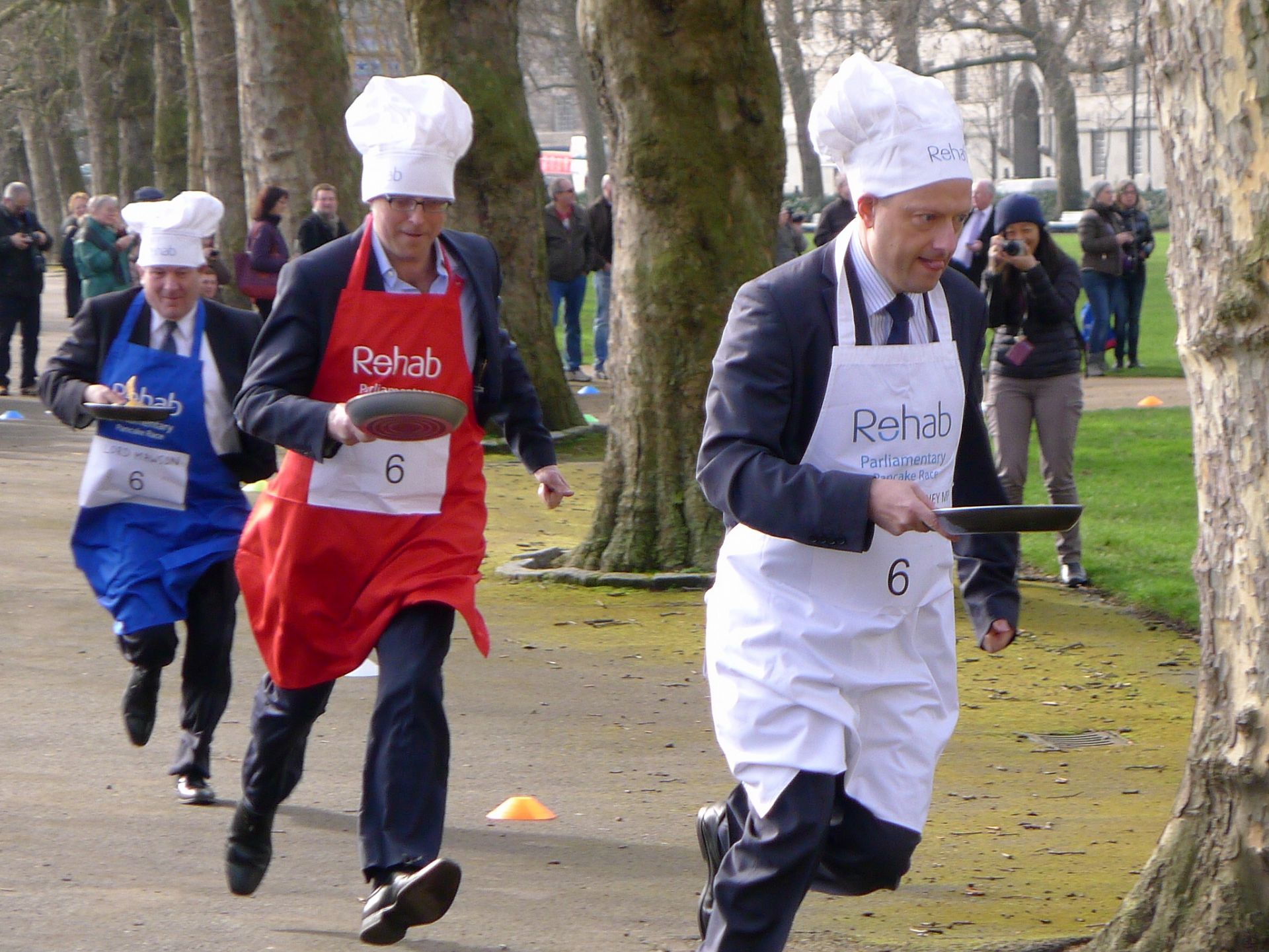 Lord Mawson, Journalist Nick Robinson & Jason McCartney MP during 2014 Pancake Day Race near House of Parliament. Photo: ©Martin Deutsch.