Many visitors to Britain like to partake in the ritual of afternoon tea, which is a long-standing British tradition. It combines the British love of drinking tea with a fondness for cakes and other sweet dishes in the middle of the afternoon. Many hotels and well-known shops, such as Fortnum and Mason on Piccadilly, offer afternoon tea packages. The ritual is so popular that they are often full, and it is advisable to book in advance, especially if you wish to go to a popular venue such as the Ritz. Remember too that these places can be quite expensive and there will be little change from £100 per person, especially if you take champagne with your tea.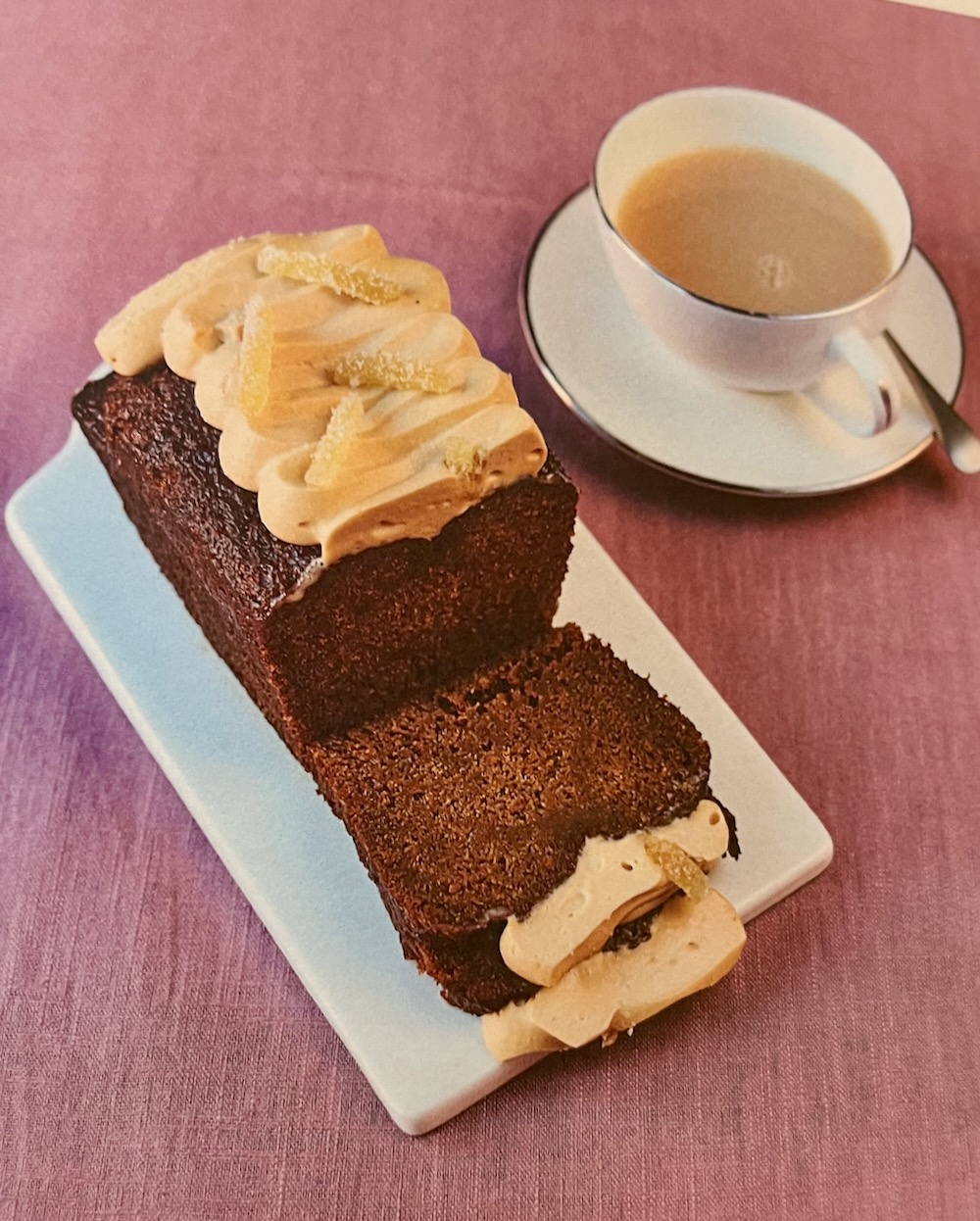 Time for Tea by Tom Parker Bowles. Photo Credit: © Ursula Petula Barzey.
History of Afternoon Tea in England
Tea was first introduced to England in the 1650s by Dutch traders. It was initially a luxury item for the wealthy, but it quickly became popular across all social classes. Afternoon Tea, a beloved British tradition that dates back to the 19th century, is a testament to the country's love of tea. Below are ten facts which provide insight into the history of afternoon tea in England, from its origins in the 19th century to its popularity today:
1. The Origins of Afternoon Tea
Taking a small meal in the middle of the afternoon with a pot of tea has its origins in the nineteenth century. Anna, Duchess of Bedford, would get peckish at around four p.m. but would have to wait until eight o'clock before dinner was served in her home. She would order a pot of tea with cakes to accompany it, and the tradition of afternoon tea was born. Anna was a friend of Queen Victoria, and the fashion soon spread throughout the country.
2. 'High' and 'Low' Tea
Although the meal is often referred to as 'high tea,' this was, in fact, a meal in itself in working-class households and would be accompanied by meat and fish dishes. It was eaten off high tables (hence the name), whereas 'low tea' was more of a snack eaten off low tables to keep hunger at bay in upper-class houses where dinner was served fashionably late.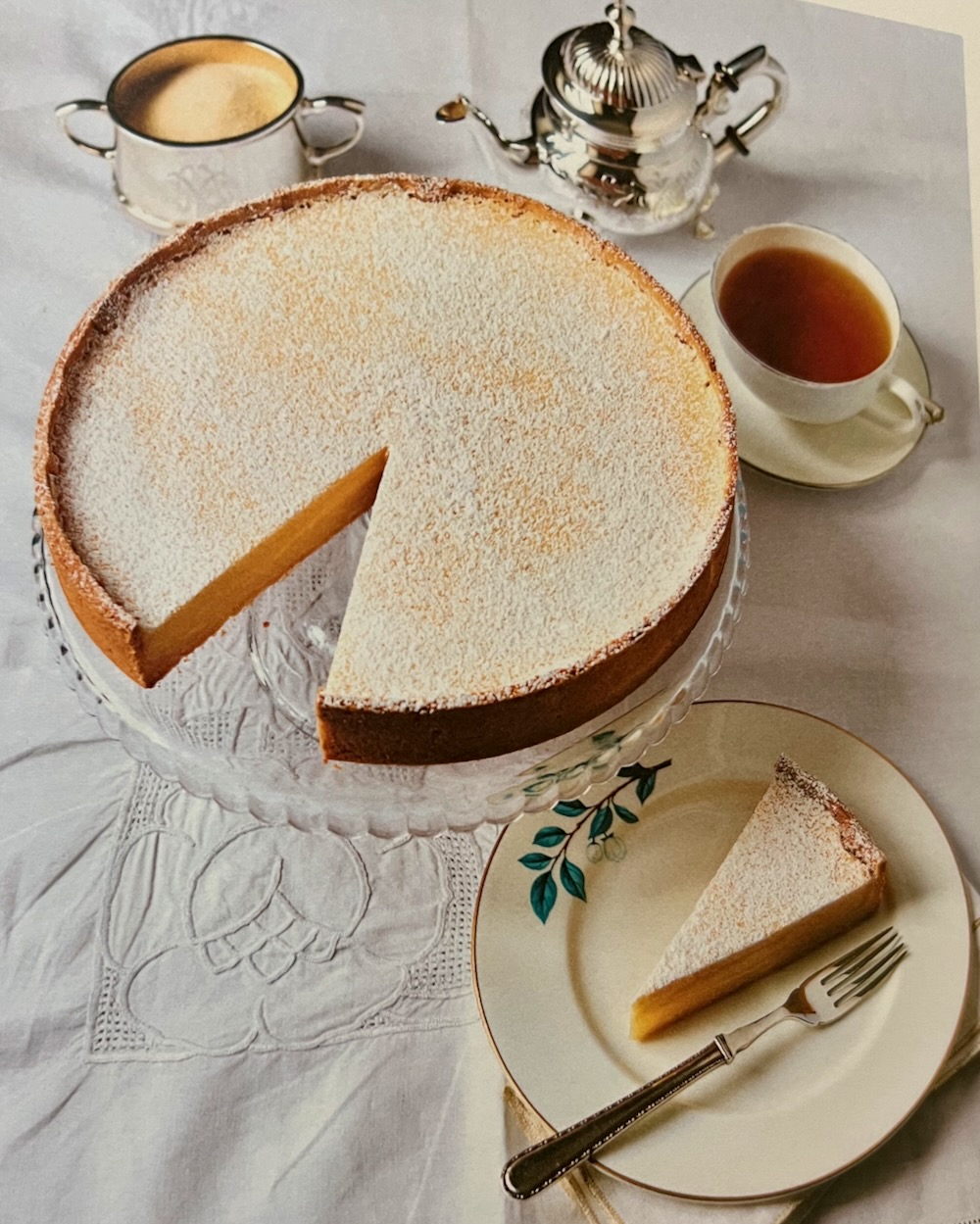 Time for Tea by Tom Parker Bowles. Photo Credit: © Ursula Petula Barzey.
3. Cream Teas
As an alternative (or supplement) to cakes, scones are often served at tea time. The mild climate in the southwest of England encourages the creation of thick or 'clotted' cream that is an accompaniment to scones and strawberry jam. In Devon, cream is put onto the scone first before the jam, while in Cornwall, the jam always goes on first. Clotted cream, incidentally, has a butterfat content of 55%, while semi-skimmed milk's fat content is 2%.
4. An Agatha Christie Tea at Brown's Hotel
Afternoon tea is served at Brown's Hotel, which stands just off Piccadilly near the Ritz Hotel. That most English of writers Agatha Christie, who was teetotal, enjoyed afternoon tea there as it was her favourite hotel in London. Brown's Hotel is said to have been the inspiration behind the fictitious Bertram's Hotel, which features in her book At Bertram's Hotel, in which the elderly amateur sleuth Miss Marple solves a series of crimes that take place at the hotel. Miss Marple was portrayed by many actresses in television and film adaptations of the stories featuring her. The best portrayal is generally thought to be by Joan Hickson, an actress who was suggested for the part of Miss Marple by Agatha Christie herself.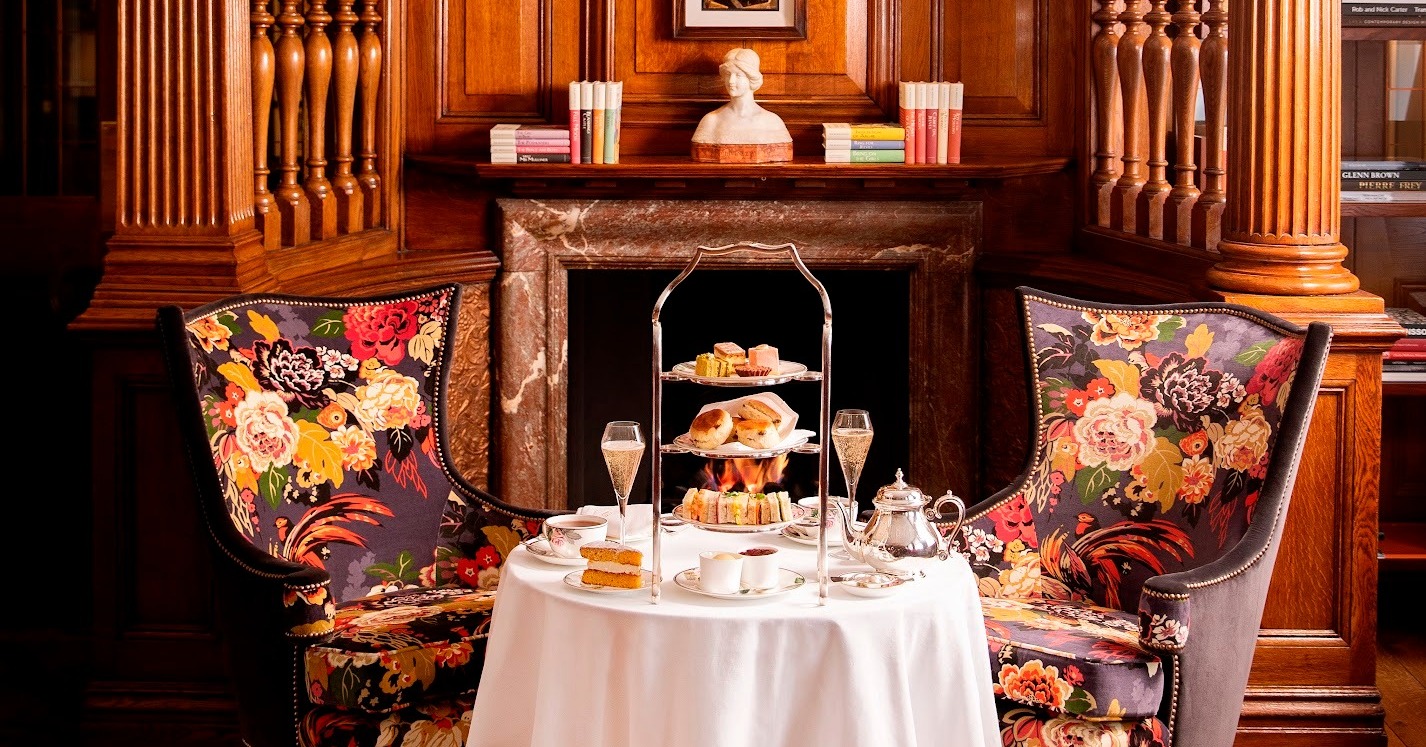 Afternoon Tea at Brown's Hotel in London. Photo Credit: © Brown's Hotel London.
5. How Much Tea Do the British Drink?
According to the Tea Census, Britons drink over 100 million cups of tea a day, around two cups for every adult in the country. Most of us drink our tea at home, and the vast majority of it (97.5%) is made with tea bags. 70% of the British drink their tea without sugar.
6. Tea and Sightseeing Tours
Blue Badge Guides in London often specialise in 'Foodie Tours' and can theme a tour around afternoon tea.  For those who wish to combine taking tea with sightseeing, you can do so either on a boat or a bus. Go to cityexperiences.com to book a seat on a boat trip down the River Thames, on which tea is served. For a combination of a ride on an old-fashioned Routemaster bus and afternoon tea, go to b-bakery.com. Both the boat and bus ride feature a commentary – but not by a Blue Badge Guide – pointing out the major sites of London en route.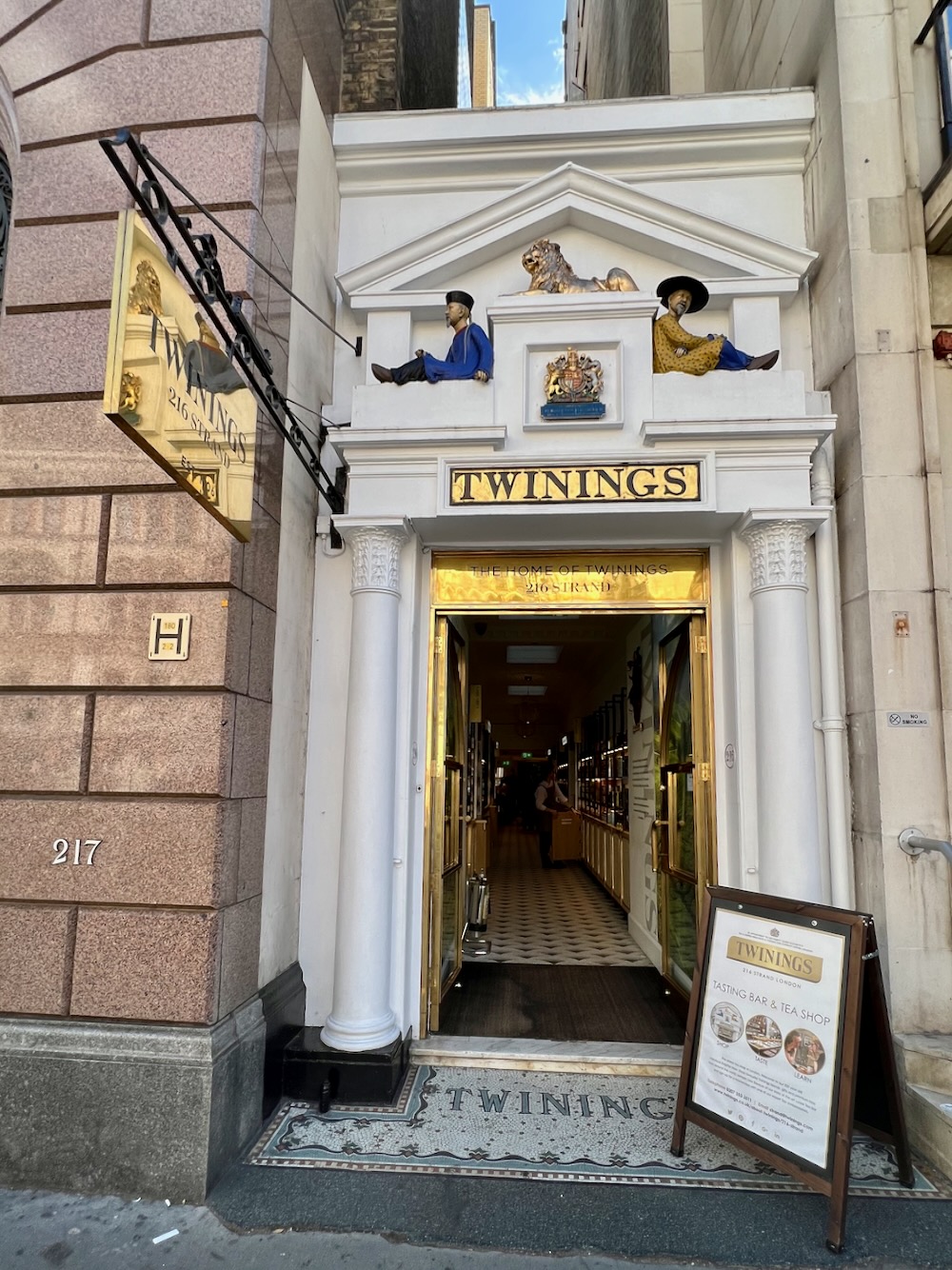 Entrance to Twinnings at 216 The Strand in London. Photo Credit: © Ursula Petula Barzey.
7. The World's Oldest Tea Shop
Twining's at 216 The Strand opposite the Royal Courts of Justice is London's oldest tea shop and has occupied the same premises for over 300 years since its foundation in 1706. Apart from selling tea (both packaged and as a beverage), the shop also sells accessories for tea parties and offers masterclasses, which give visitors the chance to blend their own tea.
8. The World's Highest Tea Party
According to the Guinness Book of Records, the highest tea party in the world was held on the slopes of Mount Everest in May 2021 at 21,312 feet (6496 metres). It was hosted by Andrew Hughes, who was leading a party up Mount Everest and who said that 'tea was a big part of our lives on the expedition.' He used a mixture of tea bags and loose-leaf tea.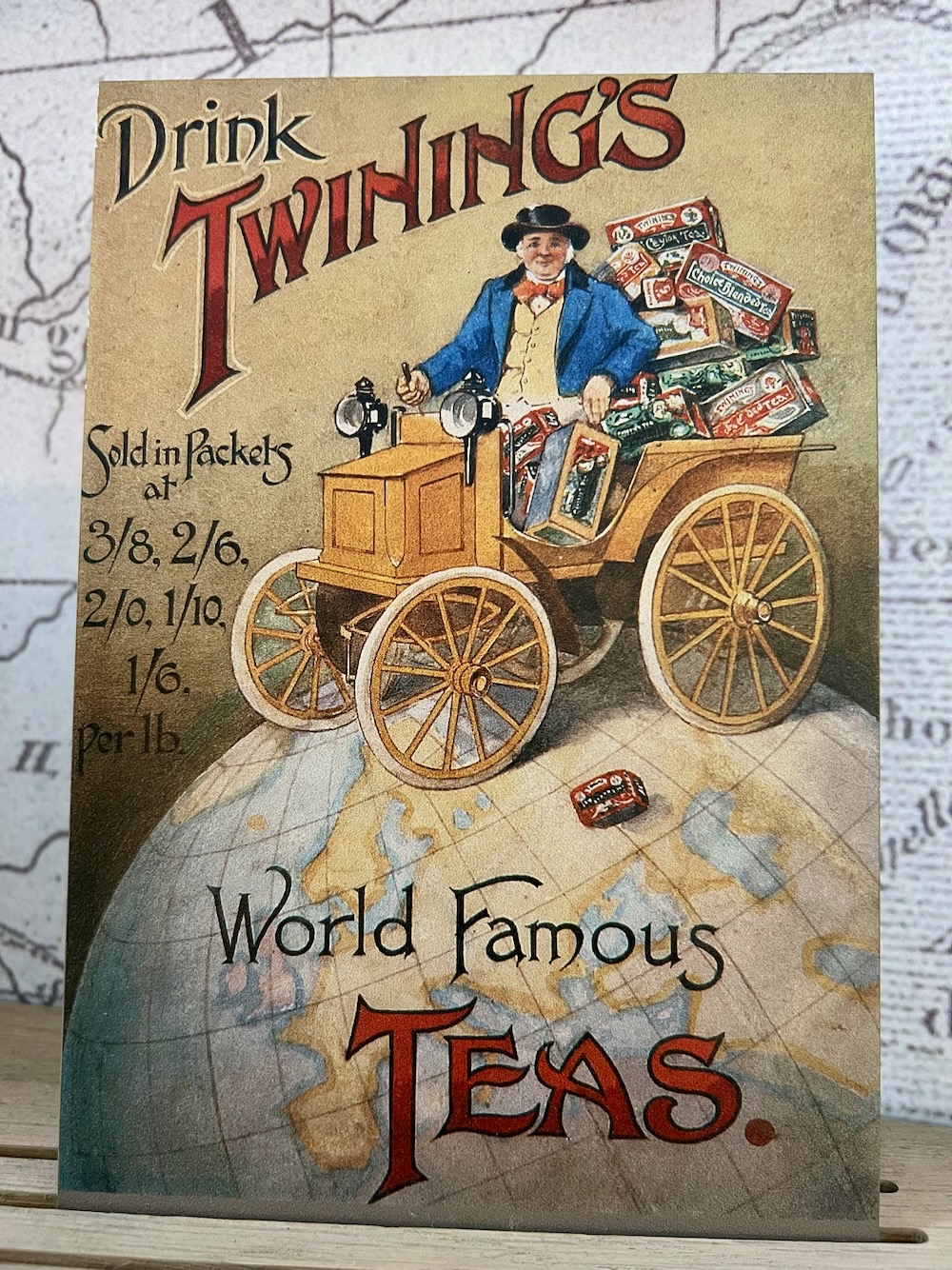 Drink Twinnings World Famous Teas. Photo Credit: © Ursula Petula Barzey.
9. The Tea Trade
Tea has been a major import since the first shipments arrived in the sixteenth century. After the marriage of King Charles II to the enthusiastic tea-drinker Catherine of Braganza, tea drinking took off, and the first official record of tea being imported was in 1664 when 100 pounds of Chinese tea were imported from Java. Today, Britain imports 100,000 tons of tea every year. India is an important maker of tea, and the phrase 'for all the tea in China' is part of our language. However, most tea drunk by Britons is grown in Kenya and is often blended with teas from sixty countries around the world (including the Channel Islands), which grow the tea plant Camellia Sinensis, where the favourite drink of the British comes from. The best-selling brands of tea from independent grocers are Tetleys, PG Tips, and Yorkshire Tea.
10. The World's Most Enthusiastic Tea Drinkers
According to the Tea Census, the country that drinks the most tea per head of the population is not, in fact, the United Kingdom (which is second) but the Republic of Ireland.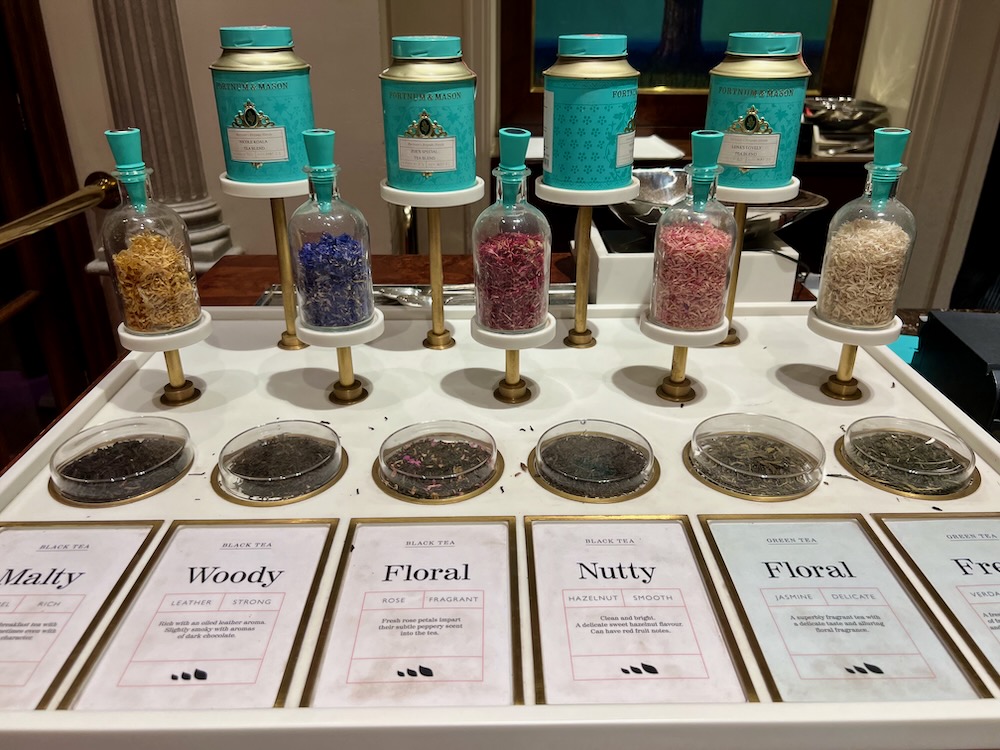 Tea from Fortnum & Mason in London. Photo Credit: © Ursula Petula Barzey.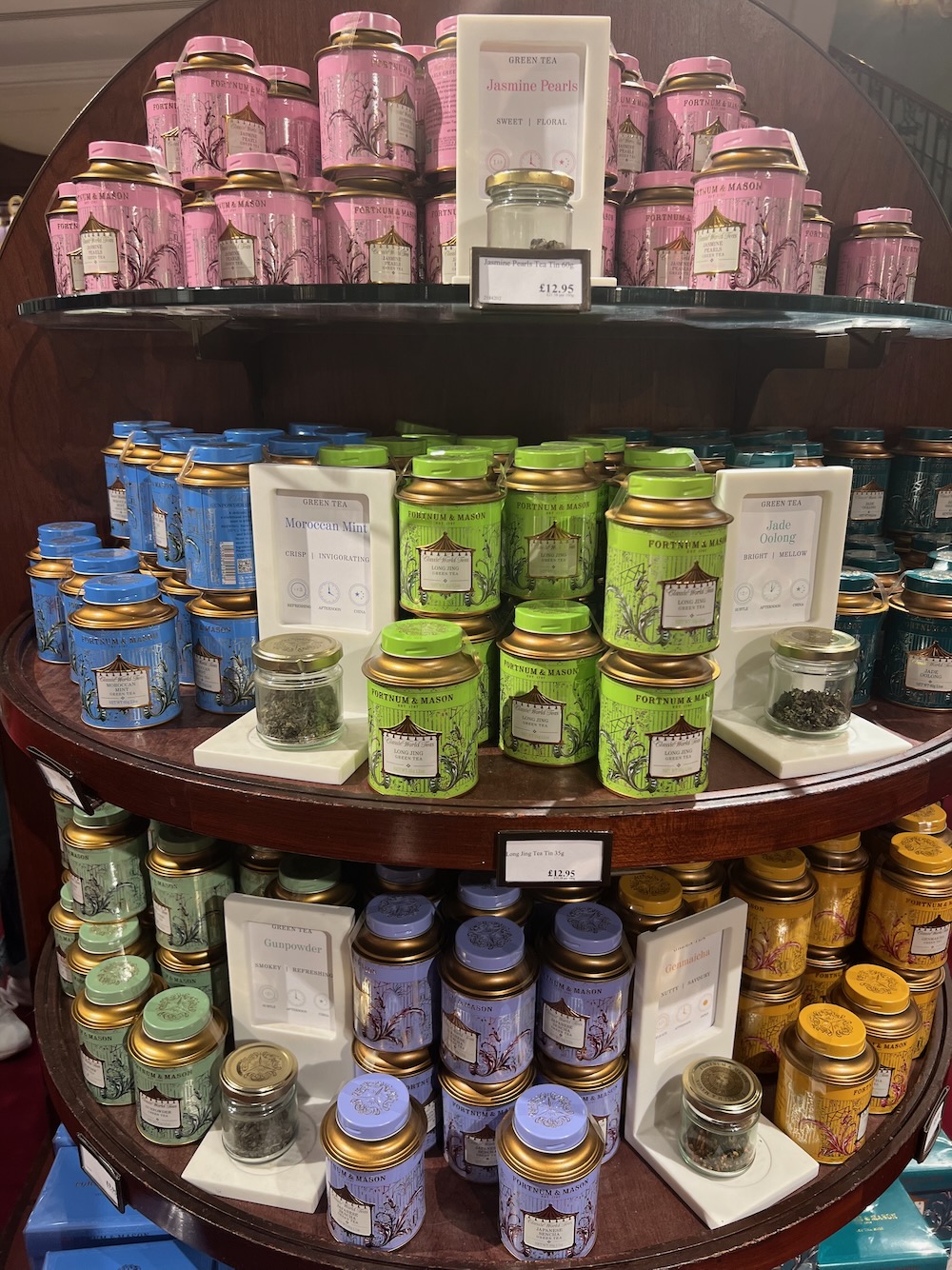 Tea from Fortnum & Mason in London. Photo Credit: © Ursula Petula Barzey.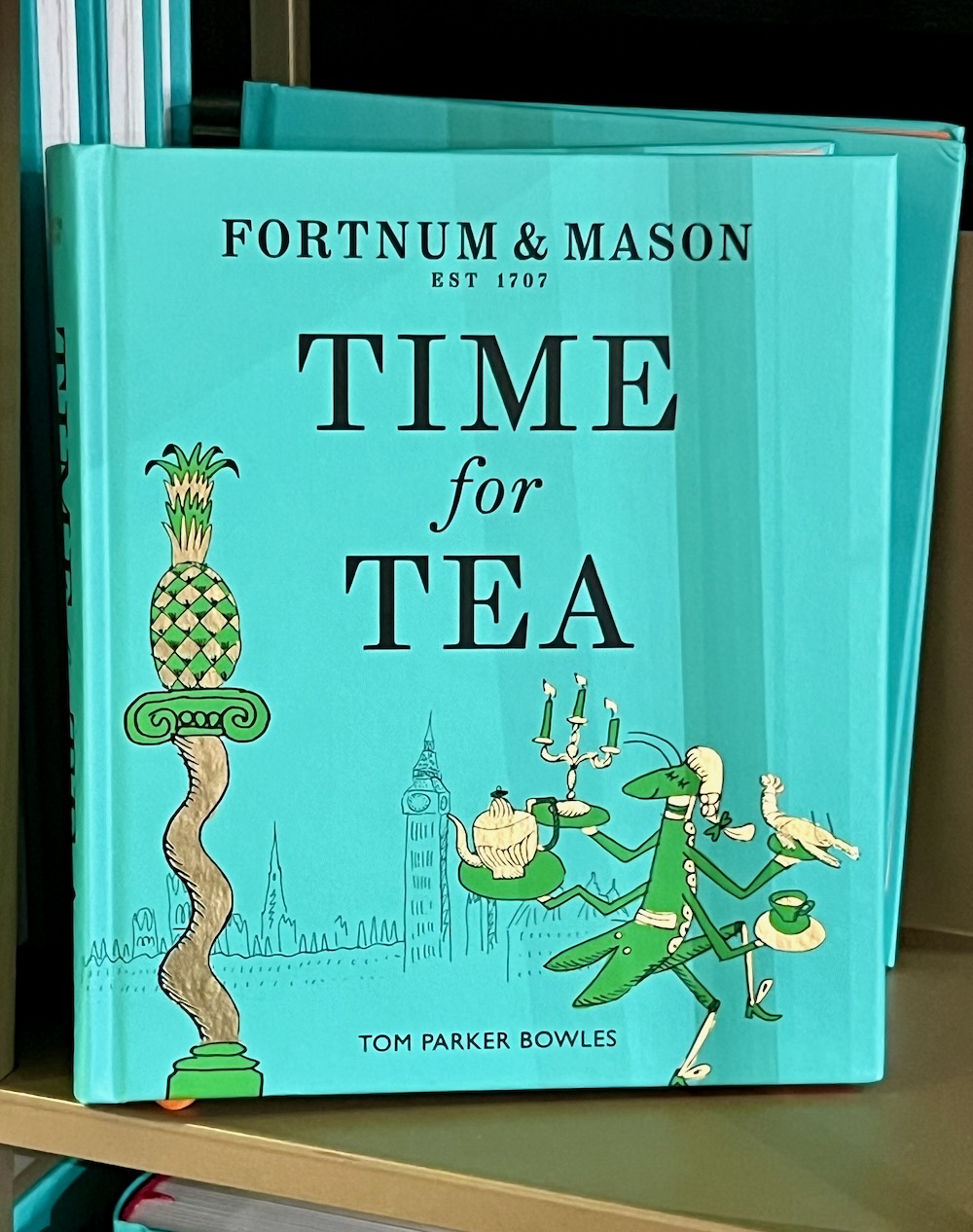 Time for Tea by Tom Parker Bowles. Photo Credit: © Ursula Petula Barzey.