What a treat it was to inspect gas lamps around Westminster last November with Ian and Garry from British Gas, who love their lamps. They clean and polish them, feel pain when one gets smashed by a passing truck and complained to the Royal Parks who repainted lamps in St. James's Park without gold paint. Lamps are listed by English Heritage so if one gets knocked down, it must be replaced with an exact copy.  Below are some more interesting facts as shared by Ian & Garry while on this education and training tour for Blue Badge Tourist Guides.
There are still 1500 gas lamps in London. They don't need lighting every night, but the timer that lights them automatically needs adjusting every fortnight to keep pace with shorter or longer days.
Before timers, lamps were lit with an 8ft long brass pole with a pilot light – last used around Temple 1976.
Gas lighting first appeared in Pall Mall in 1812, thanks to Frederick Winsor – originally with wooden gas pipes. This, unfortunately, resulted in a lot of explosions and a few deaths.
The oldest lamps near Carlton House Terrace have George IV's initials on them.
Westminster Abbey cloisters are lit by gas. The oldest lamp is in Dean's Yard, near the group entrance, fixed to the wall. This has been there for 200 years as a gas lamp, and before that as an oil lamp.
The Mall has electric lights on the park side and gas on the St. James's Palace side – the original road.
Near the Queen Mother statue which was dedicated in 2009,  there are modern gas lamps as the Royal family refused to have electric ones – "the Royal family is very pro gas".
British Gas gets several months' warning of State Visits, as lamps around Buckingham Palace are altered to be on 24 hours a day during the visit.
There is a new row of lamps near Trafalgar Square. The base of the column is an old cannon, which has a hole down the middle, originally for firing, now for the gas pipe.
The new arcade development in Covent Garden has gas lamps at the special request of the architect.
Carting Lane besides the Savoy hotel has a sewer gas lamp which burns 24 hours a day. It draws up sewer gas with the heat of the gas flame. Sewer gas is then burned as it reaches the flame.  It was erected to keep sewer smells away from the hotel bedrooms!
Garry who actually oversees the five lamplighters employed by British Gas looks after 40 lamps around Westminster, doing his rounds on his motorbike. No, he doesn't carry a ladder with him – ladders are placed in strategic places – one is fixed to a lamp post on Great College Street.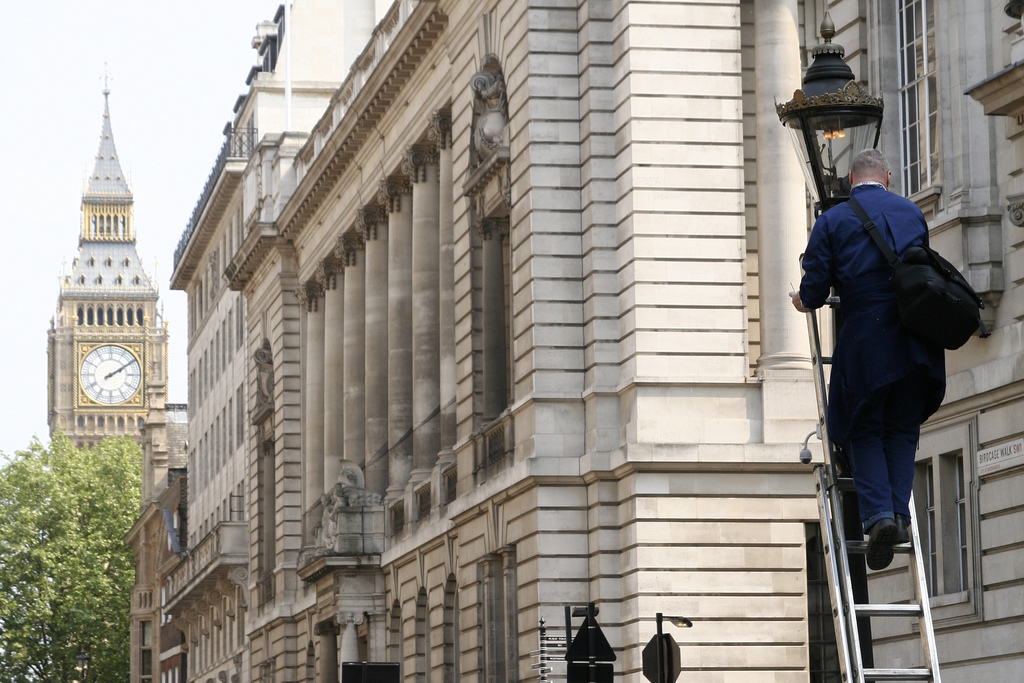 British Gas Lamp Lighter on the job near the Palace of Westminster. Photo Credit: ©Flickr/UnsureShot.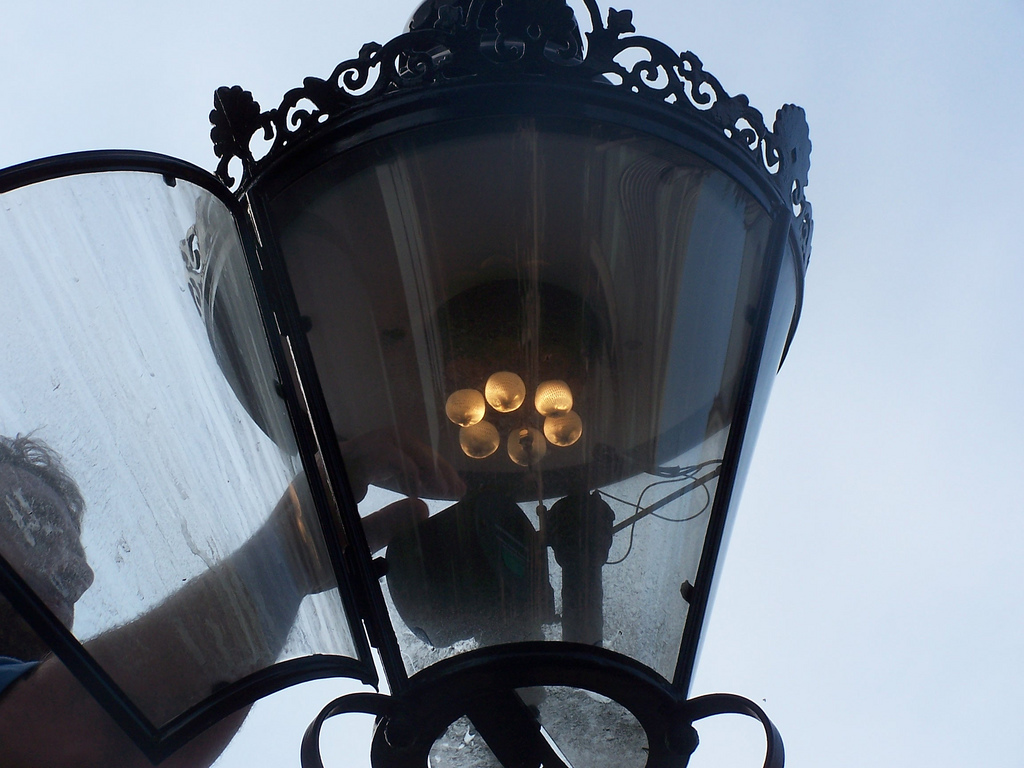 Close up view of a gas lamp near Westminster Abbey. Photo Credit: ©Flickr/Richard Molpus.