London offers a variety of ways to keep you entertained over the festive season. Here are some of the best tips from Guide London to help you make the most of the capital over the next few weeks.
Christmas Markets
In the run-up to Christmas, why not get into the festive spirit by visiting some of the Christmas markets? Christmas markets in the United Kingdom were very popular until Oliver Cromwell banned the celebration of Christmas in the fashion people had become used to, and this affected the Christmas markets which died out instantly. Christmas markets have been revived in recent years, and they often have continental themes.
The Barbican hosts weekends of seasonal shopping, with independent designers, makers, and artisans setting up shop in the foyers. 11-13/12 and 18-20/12.
Browse handmade wooden toys, unique jewellery, intricate decorations and lots more offered from wooden chalets outside Tate Modern. Until 23/12.
South Bank Centre Winter Market has wooden chalets filled with festive food, drinks, gifts and treats. Until 24/12.
London Bridge City boasts a winning combination of homemade gifts and delicious food, sold from German-style chalets. Until 3/1.
There's a host of seasonal festivities waiting for you at Hyde Park Winter Wonderland, including rides & attractions, ice skating, Christmas markets, bars, cafes, restaurants and street food, plus free live music. Until 3/1.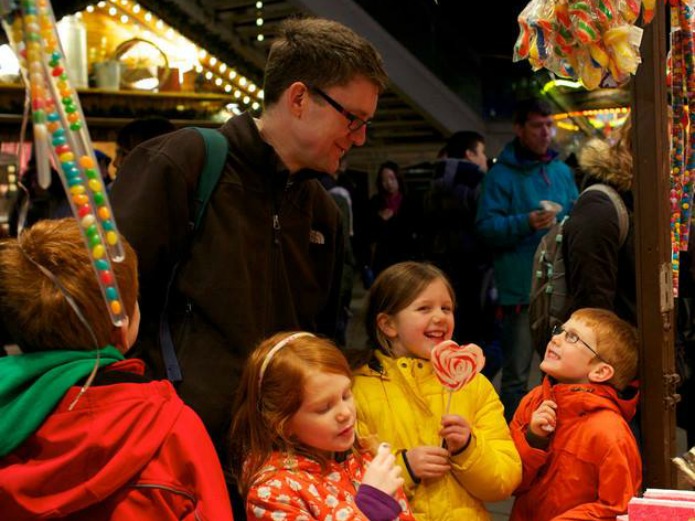 Children enjoying the festivities at South Bank Centre Winter Market.   Photo: © South Bank Centre Winter Market. 
Christmas Lights
All the main shopping street in London are lit up and decorated for Christmas, and many of them have extended opening hours in the run-up to Christmas. It is also worth heading off the beaten track to explore Christmas lights and decorations in areas such as Store Street (off Tottenham Court Road), Granary Square (King's Cross) and the Duke of York Square (Chelsea). Children will also love the huge Christmas tree made up of 2,000 Disney soft toys inside St Pancras International station.
Christmas Carol Concerts and Choirs
Many of London's churches and cathedrals have carol concerts and services throughout December. Some are ticketed events; others are free to attend. Venues include famous concert halls such as Royal Albert Hall and Barbican Hall, but it is also well worth checking out London's many churches.
Christmas Day
With no tubes or buses running, make the most of an almost traffic free London by exploring the city on foot or opt for a Santander bicycle. There are also taxis and minicabs available (charging extra). Get up early and head for Hyde Park and watch members of the Serpentine Swimming Club take part in the annual Peter Pan Cup swimming race at 9am.
Walk around the city, taking in London's beautiful architecture, explore street art and enjoy the Christmas Decoration and lights on largely deserted streets.
Most attractions are closed on this day, but a few will open including Ripley's Believe It Or Not!, which showcases weird and wonderful items from around the world.
Many restaurants and pubs are closed, and those that are open may only offer special Christmas Day menus and they tend to get fully booked well in advance. Restaurants planning to open at least for part of Christmas Day include The Cinnamon Club, Cinnamon Soho, The Orange, Grazing Goat and Quaglino's. Most hotel restaurants are open, and some branches of restaurant chains may be open.
Most London churches will have Christmas Day services. It's advisable to check with the individual church in advance, but Central London churches with Christmas Day services include St Martin-in-the-Fields, St Paul's Cathedral, Southwark Cathedral and All Hallows by the Tower.
To get even more out of your Christmas Day in London, why not book your own private walking tour with a professional Blue Badge Tourist Guide using our GuideMatch service.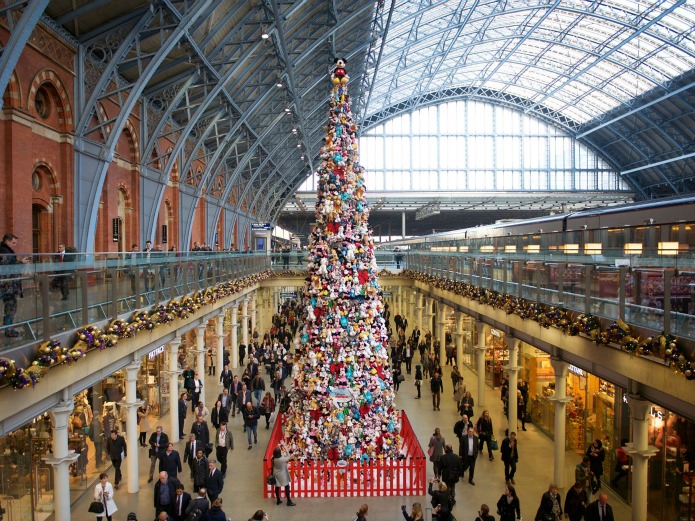 Christmas Tree at St Pancras International created from 2000 Disney Store soft toys.  Photo: ©St Pancras International. 
Boxing Day
Many high street stores in London start their sales on Boxing Day (26 December), and many attractions are open again. Most tubes and buses are running, but there are no Overground or Transport for London rail services.
New Year's Eve
The magnificent fireworks display at London Eye which showers the Thames with light is a ticketed event and is now sold out. However, the fireworks can be enjoyed from further away, for example from parts of St James's Park near Buckingham Palace.  For a view of fireworks going off all over London, head for Primrose Hill.
New Year's Day
London's New Year's Day Parade celebrates its 30th year and more than 8,500 performers representing 20 countries will take part, including Pearly Kings and Queens, cheerleaders, marching bands, dancers and representatives from West End shows. The parade starts at 12.00 on Piccadilly and finishes at 3.30pm in Parliament Square.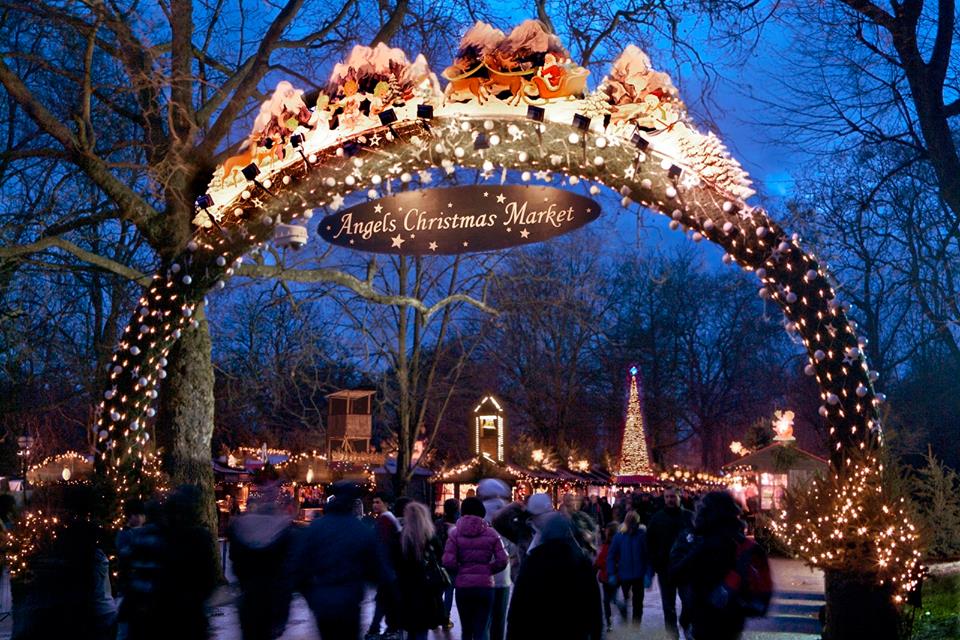 Angels Christmas Market at Hyde Park Winter Wonderland.  Photo: ©Hyde Park Winter Wonderland