Christmas at Kew 2016: As Twilight Falls, The Magic Begins
Now in its fourth year, the new 2016 winter trail is inspired by the gardens themselves, as the trees, temples and glasshouses of Kew are playfully lit and all aglow. Enter between two giant Christmas trees festooned with ribbon and wander beneath unique tree canopies drenched in seasonal colour. Follow the path between a carpet of light gently swaying like blossom and stop for a moment of reflection at the scented Fire Garden inspired by Five Gold Rings from The Twelve Days of Christmas. Continue towards glittering trees dripping with giant crystals and gaze at colour-changing reeds rising high into the night sky. Just ahead glimpse the Tunnel of Lights, this year animated by over 60,000 lights making patterns and pictures to a festive soundtrack.
Don't forget to stop for a Kew karaoke at the Christmas Juke Box before strolling the fairy-tale avenue of flora dotted across the Crystal Lawn. Pause at Mistletoe Moment before continuing the woodland walk between larger-than-life clusters of candles. This year, framed by sparkling hedges, the Palm House Pond springs to life with brightly coloured laser beams, fans of light and flickering orbs that dance in time to music inspired by much-loved Christmas classics. Christmas at Kew 2016 is on until 2 January 2017, 5pm to 10pm. Timed entrance between 5pm and 8.15pm.  Do note that it will not be open on 28, 29 November, 5, 6, 12, 13, 24 and 25 December 2016.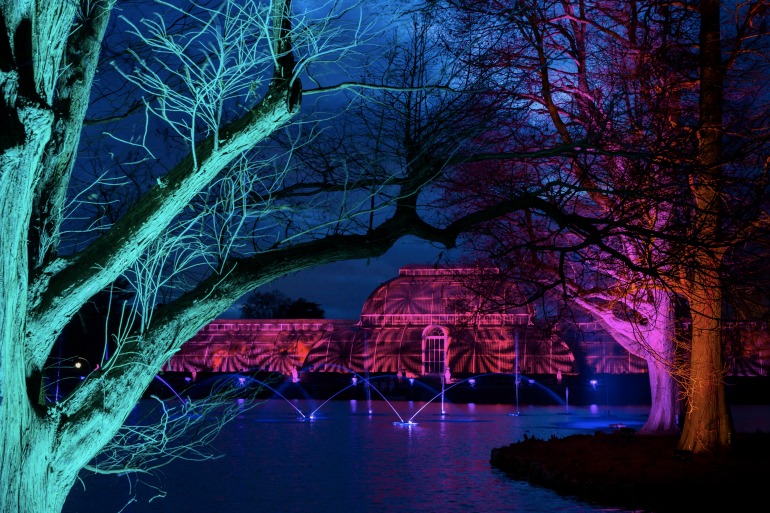 Christmas at Kew 2016. Photo Credit: ©RBG Kew.

You may also like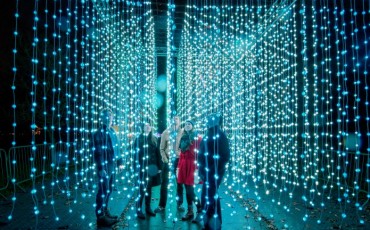 06 December 2015
Did you know that Kew Gardens was home to one of the very first decorated Christmas trees in England? It was Queen Charlotte in the 1790s who dressed branches in one of the largest rooms at Kew Palace, and when the tree was lit and all aglitter, the whole court gathered round.
Read more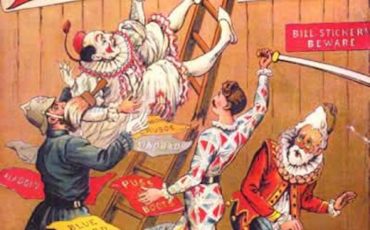 06 December 2017
Would you like to go to a theatre where you were allowed to shout back at the actors on the stage? The opportunity to do so comes between November running all the way through Christmas until the start of the New Year when Pantomimes take place in many village halls and theatres across the United Kingdom.
Read more