London is a buzz of excitement during the entire month of December. As by the end of November, most of the major shopping areas have their Christmas lights and shop windows decorated. The remainder turn on their lights early December when there is typically a party in the street as the lights are ceremonially turned on by a celebrity or two!
Another major gathering of people to watch Christmas lights get turned on takes place in Trafalgar Square early December when the lights on the huge fir tree are switched on for the first time. The mayors of London and Oslo are present for the ceremony. The tree is a gift every December from the people of Norway in memory of the help given them by Britain during WWII. Once the lights are on and the crib has arrived in Trafalgar Square you can listen to carols each evening, or go to St Martin-in-the-FIeld Church on the square when they have a carol service. For Brits of all religions and none, we call the seasonal celebrations Christmas, never Holidays! It's a time of goodwill, good food and presents.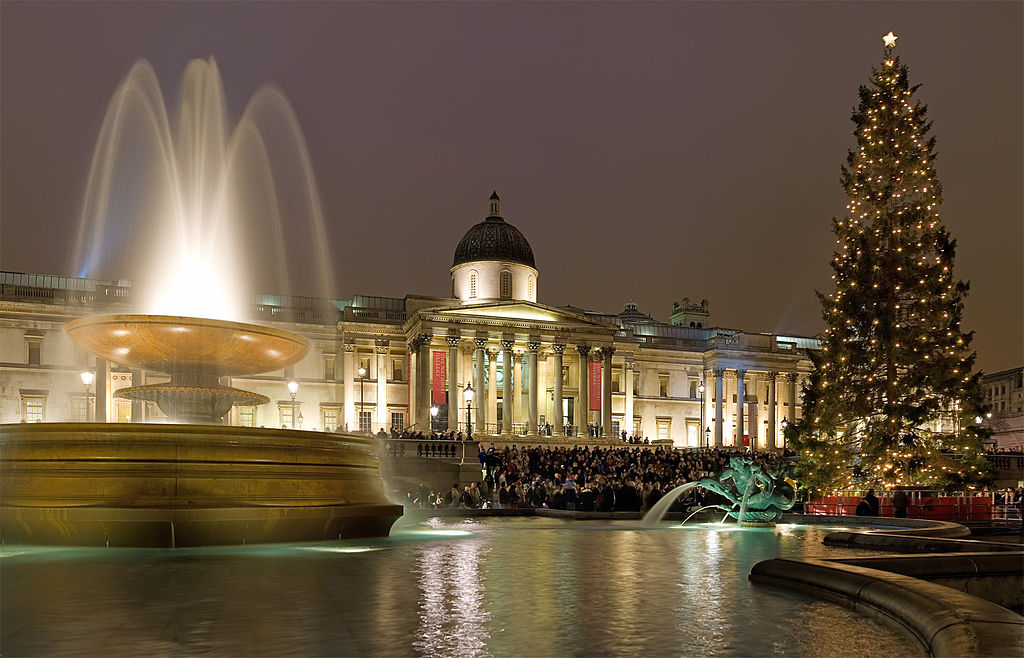 Christmas carollers gather at the Trafalgar Square Christmas Tree. Photo: ©Wiki/Diliff.
Off Piccadilly there are beautifully decorated arcades of luxury shops which are a delight to walk through. Big stores compete with each-other for the most striking window displays. Selfridges in Oxford Street was the first store in London to have a window display and this year's is a modern take on fairy tales. The most traditional windows are always Fortnum and Mason on Piccadilly, the store that supplies the queen with groceries. For a wow factor, every year you can rely on Harvey Nicholls in Knightsbridge. This year is no exception. In the same area is Harrods, and Sloane Square with Peter Jones and the area around here looks magical this year.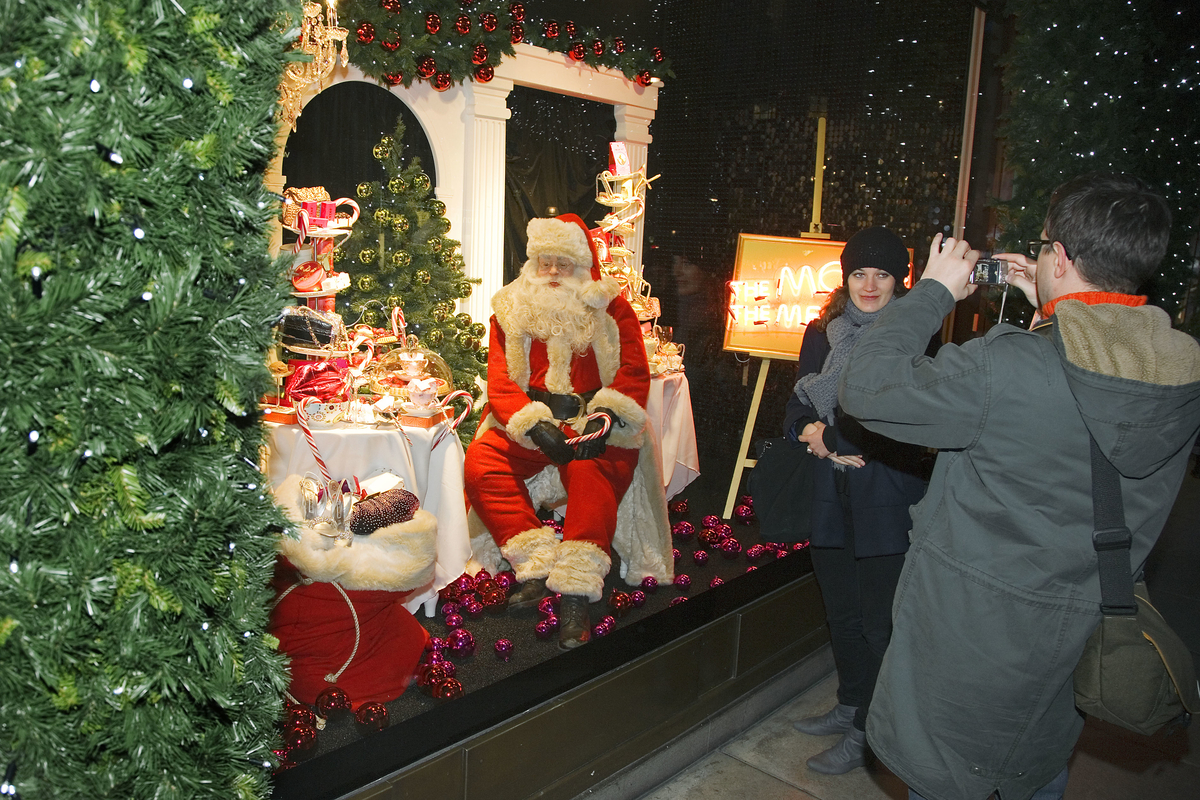 Selfridges Department Store At Christmas. Photo: ©London On View.
As well as stores there are markets. For traditional markets, selling mostly takeaway food but also some gifts, Southbank near the Royal Festival Hall is great, or if you like fairground rides as well as a market, Winter Wonderland in Hyde Park. For an alternative market to find unusual and hand crafted gifts, go to Greenwich at the weekend or to Spitalfields.
A hidden gem to really get into the Christmas spirit is Somerset House. Built around a courtyard as an 18th century office block, it is now home to the fashion industry and the fabulous Courtauld Art Gallery. This Christmas there is a free photo exhibition about Blondie and the punk era. In complete contrast a Christmas Arcade of food and other goodies from Fortnum and Mason decked in greenery and fairy lights is in the opposite wing of the building. A huge Christmas tree and an open air ice rink are in the middle of the courtyard. Skate, or drink hot chocolate or mulled wine while watching the skaters.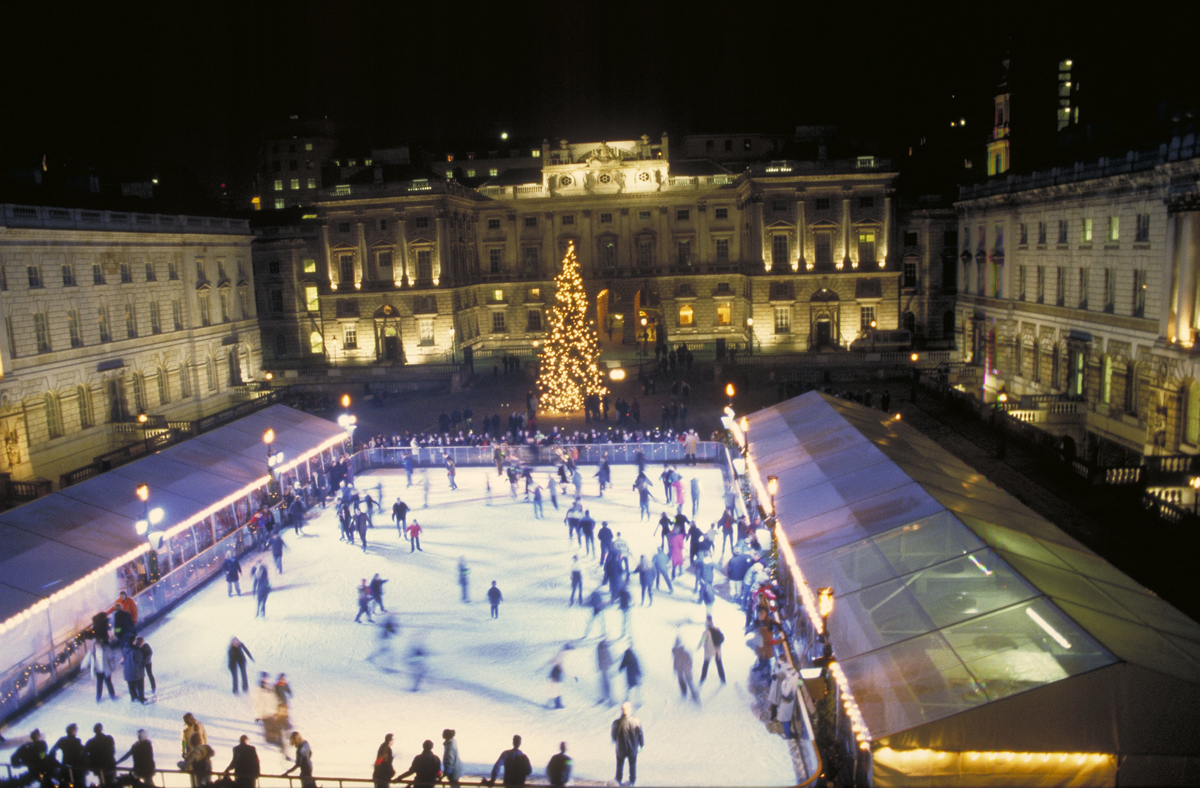 Ice skating at Somerset House. Photo: ©London On View/Jasmine Teer.
East of the centre, near Shoreditch with its night clubs, vintage shops and street art, is the Geffrye Museum. Shoreditch in the 19th century was known for furniture making and the museum shows furniture styles through the ages. The furniture is displayed in period room settings starting with the 1600's and leading through the 18th and 19th century to the 1920's, 1950's up to the present day. During December typical Christmas decorations for each period are added to the rooms. The museum is in a beautiful building and the room recreations emphasise our ideas on how to live comfortably and how they have changed. For example, at one time people kept one room for entertaining visitors and used it only on special occasions. That all changed in the 1960's as new houses were small and the whole family used one room for watching TV, doing homework, playtime and dining.
That all being said, below are some specific dates for December 2014 happenings:
Ice Skating Rinks
Now to 4 January: Natural History Museum
Now to 11 January: Somerset House
Now to 26 February: Exchange Square, near Liverpool Street
Now to 28 February: Canada Square, Canary Wharf
Christmas Fairs
8 to 21 December: More London Christmas Market
Now to 4 January: Christmas Fair Southbank
Now to 4 January: Christmas Market, Winter Wonderland, Hyde Park
Events
4 December: Christmas Tree Light Up, Trafalgar Square
4 to 7 December: East London Design Show, Truman Brewery in Spitalfields.
5 to 16 December: Spitalfields Winter Music Festival
6 December: Santa Run, Battersea Park
6 December: Great Christmas Pudding Race – Covent Garden
7 December: Belgravia Christmas Sunday, Elizabeth St/Pimlico Rd (11-4pm)
7 December: Santa Run, Victoria Park
7 December: Blessing of the Crib, St Martin in the Fields, Trafalgar Square
8 to 23 December: Carols in Trafalgar Square, every evening between 5-8pm by the Christmas tree (2-6pm Sundays)
12 to 14 December: Christmas Chocolate Festival, Business Design Centre
13 to 15 December: Chocolate Festival, Southbank
16 to 22 December: London International Horse Show, Olympia
16 to 24 December: Hanukkah Menora, Trafalgar Square
19 to 21 December: Real Christmas Food Market, Southbank Centre
25 December: Peter Pan Cup Swimming Race, Hyde Park, 9am
31 December: Firework display London Eye, ticked event £10
END
Would you like to explore London and beyond with a highly qualified and enthusiastic Blue Badge Tourist Guide? Use our Guide Match service to find the perfect one for you!