London is a great destination to visit all year round, but there is something magical about the city at Christmas time. The Great British weather doesn't have too many fans but the crisp nature of a clear Winter's Day is a thrilling sight (as long as you are properly wrapped up) and there is no shortage of great Christmas London attractions.
1. Visit Winter Wonderland
Hyde Park is the home for many people's festive fun and there are more than 100 stalls in the area. You will find rides and a great range of attractions so whether you want to watch or get involved, there is an opportunity for you to do so here. With free entry to the park and a fee for some of the attractions, you can enjoy Hyde Park's Winter Wonderland in the way that you see fit.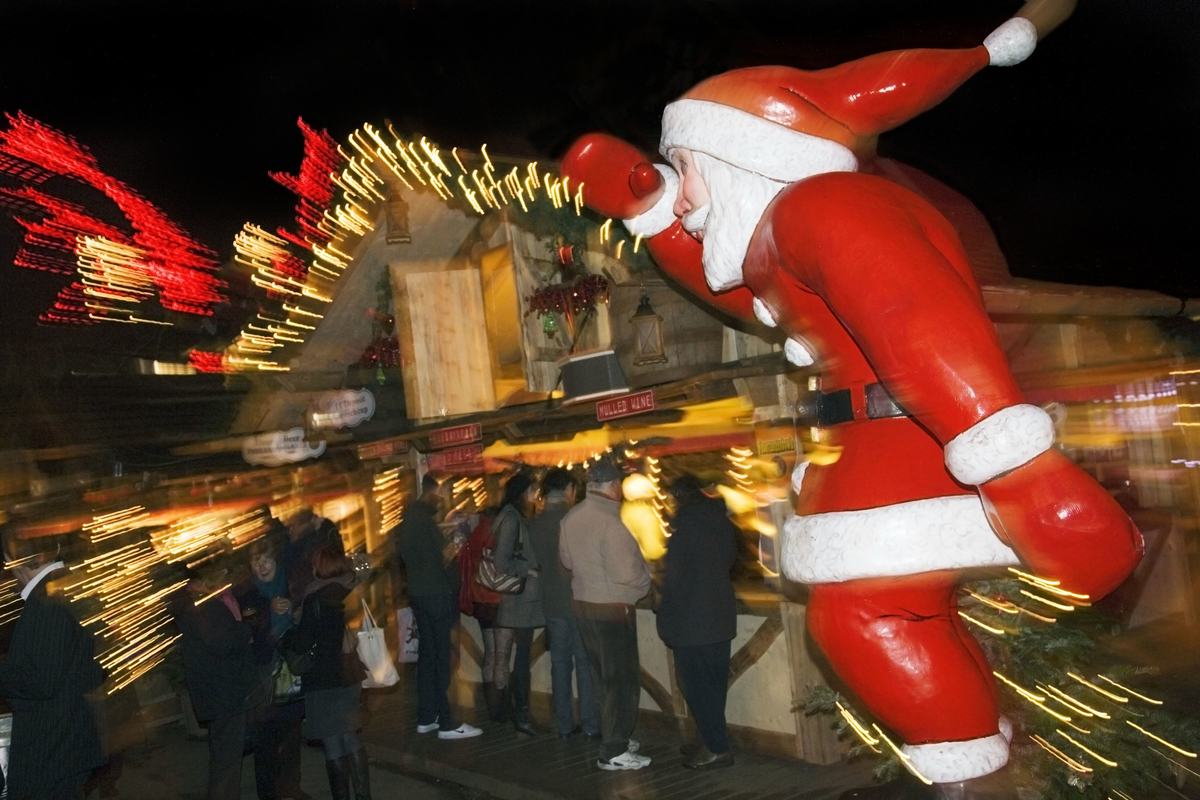 Santa at the Winter Wonderland in Hyde Park. Photo: ©Stephen McLaren via London On View.
2. See a Pantomime
This is a traditional British treat at Christmas time and you will find that pantomime is a fun day out for all of the family. A growing number of venues have major names in their production so if you are looking to see some big names while having a laugh, pantomimes are brilliant for children of all ages.
3. Go Ice Skating
If you enjoy the idea of ice skating during the festive season, but would rather avoid the shops, the Tower Of London is the place to visit. There is an opportunity to ice-skate at this famous London destination, so you will want to make sure that you are in the mood for fun when you strap on your skates. Having the opportunity to go skating in London under the stars is of tremendous interest to many people, and this is the ideal setting.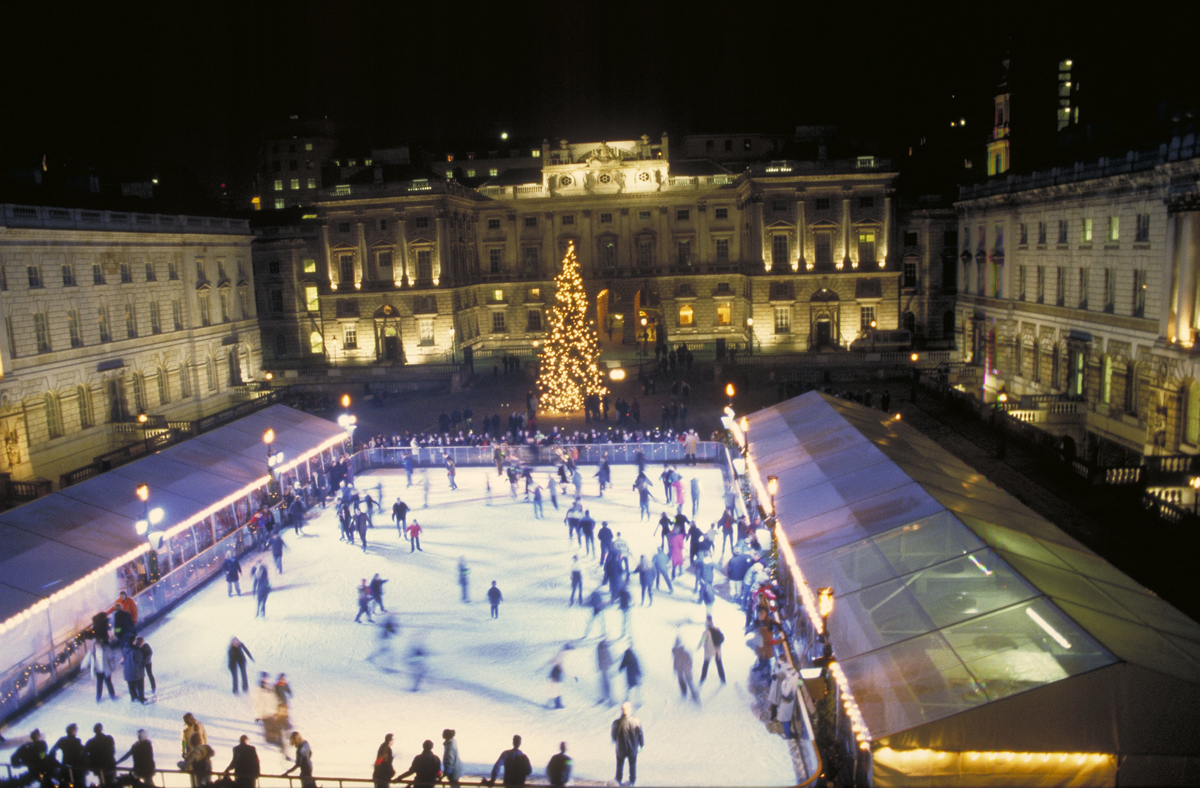 Ice skating on the ice rink in the courtyard of Somerset House. Photo: ©Jasmine Teer via London On View.
4. Go for a Swim
This isn't going to be of benefit for everyone but there is a hardy bunch of revellers who enjoy a Christmas morning dip in the Serpentine in Hyde Park. This has been a tradition which has been going on since 1864 for the members of the Serpentine Swimming Club. It can be a great spectator sport too and if you are keen to try this experience in a warmer location, there are pools, like the one at Hampstead Heath, which are heated.
5. Explore London
Book a walking tour and discover festive London with a Blue Badge Tourist Guide.  Whether a half day or full day tour, they can help bring to life the rich stories surrounding some of London's famous landmarks including: House of Parliament, Westminster Abbey, Trafalgar Square, Downing Street, Horse Guards Parade, the London Eye, Tower Bridge, and Buckingham Palace.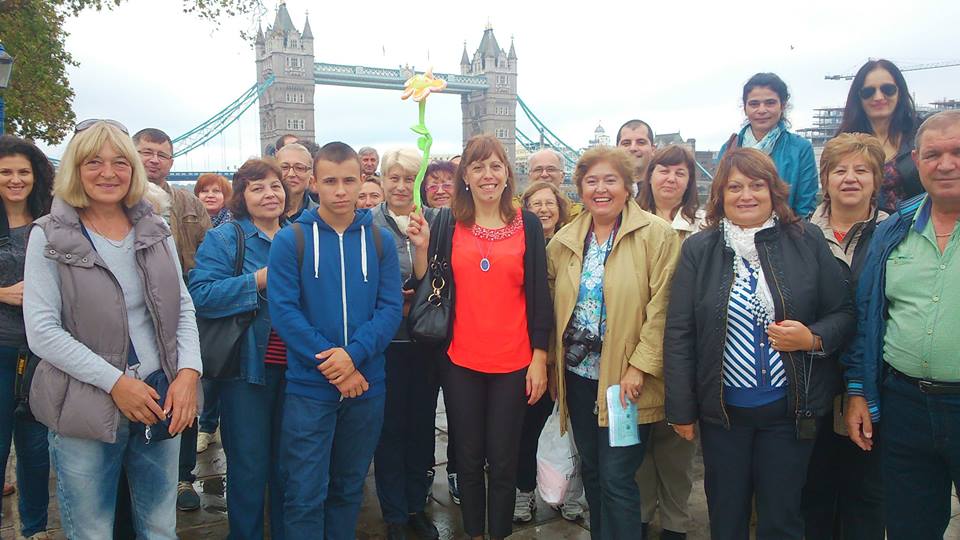 Blue Badge Tourist Guide Galina Mladenova with a group from Bulgaria. Tower Bridge built 1886–1894 is seen in the backdrop. Photo: ©Galina Mladenova.
6. Visit Kew Gardens
This is an ideal location for anyone that loves plans and horticulture but at Christmas time, it goes to a higher level. There is a chance to see Santa in a grotto and if you are looking for a vintage Christmas treat, the carousel harks back to Victorian times. Even after Christmas is over, you can bring along your Christmas tree to be recycled.
7. See a massive Christmas Tree
One of the longest-running traditions in London is seeing the Christmas tree in Trafalgar Square. This tree was donated by Norway, and it continues to be donated by Norway to this day. The tree itself is decorated in a traditional Norwegian fashion. There is also the chance to enjoy carol singing in the Square, so if this is something that you want to enjoy this festive season, Trafalgar Square is the place to be.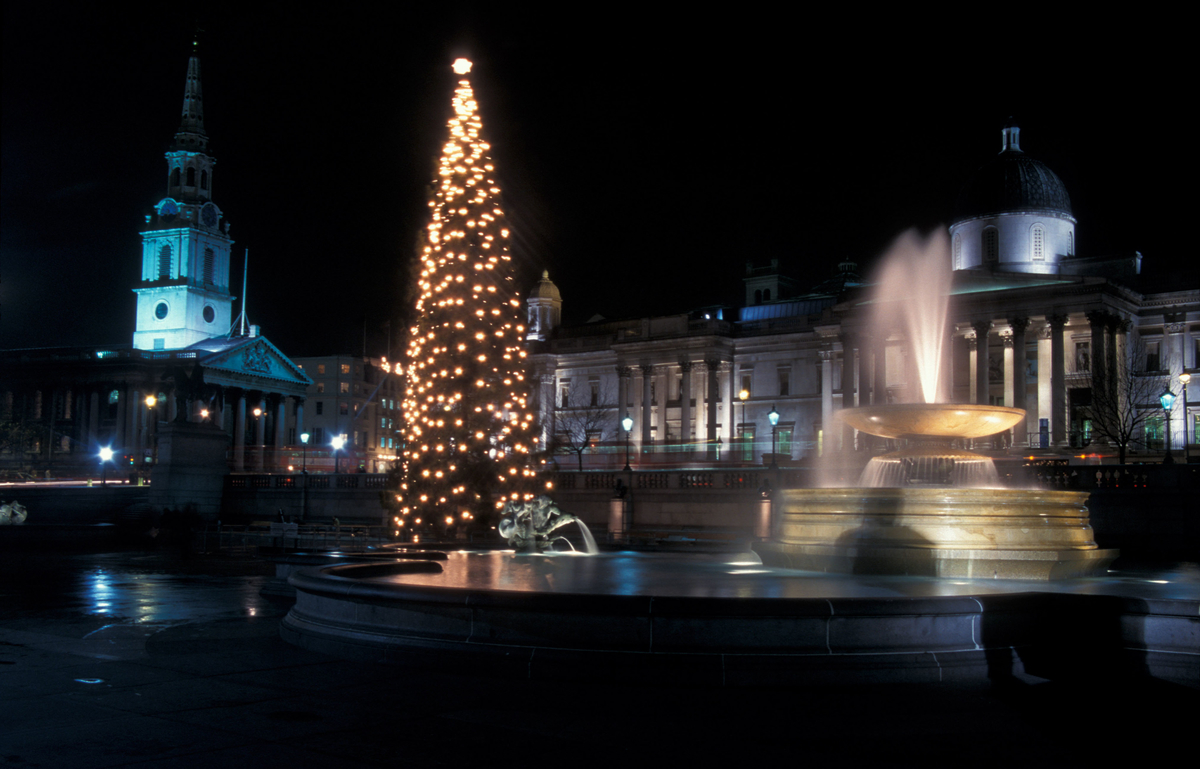 Trafalgar Square with the traditional Christmas tree, a Norway Spruce gifted to the nation from Norway each year since the Second World War, next to the water fountain illuminated at night. Photo: ©London On View.
8. Go Shopping
Let's face it, for many people, Christmas is all about giving as opposed to receiving, which means that you need to do some shopping over the course of the season. One great destination is the Westfield Shopping Centre, which serves up an ice rink. Whether you are looking to burn off Christmas calories or you are looking for the romantic moment that comes along at this time of year, the Westfield Shopping Centre is an ideal destination.
END
Would you like to explore London and beyond with a highly qualified and enthusiastic Blue Badge Tourist Guide?  Use our Guide Match service to find the perfect one for you!