For the State Opening of Parliament this year the Queen used a new 3-ton Coach created for her by Jim Frecklington, from Manly, Australia, who worked in the Royal Mews as a young man before returning home. The coach, which is 18ft long and needs 6 horses to pull it, has taken 50 people more than 10 years to assemble. The Diamond Jubilee Coach is only the second state carriage to be built in more than 100 years.
The panelling inside includes slivers from Scott's Antarctic Sled, the Mary Rose, Sir Isaac Newton's apple tree, Hut Six at code-breaking centre Bletchley Park, one of Sir Edmund Hillary's Everest ladders and from the beams of most of our great Cathedrals. Below the Queen's seat inside the carriage is a capsule carrying a piece of Scotland's Stone of Destiny, upon which monarchs are traditionally crowned, surrounded by a bolt from a Spitfire, a musket ball from the Battle of Waterloo, a bolt and rivets from the Flying Scotsman and a button from Gallipoli. There's even a fragment of the bronze cannon from which every Victoria Cross is cast, and a piece of metal from the wreckage of a 617 Squadron Dambuster.
All the leather is English, as is the gold silk brocade upholstery (from Sudbury). The lamps are glazed with the finest lead crystal from Edinburgh and the heraldic paintwork has been hand-painted by Irish-born Australian Paula Church. The door handles are from New Zealand — each is gold-plated and inlaid with 24 diamonds and 130 Australian sapphires by Kiwi jeweller Mike Baker. The handrails inside the Diamond Jubilee state coach are made from Royal Yacht Britannia timber and a wooden crown covered in gold leaf – which forms the centrepiece of the roof's decorations – was carved from oak from Nelson's flagship, HMS Victory. This also houses the royal website's 'coachcam'. The coach does has modern features however, such as six hydraulic stabilisers covered in gold leaf, fitted to the carriage to ensure a smooth ride, as well as electric windows and heaters. Following a private donation, it was acquired for the nation by the Royal Collection Trust.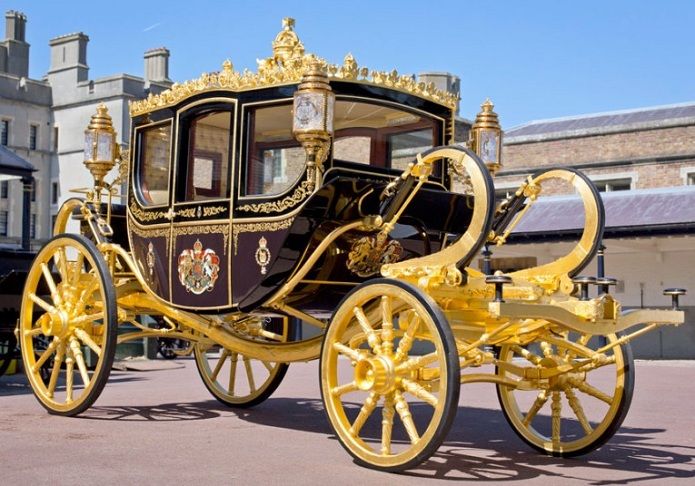 Diamon Jubilee State Coach. Photo: ©HM QUEEN ELIZABETH II.
END
Would you like to explore London and beyond with a highly qualified and enthusiastic Blue Badge Tourist Guide? Use our Guide Match service to find the perfect one for you!