Step outside central London and you might find the suburbs are brighter than you think. Come out of the underground station at Walthamstow Central, walk around a little and you will find there is plenty to see: bric-a-brac shops dotted around, a long street market and great museums like the Vestry House in the Walthamstow Village area. My top tips for three must-sees in this area are the William Morris Gallery, God's Own Junkyard and the street art.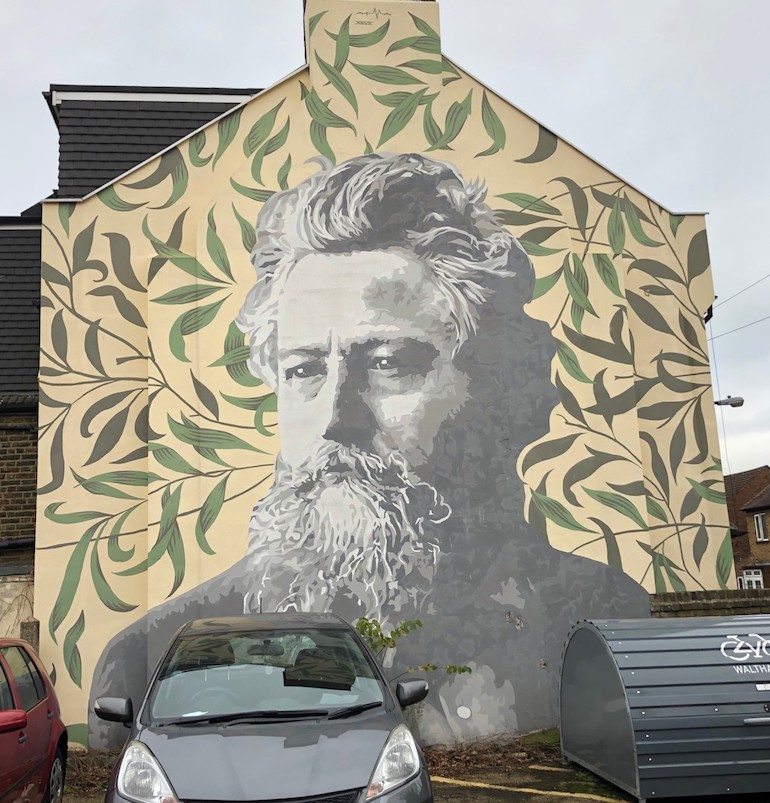 William Morris mural in Walthamstow, London. Photo Credit: © Gail Jones.
The William Morris Gallery was the designer's home during his adolescence where he spent happy holidays away from his hated boarding school. The name William Morris (1834-96) is synonymous with Liberty prints but he was so much more than a textile designer. He loved Icelandic sagas and learned the language so he could translate them into English. He started the printing company Kelmscott Press which published three of these sagas. He was a reformer, a socialist and the co-founder with his friend the architect, Philip Webb, of the Society for the Preservation of Ancient Buildings. Some of the upstairs rooms discuss these aspects of his life.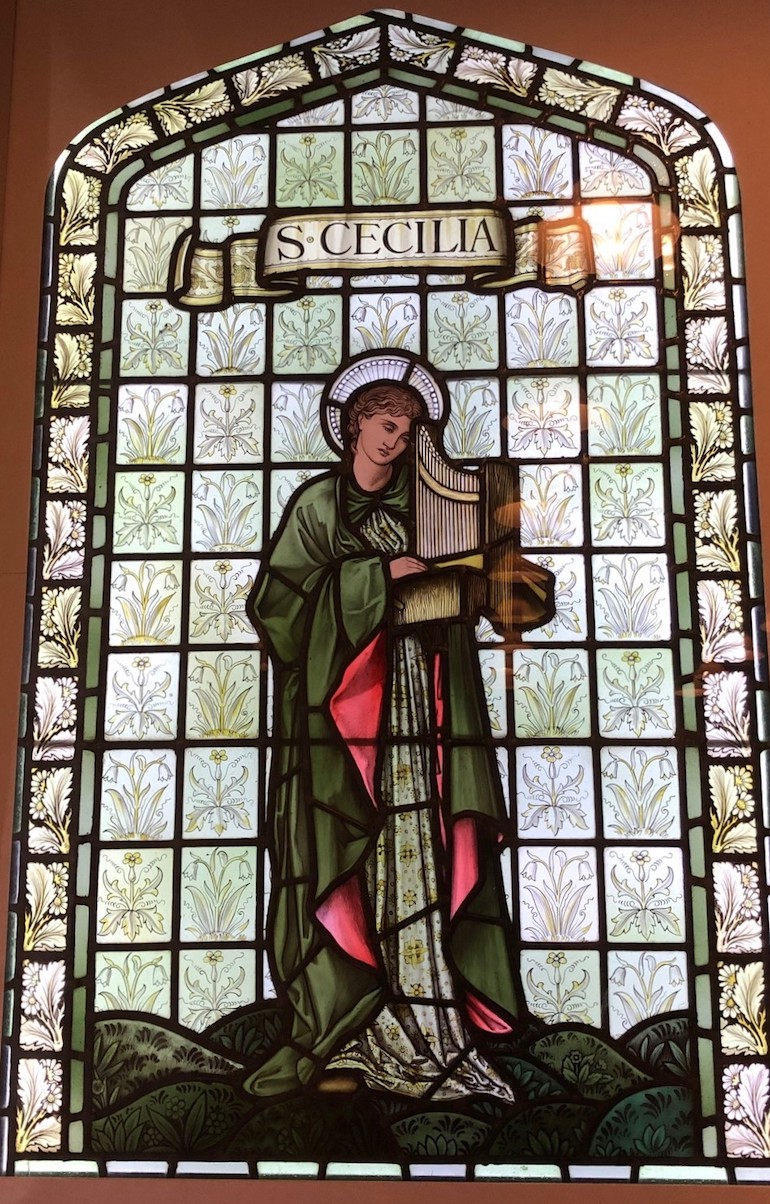 Stained-glass window by William Morris 1897. Photo Credit: © Gail Jones.
The gallery is an archive to William Morris. You can read about the houses he transformed and see his work here. His first big commission was from St James's Palace and, with this royal approval, he became one of the most sought-after interior designers in the country. A visit to the gallery begins with a touch screen showing Walthamstow today and what it was like when he lived here, a village with a few large houses belonging to wealthy families. The exhibition has a room showing the methods of production at his workshop and there is a reconstruction of his shop in Oxford Street. The high street shop is my favourite part of the exhibition because of its rich, deep blue walls, gorgeous tapestries and porcelain display.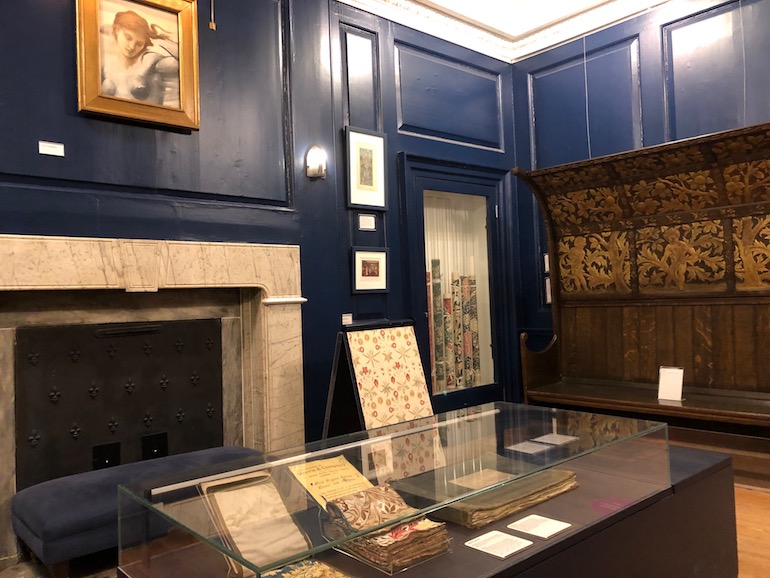 Reconstruction of Morris & Company, shop at 449 Oxford Street. Photo Credit: © Gail Jones.
The gallery very friendly and welcoming to all. An on-site café serves good quality, light snacks and is a meeting place for local yummy mummys. Volunteers greet the visitors to advise them on what to see first and answer questions they might have about Morris's life. Normally there are hands-on learning tools for children but due to COVID-19, these have been replaced by a family trail leaflet. The shop is great, filled with tempting souvenirs. The William Morris Gallery is in Lloyd Park which has some of the plants he liked to feature and is great for a stroll and for children to play. Entrance is free and normal opening days are Tuesday to Sunday.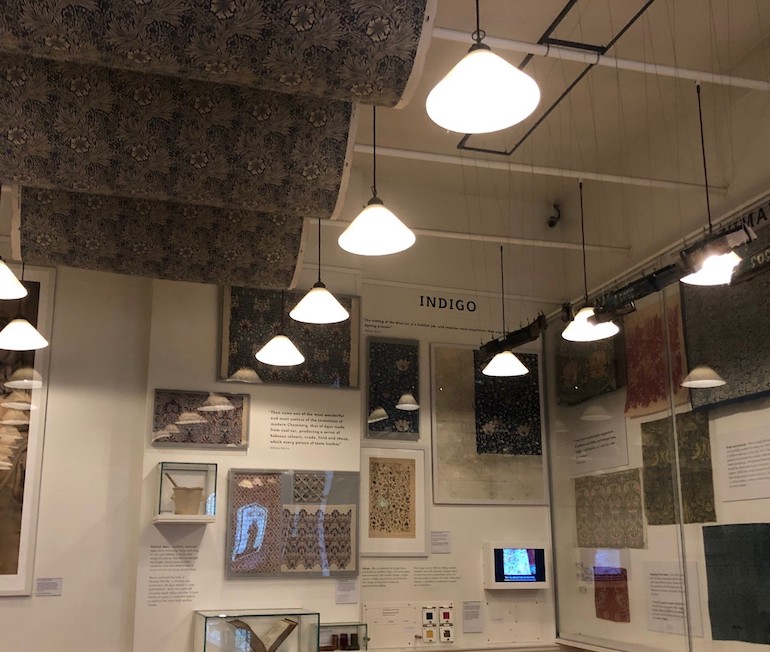 Reconstruction of Morris & Company, shop at 449 Oxford Street. Photo Credit: © Gail Jones.
For something completely different visit Gods Own Junkyard, which is a riot of neon. I love this place and it too is friendly and welcoming. The light is uplifting and puts a smile on your face. Chris Bracey and his family have been making neon lights to order for over 40 years. Sadly, Chris passed away six years ago but his wife Linda and sons Marcus and Matthew still work to rescue discarded signs that they bring back to life and produce new lights commissioned as decorations or for business advertisements. They work with film studios, music producers and fashion houses. You can hire the venue for photo shoots and private events including weddings. They have hosted the likes of Erasure, Mark Ronson, The Darkness, Niall Horan and Grayson Perry. It is colourful, quirky, irreverential, and very bright. There is plenty to see, photograph and buy, as most of the lights are on sale. Have a beer or some tea and cake in the café inside the yard, then sit and enjoy the neon glow. Normal opening days are Fridays to Sundays.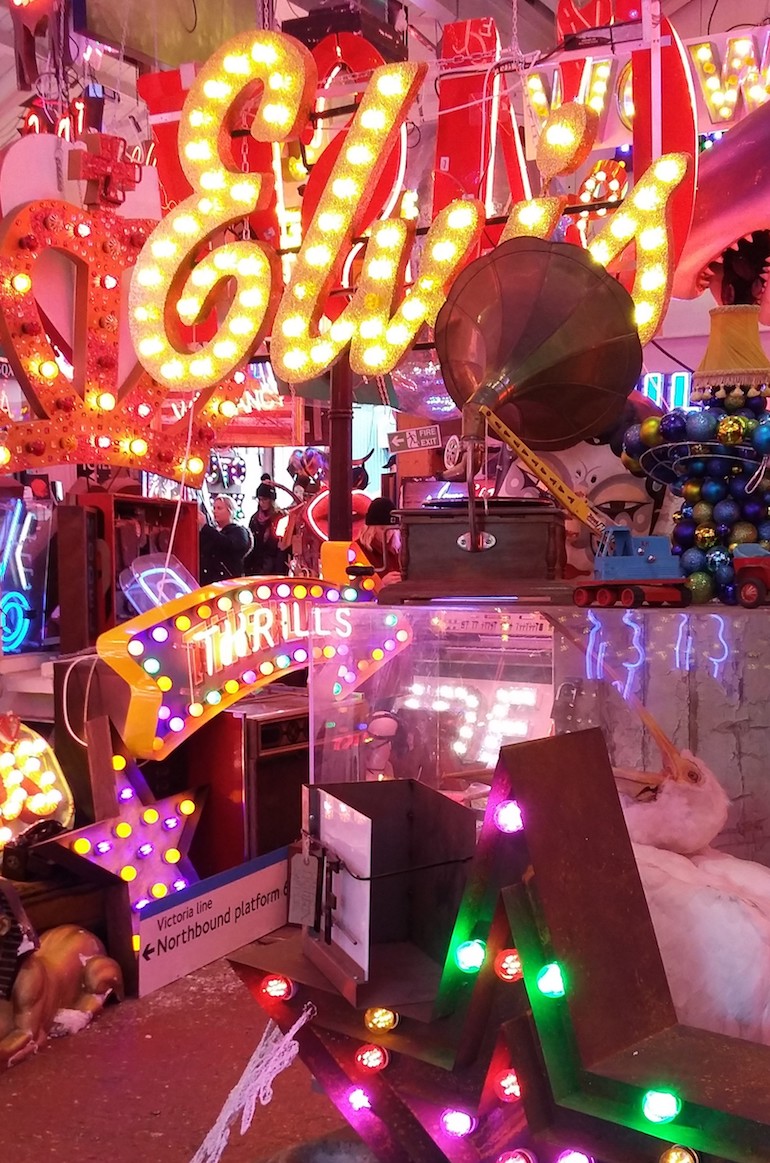 Gods Own Junkyard by Diamond geezer. Photo Credit: © Gail Jones.
Walthamstow is also great for street art and whole facades of buildings are painted. Near the William Morris Gallery is the Bell Pub which has See Through You by Shok-1, who specialises in x-ray style images, and a tile mosaic by the French artist Invader. His work is based on the old computer game Space Invader and here at the pub his character is downing a beer. Nearby is a work by Mr Penfold that was part of the inaugural London Mural Festival of 2020 (which we hope will be an annual event) and one by Dale Grimshaw. I especially like this one because of his character's amazing eyes. Grimshaw came from Lancashire where he went to art school before studying at Middlesex University. He lives in London and has shown work in Paris, Berlin and New York.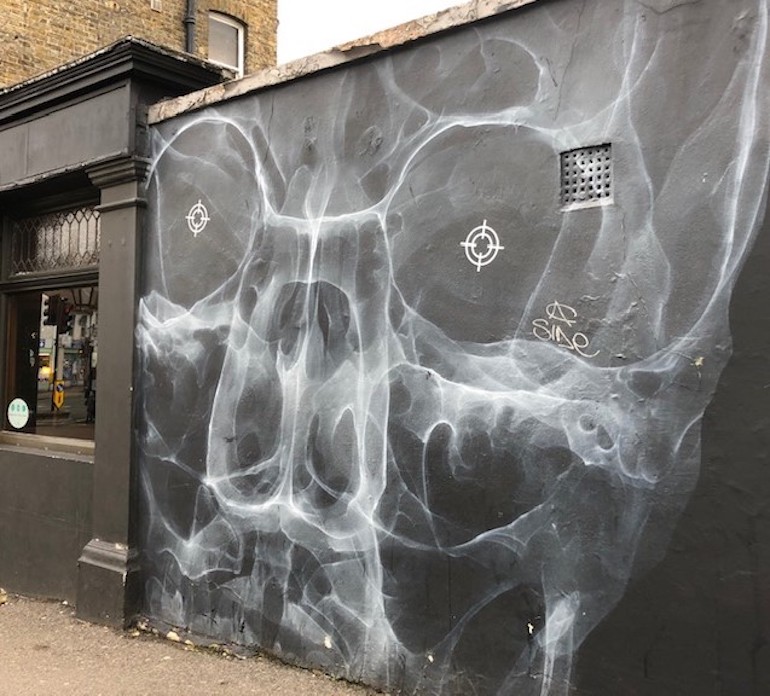 I See Through You, Shol-1, Bell Pub, Forest Road, Walthamstow. Photo Credit: © Gail Jones.
Another prime street art spot is Wood Street which is not far from Gods Own Junkyard. Artists like Craig David and Tom Jackson, collectively known as Static, have work here and are part of the group called Wood Street Walls. If you are tired at the end of the day you can hop on a London Overground train at Wood Street and begin to plan another visit to Walthamstow to see what else it has to offer.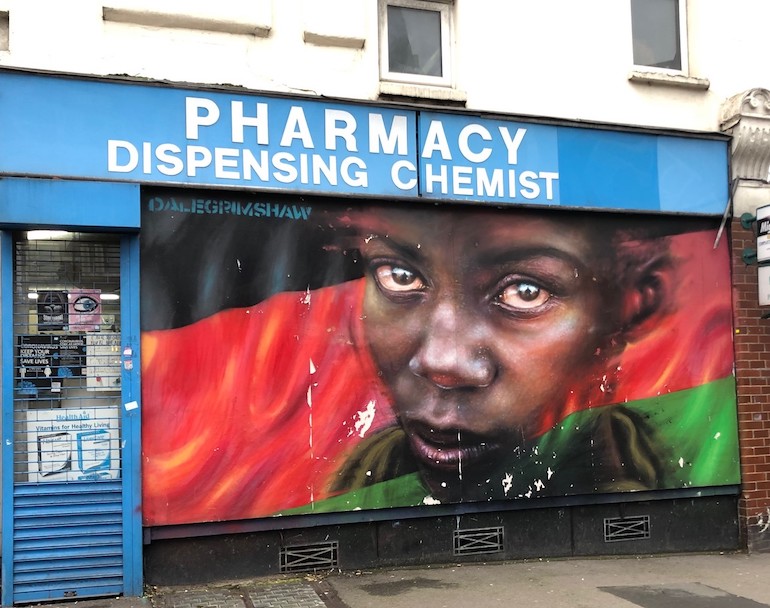 Dale Grimshaw, Chingford RoadForest Road, Walthamstow. Photo Credit: © Gail Jones.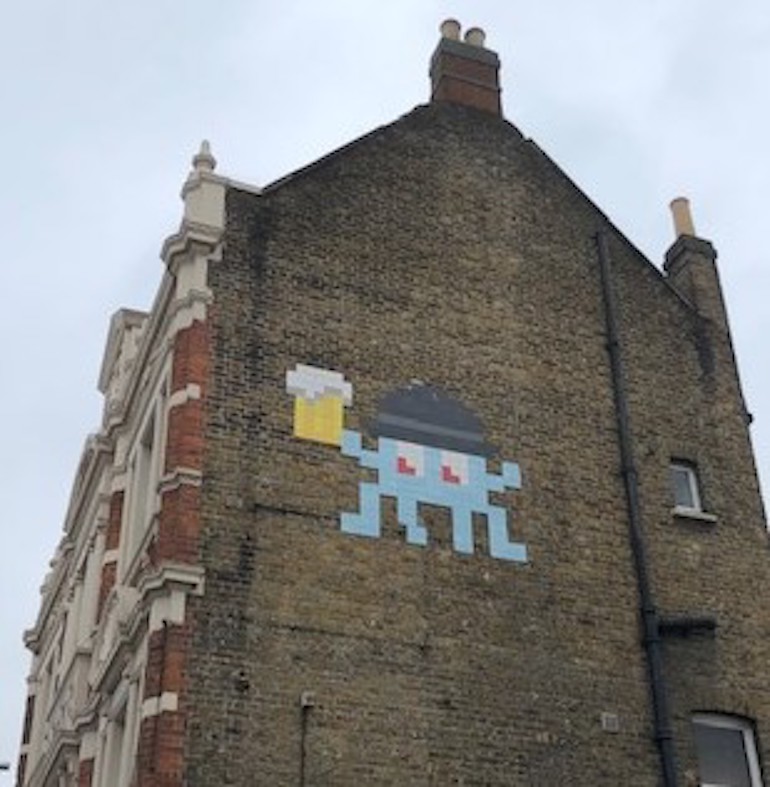 Invader, Bell Pub, Forest Road, Walthamstow. Photo Credit: © Gail Jones.