Of all the European capitals, London is arguably the one with the greatest architectural variety, be it residential, commercial or public buildings. What adds to the impression of an incessantly 'creative kaleidoscope' is the juxtaposition of old and new, of a mediaeval church next to a 21st century glass building or a Roman ruin in the middle of a 1970s Brutalist development. Why not let a Blue Badge Tourist Guide take you on a tour discovering some of the award winning and literally ground breaking modern architecture of London? It will certainly prove that the innovative spirit is well and thriving!
Battersea Power Station 
All four chimneys of this iconic building [immortalised on the Pink Floyd 'Animals' record cover] will be fully reconstructed for the opening of the Power Station development in 2020. A new viewing platform in the North West chimney is being planned, enabling people to ascend to 100m for an exhilarating view of London. For the 'Animals' cover photo shoot in 1976, an inflatable pink pig was attached to one of the southern chimneys. However, the pig broke away from its moorings and got into the flight path of Heathrow Airport to the amazement of pilots in approaching planes. The escaped pig was tracked by police helicopters before eventually 'landing' in Kent.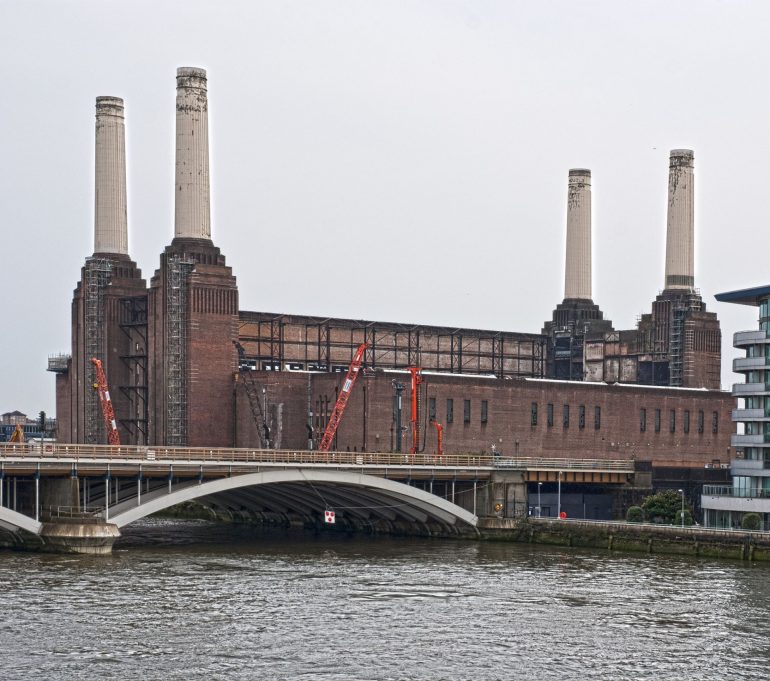 Battersea Power Station: © Photo Credit: © Berit Watkin via Flickr.
Lloyds of London 
Designed by Richard Rogers and Renzo Piano in 1986, the Lloyds building was listed Grade 1 in 2011. For a building that once caused so much controversy, that is quite a turnaround! It exemplifies the High Tech style in Britain, with its boldly expressed services and innovative exterior. When at Yale in the late 50s and early 60s, Rogers first met Norman Foster and together they set up the architectural practice Team 4, along with their wives at the time. They would later become rivals. Rogers later formed a partnership with the Italian architect Renzo Piano, architect of 'The Shard' in London.
Tramshed 
Waugh Thistleton Architects designed this Shoreditch restaurant and bar in conjunction with restaurateur Mark Hix, enabling a previously hidden Victorian Grade II-listed electrical substation to open to the public. The building's distinct features – a large single space with pitched metal trusses and Edwardian glazed brick faced walls – is a unique setting for Damian Hirst's striking art work 'Cock and Bull' which towers in the centre.
Crossrail Place Roof Garden, Canary Wharf
Foster & Partners have designed four levels of retail, station entrances and a new roof garden as part of a new Crossrail Station. It has a complex timber roof, which wraps around the building like a shell. The spruce glulam beams forming part of the wooden structure support ETFE cushions, which are filled with air and are lighter than glass. These ETFE cushions, a highly insulating material, help to create a unique microclimate for the roof garden, allowing some species that first entered Britain through the docks to grow here.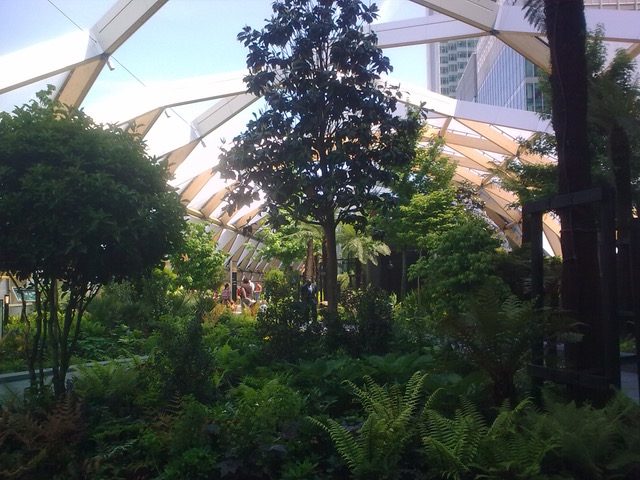 Canary Wharf: Crossrail Place Roof Garden. Photo Credit: © Ingrid M Wallenborg.
The Barbican
A Grade II listed building, the Barbican is a huge residential and multi-arts development and one of London's best examples of Brutalist architecture. It was developed from designs by Chamberlin, Powell and Bon – strongly influenced by Le Corbusier – as part of a utopian vision to transform an area devastated by Second World War bombing and finally completed in 1982. To ensure the underground line below did not disturb those enjoying the communal gardens at the heart of the Barbican, Ove Arup devised an engineering solution to reduce vibration from passing trains. The track was mounted on rubber bearings; the only section of the entire London Underground network to be modified in this way.
Repton Park 
A late 19th century listed deconsecrated church in the London Borough of Redbridge, originally belonging to the Claybury Hospital for psychiatric patients, has been converted into a swimming pool [part of a membership gym club] with the approval of English Heritage. The church conversion saw a shower included near the altar and the old confessional box has been transformed into a sauna.
London Aquatics Centre 
There is little doubt that the most striking building designed for the London 2012 Olympics was Zaha Hadid's Aquatics Centre. Now the extremely popular public pools – two Olympic size and one for diving – also host international swimming and diving competitions. The extraordinary, sweeping, wave like roof is clad with aluminium and rests structurally on a series of long-span steel trusses laid in a fan arrangement. Although Zaha Hadid sadly passed away in 2016, her London legacy also includes the Evelyn Grace Academy in Brixton and the Serpentine Sackler Gallery.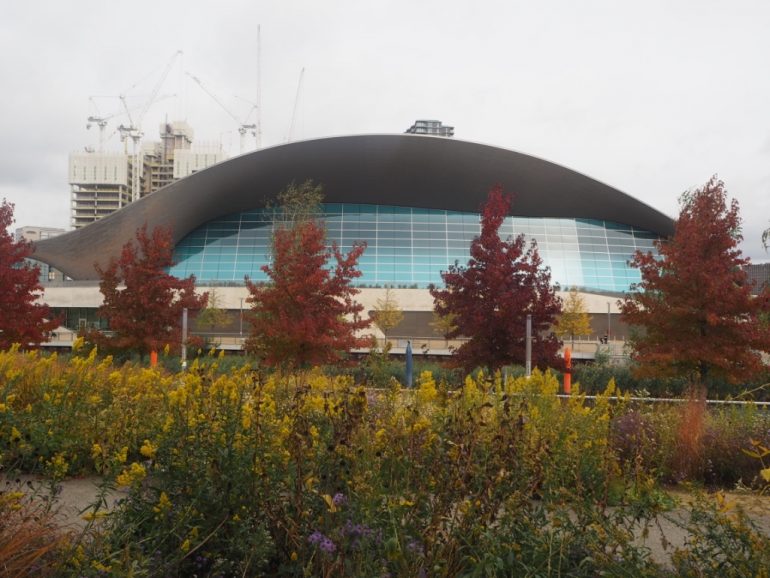 Queen Elizabeth Olympic Park: London Aquatics Centre. Photo Credit: © Ursula Petula Barzey.
Westminister Tube Station 
Designed by Michael Hopkins in 1999, and shortlisted for the Stirling prize, this dramatic concrete well is stacked with banks of escalators that appear to hang from a dynamic network of concrete beams and steel tubes. It has been called a 'Piranesian fantasy' after the Italian 18th century artist who produced a number of drawings of fantastical stair cases. Six of the huge pillars which help create the great drama within the station box are in fact foundation piles reaching down from Portcullis House above – also designed by Hopkins – and extending right to the bottom of the Underground station.
No 1 Poultry 
This building at a historically sensitive site in the heart of the City of London was commissioned by Peter Palumbo. Designed by James Stirling and finished by Michael Wilford, it involved the demolition of a number of Victorian buildings and was the subject of a high court planning inquiry and a bitter dispute between conservationists and architectural supporters. Eventually it ended in the scheme's favour and it was completed in 1997. Ironically, it is now a designated Grade II-listed site, making it the youngest protected historic building in England and to many it is a post-modernist master piece.
20 Fenchurch Street 
Rafael Viñoly's office building in the City of London, famously nicknamed the 'Walkie Talkie' for its curved silhouette, was completed in 2014. It has a spectacular public enclosed Sky Garden on levels 35-37 designed by the award winning landscape architects Gillespies. In Colchester, Viñoly's newly built visual arts centre, 'Firstsite', was dubbed the 'Essex Bling' and 'Golden Banana'!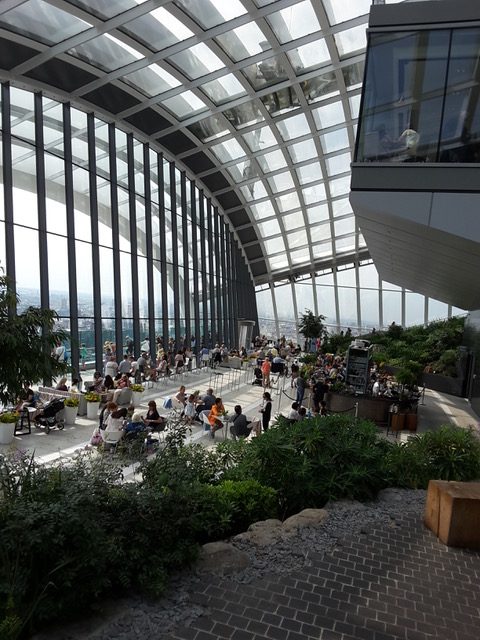 20 Fenchurch Street: Sky Garden. Photo Credit: © Ingrid M Wallenborg.
"Architecture should speak of its time and place, but yearn for timelessness" according to Frank Gehry, one of the most famous living architects. A London Blue Badge Tourist Guide can take you on a special tour of the capital's modern and contemporary architecture, exploring developments of a particular area, or suggest tours on relevant themes according to style and architect. Let us offer you inspirational insights into London's new structures, timeless or not!