London is a port city, and Britain became great because of its navy and ability to trade across the globe. The capital's wealth is built upon that sea trade. There are reminders of London's maritime history everywhere. In Trafalgar Square, we commemorate the 1805 victory (and the death) of Admiral Lord Nelson at the Battle of Trafalgar. At Tower Hill, we remember the 36,000 merchant mariners lost at sea with no known grave. And the Museum of London Docklands examines the triangular trade in goods, sugar and slaves, upon which so much of the city's wealth was built, at a considerable human toll. London's ships tell a powerful story about our nation's place in the world. Sadly, most of our historic vessels have been scrapped – but notable examples survive.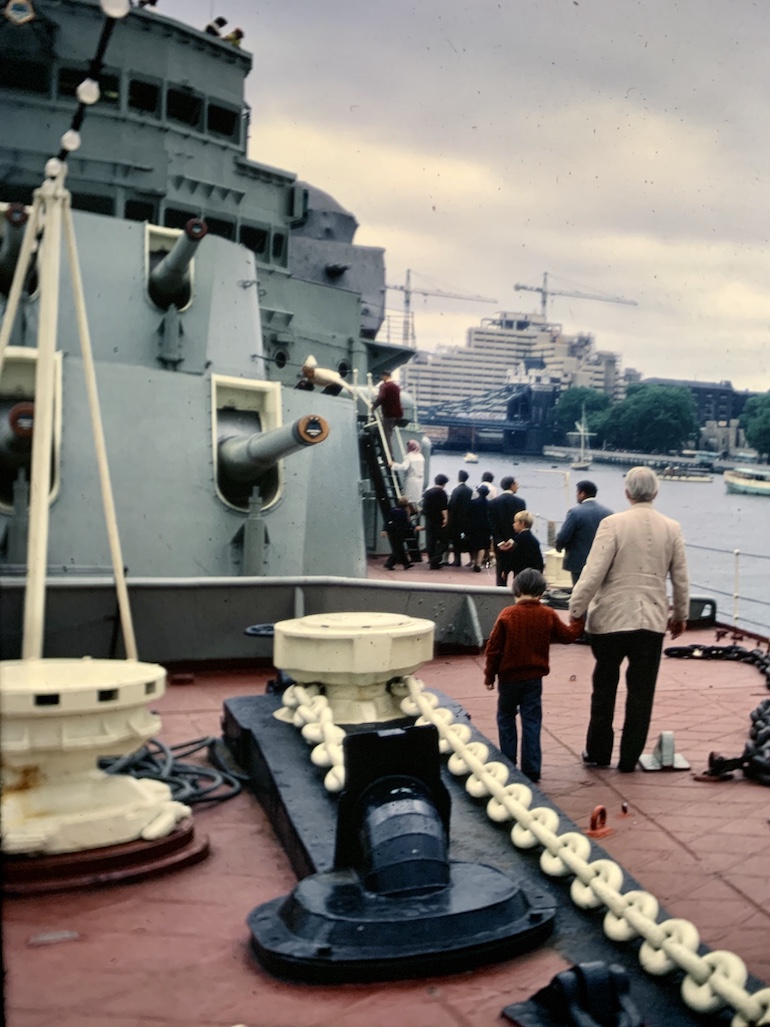 Antony Robbins aka Mr Londoner on HMS Belfast with his father in 1971. Photo Credit: ©  Antony Robbins.
Submarine Warfare – HMS Wellington
Less well-known perhaps, but brimming with history, is the former navy sloop HMS Wellington. She stands out in white paint and yellow funnels on the Thames Embankment. Wellington saw action in the South China Sea and the Pacific with the Royal New Zealand Navy, sharing in the destruction of an enemy submarine. Today she is home to the Honourable Company of Master Mariners, serving today as HQS (headquarters ship) Wellington.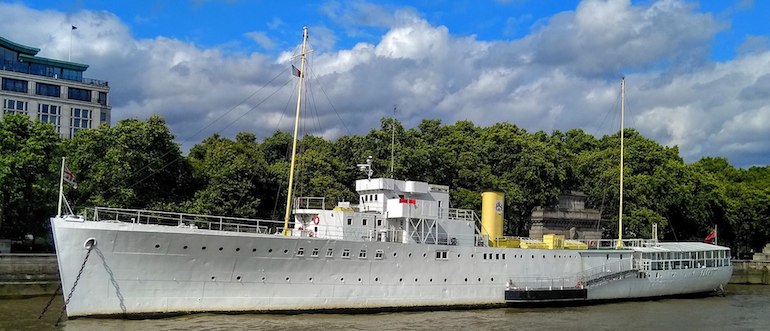 HMS Wellington on the Thames River in London. Photo Credit: © Hammersfan via Wikimedia Commons.
All the tea in China – The Cutty Sark
The Cutty Sark is one of the leading attractions in Greenwich – also home to a royal palace, the former Royal Naval College and National Maritime Museum. The ship is named after the witch in Robert Burns's 1871 poem Tam O'Shanter. Cutty Sark was an 1869 tea clipper that brought back this fashionable and expensive cargo from China in record time. On her 1870 maiden voyage from London to Shanghai, she exported booze and the best of British manufacturing. Returning home, she transported a million tonnes of tea. She completed eight trips to China, but sail ships like the Cutty Sark became redundant in a new age of steam.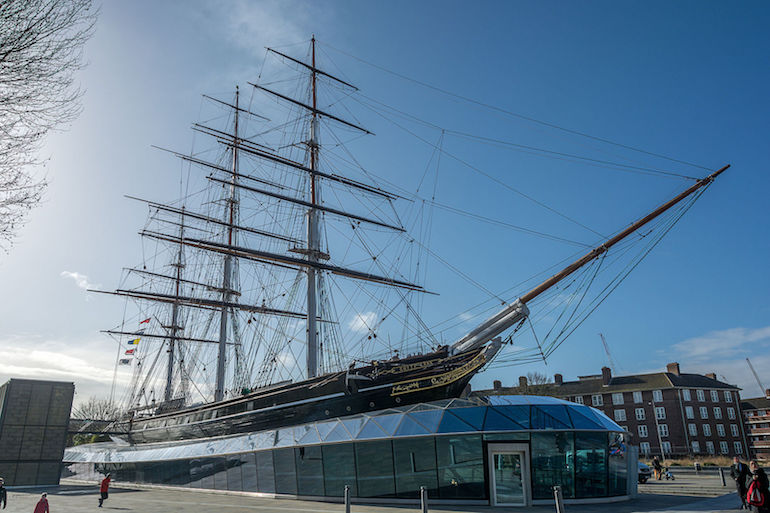 Cutty Shark ship in London. Photo Credit: © Krzysztof Belczyński via Wikimedia Commons.
D-Day shots – HMS Belfast
London's best-known ship is probably HMS Belfast. Built by Harland & Wolff in 1936, she was the Royal Navy's largest and best-equipped battle cruiser. After only two months of service, however, she hit a magnetic mine, remaining out of action for three years.
Once repaired, she played a crucial role in protecting the arctic convoys – Russia's wartime supply line. HMS Belfast participated in of the Battle of the North Cape, in which the German cruiser Scharnhorst sank with the loss of 1,986 men. In June 1944, HMS Belfast is said to have fired some of the first shots on D-Day.
She saw action in the Korean War and was nearly scrapped in 1970 before being saved by the Imperial War Museum. Her 6-inch guns are permanently aimed at the M1 Scratchwood motorway service station, 14 miles away. Something to do with the coffee perhaps?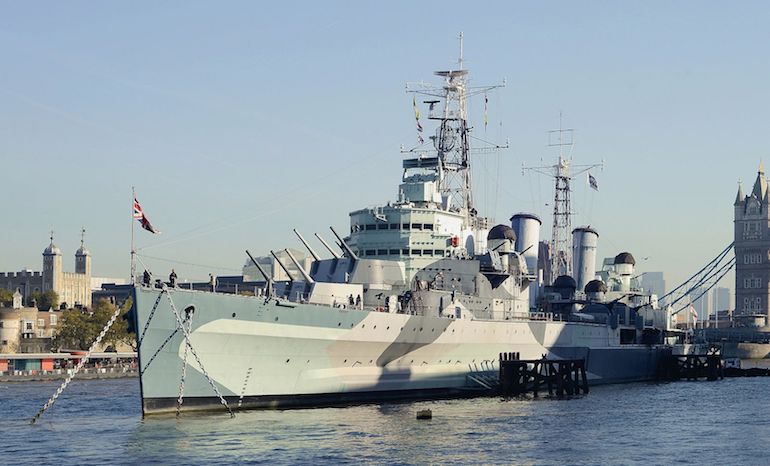 HMS Belfast on River Thames in London. Photo Credit: © Alvesgaspar via Wikimedia Commons.
Maritime Disaster – RMS (Royal Mail Ship) Lancastria
A vessel we can't visit is the RMS (Royal Mail Ship) Lancastria. She was sunk off the French Coast at St. Nazaire during rescue operations in 1940. Crammed with French soldiers and British civilians, she was struck by four bombs. Over 4,000 people drowned in Britain's worst maritime disaster. Unlike the story of the Titanic however, few today know of the tragedy of the Lancastria.
Launched as the SS Tyrrhenia, she was bought by the Cunard Line in 1924 and renamed the Lancastria. She became a troopship in 1939 and was lost a year later. The barnacle-encrusted ship's bell was recovered by divers in the 1970s. It's now in the beautiful Church of St Katherine Cree, in the heart of the City of London, and is one of that area's many hidden gems – a remarkable testament to our maritime history.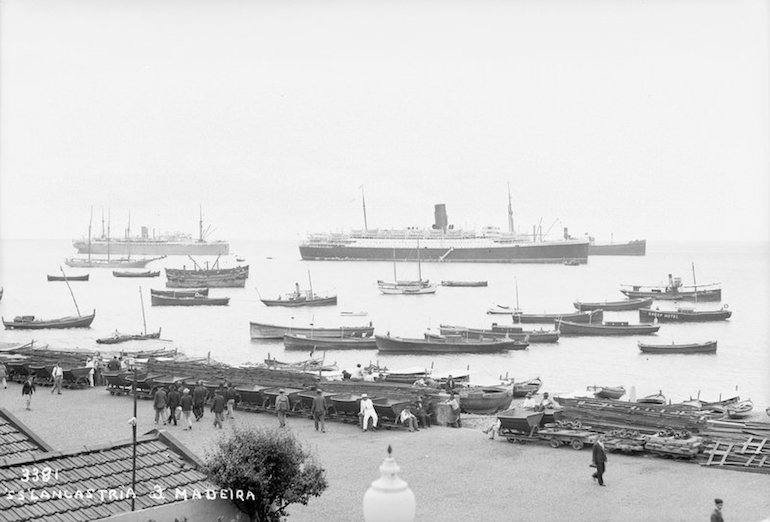 RMS Lancastria at Funchal, Madeira in 1930. Photo Credit: Royal Museums Greenwich.