Visitors from the United States are often interested to see places associated with their own country in London. There are statues or busts of six American presidents in the capital * and one of them, a statue of George Washington, stands in the centre of London in Trafalgar Square.
The area around Grosvenor Square in Mayfair is sometimes referred to as "Little America." The first American consulate in Great Britain was established here by John Adams, who lived in Grosvenor Square for three years between 1785 and 1788 and later became the second president of the USA. Dwight D Eisenhower also had his war headquarters in Grosvenor Square and his statue stands nearby, along with those of Ronald Reagan and FD Roosevelt. These statues will remain while the old embassy building is being converted into a luxury hotel with 137 bedrooms. So will the eagle attached to Eero Saarianen's old embassy building. The security barriers, however, are being removed as the hotel is completed.
London's Blue Badge Tourist Guides will also point out buildings to American visitors such as:
14 Princes Gate
Address: 14 Princes Gate, London, SW7 2QQ
14 Princes Gate was the residence of American Ambassadors in London from 1921 to 1955. Joseph Kennedy was the United States Ambassador between 1938 and 1940. He is remembered for supporting a policy of appeasement with Hitler and for trying to keep the USA out of the Second World War. Future American president John F Kennedy lived in this house and studied for a short time at the London School of Economics under Professor Harold Laski before the family returned to the USA where he resumed his studies at Princeton University. Later the American Ambassador's residence in London was moved to Winfield House.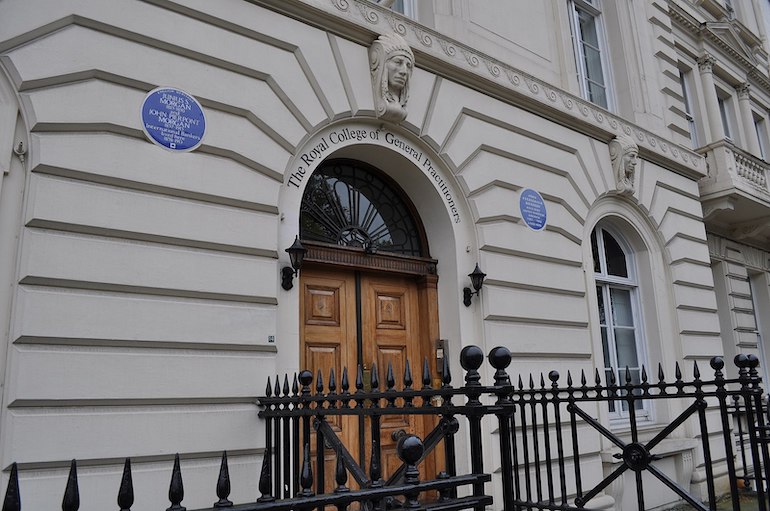 14 Princes Gate in London, The Royal College of General Practitioners. Photo Credit: © Lewis Clarke via Wikimedia Commons.
Winfield House
Address: Regent's Park, London, NW1 4RT
This house was built in 1936 for Barbara Hutton, on the site of one of John Nash's villas, Hertford House, which had been badly damaged by fire. The architect of the Neo Georgian house was Leonard Rome Guthrie. Barbara Hutton's father was Franklyn Hutton. Her mother was Edna Woolworth and Edna's father was Frank Winfield Woolworth who founded the Woolworth company in the late 1800s. Edna died when Barbara was five years old and she was raised by governesses. In 1933 at the age of twenty-one, Barbara inherited fifty million dollars from her mother and her grandmother's estates, most of it held in trust for her until then. Barbara was a very beautiful socialite. She married seven times. In 1942 husband number three was the British-born actor Cary Grant.
She was married to husband number two when Winfield House was finished and gave birth there to her only child, a son called Lance. They returned to the USA when war broke out and the house was requisitioned to become a base for the RAF barrage balloon unit. There was an RAF officer's club there too. After the war, Barbara sold it to the American government for the token sum of £1. Winfield House was renovated and became the official home of the American Ambassador in 1955.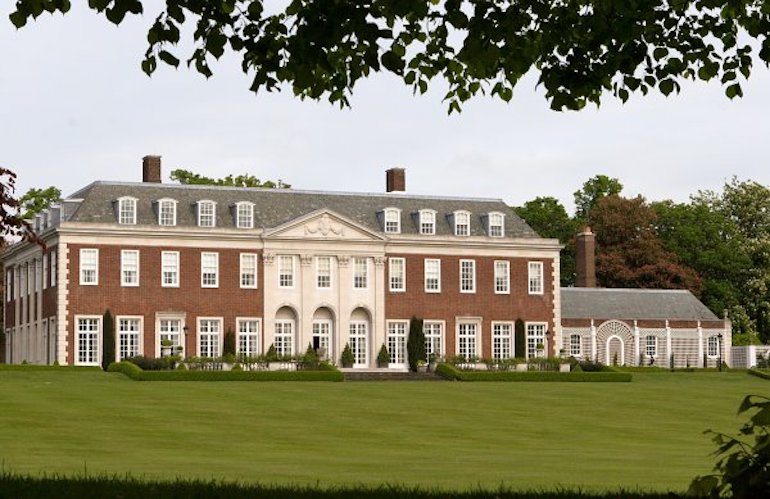 Winfield House in London. Photo Credit: © Public Domain via Wikimedia Commons.
The American Embassy
Address: 33 Nine Elms Lane, Nine Elms, London SW11 7US
The new American embassy was opened in early 2018 after moving from its previous site in Grosvenor Square for security reasons. It stands on a two-hectare (five acres) site in Vauxhall and costs around one billion dollars to construct, financed by the sale of the old embassy. The architect of the new embassy building is Kieran Timberlake who designed it as a carbon-negative building, one that generates more electricity than it uses. It is the first major embassy of a foreign country to be situated south of the River Thames in London.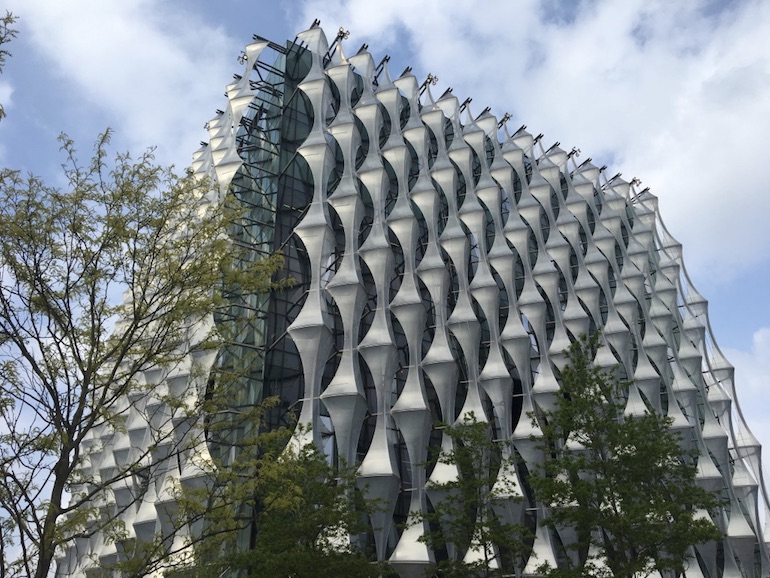 New American Embassy in London between Vauxhall at Battersea. Photo Credit: © Ursula Petula Barzey.
Note:  Blue Badge Tourist Guide, Edwin Lerner also contributed to this blog post about American Ambassadors in London.