London's Blue Badge Tourist Guides are often asked to conduct tours based on well-known singers and musicians from the pop and rock eras who make up an important part of the tourist business. Many are remembered with memorial plaques, others with statues or paintings.  Below is a list of rock stars and locations in London that have contributed to the city's rich musical history.
John Lennon
Lennon was the founder of the Beatles, who were originally called the Quarrymen because he went to Quarry Bank High School in Liverpool. The group moved to London soon after they became famous to escape their fans who always mobbed them in their home city. John moved into the flat at 34 Montagu Square, which stands near the Swedish Embassy in central London. It had previously belonged to the group's drummer Ringo Starr and John lived there with Yoko Ono, who returned to it in 2010 to unveil a blue plaque in his honour. English Heritage, who decides who is given one of these plaques, have a rule that you have to have been dead for at least twenty years before you are granted one. Lennon was killed in 1980 outside the Dakota Building in New York where he had moved with Yoko in 1971.
Amy Winehouse
Amy's statue stands in Camden Market where she worked as a teenager at one of the stalls. She lived nearby and excited a legion of fans with her singing voice but died tragically of drug and alcohol poisoning at the age of twenty-seven in 2011. Her album Back to Black is one of the best-selling records in British history and returned to the charts after her death.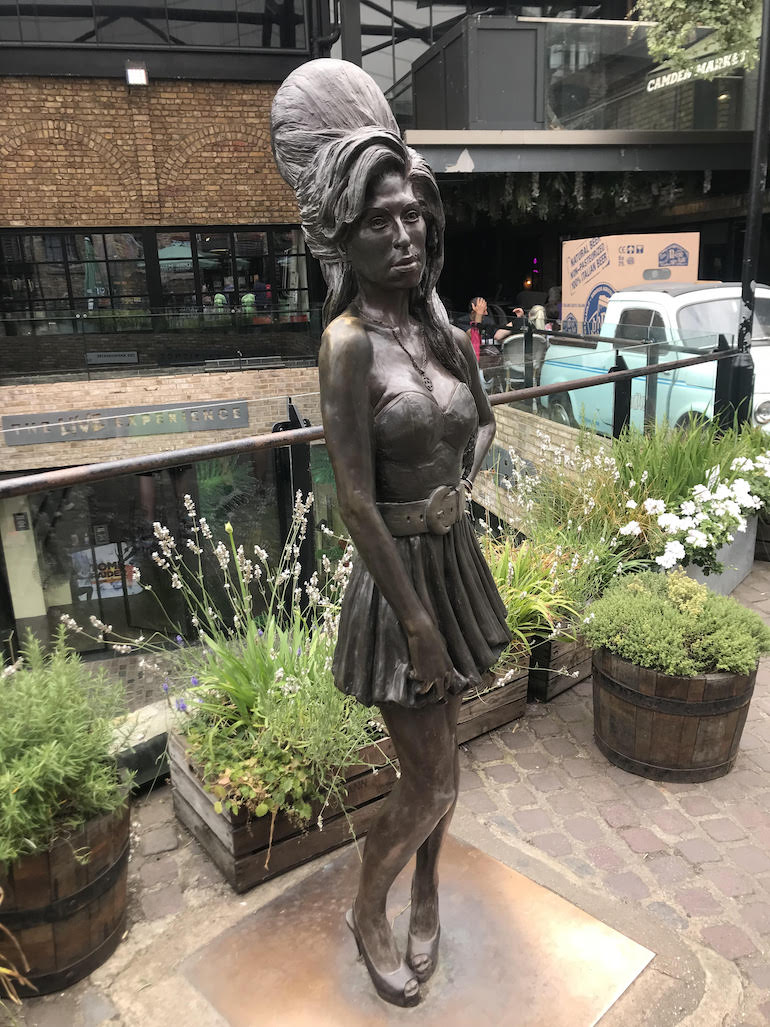 Bronze statue of the British singer Amy Winehouse is located in the Stables Market in Camden Town. Photo Credit: © Edwin Lerner.
Jimi Hendrix
Jimi Hendrix also died in London in 1970 at the age of twenty-seven after a drug overdose. He was born in Seattle in the USA but made London his home and is remembered with a blue plaque in Brook Street, Mayfair where he shares a museum with the German composer George Frederick Handel, who had lived in the house next door 200 years earlier. Jimi Hendrix liked to shop for his fashionable clothes in nearby Carnaby Street and Oxford Street.
David Bowie
Ambitious, creative, bisexual, and constantly striving for a new image, Bowie's death in 2016 led to an outpouring of grief on both sides of the Atlantic. He had journeyed from Britain to the USA – the opposite direction to Hendrix – and had settled in New York, where he made a home with his second wife, Iman. His son from his first marriage is the noted film director Duncan Jones. Bowie's birth name was Jones but he adopted Bowie partly in honour of the Bowie knife and so as not to be confused with Davey Jones of the Monkees. David Bowie was born in South London and is remembered with a wall painting opposite Brixton station by street artist Jimmy C, which has had to be covered with plastic to protect it from his admirers.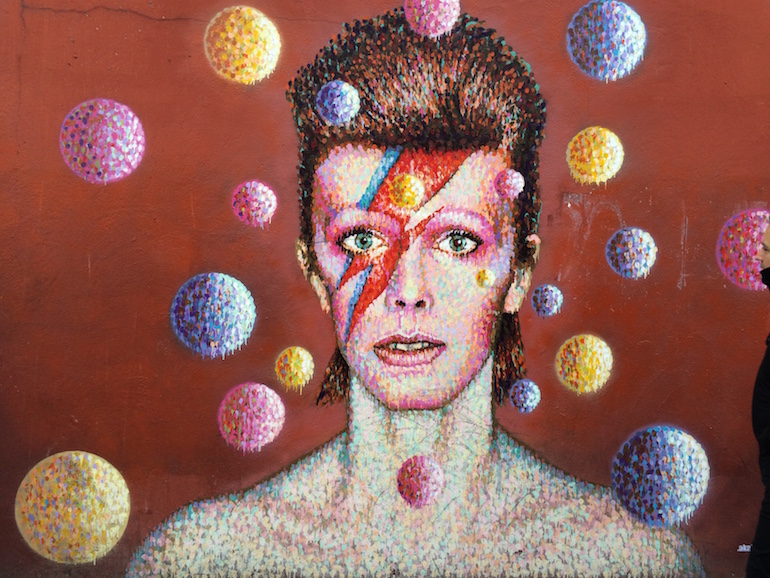 David Bowie Mural in Brixton was inspired by his album, Aladdin Sane. Photo Credit: © Edwin Lerner.
Ziggy Stardust
Bowie is also remembered in Heddon Street off Regent Street where a plaque on the wall celebrates the cover of his album The Rise and Fall of Ziggy Stardust. This was a persona created by Bowie when he felt his career needed reviving in 1972. The Post Office chose it as one of the most iconic album covers of all time and reproduced it on a stamp honouring Bowie, who suddenly retired Ziggy at a concert in Hammersmith the following year (1973).
Keith Moon
Notorious for his excesses and penchant for destroying hotel rooms, Moon was also a highly skilled drummer with The Who and gave a new dimension to rock drumming before his death in 1978. He is remembered with a plaque on the site of the Marquee Club in Wardour Street where many bands played and the Rolling Stones made their professional debut. Moon is credited with telling Jimmy Page that the group he had formed with Robert Plant, John Bonham, and John Paul Jones would go down 'like a lead balloon'. The word balloon was changed to 'Zeppelin', suggesting both weight and lightness, the 'a' was removed from 'lead' and Led Zeppelin then became one of the most successful rock groups of all time.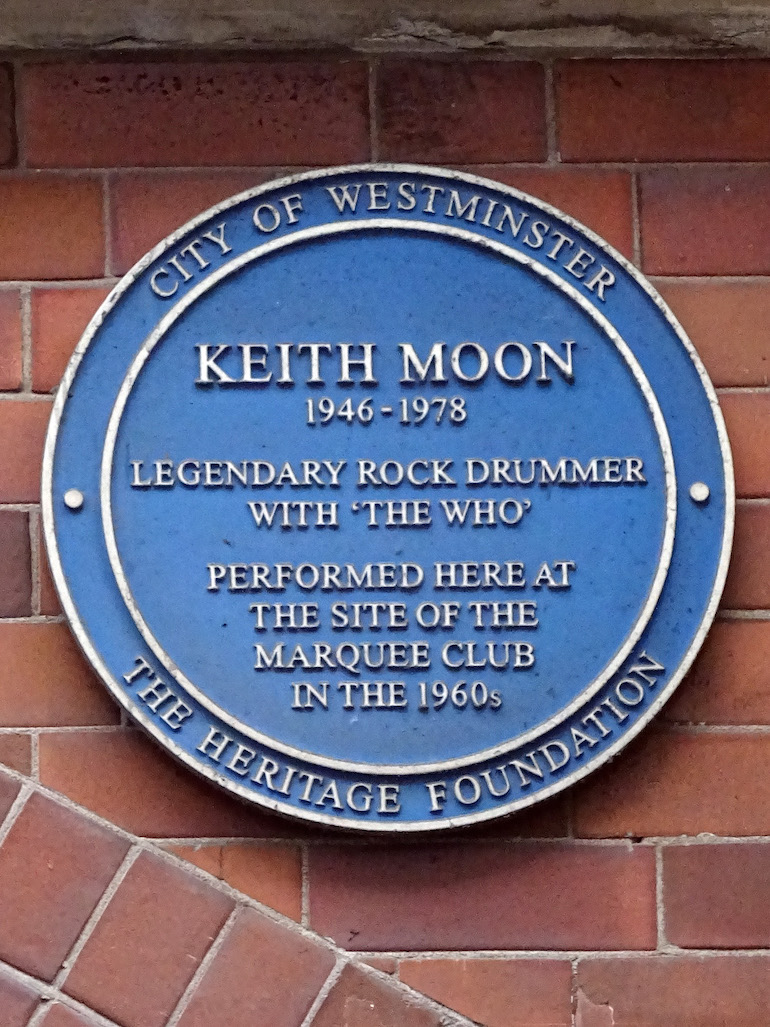 Blue plaque for legendary rock dummer Keith Moore at Marquee Club in London. Photo Credit: © Spudgun67 via Wikimedia Commons.
The Palladium Wall of Fame
The Palladium near Oxford Circus was where Beatlemania began after a concert there by the Beatles in October 1963 in which their mainly female fans screamed as soon as the group appeared on stage – and did not stop screaming until they stopped playing. The theatre now belongs to Andrew Lloyd Weber and a montage of famous singers who have appeared there can be seen on the south side of the theatre. They include ballad singers like Bing Crosby and Frank Sinatra from the USA, Gracie Fields and Tom Jones from Britain. It is the only venue where Judy Garland and her daughter Liza Minelli sang together on stage.
The Rolling Stones Shop in Carnaby Street
Still going strong after six decades, the Rolling Stones now contains only two of the original members, Mick Jagger and Keith Richards, who also writes most of the group's songs. They started as a blues band but were encouraged to write their own songs by Andrew Loog Oldham when he became their manager. They recorded one Beatles song, I Wanna Be Your Man, were impressed by the way that John Lennon and Paul McCartney wrote their own material and decided to emulate them. They still perform sell-out concerts and a shop called RS9 in Carnaby Street sells merchandise with the distinctive Stones tongue and lips logo.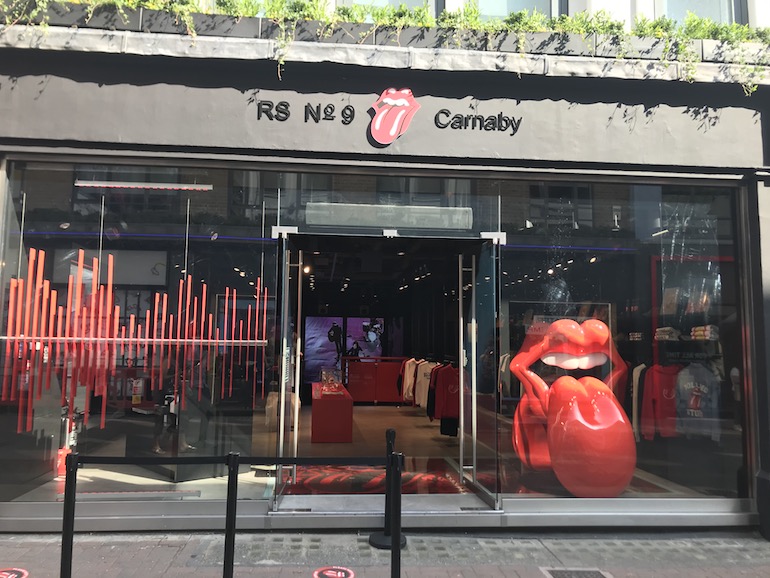 Rolling Stones store on Carnaby Street in London. Photo Credit: © Edwin Lerner.
The 2i's Coffee Shop
More a home for grandad than dad rock, the 2i's coffee shop in Old Compton Street in Soho was where both Tommy Steele and Cliff Richard first performed in public. It was named after the two Irani brothers who opened it in 1955. The stage was low and the audience was small but it started the careers of two of Britain's best-loved singers, who are still going strong after being in the forefront of the skiffle boom that came to Britain in the late 1950s.
Abbey Road
This road in Saint John's Wood in London contains the recording studio where the Beatles recorded most of their music with their producer George Martin. For the cover of their last – and best-selling – album the Beatles were photographed on 8th August 1969 by Iain MacMillan as they walked over the pedestrian crossing outside the studio. The Volkswagen Beetle in the background of the photo is now in the VW Museum in Germany and this iconic photograph is recreated by around half a million fans who flock to Abbey Road every year. The studio is not normally open to visitors but there is a gift shop and fans can write messages to the Beatles before or after they are photographed crossing the road.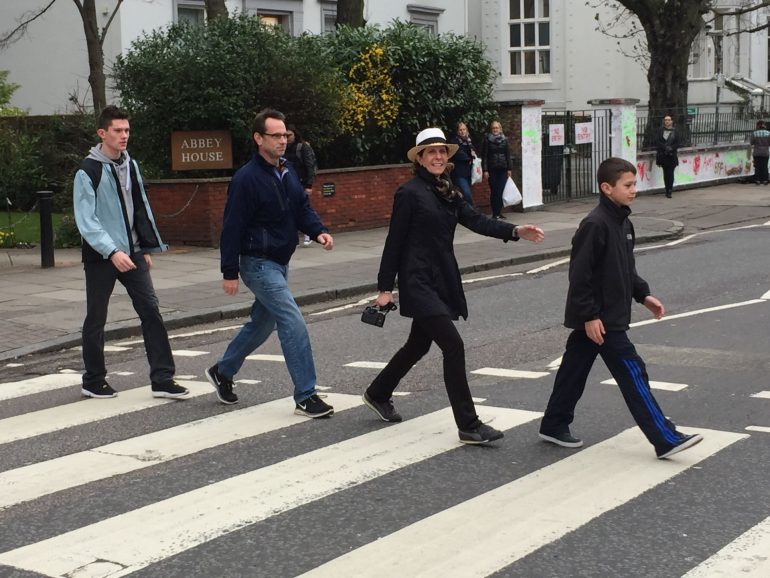 Abbey Road crossing in London made famous by the Beatles album cover. Photo Credit: ©Nigel Rundstrom.