There is a vast array of Queer spaces and venues in London. Some of my absolute favourites have been closed and shut down, like Astoria, Candy Bar, the Black Cap, and Popstarz as the London streets are revamped and regenerated. While there are many more old, newly closed and open, those listed below are some of my personal favourites. They have been collected from my experiences and memories made at each of these locations.
Zodiac Bar
Address: 119 Hampstead Road, London NW1 3EE | Website
The top of my list starts with the newest of venues, the Zodiac Bar. This venue is trans-owned and run by Lady Jade Pheonix and is for the Queer community. Everyone in the rainbow and beyond is welcome and encouraged to come to a safe space to be themselves. Zodiac has two floors: the top floor has a bar atmosphere, and there is a club space downstairs. The club space is always available for ticketed one-off shows, events, and for Queer talent to run a night of magic, comedy or song. The main floor has something to entertain you every evening – except Mondays when it is closed.
Zodiac offers karaoke, drag shows, open mic nights, bingo, live male dancers, and so much more. The place has something different for everyone. They run a trans night, a Latino night, an 80s & 90s night – which is in vogue right now. The amount of talent coming into the doors of Zodiac is sensational. Although a new space, this venue will certainly be making waves on the historic Queer scene. One of my favourite things too; they support and encourage new talent first emerging on the scene.
Zodiac Bar in London. Photo Credit: © Ursula Petula Barzey.
The Vauxhall Tavern
Address: 372 Kennington Lane, London SE11 5HY | Website 
The next space worth venturing into is The Vauxhall Tavern, one of the oldest drag venues in London. Big names have performed here, and above the pub-like venue is a theatre that shows Queer plays/musicals.
Originally built in the 1860s on the land of the original Vauxhall Pleasure Gardens. It was here during the Georgian period that 'Princess Seraphina' (real name John Cooper) would dress as a woman to solicit men. This space is steeped in Queer history and extravagance. After World War II, the pub attracted local gay men and drag artists.
Some of those making history include Paul O'Grady, whose drag persona is Lily Savage, who performed as her for eight years, and also Reginald Bundy, whose drag persona was Regina Fong. During the 1980s and the HIV/AIDs pandemic gay men were persecuted, and the Vauxhall Tavern was raided often with police officers wearing rubber medical gloves to stop the spread of the disease. Lily Savage was arrested on one of these occasions, quipping on their arrival that the officers were "here to help with the washing up."
It is also quite well known that Diana, Princess of Wales, dressed up as a man and visited the Tavern alongside Freddy Mercury and Kenny Everett. However, no one is said to have recognised her as the public was too distracted by Mercury.
In 2015 the venue was granted a Grade II listing, making it recognised as a culturally significant venue for Queer history. As such, it is still thriving today with 'Drag Artists' and many other nights to entertain people. An example of some nights of entertainment is 'Butch Please,' which is an event for lesbians celebrating their masculinity, and 'Drag Eurovision,' which celebrates the song contest with performers representing countries from the past winning entries.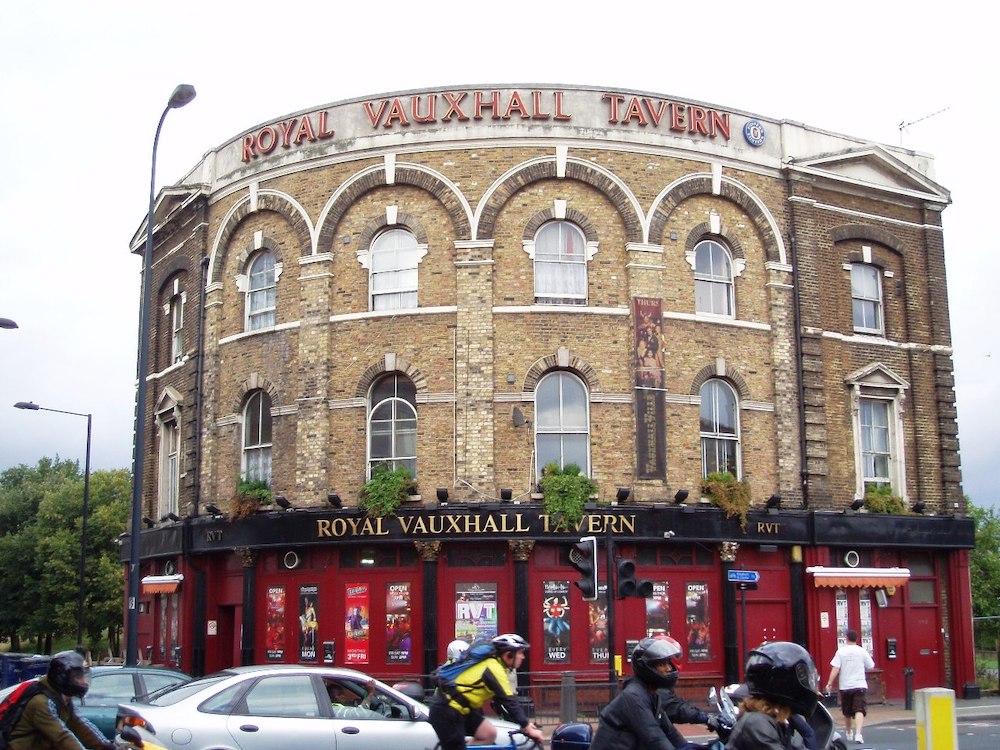 Royal Vauxhall Tavern. Photo Credit: © Ewan Munro via Wikimedia Commons.
Old Compton Street
Address:  Soho, London
A must-visit is Old Compton Street in Soho in central London which offers an array of Queer venues. Since the 1970s, this street has been a central focus for the Queer community, boasting restaurants, bars, cafes, and specialised shops – not for the faint-hearted! If you walk down the street, you will see G-A-Y, which has a club atmosphere throughout the day. The KU chain is more of a bar, but in their basement, you will find the SHE Bar, which is the only regularly run lesbian bar in London. As you walk further down the road, you will find pubs for Queers too: Comptons for less of a bar atmosphere and a more chilled pub.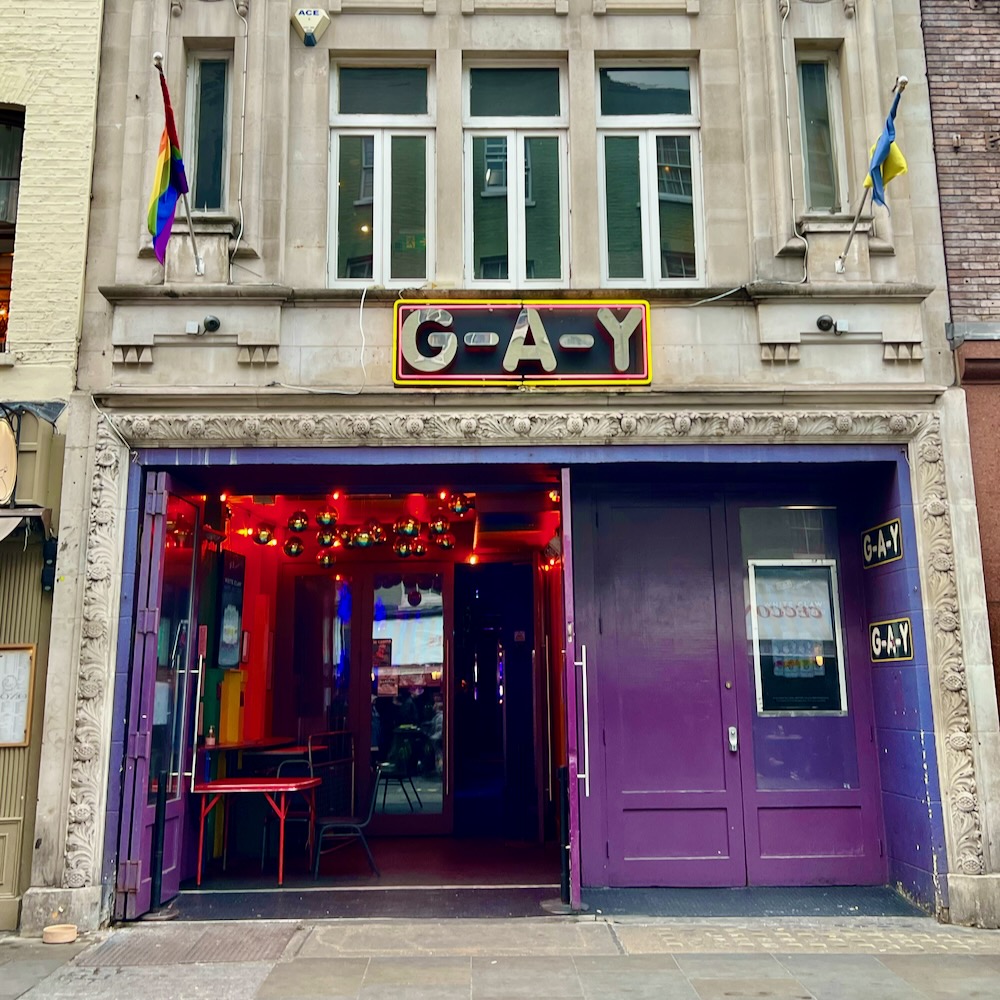 G-A-Y Bar in London. Photo Credit: © Ursula Petula Barzey.
Admiral Duncan
Address: 54 Old Compton Street, London W1D 4UD | Website 
If you want to be surrounded by Glitter and some good old younger and cheek Drag humour, Admiral Duncan's is the place – it also has Karaoke every Monday for you to live your fantasy!
A horrific incident struck this pub in 1999. A neo-Nazi bombed Admiral Duncan, intending to injure members of the Queer community. A plaque to commemorate the three who lost their lives and eighty-three who were injured is outside. Even though it is against Westminster's planning permission laws, you will find a huge rainbow flag outside to celebrate this incredible community with Pride. If you have watched Ru Paul's Drag race, you know this is where many of the UK contestants have performed in Admiral Duncan's small but intimate setting. These include Sum Ting Wong, Baga Chips, and Scarlett Harlett, who even worked behind the bar as one of their lovely bar tenders before Drag Race fame.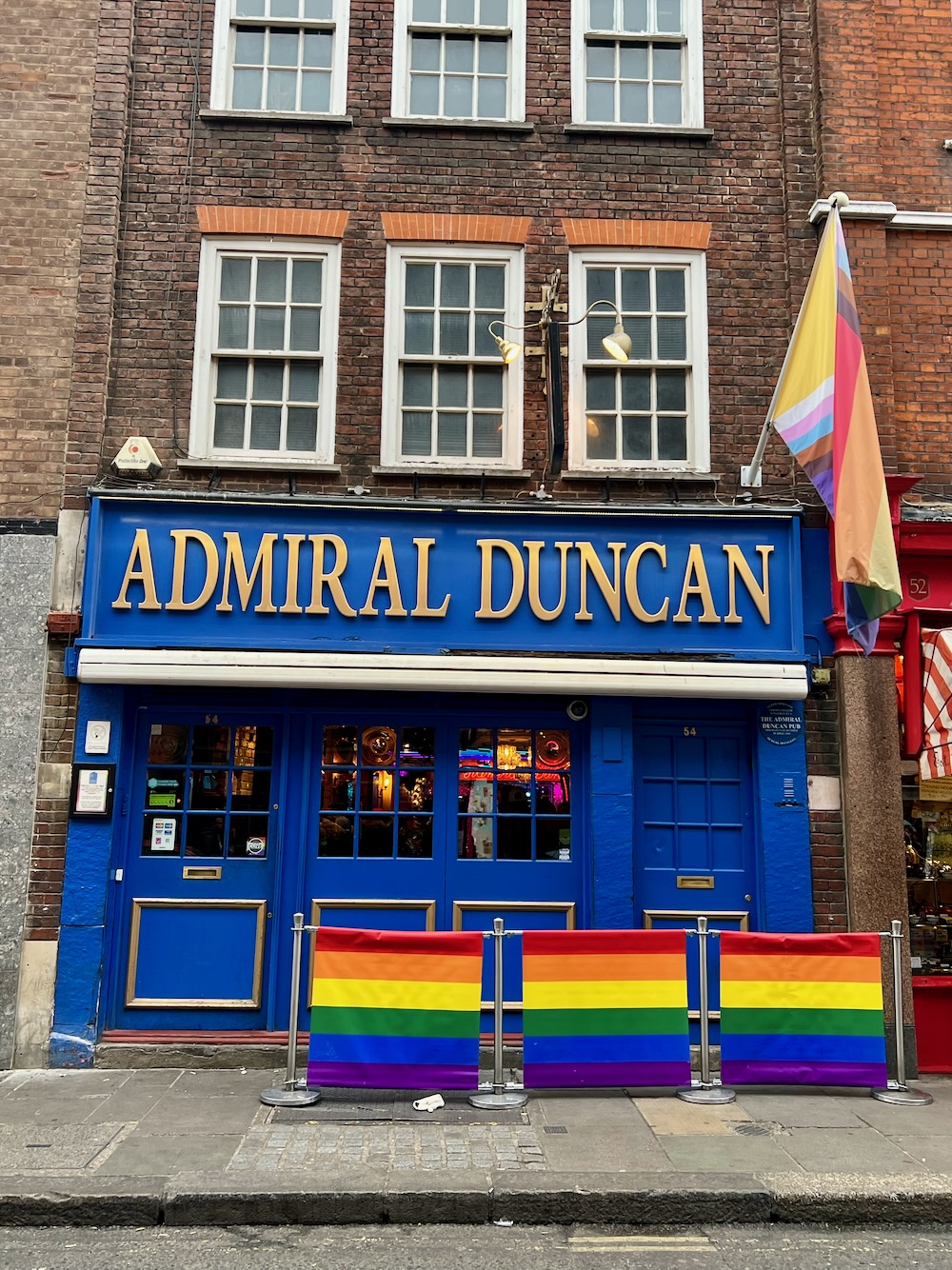 Admiral Duncan pub in London. Photo Credit: © Ursula Petula Barzey.
Halfway to Heaven
Address: 7 Duncannon Street, London, WC2N 4JF | Website 
There are a few more worth mentioning, such as Halfway to Heaven in Central London near Charing Cross. It offers a relaxed pub atmosphere that turns into a cabaret bar come the evening. Stars like Baga Chips, Wilma Ballsdrop, and Mrs. Moore have performed here, and they still have drag cabaret all day into the evenings at the weekend. It has been at the heart of the Queer community since 1991.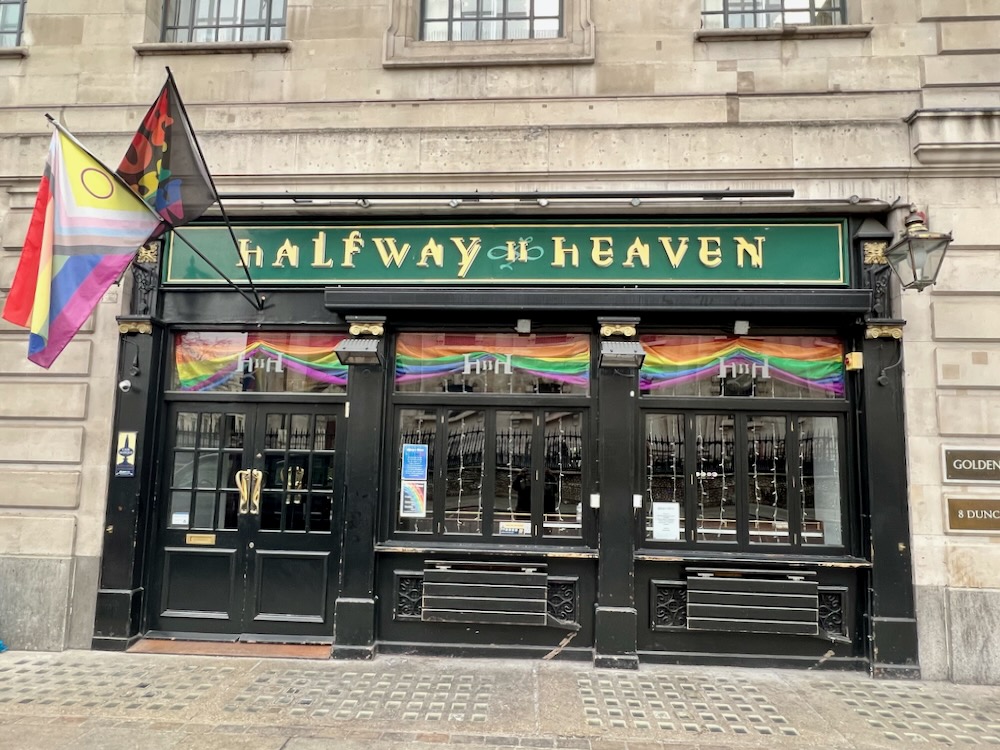 Halfway to Heaven pub in London. Photo Credit: © Ursula Petula Barzey.
Retro Bar
Address: 2 George Court, London, WC2N 6HH | Website 
Lastly, I must mention Retro Bar in the same neck of the woods, down George Court. This is a Queer pub that is small, intimate, and friendly to all. They have DJs, Drag Bingo with Sheila Simmonds, and regular quiz nights. However, what makes this space special is the name given to its space, "Retro." The walls are covered with pictures of those very celebrities we dance and sing to, to remind us all of our own retro days.
As they say, 'don't grow up, it's a trap!' and so we must remain open, free, non-judgemental, and more importantly, just keep dancing and keeping these venues alive.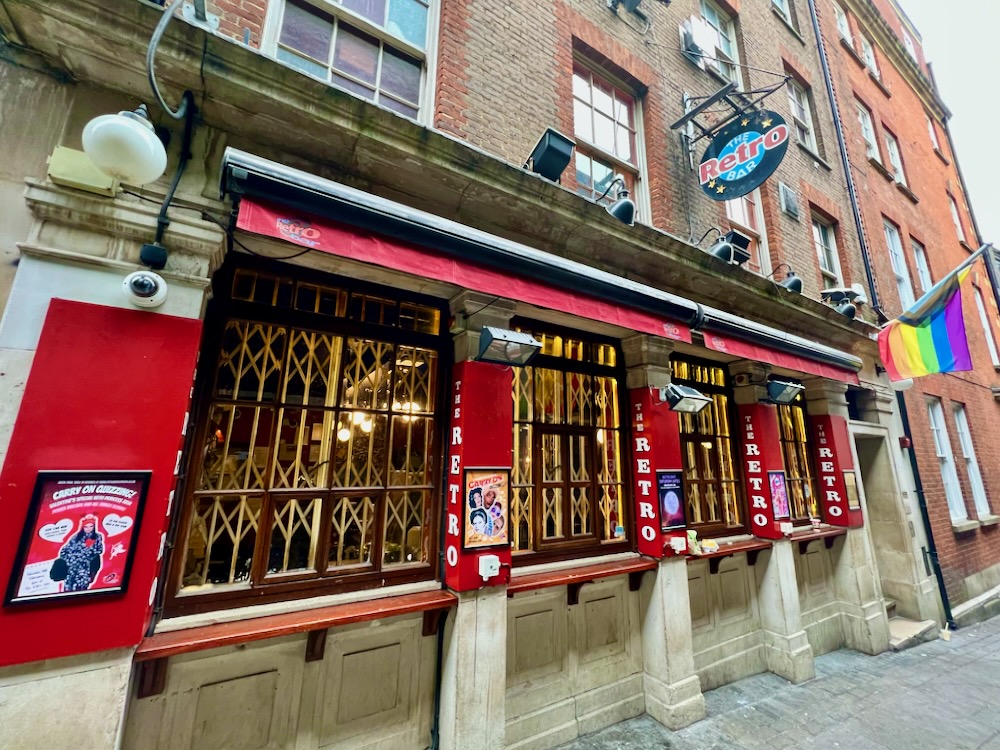 The Retro Bar in London. Photo Credit: © Ursula Petula Barzey.