Notting Hill Carnival is the largest street festival in Europe.  It was started in the 1960s as a way for Caribbean communities, part of the Windrush Generation to bond and celebrate their cultural traditions. Now taking place every August Bank Holiday weekend in the streets of London W11, the Notting Hill Carnival is an amazing array of sounds, colourful sights, and social solidarity.
At the roots of the Notting Hill Carnival are the Caribbean carnivals of the early 19th century – a particularly strong tradition in Trinidad – which were all about celebrating the abolition of slavery and the slave trade. The very first carnival was an attempt to showcase the steel band musicians who played in the Earls Court of London every weekend. When the bands paraded through the streets of Notting Hill, they drew black residents out onto the streets, reminding them of the Caribbean homes they had left behind.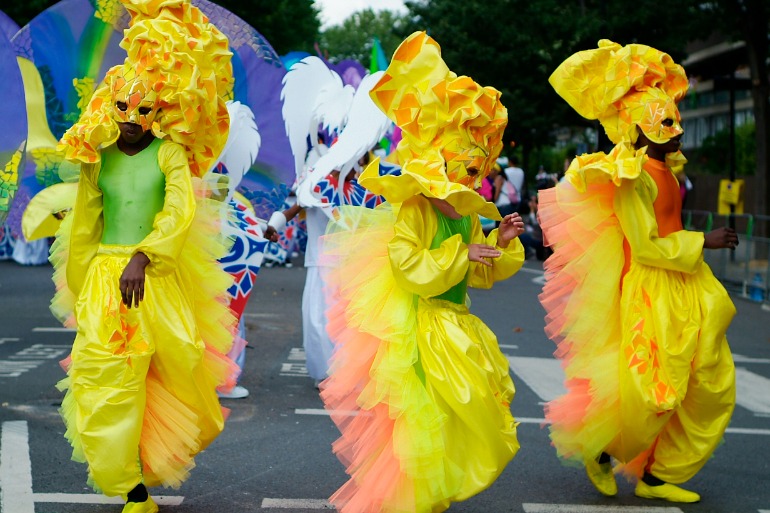 Notting Hill Carnival. Photo Credit: © Flickr/Kathmandu.
In the days of abolition, there was a strong element of parody in the songs and dances Trinidadians performed. Having been forbidden to hold festivals of their own during the period of slavery, they now took full advantage of the relative new freedoms the ending of slavery brought them. Dressing up in costumes that mimicked the European fashions of their former masters, even whitening their faces with flour or wearing white masks, they established a tradition that continues in the costume-making of today's Notting Hill Carnival. The proper name for this aspect of the Carnival is Mas, derived from Masquerade.
Notting Hill Carnival Schedule:
Carnival Culture In The Park
Date: Wednesday, 17th August to Saturday, 20th August
Location: Opera Holland Park, 37 Pembroke Road, London W8 6PW
The four nights will see some of the world's leading Calypso artists and steel pan players perform over four unique nights – Wednesday 17 August – Steelband Summer In Concert. Thursday 18 August – Calypso Masquerade. Friday 19 August – Pan Jazz and An Evening With King David Rudder Calypsonian Extraordinaire.
Panorama
Date: Saturday, 27th August, 6:00 pm to 11:00 pm
Location: Emslie Horniman's Pleasance Park, W10 3DH
Panorama is a traditional steel band music competition complete. This year, a total of six steelbands will play a ten-minute composition from memory, so no sheet music is allowed here!
Notting Hill Carnival – Jouvert
When: Sunday, 28th  August, 6 am to 9 am
Location: Starting and ending on Canal Way in Ladbroke Grove W10
An excellent start to the carnival festivities. Jouvert allows music lovers to jive along the streets to African drums or steel bands. The procession starts and finishes at Canal way, Ladbroke Grove W14, next to the Sainsbury's car park.
Notting Hill Carnival – Children's Day
When: Sunday, 28th August, 10 am to 8:30 pm
Location: Across W2 / W9 / W10 / W11 in West London. Notting Hill, Ladbroke Grove, Westbourne Park, and Maida Vale areas.
An exuberant Parade for Children as the whole carnival team put their extravagant costumes on show as they spin, whirl, and twirl along the carnival route to the mesmeric rhythms supplied by numerous sound systems and sensational steel bands. A number of fabulous acts can be seen and heard on the "World Music Stage" at the Powis Square venue. Throughout the day, on almost every corner, you can find tantalisingly tasty Caribbean food, drink, and much more!
Notting Hill Carnival – Monday Parade/ Grand Finale
When: Monday, 26th  August, 10 am to 8:30 pm
Location: Across W2 / W9 / W10 / W11 in West London. Notting Hill, Ladbroke Grove, Westbourne Park, and Maida Vale areas.
The Grand finale showcasing a sea of vibrant colours as 60 bands in magnificent costumes dance to the tantalising rhythms of the mobile sound systems or steel bands. Come and be entertained by UK Calypsonians, soca artists, visiting international artists, and other emerging acts, and get a taste of the fantastically diverse attractions of food, tunes, and other fun activities.
For more information, visit the official website for Notting Hill Carnival.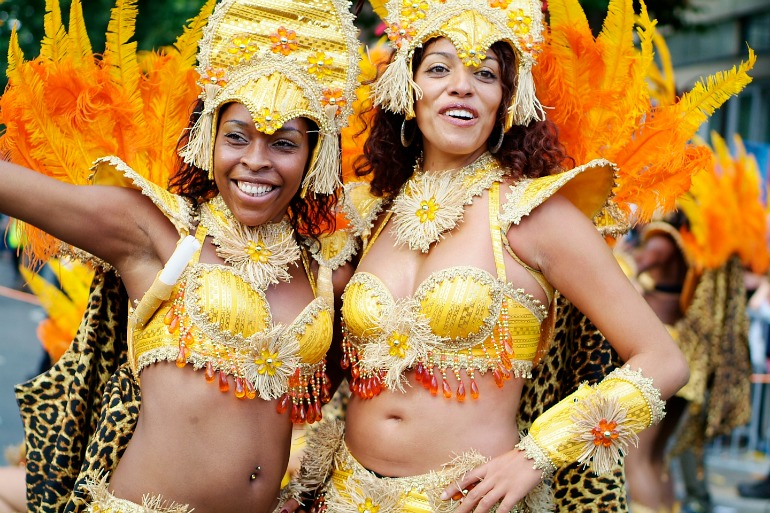 Notting Hill Carnival. Photo Credit: © Flickr/Kathmandu.