When Joseph Malins, a young Jewish immigrant to London had the novel idea of combining fried fish (a traditional Sephardi meal) with potato chips to create the now-iconic fish and chips and opened his first shop on Old Ford Road in the East End of London in 1860, little did he know the influence that he would have on the English national palette. He was not the only one. The Jewish contribution to London has been extensive since the first Jewish immigrants arrived with William the Conqueror in 1066.
Today, the Jewish contribution to London is felt everywhere from fish and chips to trendy Bagel bites, which have a Jewish origin. From Marks & Spencer's, Tesco, Moss Bros, and Burton's, which all had Jewish founders.
There is even the possibility that Queen Elizabeth could be descended from a Jewish immigrant. There are a small number of contemporary sources that refer to William of Normandy as William the Mamzer. Mamzer is the Hebrew term for bastard, and the sources say that this refers to the idea that William's mother was a Jewish lady. In Jewish law, the lineage is through the mother, not the father.
The hustle and bustle of everyday Jewish life can be widely felt if you travel to the Orthodox Jewish areas like Golders Green, Stamford Hill, and Edgware. If you want to experience Jewish London when Easter and Passover coincide (as they do in 2022) here are five Jewish sites in London:
Jewish Museum London
Address: Raymond Burton House, 129-131 Albert Street, London NW1 7NB
Celebrating its ninetieth anniversary in 2022, The Jewish Museum London tells the story of the history and heritage of Jews in Britain through universal themes of migration, family, faith, and culture. Highlights of the museum include a complete Ark used for displaying and storing the scrolls used in services. A Holocaust Gallery focusing on the story of Auschwitz survivor Leon Greenman OBE. The gallery looks at the terrible plight experienced by so many Jews during the Second World War and a Medieval Mikveh, a thirteenth-century ritual bath excavated in 2001 in Milk Street.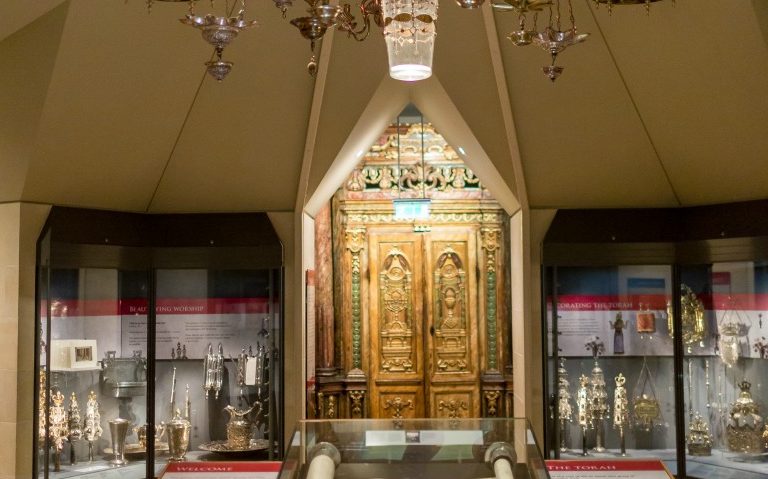 The Judaica Gallery at the Jewish Museum London. Photo Credit: ©Benedict Johnson.
Bevis Marks Synagogue
Address: Bevis Marks, London, EC3A 5DQ
Bevis Marks Synagogue is the oldest and most splendid synagogue in Great Britain. Situated in the City of London, it opened in 1701 and stands in a secluded courtyard approached through a stone archway with wrought-iron gates. Carved in Hebrew above the entrance is, 'Kahal Kadosh Shaar Asamaim' meaning 'Holy Congregation The Gates of Heaven.' It expresses gratitude for the safe refuge established by the first Sephardim in the City. Bevis Marks Synagogue is a Grade I listed building and is the only synagogue in Europe that has held services for over 300 years.
New West End Synagogue
Address: St Petersburgh Place, Bayswater, London, W2 4JT
One of the most beautiful synagogues in the world, and one of the oldest in the United Kingdom, the New West End Synagogue was opened in 1877 by Leopold de Rothschild in the presence of the then Chief Rabbi, Dr. Nathan Adler. New West End Synagogue is one of two synagogues that have been awarded Grade I listed building status and has been described as 'the architectural high-water mark of Anglo-Jewish architecture'.
Sandy's Row Synagogue
Address: 4a Sandys Row, Spitalfields, London, E1 7HW
Sandy's Row Synagogue is a historic Grade II listed synagogue and a former Christian church in the East End of London. Built by French Huguenots in 1766, it was later converted into a Baptist chapel and in 1867 was acquired by a Jewish congregation. Sandy's Row Synagogue is the oldest surviving Ashkenazi synagogue in London.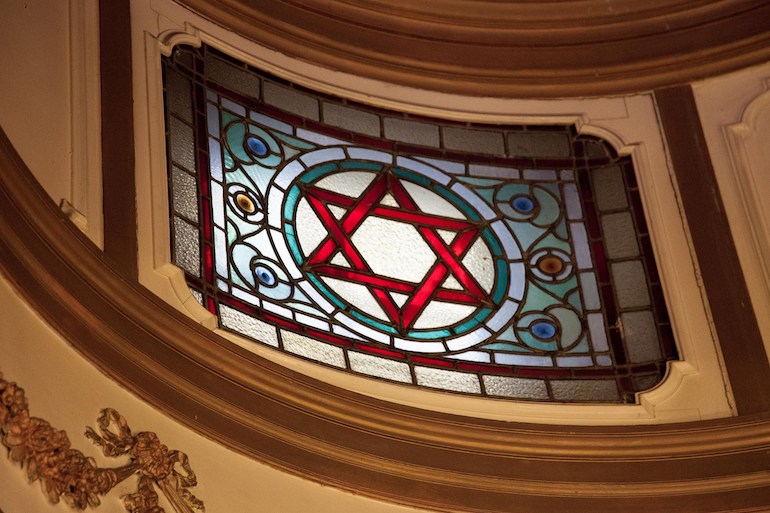 A stained glass window at Sandy's Row Synagogue. Photo Credit: © Sandy's Row Synagogue.
Willesden Jewish Cemetery
Address: Beaconsfield Road, Willesden, London NW10 2JE
Created as an amenity for Victorian Jews of German and Dutch origin who settled in London, Willesden Jewish Cemetery has long been a prestigious place to be buried. It was opened in 1873 on former sheep grazing land that was bought by the United Synagogue, a union of five Jewish congregations in the City of London. A place of great tranquillity, the cemetery charts the development of London's Jewish community over 150 years. Nearly 30,000 men, women, and children have been buried in the cemetery since 1873, and people are still buried there today. The graves and memorials at Willesden Jewish Cemetery are rich in social history.
Saint Paul's Cathedral
Address: St Paul's Churchyard, London, EC4M 8AD
Not only was Saint Paul's Cathedral named after a Jew, but the cathedral has a number of important Jewish artefacts including a stone allegedly having come from the Jewish Temple in Jerusalem. Saint Paul's Cathedral also contains examples of Hebrew writing and roof mosaics of Old Testament characters. There is even a Jewish man buried in the crypt.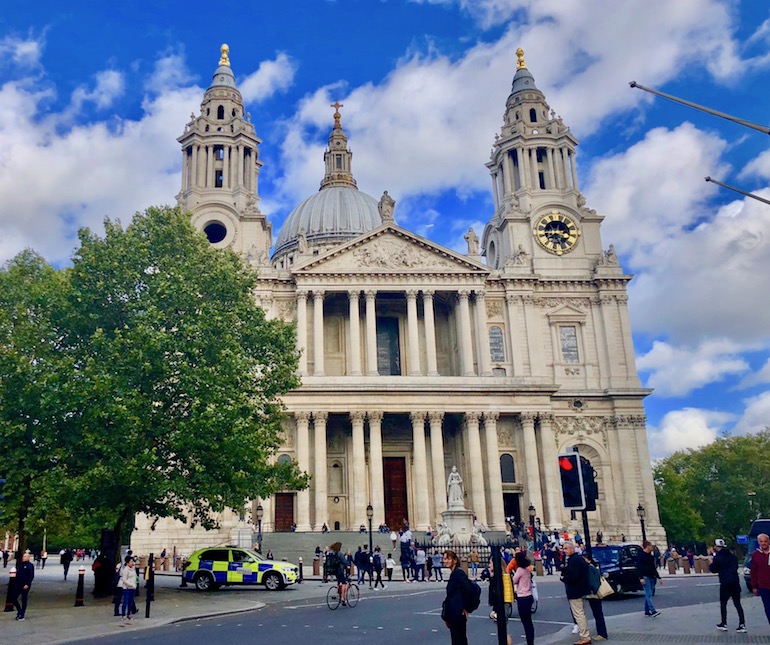 St Paul's Cathedral in London. Photo Credit: © Ursula Petula Barzey.