It is not often that the name of Sir Norman Foster is associated with gardening. He is more well known for being the architect behind the Gherkin (he is thought to hate the nickname and prefers 30 St Mary Axe), the British Museum Great Court, City Hall and Wembley Stadium. But gardens? No, not really until the opening of Crossrail Place in early May.
Crossrail Place is the £500-million transport, retail, leisure and most importantly garden hub that Foster + Partners has designed around the largest station on the Crossrail line. The building looks like an ocean liner, and the garden is on the top floor covering an area of more than 4000 square meters.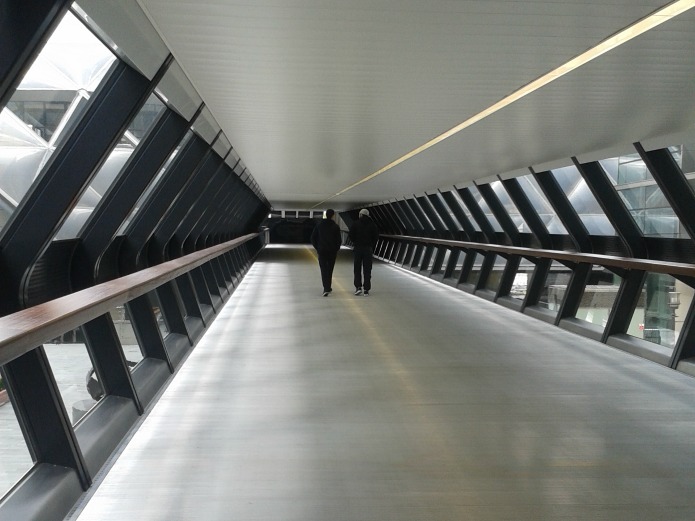 Crossrail Place Walkway. Photo: © Themis Halvantzi-Stringer.

The roof is an innovative design, timber-beamed and partly glazed. The construction of the roof was complex and delicate as the 1414 individual timber beams were sourced from sustainably managed forests in Altheim, Austria and transported to the United Kingdom and put to place in just six months. The beams then had to be stressed in situ to make sure they could take the weight of the soil and plants without warping. Fun fact: the roof span in longer than the Shard is tall! At 310 meters, it is currently the largest timber structure in the United Kingdom.

The air filled cushions within the timber roof frame are also from Austria. They are made of a type of plastic used for its resistance to corrosion and are filled with air, like balloons. Their shape and design hint at the glass-domed vessels used by 19th-century British botanists and in particular Nathaniel Ward, to transport exotic plants from other continents to the United Kingdom.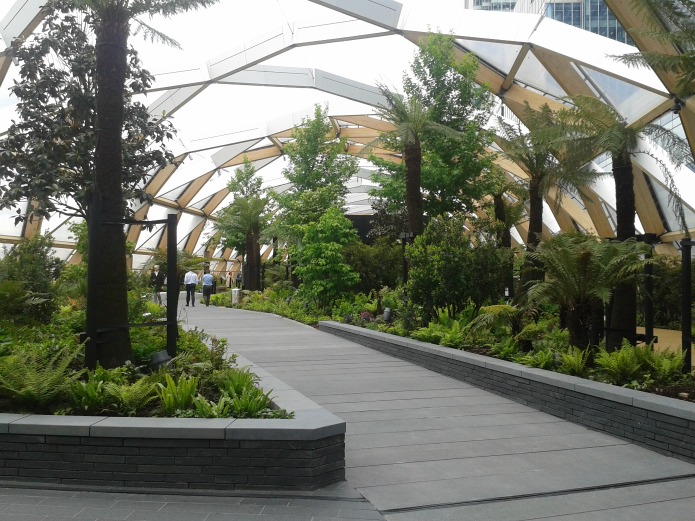 Crossrail Place roof garden. Photo: © Themis Halvantzi-Stringer.

The mature garden, landscaped by Gillespies is a reference to the commercial and botanical history of Canary Wharf. Its position near the Prime Meridian is reflected in the planting with beds divided between Eastern and Western flora. The ships of the West India Dock Company trading group that used the Docklands area in the 19th C would have visited the countries where many of the plants are indigenous.

Below the garden are another five floors, with the all-important retail space and restaurants such as The Breakfast Club, and below water is the Crossrail platforms that will open in 2018. But there is no need to wait until 2018, go now and experience this new delightful garden. It might not have the great views of the sky garden atop 20 Fenchurch Street, but the planting is much more mature and no booking is required.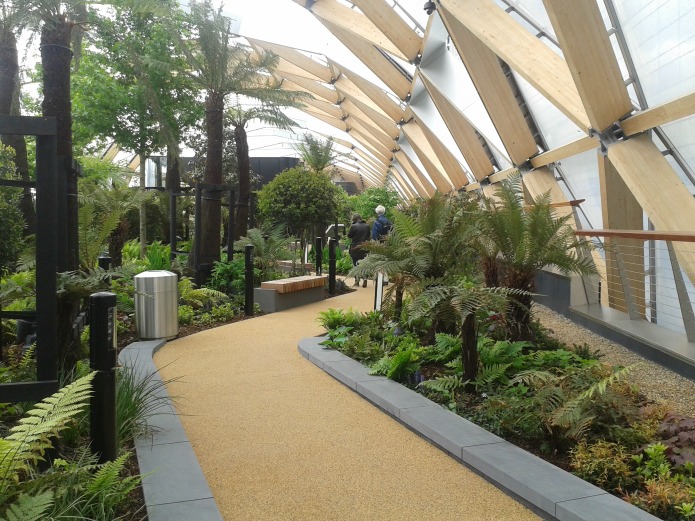 Crossrail Place roof garden. Photo: © Themis Halvantzi-Stringer.