The idea for a line joining the eastern and western suburbs of London was first mooted in 1941 during the Second World War but it took over eighty years before this dream was realised. The Elizabeth Line, as it has become known, was officially opened by Queen Elizabeth II on 17 May 2022  at Paddington Station.  Her Majesty was presented with an Oyster Card with £5 on it. Although she was shown how to use the card, she did not do so and left the station in a lift. The Queen spent time at the opening talking to Transport For London staff.  Below are ten facts about the Elizabeth Line which started passenger services on 24 May 2022.
Facts About The Elizabeth Line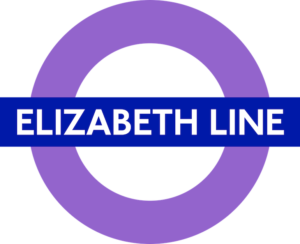 1. The Elizabeth Line runs for 73 miles/118 kilometres between Abbey Wood in Essex and Reading in Berkshire. Its construction was the biggest infrastructure project in Europe and cost £18.9 billion, well above the original estimate of £13.8 billion.
2. The line is named after Queen Elizabeth the Second, who celebrated her Platinum Jubilee (seventy years on the throne) soon after its official opening. A proposal to name it the Churchill Line was vetoed by Prime Minister Boris Johnson, despite his being a well-known admirer of Churchill and the author of a biography of him.
3. The line has been delayed in completion and was behind schedule in the opening. After tunnels were built and the track laid, the signalling was due to be tested in the winter of 2017-8. However, Crossrail announced that the central section would not be ready to open until 2022 when the Queen opened the line at Paddington station. She was given an Oyster card and chatted with station staff during her visit.
4. It. will not be possible to travel between these two ends of the Elizabeth Line on one train until 2023 when it will be finally completed. Bond Street station in Oxford Street is due to open for use in late 2022.
5. Part of the Elizabeth Line is represented on the London Underground map but it is not called a 'tube' train as several sections in the east and west are outside London. The colour used was purple, although this is not thought of as a royal tribute.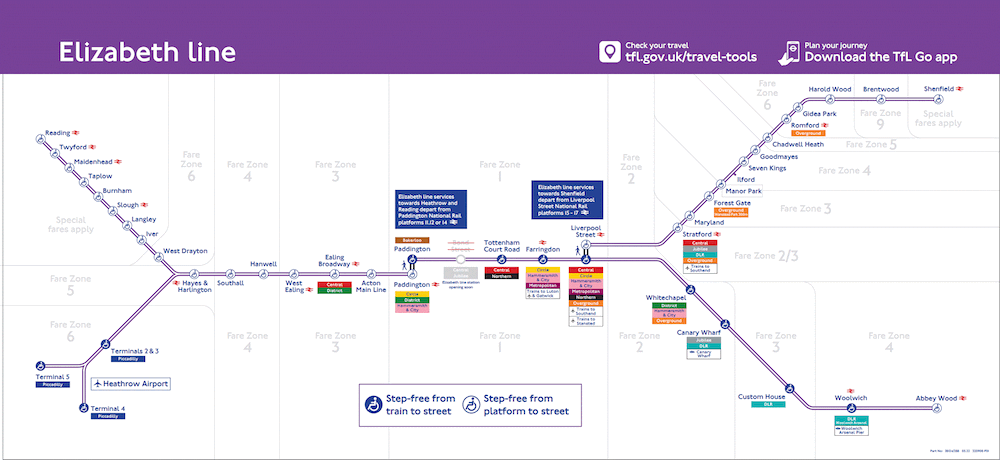 Map of the Elizabeth Line stops in London. Photo Credit: © Transport for London.
6. Improvements to stations include new signage, information screens and help points. They will be more open and brighter with toilets and CCTV. After pressure from disability rights groups, all forty-one stations on the line will be step free and wheelchair accessible. (Ilford will be made step fee in 2023.) All stations will provide free Wi-Fi, which will also be introduced on the trains. Eight artists worked with the station architects to provide brand new artworks. London's mayor Sadiq Khan – the son of a London bus driver – has described the stations as "like cathedrals".
7. The building of the Elizabeth Line has unearthed over 10,000 objects discovered by a hundred archaeologists working in over forty sites. They were given permission to dig in areas uncovered prior to construction of the underground tunnels and discovered over 5,000 human skeletons during this time, including the contents of suspected plague pits in Charterhouse and underneath Liverpool Street station.
8. The new Elizabeth Line trains, which are all air-conditioned, were built by Bombardier in Derby. (The tunnelling machines were, however, made in Germany.) Each train is 200 metres long with nine walk-through carriages, providing space for up to 1,500 passengers. Wheelchair spaces are in the fifth carriage of each train and the top speed of trains on the Elizabeth Line is ninety miles per hour.
9. A million people travelled on the Elizabeth Line in its first week of operation and 200 million passenger journeys are expected on it every year. It is predicted that its construction and use will add £42 billion to the economy of the United Kingdom.
10. An unexpected beneficiary of the Elizabeth Line has been Britain's birds. During the construction of the tunnels, six million tons of earth were removed. Half of this was taken to Wallasea Island in Essex to build a 400-acre (160 hectares) bird sanctuary called Jubilee Marsh and run by the Royal Society for the Protection of Birds.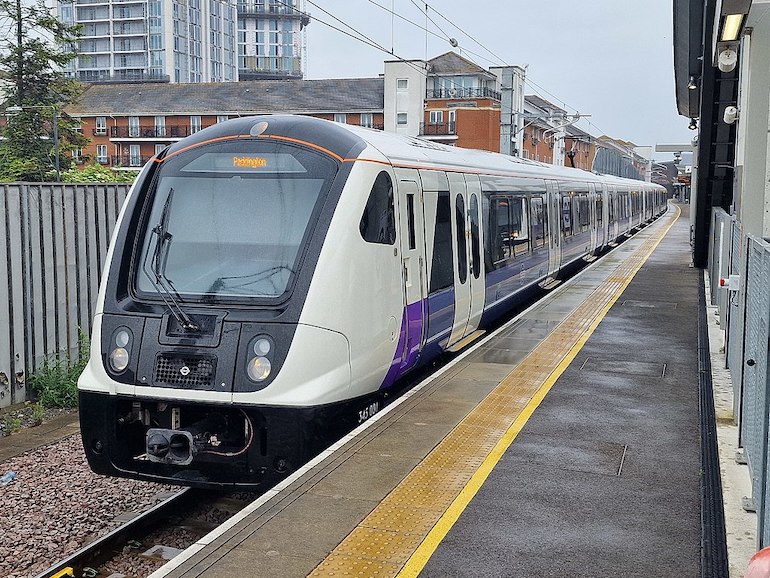 Train along the Elizabeth Line in London. Photo Credit: © Alex6nt via Wikimedia Commons.