Blue Badge Tourist Guides in London may conduct sport-themed tours – or they may just want to mention some British achievements in the world of sport to their groups and clients as a matter of general interest. While London has successfully hosted the Olympics three times – in 1904, 1948, and 2012, and contains famous venues such as Twickenham for rugby union, Wimbledon for tennis and Lord's or the Oval for cricket, the England men's national football team has won nothing since England won the World Cup at Wembley Stadium in 1966 when they last hosted the tournament. England beat West Germany 4-2 after extra time, and Geoff Hurst is still the only man to have scored three goals in a World Cup final.
This achievement is usually called a 'hat trick' because public entertainers would be rewarded after a particularly impressive feat – such as scoring three goals – when one of their supporters would pass the hat around the crowd of spectators who would reward him (or her) with a few coins placed in the hat. Although this no longer happens, the phrase remains. Geoff Hurst's achievement was particularly impressive as his three goals made up what is sometimes called 'a perfect hat trick' – one scored with his head, one with his right foot, and one with his left foot. The other goal was scored by his West Ham colleague Martin Peters and the team was captained by the late Bobby Moore, also of West Ham.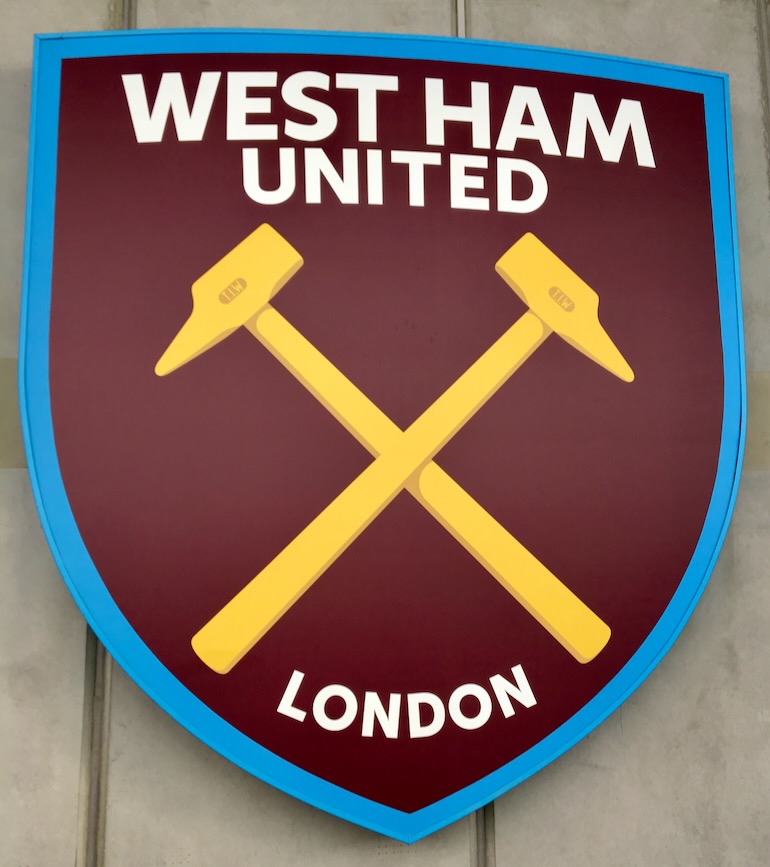 West Ham United London sign. Photo Credit: © Ursula Petula Barzey.
Although they were prohibited from playing competitive soccer in tournaments between 1921 and 1971, the England women's team ('the lionesses") has now won a trophy with victory in the final of the Euro championship of 2022. Their opponents (Germany) and the venue (Wembley Stadium) were the same as in 1966, but there was to be no hat trick for either side. As in 1966, the game went to extra time when Chloe Kelly scored the winning goal in a 2-1 victory. Kelly famously ripped off her shirt (a bookable event in football today) to reveal her sports bra underneath. This led to former player and the host of BBC's Match of the Day programme to punningly tweet that Kelly was the best England player 'bra none.'
Suddenly, many male football supporters who had not previously taken women's football very seriously began to follow the game, and while female footballers cannot hope to earn the large salaries of their male counterparts, they became accepted as public figures and celebrities in their own right. England's top scorer in the tournament was Alessa Russo, who scored four times after coming on as a substitute. Her most famous goal was a back-heel which went through the legs of the Swedish goalkeeper in the semi-final of the tournament. England won the game 4-0 to set up a final against old rivals Germany.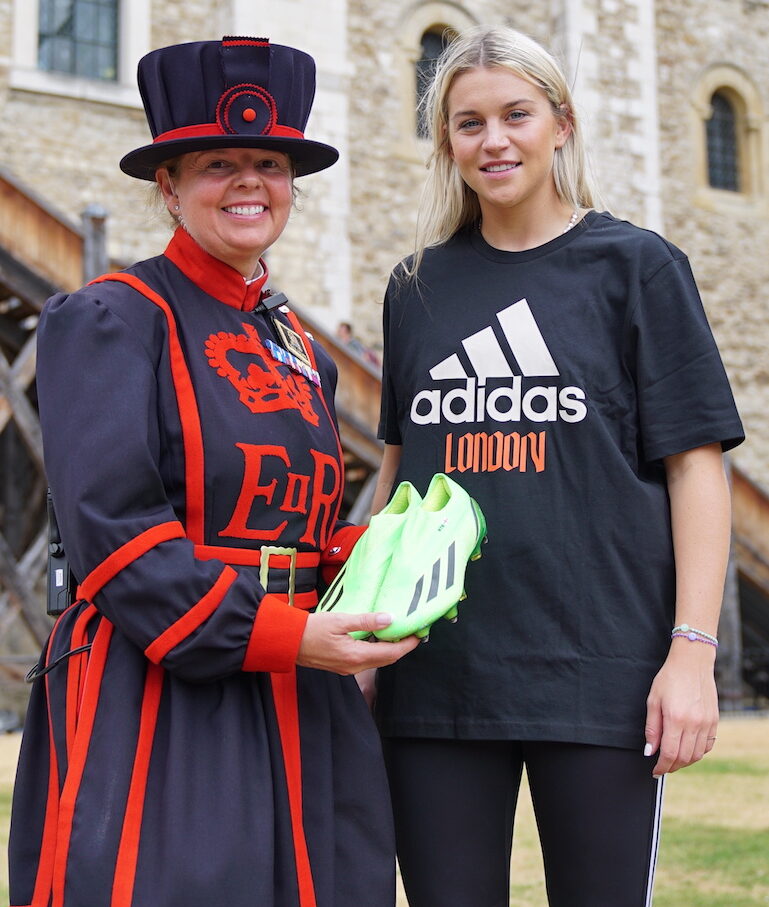 English footballer Alessa Russo with Yeomen Warders at the Tower of London. Photo Credit: © Historic Royal Palaces.
Alessa Russo's lime green Adidas boots were lent to the Tower of London and put on temporary display there in the Martin Tower in August 2022. Russo went to the Tower to present her boots to Chief Yeoman Warder Pete McGowran and Amanda Clark, one of only three female Yeoman Warders at the Tower. The Yeoman Warders are often called 'Beefeaters' and, although this is a popular and well-known name, it is an unofficial one. The beefeater nickname is thought to have come from the common assumption that Yeoman Warders enjoyed the same meat-rich diet that the monarchs had when the Tower of London was a royal residence, which it ceased to be around 400 years ago. The Yeoman Warders live in the Tower with their families and are all retired non-commissioned offers from the armed services who have served for twenty-two years.
Soccer – commonly called 'football' in Britain – is the country's most popular sport, and the top players command six-figure weekly incomes from their clubs. Thirty-seven-year-old Christiano Ronaldo of Portugal was reportedly paid nearly half a million pounds a week by Manchester United in his second stint at the club in 2021/2. Despite this – and the high salaries of other players in the squad – Manchester United have not won the Premier League title since the retirement of their successful Scottish coach Sir Alex Ferguson. In contrast, local rivals Manchester City have won it four times under Spanish coach Pep Guardiola.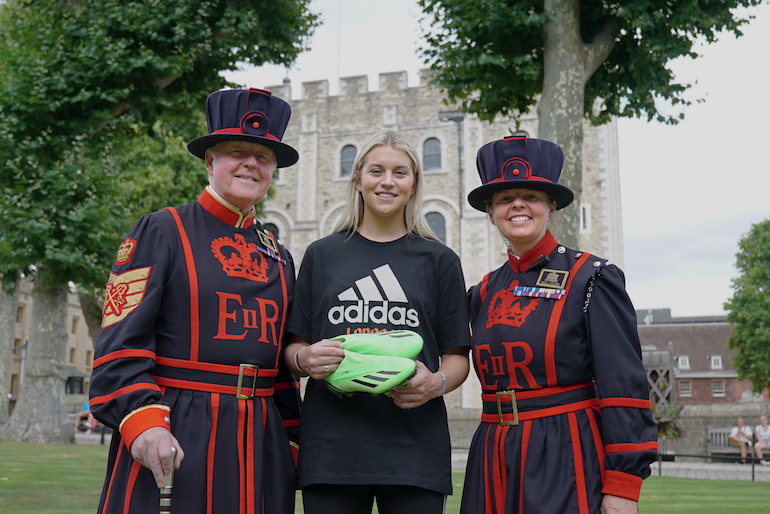 English footballer Alessa Russo with Yeomen Warders at the Tower of London. Photo Credit: © Historic Royal Palaces.
London has several successful football teams who compete for the major trophies in England – the Premier League title, the FA Cup (the world's oldest sporting tournament), and the League Cup.  They also compete against European clubs for trophies, such as the Champion's League and the Europa League. Football teams in London include Tottenham Hotspur (nicknamed 'Spurs') and Arsenal, who are also based in North London. Arsenal moved there from Woolwich in 1886, having originally been formed as a club for workers at the Woolwich Arsenal – hence their name. Another of London's successful football clubs is Chelsea which plays at Stamford Bridge in West London and belonged to the wealthy Russian entrepreneur Roman Abramovich until he sold the club to the American Todd Boehly in 2022. Chelsea is the most successful London football club in European competitions, having twice won the Champions League (2012 and 2021) and the Europa League (2013 and 2019).
Another top London football club is West Ham United, which is based in the East End of London and plays at the former London 2012 Olympic Stadium (now called the London Stadium). West Ham provided three of the star players when England won the World Cup in 1966 – Geoff Hurst, Martin Peters, and Bobby Moore. South London is represented by Crystal Palace, which takes its name from the glass and steel structure that was moved to that part of London. West London is represented by smaller clubs like Fulham and Brentford who were promoted to the Premier League in the early 2020s and command a loyal following amongst their fans.
Each London football club has a women's team as well as a men's team, and although they do not generate nearly as much revenue as their male counterparts, football is increasingly popular amongst women, both as a sport they can participate in and one they can watch. The day's when 'football' was regarded as an exclusively male sport are fast coming to an end in England.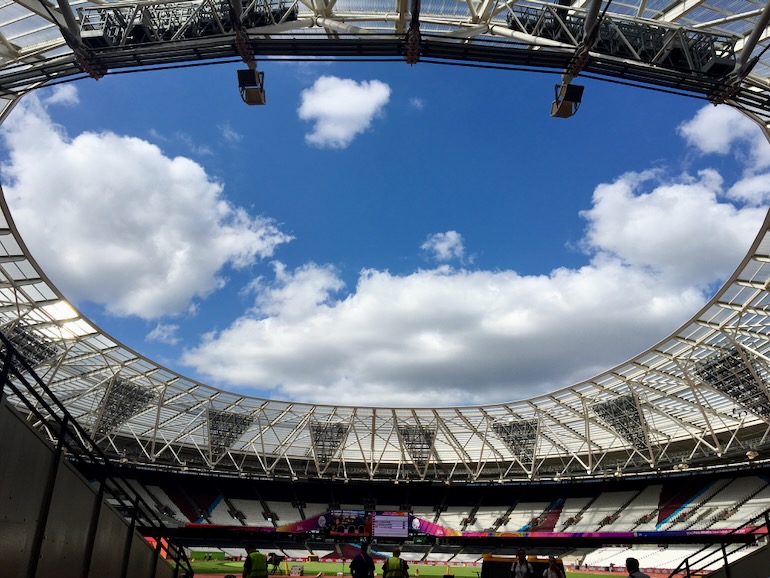 London Stadium in Queen Elizabeth Olympic Park. Photo Credit: © Ursula Petula Barzey.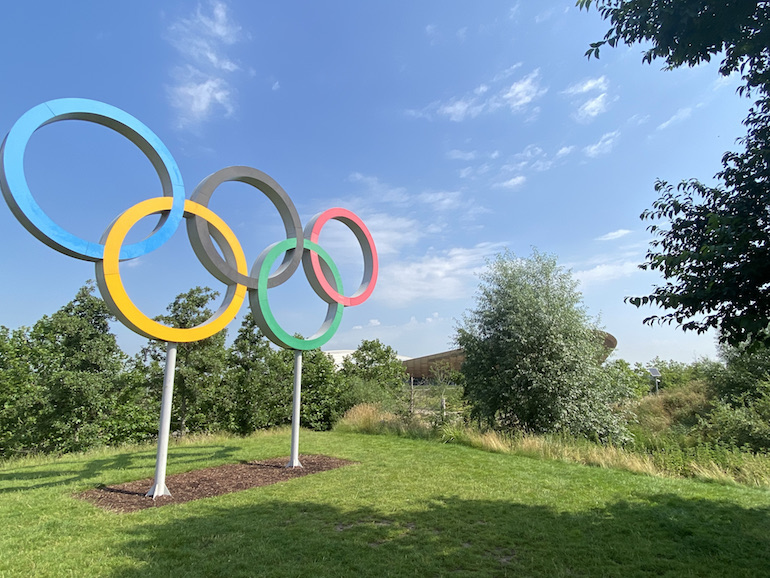 Olympic Rings within the Queen Elizabeth Olympic Park in London. Photo Credit: © Edwin Lerner.