Guide London speaks to some of the recent beneficiaries of the charity Go Make It Happen a registered charity, which aims to support young people who want to work in and build careers in the tourism profession.
Several of the beneficiaries are trainee London Blue Badge Tourist Guides. Go Make It Happen believes that it is important that the face of tourism in London should include youth and vitality, and this extends to the prestigious Blue Badge. The charity was set up by Keith Harding in memory of his son Sam Harding, who was tragically killed on the streets of London in 2011. Both of Sam's parents trained as London Blue Badge Tourist Guides.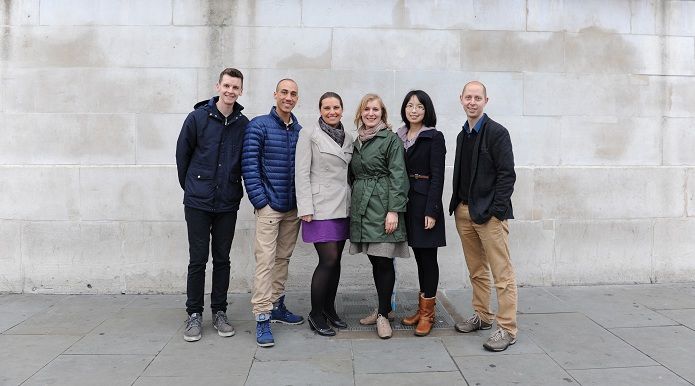 The charity Go Make It Happen has supported several trainees on the London Blue Badge course in recent years. From left: Danny Parlour (2014-2016), Dominic Burris-North (2014-2016), Denisa Podhrazska (2012-2014), Marija Legonkova (2012-2014), Xiao Yu (2013-2015) and Rob Quail (2013-2015). Photo: ©Tina Engström.
DENISA PODHRAZSKA
I'm from the Czech Republic and I always have been interested in tourism. I have a degree in tourism and my summer job for many years was guiding in a castle. When I first moved abroad, it was with my first full time job as cabin crew for easyJet. I now work part-time for The National Trust. My favourite place is the Tower of London.
The most challenging part of the Blue Badge course was the coach panoramic tour. Being driven on the coach around London and be ready to jump up and start the commentary no matter where we were was stressful. One week it went really well, which gave me some confidence, next week total disaster when the words wouldn't come out. Funnily enough, during the coach pano exam I gave my best performance ever and I really enjoyed it.
As a brand new qualified guide, I am still a bit overwhelmed by passing the exams. I will start to look for work, probably visit my home country and market myself with the tour operators. Working with school groups is also a possibility. I do like the idea of driver guiding, but that would be a plan for the future.
During my initial interview for the course I was told about Go Make It Happen. I applied and shortly afterwards I met with Keith and became the first beneficiary. I received financial help with the course fees. I also received very good mentoring from Keith himself and his friends and colleagues.
XIAO YU
I'm from China and I'm currently a PhD student in computer science at City University. I have been in London for 4 years and I want to do something other than IT to give my life a bit more colour and also introduce London in-depth to Chinese people coming here. I'm interested in becoming an expert on some particular places of interests, e.g. British Museum and National Gallery.
My mother used to be a guide when she was young, so I'm familiar with the profession. When I came to UK, a friend of mine who is already a guide recommended the course to me when he saw me frequently going to the museums and galleries in London.
I have totally enjoyed the course so far! It is the most practical and useful course I have ever taken. The knowledge from this course has enriched my life in the UK as a foreigner. The most challenging part is doing presentations in English, but I'm slowly getting used to it.
My favourite place in London is the Covent Garden area. It's like a small holiday town in the centre of the city with wonderful shops and restaurants. Somerset House and Waterloo Bridge are around the corner. There are also lots of theatres and Chinatown is within walking distance.
Our course director told me about Go Make It Happen and Keith has generously helped me, not only financially, but he has also introduced me to many Blue Badge Tourist Guides from whom I have learnt a lot.
ROB QUAIL
I'm from Sussex and I studied mechanical engineering with Spanish at Nottingham University. I love sports and I also have a passion for travelling. My wife Helen and I are expecting our first child very shortly. We are involved with our local church and community in Bethnal Green and enjoy the character of East London.
The course has been immensely varied and fascinating so far, and it is such a joy to work with the other students who come from all walks and stages of life. I really like the coach, particularly when you're passing over a bridge and you're looking out over our incredible city and you can think to yourself, 'wow, this is a fun job'. But it was tough to start with – I remember receiving the mic on a coach demo as the coach turned into Upper Brook Street and realising I had never been on that street in my life up until that point and I had nothing to say!
I would like to get regular work doing coach guiding and site visits in London and out of town. In the future I'd love to get into driver guiding and perhaps one day run a small agency. My favourite place in London is Queen Mary's Rose Garden, especially in June and July when it is just beautiful.
The course recommended Go Make It Happen as something to look into. I was inspired by reading Sam's story on the website and the charity struck me as an amazing way to celebrate his life.
DOMINIC BURRIS-NORTH
I'm a North West Londoner born and raised, although I spent four years in Oxford whilst at university and now live just south of the river. I studied Hotel and Restaurant Management at university and during that time I also worked as a waiter/barman at venues such as the Natural History Museum. I have also worked in visitor service roles at The London Eye and Madame Tussauds. When I'm not roaming the streets of London, I am a very keen amateur actor.
I first heard about the Blue Badge back in 2011. I had already seen tourist guiding as an exciting career and during my research I came across an article about a journalist's journey during her Blue Badge training. Looking at the programme in depth, I was impressed with the high standards the Blue Badge is associated with.
As well as getting to know the intricacies of my hometown London, I hope to meet a great bunch of enthusiastic and like-minded people who are passionate about sharing with others the stories and secrets of the most exciting city in the world!
I have a broad interest in the history and heritage of London. As the son of a Welsh mother and second generation Jamaican father, I am also interested in London's multicultural heritage. One of my favourite places in London is Waterloo Bridge, because the views get me every time.
Through Go Make It Happen, I've met other beneficiaries who have offered to take me on tours and provide help during the course, which is fantastic! The financial assistance will also be invaluable to me.
DANNY PARLOUR
I'm from Sutton in Surrey. I moved into a house-share in Stratford in 2009 and living here through the London 2012 Olympics was a great experience. For the past four years I've been working for Historic Royal Palaces and this has been really enjoyable and insightful.
I heard about the Blue Badge during a working day at the Tower of London. I kept noticing guides wearing this oval-shaped pendant and I got chatting to one who explained what it was. I decided to apply for the course, because I'm passionate about people, history and London. The fact that the Blue Badge is the highest qualification in guiding really appealed to me too.
I hope I'll meet some great people on the course and that I'll get to see more of the London I think I know. My favourite place is Whitehall Gardens. When you're sitting on a bench right in the middle, you just get that sense of escape, which is so rare in London, and you're surrounded by so many stunning buildings.
I would love to guide full-time and I think I would enjoy giving walking tours, which include a site or two. Personally I really enjoy the walking tours of London's streets, finding out interesting facts about buildings that I've passed and not given a second thought about previously.
Go Make It Happen has enabled me to afford the fees for the course and I will be offered advice throughout the course too, which is great to know as everyone keeps telling me how big the course is!
END
Would you like to explore London and beyond with a highly qualified and enthusiastic Blue Badge Tourist Guide? Use our Guide Match service to find the perfect one for you!