This has been an unbelievable year like no other. It has challenged all of us in so many ways. We've tried hard to ensure that life goes on, enjoying some of the simpler pleasures, like art and nature.
But this has been a tricky time for art lovers and museum-goers around the globe. The United Kingdom is currently in a month-long lockdown, and the capital's leading art galleries like Tate Britain and the National Gallery will close until early December. But all is not lost. The empty streets of central London play host to some terrific street art. This is a brilliant and poignant time to see it, on foot or on a bike.
I particularly love my city's industrial heritage of railway arches, viaducts, old engineering works and abandoned water towers. They are also great places to explore on foot or by bike – and often full of atmosphere and history. To me, there's something wistful about these forgotten 'spaces in-between' … perhaps more now than ever.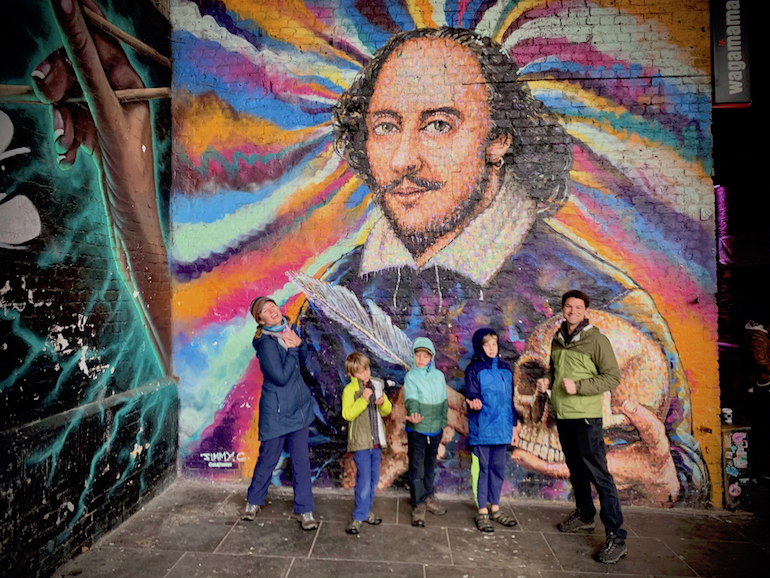 The 'Five Backpacks', a travelling US family, enjoy The Bard by Anglo-Australian street artist Jimmy C. Photo Credit: ©  Antony Robbins.
Cans Festival
It's these very places that, in more normal times, go hand-in-hand with our thriving street art scene.  London Street Art Tours have become really popular in recent years. They provide an edgy alternative to the more traditional offerings. Achingly-cool Shoreditch is as famous for its urban art as it is for its hipsters. On the other side of the river, in Lambeth, are the Leake Street Tunnels under Waterloo Station. Street art here, far from being forbidden, is positively encouraged.
In more normal times, Leake Street hosts its very own "Cans Festival". This annual event has showcased upcoming artists and helped put this gritty but fascinating area more conspicuously on the map. Local authorities don't quite know what to do about street art. Should they prosecute those committing "graffiti" and serve them with banning orders? Or should they protect the works of spray and stencil artists behind perspex?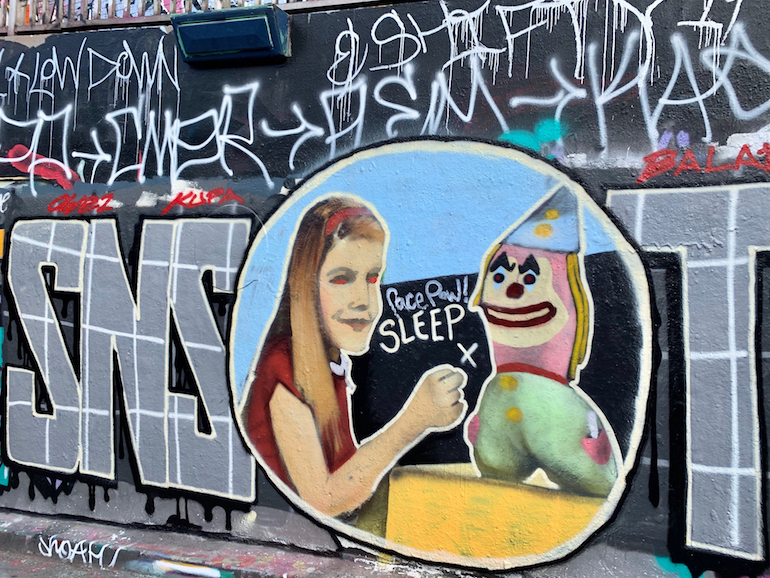 The 1970s TV test-card transmission rendered as witty street art, Leake Street tunnel, Waterloo, SE1. Photo Credit: ©  Antony Robbins.
A whole new alphabet
Naturally, the complex world of street art comes with its own equally sophisticated argot, understood by insiders. We might see a "piece". This is a simplification of the art world meaning of the word "masterpiece" – describing more complex art that requires planning to complete.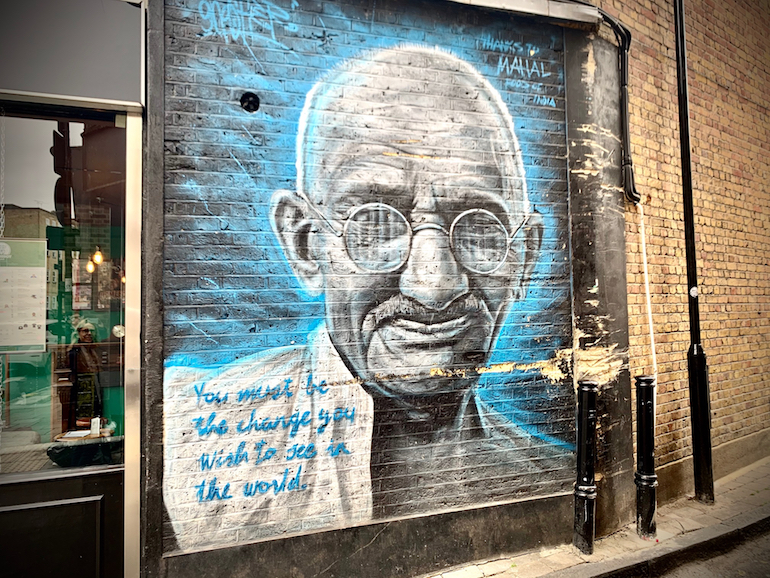 Art with a heart. Gandhiji in Islington. Photo Credit: © Antony Robbins.
Burners, dubs and bombers
A "burner" refers to a piece of work that's so hot it's "burning off the wall". An artwork that's still burning remains there for all to see. Some burners stay untouched because they're so hard to reach. Certain artists specialise in working in the "heavens" – painting on the ceilings of viaducts or tunnels, using long ladders to access them.
A "tag" is a stylised signature completed freehand. This is street art at its most basic. It's also the type of graffiti that attracts the most criticism – from local authorities, from the neighbours and indeed from street artists themselves. "Dubs" are a London thing. These are tags spayed in a metallic silver paint – often applied to darker surfaces so they stand out.
Taggers are sometimes called "bombers". Among other streets artists, tagging tends not to be well-respected, especially when works deemed to be finer are defaced. Bombers thought to lack talent are dismissed as "toys". Respected artists who've died (sometimes pursuing their calling) are called "angels".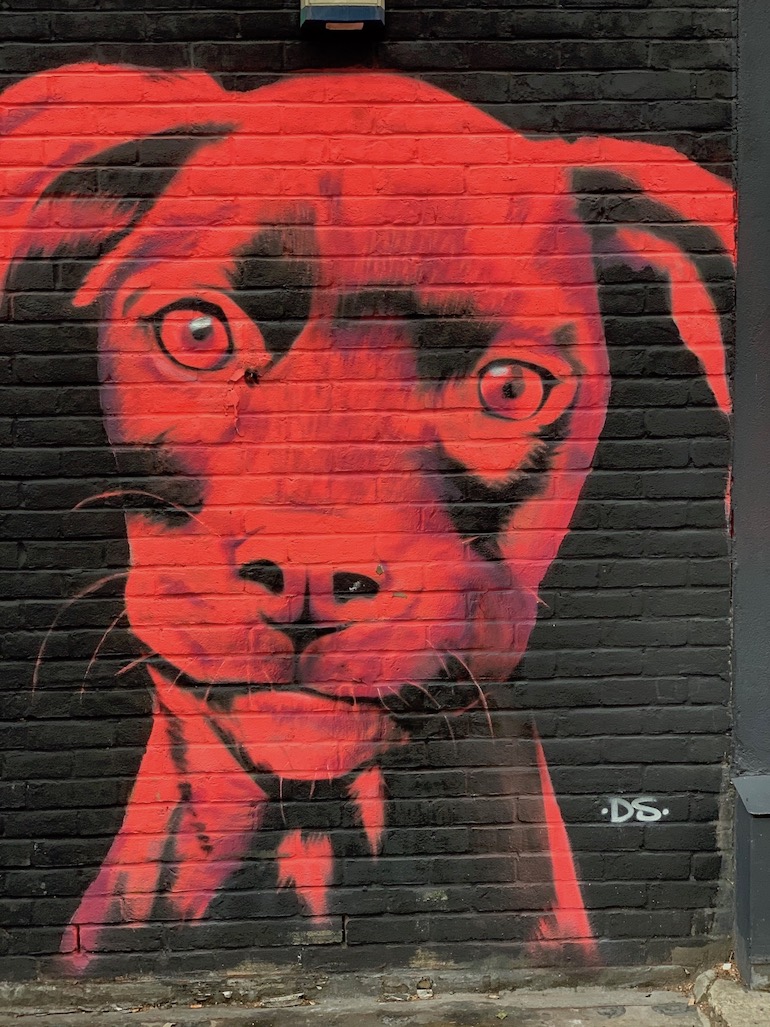 Dog gone. Even fine pieces of street art don't remain for long before being removed by the authorities or painted over by other artists. Photo Credit: © Antony Robbins.
Religious devotion
My tours often come across the works of celebrated street artists, all of whom pursue their art with an almost religious devotion. We might see the colourful alphabet letters by former Lloyd's insurance-broker-cum-street-artist Ben Eine. In Shoreditch, we could discover the work of French graphic designer Zabou – whose globetrotting inspires her art.
Bristol-born Banksy is the king of the stencil. His politically charged work now sells for a fortune in private galleries and hangs in the homes of the rich and famous across the globe. Like Banksy, the identity of Loretto is something of a mystery. The work in stencil and spray mercilessly lampoons celebrities and political leaders on both sides of the pond.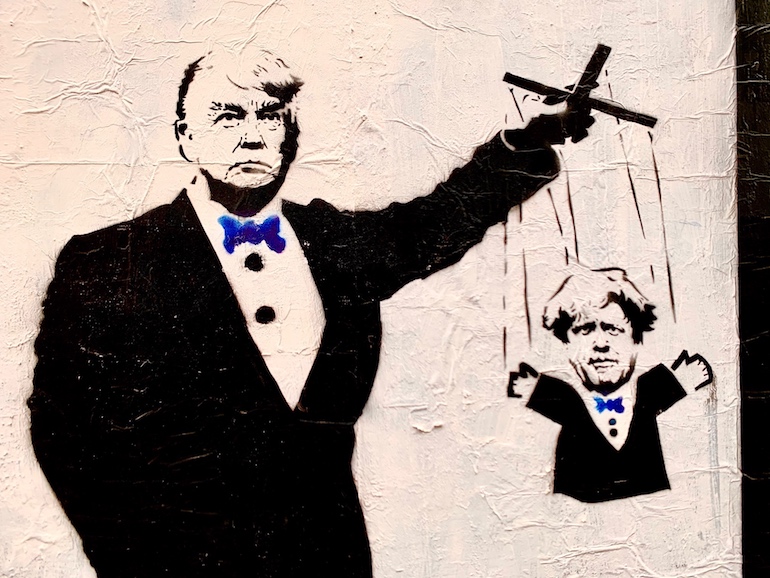 The secretive stencil artist Loretto specialises in sharp satire. Photo Credit: ©  Antony Robbins.
Aboriginal Pointillism
Jimmy C is the British-Australian artist James Cochrane. His huge "drip paintings" occupy entire walls. They are inspired by both aboriginal art and the 19th-century French Pointillists, who created stunning art using small but distinct dots of colour.
The work of Stik remains perennially popular. He was once homeless and speaks of "the melancholy of hope and tenacity" in his work. His 2010 image A couple hold hands in the street features a niqab-clad stick figure. It's off Brick Lane in London's East End and has been embraced by the local Muslim community. It is, without doubt, a burner.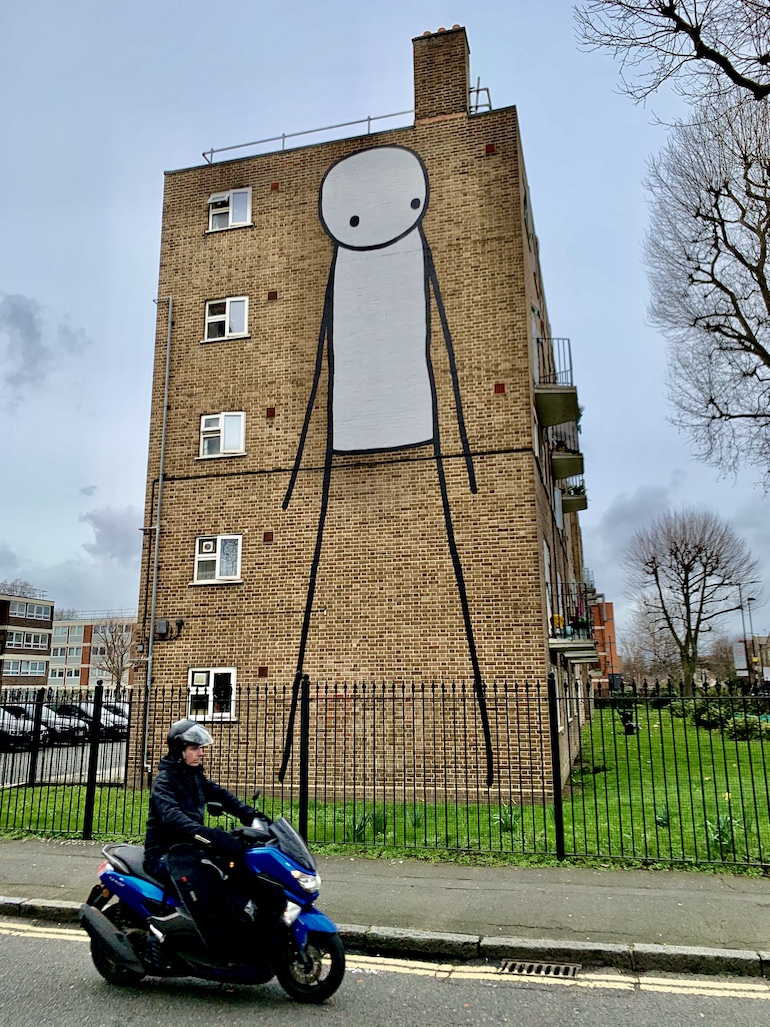 Art and the built environment. A striking work in Hackney by Stik. Photo Credit: © Antony Robbins.