Every year the Association of Professional Tourist Guides (APTG) welcomes those who are training to become London Blue Badge Tourist Guides into the profession.
In order to gain the coveted Blue Badge – the recognised symbol of a professional guide in London – they have to finish a two-year course and pass a series of practical and written examinations set by the Institute of Tourist Guiding.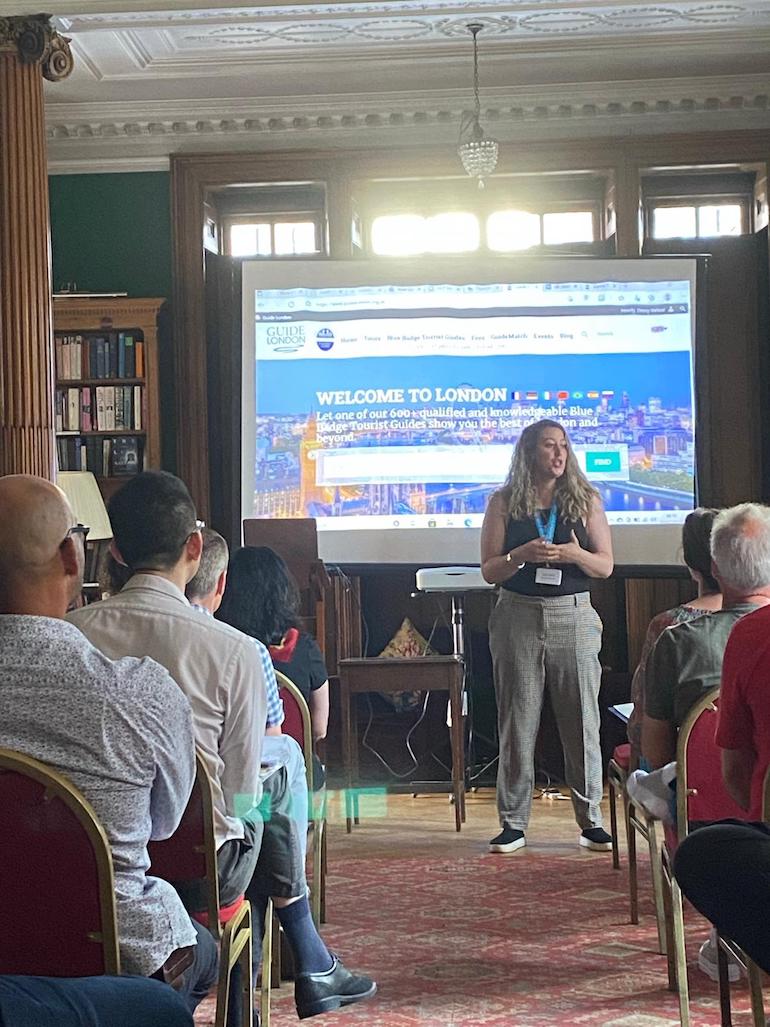 In July 2021 APTG invited trainee Blue Badge Tourist Guides to a reception at the University Women's Club in South Audley Street, Mayfair. They were given a welcome pack and shown video presentations which set out the many benefits to be had from joining APTG and its mother union Unite:
Access to the Guide London website Members Area and guide booking facility
Up to date information on sites they are likely to visit and talk about
Public liability insurance for guides and clients provided by Unite
A comprehensive Continuing Professional Development programme designed to continuously increase and improve their knowledge
Site liaison representatives who work with museums and popular sites like the Tower of London, Westminster Abbey, St Paul's Cathedral, and Windsor Castle
Invitations to social events throughout the year including the annual APTG pub quiz, picnics, an end of the guiding season party, and the Christmas Carol Service
Regular members' meetings where issues are discussed and voted on, and where colleagues can get to know each other and network
Their own monthly magazine Guidelines and, most importantly,
Constant support from colleagues and fellow guides who can help them to find their feet in a new profession during a challenging time for tourism.
After the presentations, the trainee guides attended a drinks party and had the opportunity to meet and ask questions of more experienced guides.  They took the opportunity to mingle with their future colleagues in luxurious surroundings in the heart of London.
For more information about the course and to get a glimpse of what life is like as a London BBTG trainee, follow @traineeguides on Instagram.
Any qualified London Blue Badge Tourist Guides interested in becoming a member of APTG should get in touch with the association using the Contact Us form.