Why is February 14th the most romantic day of the year? According to legend, Valentine was a Roman priest who defied Emperor Claudius. The emperor believed that single soldiers were more effective than married ones, but Valentine challenged the ban and continued to help young lovers, and he paid for his defiance with his life on this very day.
The traditional Valentine's Day gifts are flowers, chocolates or jewellery, and London offers plenty of places to find these special treats. Your Blue Badge Tourist Guide can show you where to find the best gifts for a loved one, whether for Valentine's day or any other day of the year.
Where To Buy Valentine's Day Presents in London
For red roses, why not visit the Columbia Road flower market in London's East End, open every Sunday from 8 am-3 pm. The bustling street is jam-packed with stalls selling beautiful flowers and foliage. Columbia Road is popular with tourists and locals alike, and it's worth a visit just to take in the vibrant atmosphere. For the best bargains, go toward the end of the afternoon, when you're bound to hear market traders shouting "Everthin' a fiver!" There are also great pubs, cafes, and restaurants in the area if you need to rest your feet and take some refreshment after buying your blooms.
If your beloved prefers chocolates, visit Fortnum & Mason. This elegant food emporium on Piccadilly has its roots in a shop founded in 1707 by Hugh Mason, a grocer, and William Fortnum, a royal footman to Queen Anne. Fortnum & Mason offers a mind-boggling selection of scrumptious treats, including more than 40 different varieties of truffles! Who could resist Rose Petal and Gin Ganache? Their chefs have created a 3-course Valentine's Day feast, which can be delivered directly to your door if you order by February 13. The store's longstanding customers include none other than Her Majesty Queen Elizabeth II, so you could present your beloved with a dinner fit for a queen!
But surely the best of all presents is a beautiful ring – the Romans believed that there was a vein, the vena amorosa, directly connecting the fourth finger of the left hand with the heart. Here are some of the places to find that special gift to melt someone's heart, or even to treat yourself.
1. Hatton Garden in the Holborn district, which since the early 19th century has been one of the world's great centres for jewellery, especially diamonds. No less than 55 shops offer an array of both antique and modern pieces, and they will help you design your own ring if you prefer.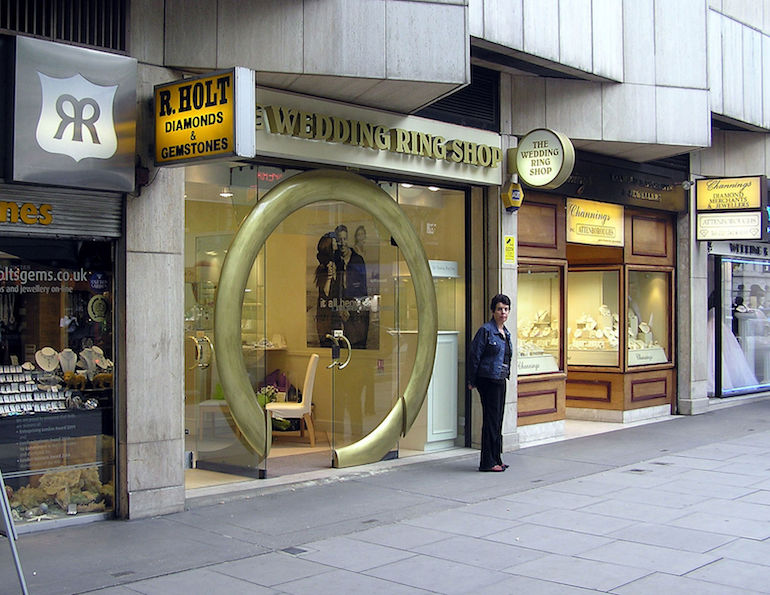 Wedding Ring Shop, Hatton Garden in London. Photo Credit: © Adrian Pingstone via Wikimedia Commons.
2. The Silver Vaults in Chancery Lane, open Mon-Fri 9am – 5.30pm, Sat 9am – 1pm, free entry. Step back in time to visit 25 underground vaults, selling all kinds of silverware and beautiful brooches, bracelets, chains, and rings, not only in silver. My personal favourite is Belmont Jewellers, who are charming and helpful, at Vaults 48-50.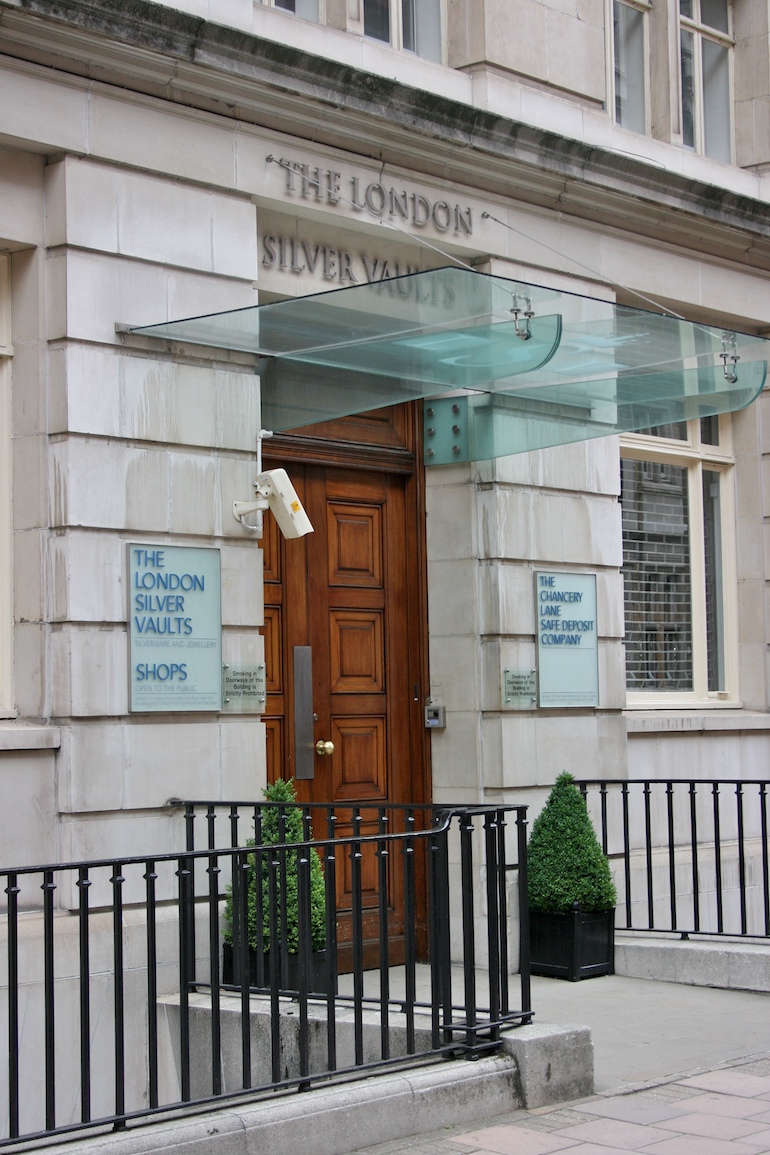 Entrance to The London Silver Vaults. Photo Credit: © Mike Peel via Wikimedia Commons.
3. The Burlington Arcade off Piccadilly, which since 1819 has been dazzling visitors with a fabulous variety of gems. Take a look at Hancocks, which pleased Queen Victoria so well that she granted them a Royal Warrant and the right to produce the Victoria Cross medals, the highest honour our country can grant to members of the Armed Forces. They specialise in beautiful old-cut diamonds.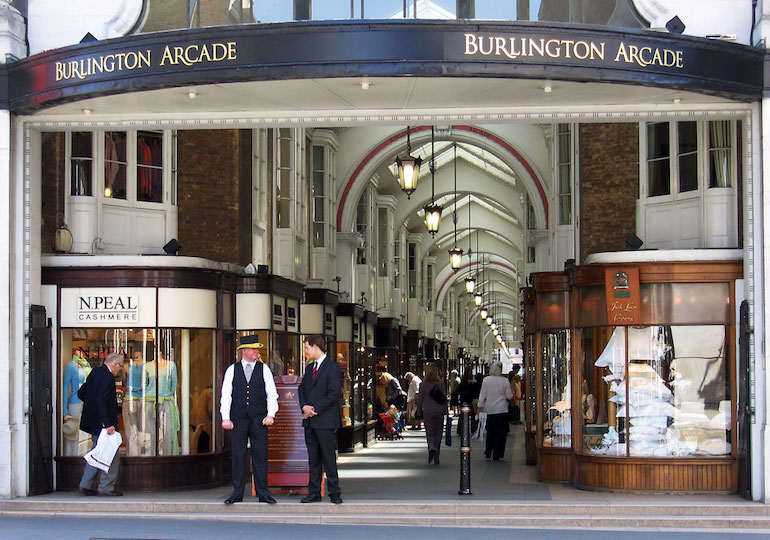 Burlington Arcade in London. Photo Credit: © Andrew Dunn via Wikimedia Commons.
4. Portobello Road Market in Notting Hill boasts many stalls and antique shops. The best time to visit is Saturday before 11.30am to beat the crowds. Rummage through the stalls and try out your bargaining skills. If you have a keen eye, it is still possible to find a real steal.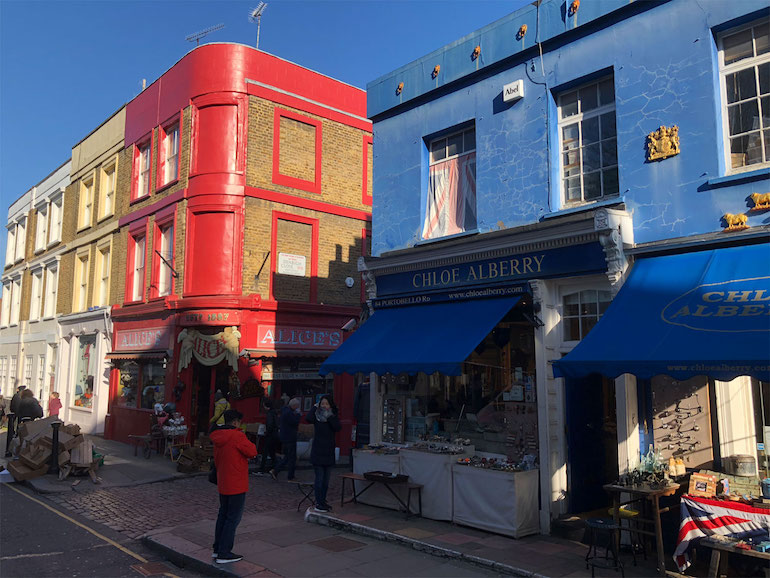 Notting Hill: Portobello Road Market. Photo Credit: © James Hamill.
5. Grays Antiques Centre, Davies Street, Mayfair has 200 dealers on two floors offering a world-class selection. It is situated in a beautiful 19th-century terracotta building, which was originally the rather unromantic HQ of a famous water-closet manufacturer. John Boulding & Son was the rival of the celebrated Thomas Crapper!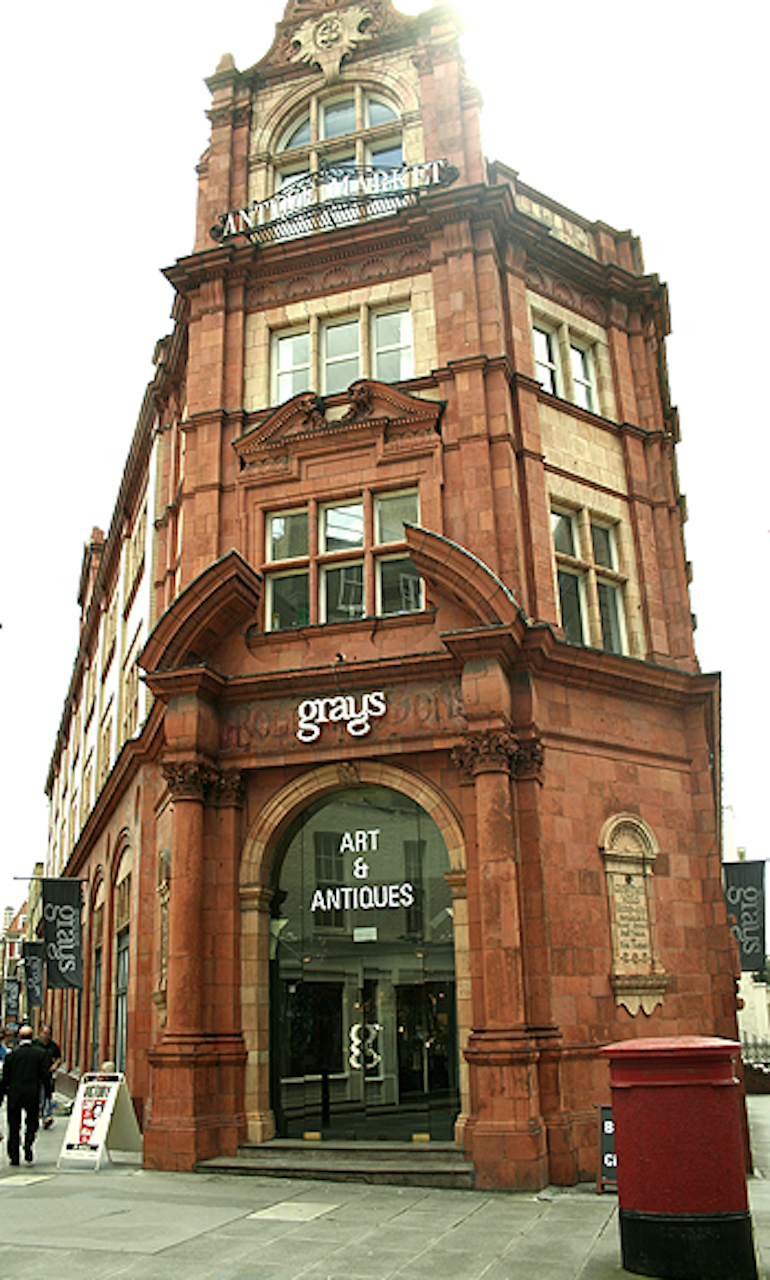 Grays Antique Centre in London. Photo Credit: © Public Domain via Wikimedia Commons.
Happy shopping and I hope you have a more enjoyable day than the Romans would have done during this time of year: They went around whipping ladies with bloody strips of dog or goatskin in a festival called Lupercalia, meant to encourage fertility! I think you'll find that a diamond will have a much better result.