The London Transport Museum has launced a new exhibition Goodbye Piccadilly – From Home Front to Western Front which will run from Friday 16 May 2014 to Sunday, 8 March 2015. A key theme in the exhibition is the acceleration of social change as a result of the outbreak of war.
This was particularly for women who, in the absence of men, took up employment as bus conductors, Underground porters and mechanics. Over 1,000 London General Omnibus Company vehicles were used to transport troops and equipment, as ambulances, and even as mobile carrier-pigeon lofts in Britain, France, Belgium and as far afield as Egypt. Part of the exhibition includes 'Ole' Bill', a 1911 B-type bus from the Imperial War Museum. There will also be a 'Battle Bus' at various London events throughout the year, including The Lord Mayor's Show and the Remembrance Day parade, with the hope to raise enough money to restore it and take it back to France and Belgium.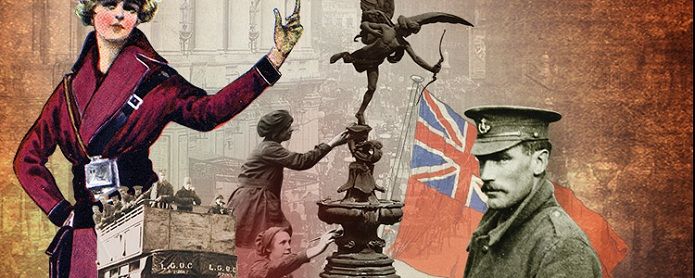 Goodbye Piccadilly: From Home Front to Western Front. Photo: ©London Transportation Museum.
END
Would you like to explore London and beyond with a highly qualified and enthusiastic Blue Badge Tourist Guide? Use our Guide Match service to find the perfect one for you!