"The Season" always fascinates visitors to England. An endless whirl of summer events where it's just as important who to be seen with as to actually have fun.  We asked Sophie Campbell, Blue Badge Tourist Guide and author of The Season: A Summer Whirl Through the English Social Season, to give us her unique perspective on this most English of traditions.
March.  London at its drabbest.  But walk around the back of the Royal Academy on Burlington Gardens, and there is a trail of optimism leading into the premises. Every year, thousands of hopefuls turn up in person to deliver their artworks to the venerable gallery, hoping to get them into the Summer Exhibition, where they will hang beside the pieces exhibited by some of the biggest names in world art.
It's the biggest open submission art show in the world, with around 11,000 works of art being whittled down to a mere thousand by the curators. It's a ritual that's been going on for jolly nearly 253 years, and it's also the event that used to begin the social season every May, with the Chelsea Flower Show hot on its heels.
These days they've swapped places – Chelsea is now the first event in a run of glamorous occasions lasting from May to early August, and these occasions are about as English as you can get. English, note, not British. They all take place in southeast England, all within 70 miles of London, and they mark out the summer like the chiming of a clock. Go, by all means. But you may need to wear a hat.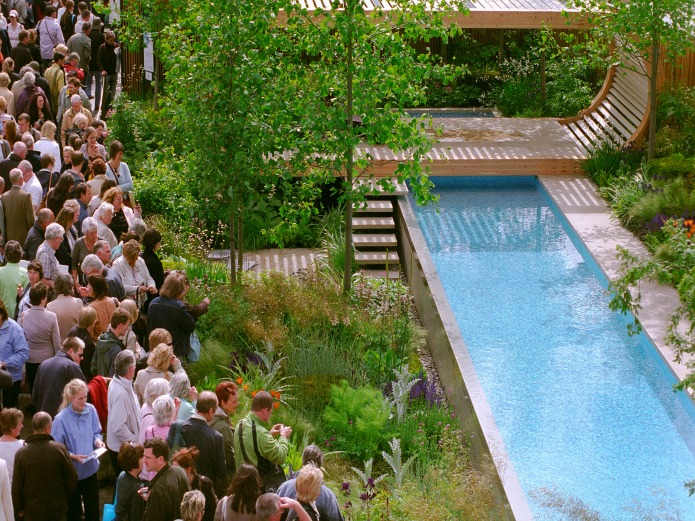 People viewing the Cancer Research UK Garden at The Royal Horticultural Society Chelsea Flower Show 2006.  Photo: © Visit Britain.
Nine years ago, I went to every event of the season for a book I was writing on the subject — The Season: A Summer Whirl Through The English Social Season. I rolled up to judging day Monday at the Chelsea Flower Show when everyone except the chosen few gets chucked out at 2 pm before the Royal Visit.
I failed to get a work of art into the Summer Exhibition – mainly because I failed to send one in by the spring deadline, which is strictly adhered to – and then failed to buy one because the few I could afford had been snapped up in a trice.
I went to the Derby on an open-topped double-decker bus, got a voucher for the Royal Enclosure at Ascot, camped at Wimbledon, swam the course at Henley, picnicked in my best dress on the sylvan lawns of Glyndebourne's opera house, trod divots into the polo ground at Smith's Lawn, bet on the Celebrity Ladies' race at Goodwood and pranced about at the Royal Yacht Squadron Ball in Cowes.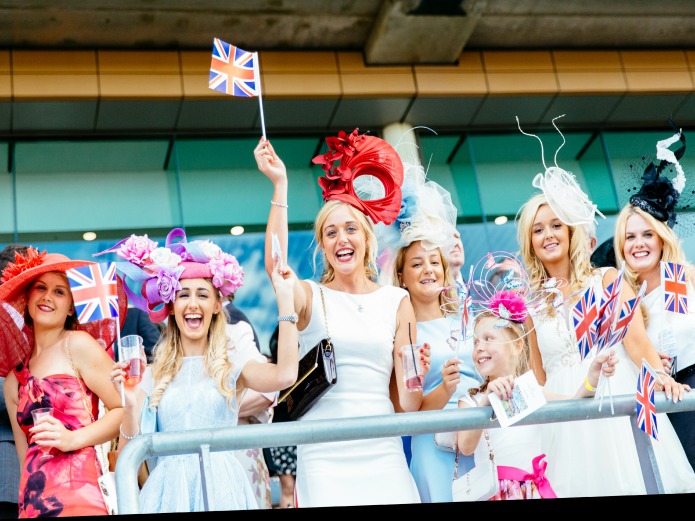 Group of women standing on a balcony of the grandstand at the Royal Ascot smiling, cheering and waving Union Jack flags. Photo: © Visit Britian.
Had it been earlier in the 20th century, and had I been sufficiently Old School, I would then have set off on a yachting holiday with my paints and pet chinchilla or caught a train – preferably private, you want to do these things in style – to the moors in Yorkshire or Scotland to shoot grouse. Er, correction. In order to mull over game recipes and be supportive of my husband while he shot grouse.
Ah well. Times have changed. And the good thing about that is the season events' formidable reputation for propriety and poshness has relaxed a little.  If there's a dress code, there will be instructions on the website (Ascot has actually done videos this year showing the horrors of the spaghetti strap – too thin – or the sight of above-the-knee skirts – too short). Most of the time, though, there isn't one. Codes only apply if you are in an enclosure, and then only the poshest ones, and you don't have to be in an enclosure to have a great time.
The bad news about that is that on occasions – a hot day, too much champagne involved, you know the sort of thing – the cheerier ends of these events can get a little feral. I'm thinking of evenings on the riverbank at Henley, which is free, or top hats flying in the Grandstand at Ascot, which has happened once or twice.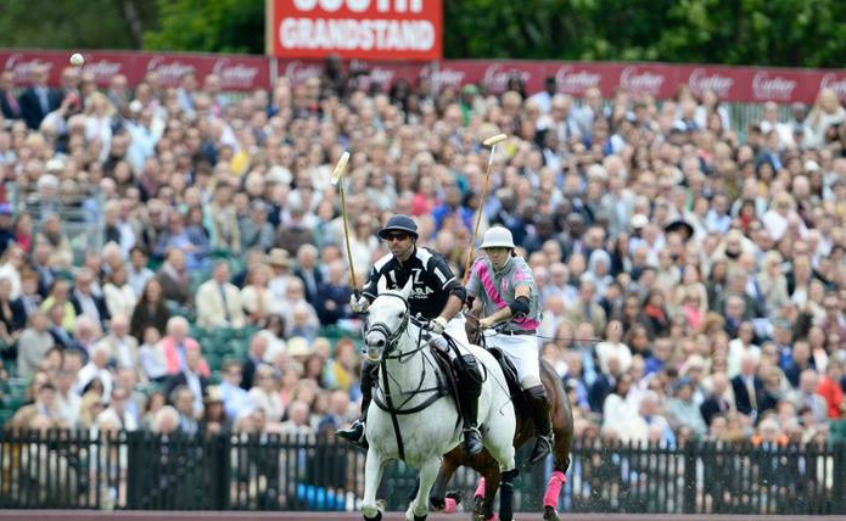 Polo Match – 10 x 10: Facundo Pieres of Zacara v Juan Martin Nero of Talandracas. Photo: © Guards Polo Club.
Overall, though, everyone is there to have fun. Everyone is dressed up in their own way, which may not be yours, and sometimes they are even interested in the sports/ flowers/operas/rowing races on offer. Most of all, you will never, ever see anything more ludicrously, delightfully, and exasperatingly English. Go!
The 'Classic' English Summer Social Season 2023: The Runners & Riders
1. Glyndebourne Opera Festival
Dates:19 May – 27 August 2023
Location: Glyndebourne, Lewes, East Sussex, BN8 5UU
A dreamy vision of Englishness, with people in formal dress sauntering through the gardens pre-performance, thinking of Mozart, Ravel, or possibly whether the egg mayonnaise in their picnic has curdled.
Visit the Glyndebourne Opera Festival website for more information and tickets – prices vary by performance.
2. RHS Chelsea Flower Show
Dates: 23 May -27 May 2023
Location: London Gate, Royal Hospital Road, Royal Hospital Chelsea, London, SW3 4SR
It's the economy, stupid! Look between the begonias, and you will see where the money lies in Britain today: it's heaving with FTSE100 CEOs, albeit swamped by garden nuts – and, oh, and all those plants.
Visit the RHS Chelsea Flower Show website for more information and tickets for £57.85 on Thursday or Friday from 3:30 pm to 8 pm or £120.85 all day.  Plus £72.85 for the Chelsea Flower Show Late on Friday and £115.85 all-day Saturday. 
3.  The Cazoo Derby
Dates: 2 June (Ladies' Day) – 3 June (Derby Day) 2023
Location: Epsom Downs Racecourse, Surrey
Not as snooty as Ascot, not as chic as Goodwood, but a brilliant race and guaranteed laugh. Hats in the posh stands, smart casual on the double-decker buses, or bikinis (check the weather forecast) on the Hill.
Visit the Cazoo Derby website for more information and tickets from £45 to £140 in the enclosures on both Ladies' Day and Derby Day. Jubilee Family Festival from £25 for adults, 310 for 5 to 17 years, and free for children 0-4 years.
4. Royal Academy Summer Exhibition
Dates: 13 June – 20 August 2023
Location: Royal Academy of Arts, Burlington House, Main Galleries, Piccadilly, London, W1J 0BD
The Summer Exhibition is now in its 254th year, and this is your chance to see Grandpa's Sunday painting alongside works by the art world's great and. Ignore the jibes; this is a brilliant way to see art – painting, sculpture, installations, architects' models – and buy it.
Visit the Royal Academy Summer Exhibition website for more information and for tickets from £20-22 (including donation). Concessions available. 
5. Royal Ascot 
Dates: 20 June – 24 June 2023
Location: Ascot Racecourse, High St, Ascot, SL5 7JX
Yes, it's OTT, yes, there's too much fake tan, and yes, there's the odd scuffle between top hats, but Ascot is confident, glossy, utterly English, and has brilliant racing. The Royal Enclosure takes a bit of getting into, but it's easy to get a ticket elsewhere. Or stand on the Heath in jeans.
Visit the Royal Ascot website for more information and tickets from £49 in the Windsor Enclosure and from £99 in the Queen Anne Enclosure.
6.  The Championships, Wimbledon 
Dates: 3 July – 16 July 2023
Location:  All England Lawn Tennis and Croquet Club, Church Road, Wimbledon, London, SW19 5AE
What do you mean you didn't enter the ballot? Your only option, then, for the world's only Grand Slam to be played on grass, is to shell out loads on a package from an official agent or to knock off two great British institutions at once and learn to wait in The Queue (note caps.)
Visit the Wimbledon website for more information and tickets from £15 to £27 for ground passes and £43 to £255 depending on the court and match.  
7. Henley Royal Regatta
Dates: 27 June – 2 July 2023
Location: Henley-on-Thames, Oxfordshire, RG9 2LY
Don't try for Stewards' unless you are a rower, related to a rower, or have finally crested the Members' waiting list (10 years or so.) Go for the Regatta Enclosure instead, hire a boat or occupy the very long, very narrow, very drunken (after about 6 pm) riverbank for free.
Visit the Henley Royal Regatta website for more information and tickets from £32 for the Regatta Enclosure. Free on the riverbank.
8.  Coronation Cup on International Polo Day
Date:  29 July 2023
Location: Guards Polo Club, Windsor Great Park, Egham, Surrey, TW20 0HP
It is one of the most glamorous fixtures on the sporting and social calendars, attracting Royalty, celebrities, and VIPs to this headline event. However, there is no better leveller than treading in the divots. The trick is to avoid stilettos – you get stuck in the grass. Whilst flattening out the grass, go and see the pony lines. Watch the Coronation Cup, pretend you understood it, and then buzz off to the party tents.
Visit the Guards Polo Club website for more information and tickets from £49.50 for the grandstand to £93.50 for all-day VIP admission.
9.  Qatar Goodwood Festival
Date:  1 August  – 5 August 2023
Location: Goodwood Racecourse, Chichester, West Sussex, PO18 0PS

Ah. The 'Glorious' bit of 'Glorious Goodwood' appears to have been bought by Qatar. But on a sunny day you can't beat this aristocratic racecourse with its cluster of white stands tucked into the Downs. It's smaller than Ascot and lower key, though stylish. Dip a toe in the water and watch free from the former Iron Age hill fort known as The Trundle.
Visit the Qatar Goodwood Festival website for more information and tickets from £21 in the Lennox Enclosure. Free on The Trundle.
10. Cowes Week
Date:  29 July – 4 August 2023
Location: Regatta House, 18 Bath Road, Cowes, Isle of Wight, PO31 7QN
Music, horses, rowing, and now sailing competitions. By now, everyone's sick of formal – except the Royal Yacht Squadron, of course, whose annual bash is super-well-dressed – and no, you're not invited. Instead, don fleece, shorts, tanned legs, and a beer cooler on each shoulder and make for parties and gigs at crew houses if you can get an invite, Cowes Yacht Haven, Shepherds Wharf Marina, and pubs in town. And definitely hang around for the last night's fireworks.
Visit the Cowes Week website for more information. Watching the races are free, but there are paid entry to events and parties.