In December our thoughts turn to Christmas. We think about our family, friends, Christmas cards, food (lots of it!) and presents – will Santa pass by this year? Also, just as important, the reason for Christmas: the birth of Jesus. But what we also think about is the weather – will it snow? This question set me thinking – why do we feel Christmas isn't really Christmas if it doesn't snow? In the most northern parts of the UK, there are icy conditions and snow from late October right through to February. It isn't really that special if it comes every year in those parts. But here in the south – London to be exact – it becomes the question that will be part of conversations about the weather – one of our favourite topics – right up until Christmas Day!
I love seeing snowfall. Familiar places – shrubs, tree branches, anything coated with the white stuff – are transformed; the stillness of air when the snow falls, particularly overnight; the creation of a mystical tableau that for a moment, we dare not disturb. The imagery makes a good Christmas card scene. And we love it!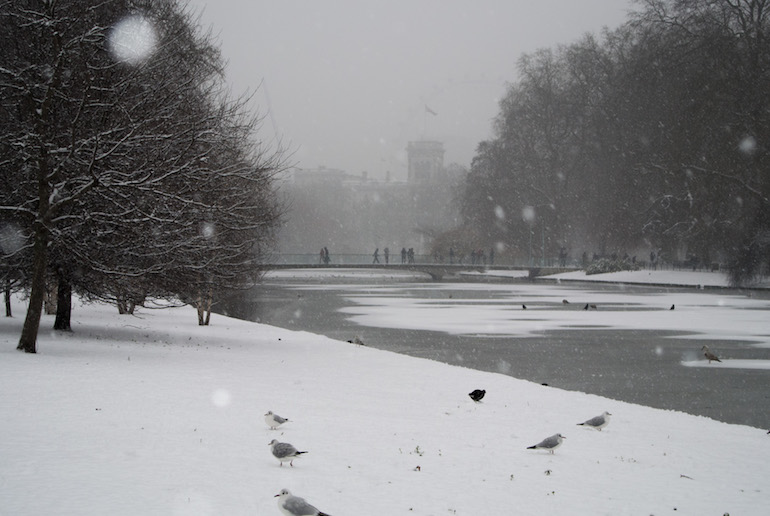 Foreign and Commonwealth Office from St James Park. Photo Credit: © Peter Sigrist via Wikimedia Commons.
Who coined the term White Christmas?
There is no obvious originator of the term. The first time I realised the importance of a "White Christmas", was when I saw a 1954 film with the same title starring Bing Crosby and Danny Kaye. They played performers who wanted to help out a former army general whose skiing business was failing due to the lack of snow. To help him they put on a benefit show. Near the end of the film was the sight of falling snow (hurrah!) – queue the titular song and the general's business was saved! Both the film and the song remain popular and have become a traditional part of the festive season. The song was actually written by Irving Berlin in 1940. In 1942, the song performed by Bing Crosby was listed in the Guinness Book of World Records for selling more than 50 million copies worldwide. It has been sung countless times by other performers and remains the "best-selling single of all time."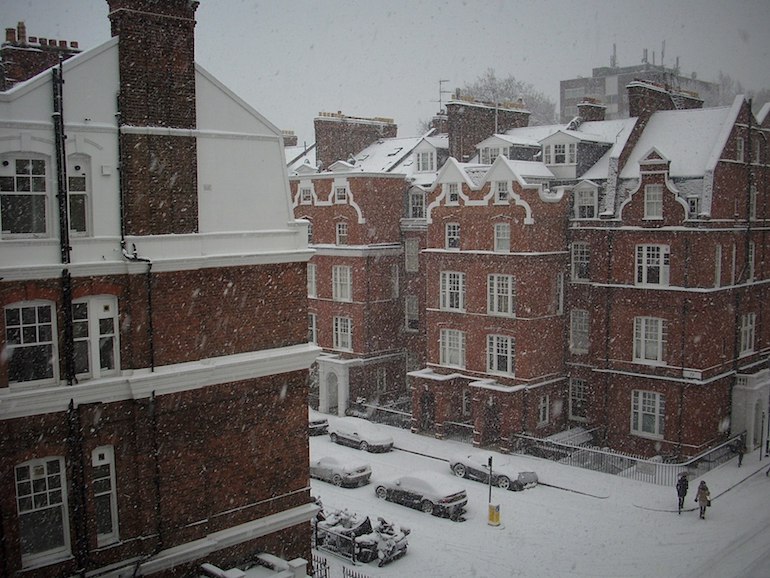 Snowing at Evelyn Gardens, South Kensington. Photo Credit: © Άργος via Wikimedia Commons.
When did we become fixated on having snow at Christmas?
Let's leave Hollywood's version of White Christmas and return closer to home. I discovered that between 17th & 19th centuries the Northern Hemisphere was affected by a period of extreme weather referred to as the Little Ice Age. Britain experienced colder winters where temperature drops were enough to freeze rivers and canals, with the ice sheets thick enough to support winter fairs. London's most important river, the Thames, was used for Frost Fairs with freezing conditions occurring around December to January. Descriptions and images of these Frost Fairs show snowy conditions and stretches of iced rivers with temporary shops and pubs set up, ice skating rinks and even large fires with roasting spits all happening on very thick ice! On one occasion it was recorded that a parading elephant traversed the ice, a testament to its thickness! The last Frost Fair in London was in 1814.
These memories of fun and celebration in icy and snowy conditions would have influenced ideas about the festive season. Charles Dickens experienced a White Christmas every year during the first eight years of his life. This memory of those snow-laden winters was used to great effect in his short story A Christmas Carol – still a very popular story that many people know as Scrooge.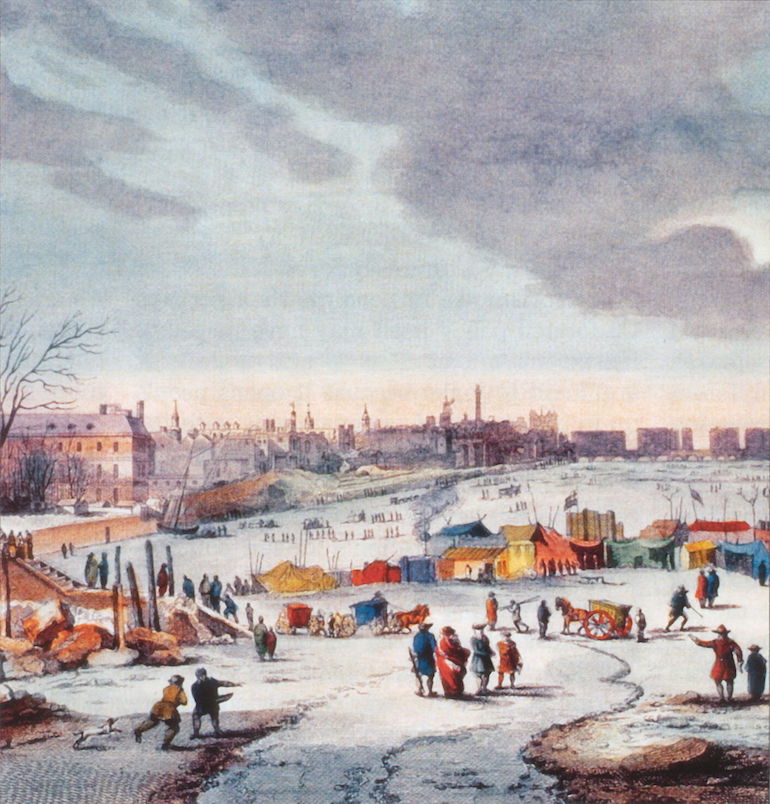 Frost Fair on the River Thames near the Temple Stairs. by Thomas Wijck. Photo Credit: © Public Domain via Wikimedia Commons.
What is the likelihood of a White Christmas?
A meteorological event that we hope will make our personal celebration of Christmas special. Would you believe it is a rare occurrence? The criteria for a white Christmas vary. In most countries, it simply means that the ground is covered by snow. Here in the UK, it is not so straightforward. The official definition by the Met Office and the bookies is for snow to be observed falling, however little (even if it melts before it reaches the ground), in the 24 hours of 25 December. So that means even 91cm (3 ft) of snow on the ground at Christmas because of a heavy snowfall a few days before wouldn't constitute a white Christmas! How crazy is that? Until recently, betting on a white Christmas in London also stipulated the place where a snowflake had to fall for it to be confirmed – the Met Office building in the capital. Now there is one other official site – Buckingham Palace, with other locations used elsewhere across the country.
No matter. Whether it rains, or snows, have a merry Christmas. But just keep an eye on the clouds – we just need one snowflake to fall.