Observant visitors heading to the RHS Garden Wisley may spot a gothic tower beside the A3 near Cobham, unaware that this is one of the follies within Painshill Park, situated a short distance from London's Ring Road, the M25.
Set in a wooded valley, Painshill Park was created between 1738 and 1773 by the Honourable Charles Hamilton, who was inspired by two grand tours of Europe in which he saw and collected works by artists such as Poussin, Claude Lorrain, and Salvator Rosa, artists who influenced his designs for Painshill. Hamilton was a close friend of Henry Hoare, the creator of Stourhead, a National Trust property in Wiltshire.
Painshill Park is one of the earliest examples of an eighteenth-century English landscape park and one of the first to break away from the formal style of garden which was then fashionable in England. The centrepiece of the park is the serpentine lake with its Chinese Bridge. A number of follies can also be seen, buildings with a purely decorative rather than practical purpose. These include a ruined abbey, the Temple of Bacchus, and a stunning crystal grotto.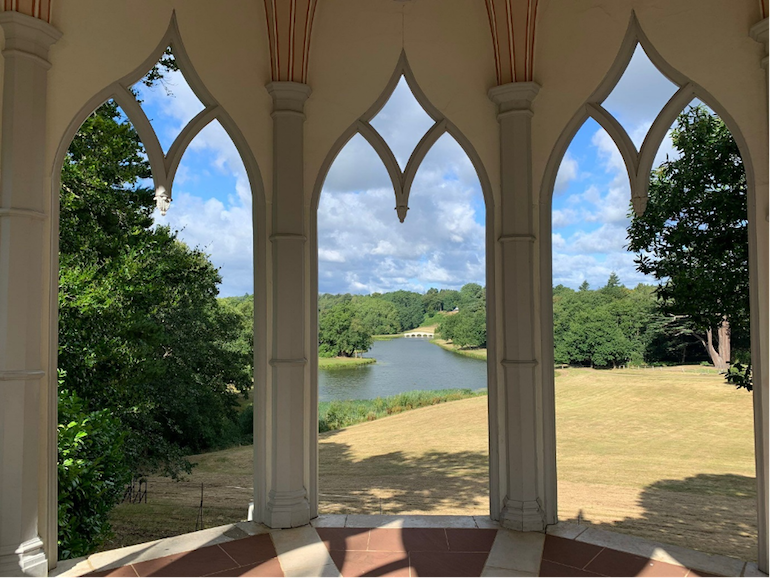 A view of Painshill Park from the gothic temple. Photo Credit: © Cheryl Cates.
Painshill Park is maintained by the Painshill Trust, set up in 1981 to restore the site as closely as possible to Charles Hamilton's design. In celebration of its fortieth anniversary in 2021, a sparkling rose wine was produced from grapes grown in the vineyard. A Painshill Gin is also on sale, distilled using botanicals grown in the charming enclosed walled kitchen garden.
Hamilton himself was an early winemaker, having employed a Huguenot vine grower. It is said that he produced an excellent sparkling wine which deceived the French ambassador into thinking it was champagne!
The romantic landscape of Painshill Park had been used previously for filming, but it was the decision of Netflix to use it in the first series of the popular period drama Bridgerton which brought it into the spotlight. It was used as a location for filming some of the scenes where the characters promenade and picnic. The words of Lady Whistledown (voiced by the Hollywood actress Julie Andrews) are often heard when viewers see Painshill Park.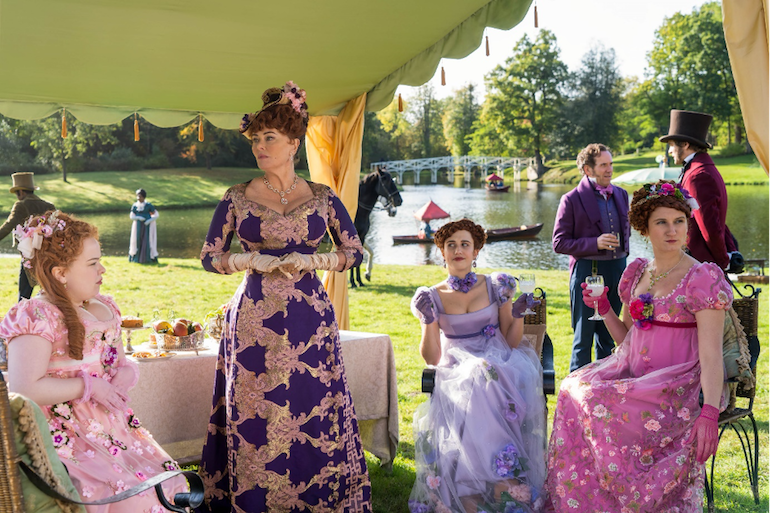 Scene from Netflix's Bridgerton TV Series: Featherington family picnic in Painshill Park. Photo Credit: © Netflix.
Painshill Park is extremely accommodating and welcomes pre-booked groups. The café offers afternoon teas and also has a pre-bookable group menu.