Landing the accommodation just right for you is integral to your London experience, and there's no shortage of choice. But just because London is a city that never sleeps doesn't mean it doesn't go to bed: rooms in sought-after hotels can be booked solid. There are some fantastic hotels around – whatever the price tag – but always book and plan ahead.
The Ups & Downs
There are a few cons to be aware of. Accommodation in London is expensive at all levels, and no matter where you stay is going to take a sizeable out of your budget. Demand often outstrips supply – especially at the bottom end of the market – and quality-for-money can also be a problem, even at mid-range hotels.
But it's not all bad news. A surfeit of upmarket boutique hotels has brought a real sense of style to the city's digs, and scores of midrange hotels and B&Bs are following suit. At the other end of the spectrum, some budget international chain hotels have begun providing boringly functional but affordable rooms. A very exciting trend recently has been the convergence of these two extremes in a new crop of 'budget boutique' hotels, with a bit of chic at reasonable prices.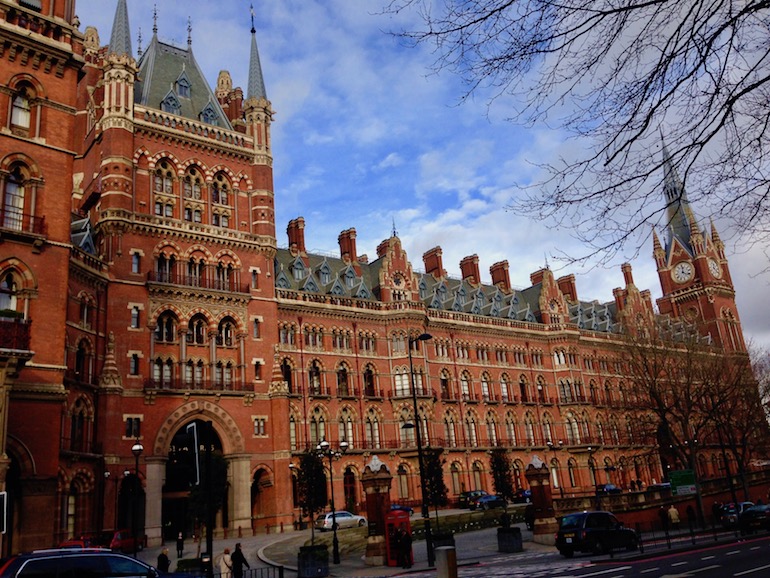 Entrance to St. Pancras Renaissance Hotel London. Photo Credit: © Ursula Petula Barzey.
London Accommodation Types
London has a superb range of deluxe hotels (from £350 per double) and you'll be spoiled for choice with old classics that combine the best in traditional atmosphere and modern comforts. There's also a good choice in the top-end category (anything from around £200), offering superior comfort without the prestige. Also, in this bracket, you'll find many of the boutique and style hotels that have sprung up like mushrooms after rain in the past decade or so. Below this price, there's a slide in quality and choice. Although there's an increasing number of terrific places to rest your head without haemorrhaging your budget, it's still not enough. And if you were expecting to spend less than £100 a night on a double room during the week, your lodgings probably won't provide the most cherished memories of your trip. (On the other hand, there are some good weekend deals for that price.)
Usually housed in good-looking old properties, bed and breakfasts (B&Bs) come in a tier below hotels, often promising boutique-style charm and almost always a more personal service. Handy groupings can be found in Paddington, South Kensington, Victoria, Pimlico and Bloomsbury.
After B&Bs the cheapest forms of accommodation are hostels, both the half-dozen official Youth Hostel Association (YHA) ones and the hipper, more party-orientated independent ones which have grown exponentially in number in recent years. As well as dorm rooms, many hostels also offer twin and double rooms, sometimes with en suite bathrooms. These private rooms are often better than what you'd get for the same price at a budget hotel. During university holidays and breaks (generally mid-March to late April, late June to September, and mid-December to mid-January), many student dorms and halls of residence are open to paying visitors.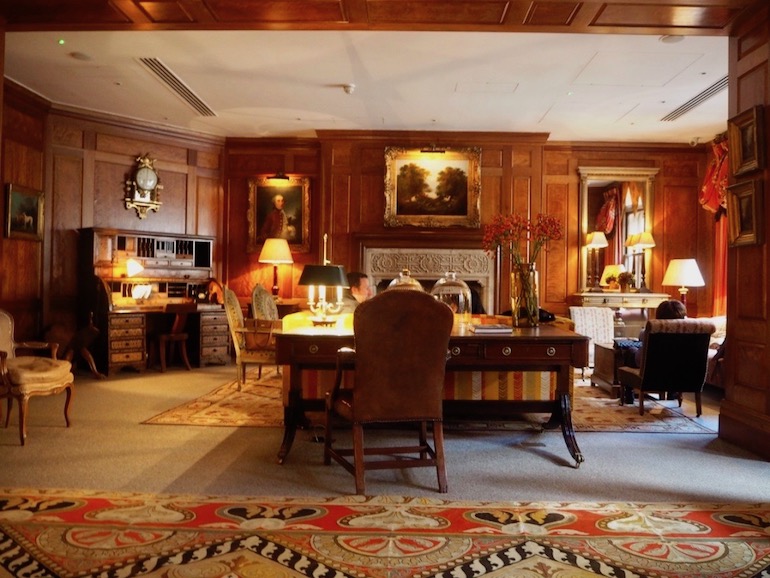 Library at Covent Garden Hotel in London. Photo Credit: © Ursula Petula Barzey.
Where to Stay in London
Where you choose to stay in London will also have a big effect on the kind of time you have here. Base yourself anywhere in the West End and you'll soon get into the throbbing rhythm of London at play (though stay in much trendier Hoxton, Clerkenwell, Shoreditch or even Dalston and you'll be even close to the cutting edge). If your idea of the British capital is one of the stately Georgian houses, Regency crescents and private parks in the centre of leafy squares, book a place in Chelsea or Mayfair.
Do you want ethnic London? Stay in Whitechapel, Brixton or even parts of Notting Hill. Culture vultures and/or those with literary aspirations should choose a place in Bloomsbury, Kensington or even Fitzrovia. If you want to feel how most Londoners live, you might hang out in neighbourhoods like Camden or Stoke Newington. If you don't care how Londoners live, you might pause with the travelling circus in Earl's Court and/or Shepherd's Bush.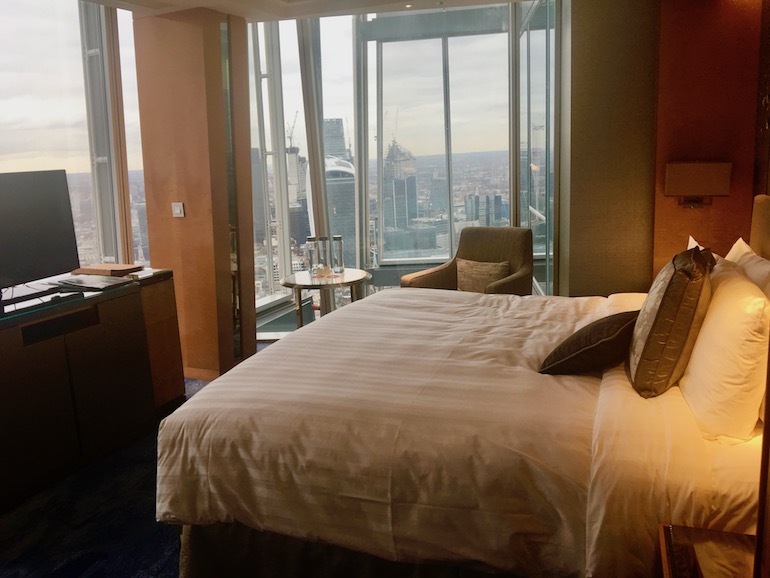 Room at Shangri-La Hotel at The Shard London. Photo Credit: © Ursula Petula Barzey.
London Neighbourhoods
The West End: There are lots of pluses: it's to the main sights, has great transport links, a wide range of accommodation in all budgets and good restaurants. But it's made up of very busy tourist areas and can be expensive.
The City: It is near sights like St Paul's Cathedral and the Tower of London, has good transport links, is handy central location, has some quality hotels and cheaper weekend rates. But it's a business district so prices are high during the week and it's very quiet at weekends.
The South Bank: Close to the Tate Modern, London Eye and Southbank Centre, it's cheaper than West End, has excellent pubs and fabulous views. But accommodation choices are limited, often to chain hotels.
Kensington & Hyde Park: Excellent position for South Kensington museums and shopping, with great accommodation range; it's a stylish area and has good transport. But it can be expensive, with limited drinking and nightlife options.
Clerkenwell, Shoreditch & Spitalfields: Hip areas with great bars and nightlife and excellent for boutique hotels but very few notable sights.
East London: Lots of markets, great restaurants and traditional pubs and has a multicultural feel. Limited sleeping options, though, and some areas less safe at night (though never like anything in the USA).
North London: Vibrant nightlife; pockets of village charm; leafy; excellent boutique hotels and hostels; great gastropubs; quiet during the week. Not very central and away from main sights.
West London: Good shopping, markets, pubs and boutique hotels plus good transport. But pricey and very light on top sights.
Greenwich & South London: A few lovely boutique options and a leafy escape. Sights spread out beyond Greenwich and transport limited.
Richmond, Kew & Hampton Court: Smart riverside hotels; semirural pockets; quiet; fantastic riverside pubs. Sights spread out, though, and you're a long way from central London.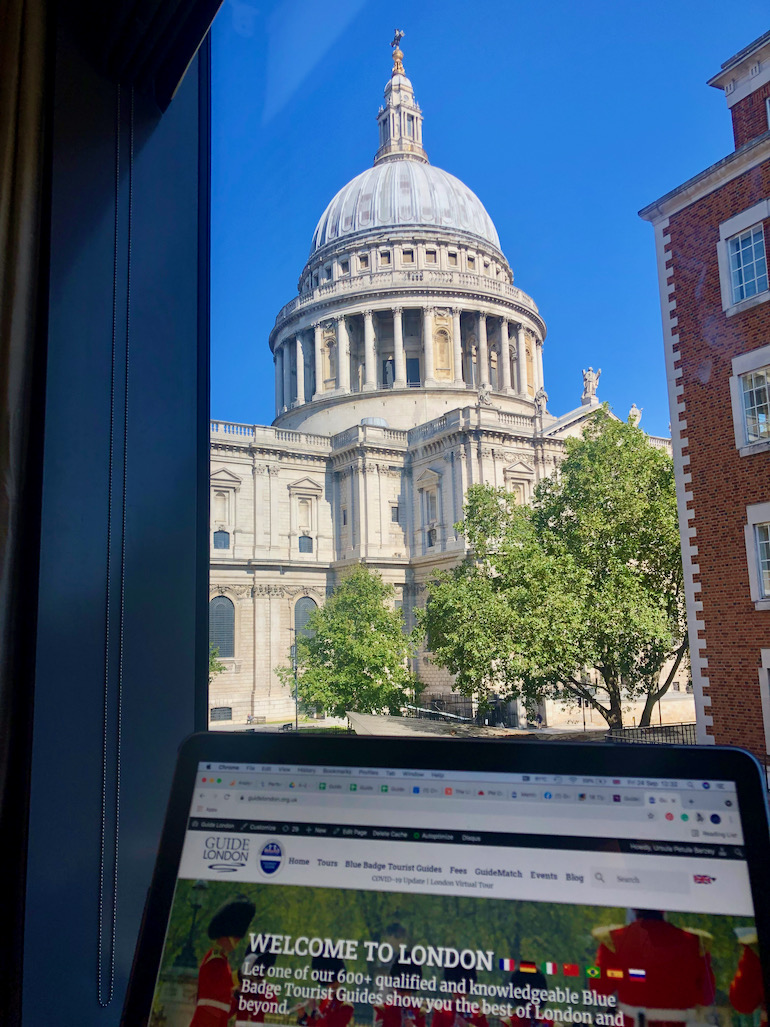 View of St Paul's Cathedral from Leonardo Royal London St Paul's. Photo Credit: © Ursula Petula Barzey.