The Original Judy Dench* – Blue Plaque Unveiled at Horse Guards Hotel
Commander Mansfield Cummings, founding father of the Secret Service, has at last received his Blue Plaque. It was unveiled Monday 30 March, with your correspondent in attendance, not, as I had anticipated at the site of the Cummings' 1923 death – corner of Melbury Road and Addison Road, W14 – but the site of the first proper SIS office and workshop on top of the National Liberal Office, aka Horse Guards Hotel.
The unveiling was lead by Tim Laurence, chair of the Blue Plaque Trust, Alan Judd, historian who wrote the biography 'The Quest For C', and Cummings' grand-niece, who recalled Uncle Manny.
The actual cord pulling was performed by Alex Younger, current Chief of SIS, 16th in the post, who later talked at some length in the Gladstone Library on the top floor. He praised modern spies and described the sheer joy you feel when you realise you've got one over on those who mean you harm.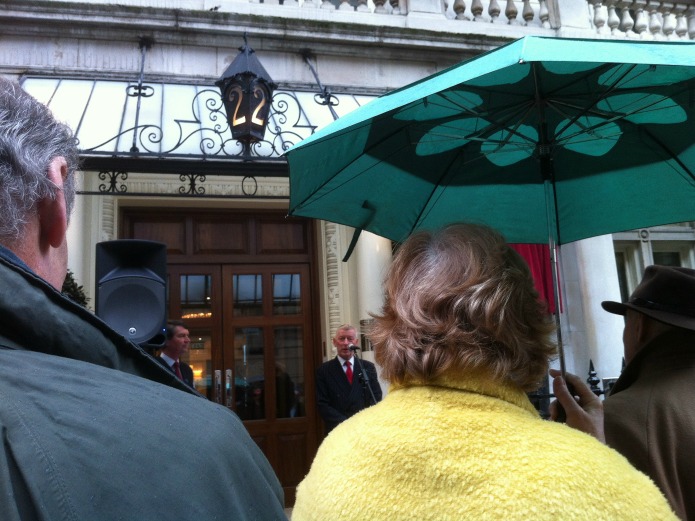 The historian Alan Judd speaking on the mic, with Tim Laurence, chair of the Blue Plaque Trust, standing near the loud speaker. Photo: ©Simon Rodway.
He described today's inhabitants of Vauxhall Cross as the very best of modern Britain, patriots to a man and woman, who can think what they like and wear what they like. He compared that with Cummings' day when 'C' had to give his female employees permission to marry.
Commander Cummings was a middle-aged reservist living on a house boat when he was asked to create a secret service, and eventually he ran a Europe-wide network during World War One, La Dame Blanche, involving 800 agents. He was the first to write and type in green ink – an old naval custom apparently.
Cummings has appeared in Reilly Ace of Spies, played by Norman Rodway, and in Ashenden, Somerset Maughan's semi-autobiographical account of his own years as a WW1 agent, when Cummings was played by Jos Ackland.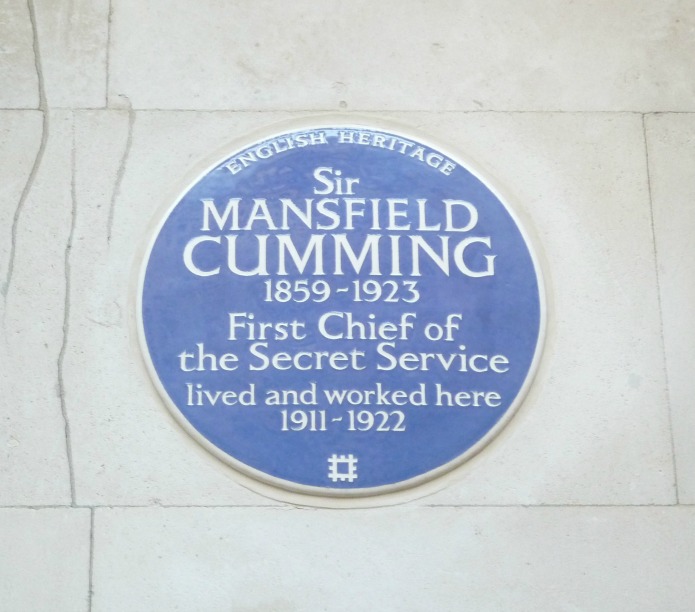 Blue Plaque for Sir Mansfield Cumming. Photo: ©Tina Engstrom.
Tim Laurence later described the rather perilous state of Blue Plaques, lumbered with £50 million debt, only saved from the knackers yard back in 2012 by donations from the great and good.
English Heritage properties are now a separate entity, while the Blue Plaque is adrift and dependent on commercial backing – individual memberships cost £3,000 and corporate ones £7,500, which get you and yours tables at the annual Blue Plaque dinner, automatic attendance at unveilings, Blue Plaque walks with historians etc. Logos on the plaques soon, I hope not?
*Now Ralph Fiennes

Ursula Petula Barzey
Ursula Petula Barzey is a Digital Marketing Consultant who enjoys all that London has to offer to its residents as well as visitors from all across the globe.
You may also like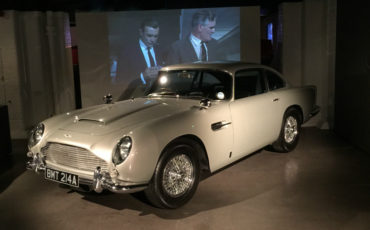 08 February 2017
Ian Fleming created the character of 007 whilst living in London and his novels are filled with references to London. Subsequent filmmakers took Fleming's character and have developed him into the super spy we know today, and along the way set many of their iconic filming locations in London.
Read more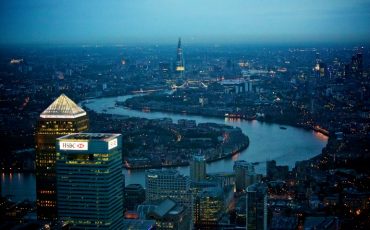 05 January 2017
The Port of London has changed beyond all recognition in the past four decades. Once the docks teemed with men and ships from all over the world, now all is transformed and a new and vibrant area has grown up with commerce, stylish housing, fashionable shops and restaurants. Here are my Top Ten Facts about London's Docklands.
Read more