The New American Embassy in London is Now Open
Blue Badge Tourist Guides, when they conduct a tour of London, often take the time to show their groups buildings and places which remind them of their own countries. This is a way of connecting with the group and makes them feel at home -even though they may be thousands of miles from where they actually live.
One of the most popular places to show visitors from the United States is Grosvenor Square in Mayfair, an area often referred to as 'Little America' because of its historic connection with the United States. America's second president John Adams built the first American mission there in a house in which he lived. During the Second World War Dwight D Eisenhower had his headquarters there and a statue of him – in military uniform – stands outside the building he used at 26 Grosvenor Square. There are also statues of F D Roosevelt (paid for by the British people through public subscription) and Ronald Reagan. Overlooking these is the old American embassy building designed by Eero Saarinen and opened in 1960.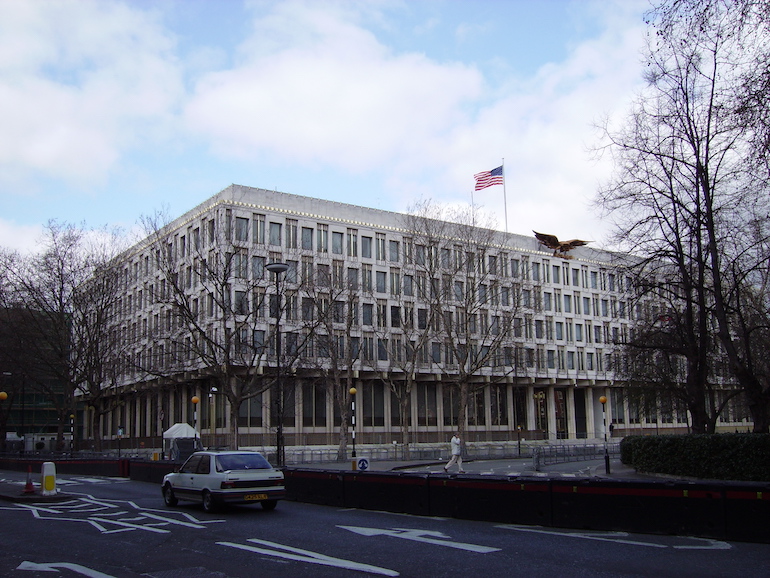 Old American Embassy in London near Grosvenor Square in Mayfair. Photo Credit: © Public Domain via Wikimedia Commons.
Saarinen's well-known and much-loved structure could not comply with new regulations which oblige all embassies of the United States to stand at least 100 feet (30 metres) from the nearest road. For this reason, the United States purchased a new site for its embassy in 2008 at Vauxhall. This will be the first embassy in London's history to be situated south of the River Thames. The new embassy was designed by Kieran Timberlake as a carbon negative building, which means that it generates more electricity than it uses. It also has a moat around it which makes a nice scenic feature as well as a protective defence.
The new American Embassy in London opened for business on Tuesday 16th January 2018, the day after Martin Luther King Day, which is a public holiday in the United States. People are welcome to walk around the area and see this modern structure in a rapidly growing and newly fashionable part of London. Blue Badge Tourist Guides, however, may well continue to show American visitors Grosvenor Square, which will retain the statues of Eisenhower, Reagan and Roosevelt as well as the former embassy building with its famous eagle. This is due to be converted into a 137 bedroom luxury hotel in the heart of fashionable Mayfair.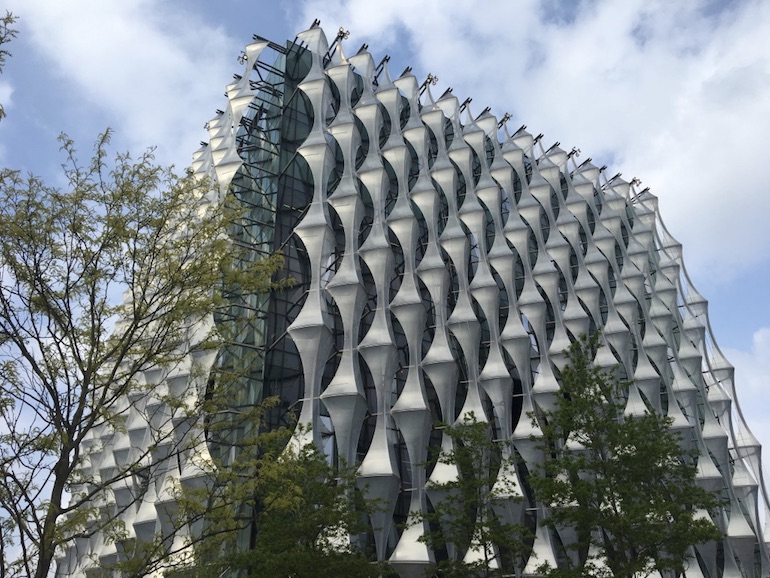 New American Embassy in London between Vauxhall at Battersea. Photo Credit: © Ursula Petula Barzey.

Edwin Lerner
Named Edwin (name of an early king of Northern England) but usually known as 'Eddie', I conducted extended tours around Britain and Ireland for Trafalgar for many years but now work as a freelance guide and tour manager. I specialise in religious, music, theatre and literary themed tours and…
You may also like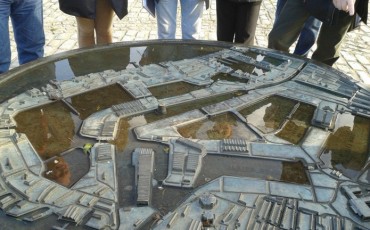 11 March 2015
Keith Harding led a group of fellow Blue Badge Tourist Guides around Surrey Quays – an area often unfairly overlooked, as it lies between Rotherhithe and Greenwich. From Greenland Pier we walked along the bank of the Thames, known as Deptford Strand. Then to Convoys Wharf, the site of the Royal Naval Dockyard since the time of Henry VIII and Tsar Peter the Great's sojourn in the area and finally the Royal Victorian Victualling Yards.
Read more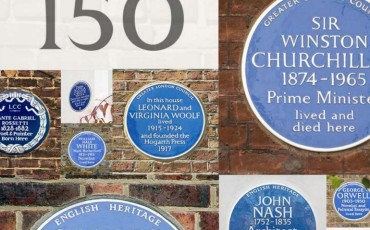 30 April 2016
In 1866 the Blue Plaque scheme was founded by the Society of Arts and so this year they celebrate their 150th anniversary. Now managed by English Heritage, London's blue plaques are handmade in Cornwall by the Ashworth family. The first blue plaque was awarded to the poet Lord Byron in 1867, but his house in Holles Street, was demolished in 1889 – today it is the site of John Lewis department store.
Read more