The new banknotes released on Tuesday 13 September represent a break from the Bank of England's current paper notes, they will be printed on polymer – a thin, flexible, plastic film, which is seen as cleaner, more secure and stronger.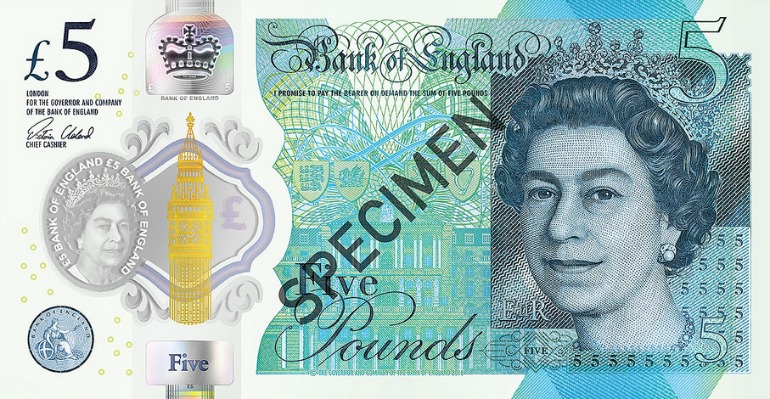 Some interesting facts and figures:
• The new note's security features include a see-through window featuring the Queen's portrait; a hologram which contains the word "five" and changes to "pounds" when the note is tilted; and a hologram of the coronation crown which appears 3D and multi-coloured when the note is tilted.

• The new notes are around 15% smaller than the old £5 banknotes.

• More than 30 countries use polymer notes, including Australia, New Zealand, Mexico, Singapore, and Canada.

• In Scotland, Clydesdale Bank issued polymer banknotes in 2015 to commemorate the 125th anniversary of the opening of the Forth Bridge. • 440 million new plastic fivers have been created and will gradually enter circulation. This is £2.2 billion!

• Currently there are around 329 million paper £5 notes in circulation, so it will take time for the existing notes to be replaced.

• The new notes are expected to last around 2.5 times or five years longer than paper notes.

• Being plastic means the new notes are resistant to dirt and moisture, helping them to last for longer.

• Only 0.0075% of notes in the UK are counterfeit.

• The portrait of Sir Winston Churchill which appears on the new notes is from a photograph taken by Yousuf Karsh in 1941 as well as a view of Westminster. Beneath Sir Winston's portrait reads his declaration in his first speech as Prime Minister: "I have nothing to offer but blood, toil, tears and sweat".

• In 2015, 21,835 banknotes were replaced due to damage, including 10,761 notes which were torn.

• The paper £5 notes which picture Elizabeth Fry can still be used until they are withdrawn from circulation in May 2017, after this they will no longer be accepted. After May 2017, old paper notes can be exchanged with the Bank of England.

• Genuine Bank of England banknotes retain their face value forever.

• Next summer polymer £10 notes featuring Jane Austen will be issued.

• By 2020 new polymer £20 notes featuring JMW Turner will be issued.