Shoreditch is one of Central London's most surprising neighbourhoods as it is where the world of high-finance and tech meets the East End. It is a great neighbourhood to unearth little corners of secret and lost London via a walking tour with a Blue Badge Tourist Guide.
Bunhill Fields and Body Snatchers
Shoreditch is home to Central London's most famous cemetery. The so-called Bone Field just off the City Road was built in 1761 and connects London's financial district to Islington. It became Bunhill Fields graveyard in 1665. General Fleetwood (died 1692), who was Oliver Cromwell's son-in-law lies here. The place was known as 'the cemetery of Puritan England.' This was where non-conformists buried their dead without having to use the Book of Common Prayer. The burial ground was initially intended for the plague victims of the 1665 epidemic, a disease that claimed the lives of 100,000 Londoners and was the last major outbreak of bubonic plague in the city. In the event, Bunhill Fields became an ordinary cemetery.
At just four acres, the burial ground is not as large as London's rambling 'Magnificent Seven' cemeteries, like Brompton, Nunhead, and Highgate, created on what was then the Victorian city's outskirts. Bunhill is more central. It is also the final resting place of some of London's pioneering creatives. These include William Blake (died 1827) – the world's first surrealist – and the writer Daniel Defoe (died 1731), who gave us both Moll Flanders and Robinson Crusoe. Defoe's A Journal of the Plague Year, set in 1665 and published in 1672, became a best-seller. John Bunyan, who wrote Pilgrim's Progress, has a grand tomb near the southeast corner.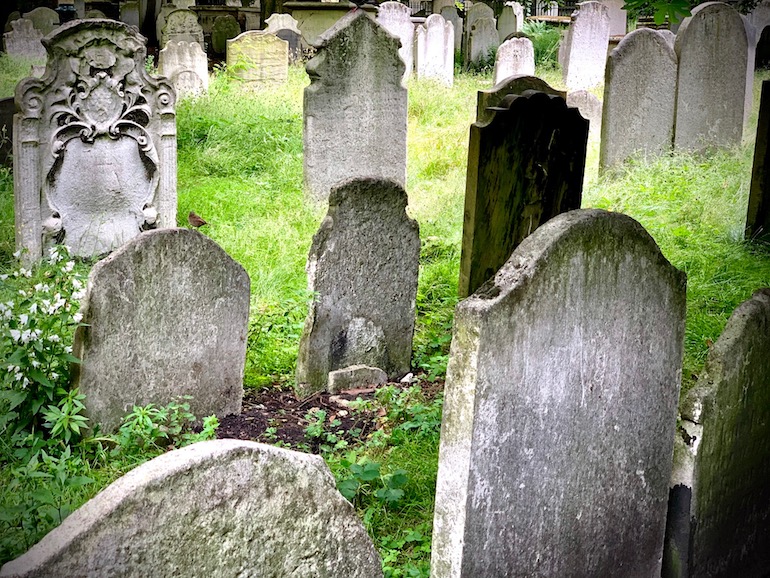 Bunhill Fields Cemetery. Photo Credit: © Antony Robbins.
Bunhill Fields' massive spiked gates and railings were built to deter nineteenth-century grave robbers. These were the 'resurrection men' who stole recently buried bodies to sell to anatomists. The medical profession needed fresh corpses to study at a time when, because of religious beliefs, few were willing to leave their remains to medical science.
The cemetery closed in 1854 following the Burials Act two years earlier. The legislation sought to tackle the growing environmental and health problems of London's graveyards, which were at capacity by the mid-nineteenth century. Coffins in some burials were just inches apart. Shallow graves were dug under the floors of schools and chapels. This made for insanitary and unpleasant conditions for ordinary people, churchgoers, and school children.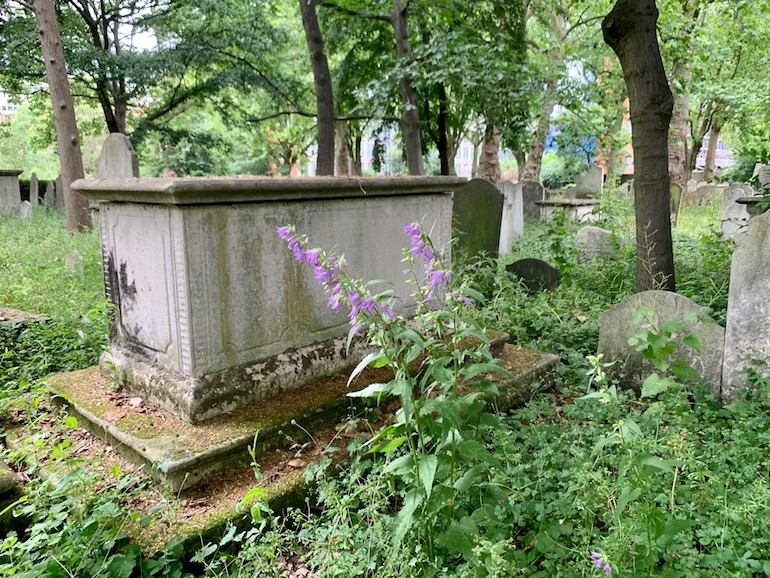 18th-century tomb in Bunhill Fields. Photo Credit: © Antony Robbins.
Just over the road from Bunhill is the beautiful but modest home of John Wesley, the Father of Methodism. Next door is his impressive chapel, dating from the 1770s. Here he preached a more straightforward form of Protestantism and took a 'methodical' approach to the Christian faith. It was in this chapel that Margaret Thatcher, who was born and raised as a Methodist, was married to her husband Denis in 1951.
To the south is the Bunhill Fields themselves. The grounds now comprise the military HQ of the Honourable Artillery Company. The London Club, one of the earliest cricket clubs, played here. Its president was Frederick, Prince of Wales, the father of George III. Some attribute his death in 1751, aged just 44, to being struck by a cricket ball at a match here. Frederick is the most recent Prince of Wales not to have acceded to the British throne. In 1784, the first British balloon ascent was made here by the colourful pioneering Italian aeronaut Vincenzo Lunardi.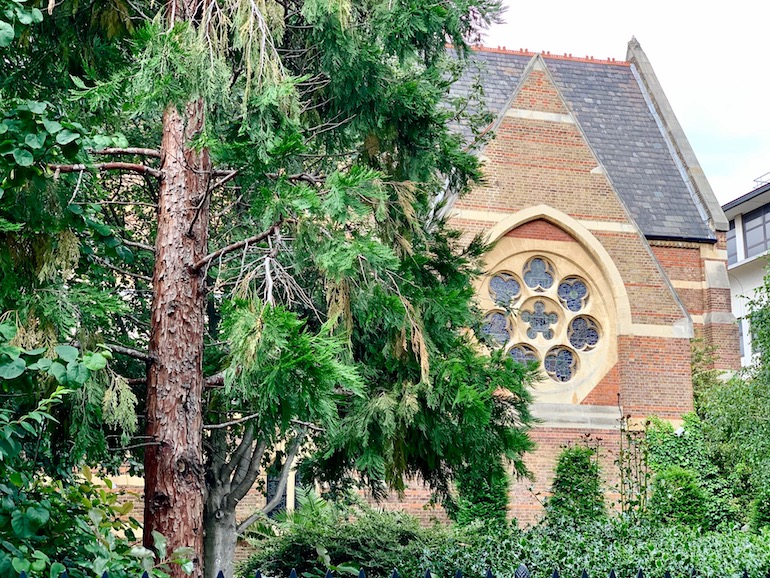 The former church of St Mark's, Shoreditch. Photo Credit: © Antony Robbins.
A few blocks away is Finsbury Square, home to corporations and high finance. Marooned at the square's southeast edge is one of London's quirkier memorials, a now dry drinking fountain, bequeathed by the inventor of the Christmas cracker Tom Smith to commemorate his late Mother. It somehow survives to this day, abandoned in this otherwise somewhat featureless square. Few Londoners passing it would know of its link to this most British of Yuletide traditions.
As we head east, we leave corporate London behind for the edgier delights of Shoreditch. Here we'll find hidden loft apartments and striking contemporary homes. Around Rivington Street, with its bars, galleries, and pop-ups, there are cool Japanese workwear brands to discover, single-estate coffees to sample, and some of London's most hot-ticket restaurants. It all amounts to an achingly cool hotbed of creativity in a locale that just thirty years ago was far from desirable.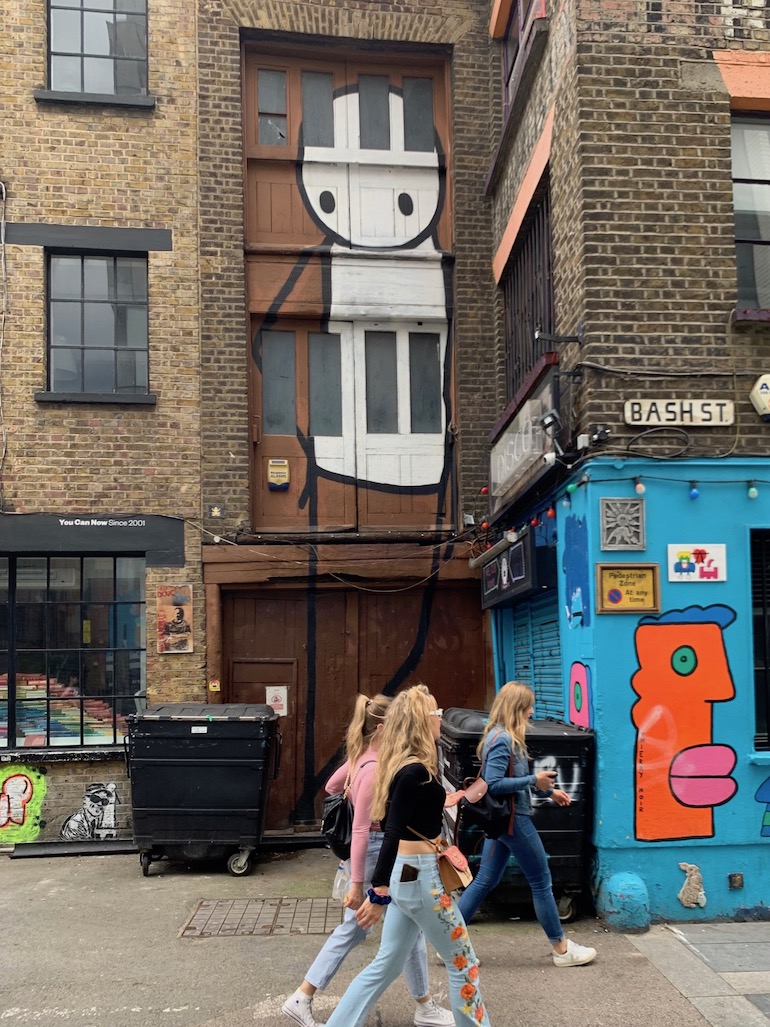 The work of street artist Stickman, Rivington Street, Shoreditch. Photo Credit: © Antony Robbins.
Arresting street art
This is a great place to see the work of some of the world's leading street artists. Jimmy C is Anglo-Australian James Cochrane. He cut his teeth in Adelaide, where he studied for a master's degree in visual arts at the University of South Australia. His special interest was urban realism. Critics have referred to his drip paintings as 'Aboriginal Pointillism.'
Thierry Noir became famous for painting the Berlin Wall. His work adorns Rivington Street, where he was commissioned to decorate the neighbourhood with his colourful imagery. The attitude of London's local authorities has gone full-circle. Where once they arrested and prosecuted those committing 'anti-social graffiti,' local councils rush to protect the work of artists like Banksy behind perspex.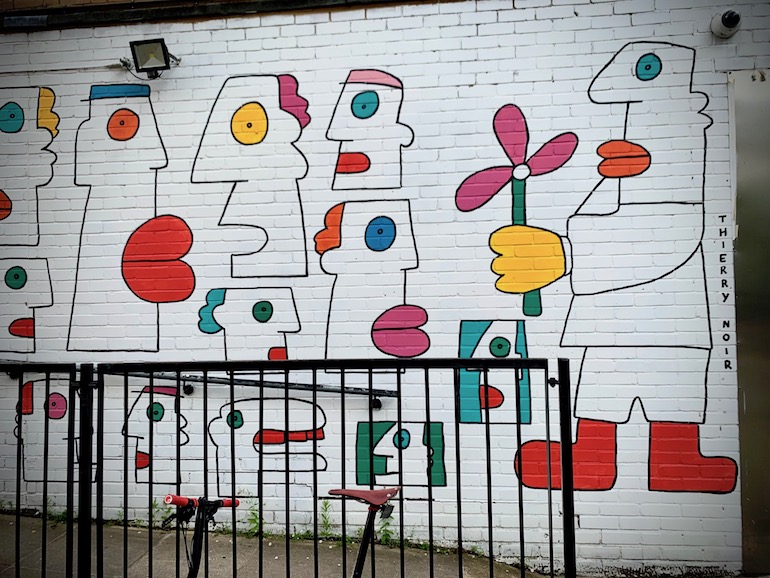 Thierry Noir's street art in Shoreditch, London. Photo Credit: © Antony Robbins.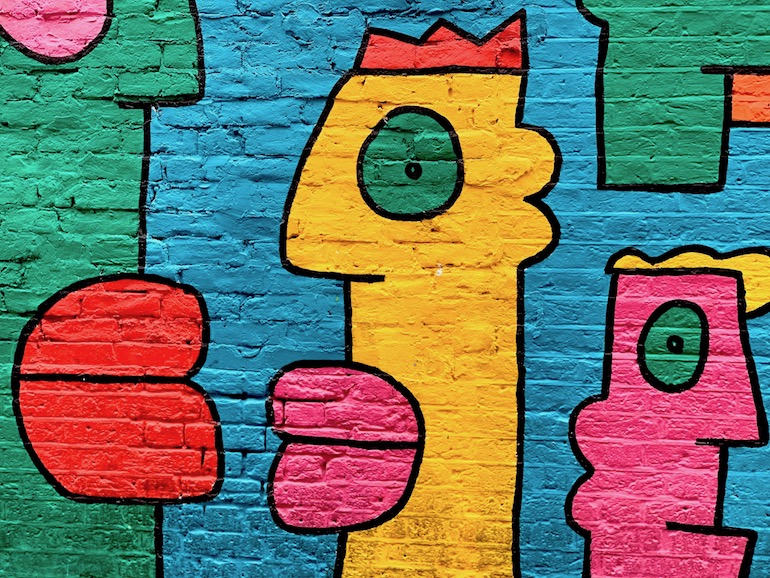 Thierry Noir's work in Rivington Street, Shoreditch, London. Photo Credit: © Antony Robbins.
The neighbourhood is also home to some of London's cozy pubs, such as the Bricklayers Arms, once a favourite of artists like Tracey Emin, who settled in nearby Spitalfields and enfant-terrible Damien Hirst, famous for pickling cows and sharks in formaldehyde.