The RHS Chelsea Flower Show is the unofficial start to the summer season in London.  The five-day event held in May each year is attended by approximately 157,000 people and is a must-visit to see cutting-edge garden designs and horticultural exhibits.   Below you will find out some interesting facts related to the history of the Chelsea Flower Show which is popular with royals, celebrities, as well as professional and amateur gardeners.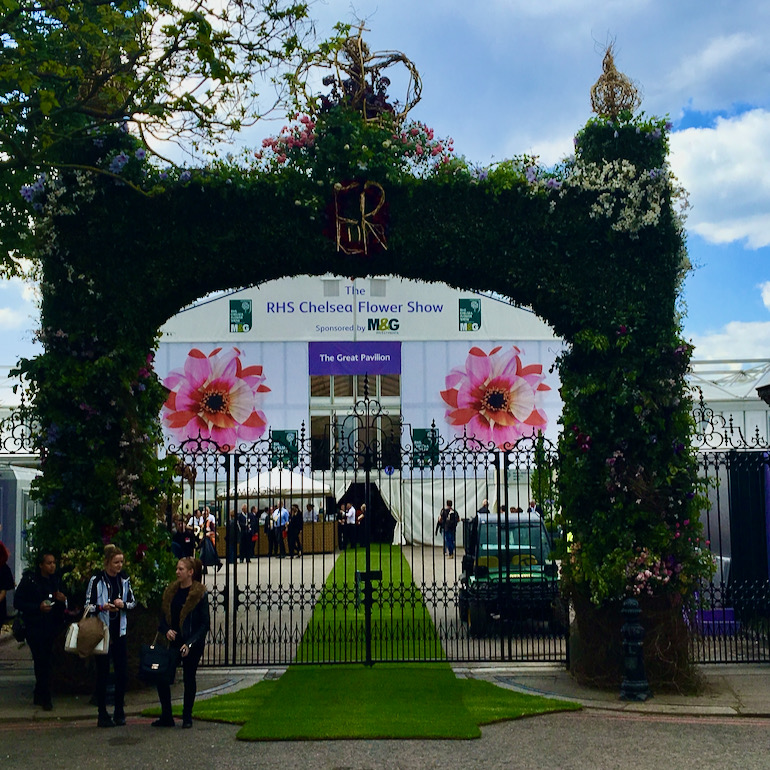 RHS Chelsea Flower Show. Photo Credit: © Ursula Petula Barzey.
History of the RHS Chelsea Flower Show
The Chelsea Flower Show is organised by the Royal Horticultural Society, which was founded in 1804. It was originally called The Great Spring Show and in 1913 it moved to its current home at the Royal Hospital Chelsea.
The first Flower Show cost the Royal Horticultural Society £3,365 to stage and made a profit of £88 (£150,000 and £4,000 respectively in today's money). The profits were distributed to gardening charities. Of firms that exhibited in 1913, three can still be seen today: McBean's Orchids, Blackmore & Langdon, Kelways Plants.
The RHS Chelsea Flower Show has been held on the grounds of the Royal Hospital Chelsea since 1913, apart from during two world wars. Once Britain's largest flower show (it has now been overtaken by RHS Hampton Court Palace Flower Show), it is still the most prestigious and is described as the 'world cup of gardening'.
In 1919 the Government demanded that the Royal Horticultural Society pay an entertainment tax but this was waived once the RHS convinced it that the show had 'educational value'.
In 1927 there was a campaign to get the Royal Horticultural Society to ban foreign exhibits to reduce competition with British firms. The RHS refused, saying 'horticulture knows nothing of nationality.'
In 1932 the rain at the Chelsea Flower Show was so severe that a summerhouse display fell to pieces. One very wet year an exhibitor named it 'The Chelsea Shower Flow.'
The first show was staged in a tent and consisted of 244 exhibitors. The Great Marquee was first put up in 1951 and was named in the Guinness Book of Records as the world's largest tent (3½ acres). In 2000 it was replaced by the Pavilion but the remains of the old tent were put to good use – it was cut up and used to make 7,000 bags, aprons, and jackets.
Gnomes were banned from the show until 2013 when a parade of 150 was assembled to greet the Queen. The ban is now back but some still try to sneak in unnoticed!
BBC television coverage of the RHS Chelsea Flower Show began in 1958. Today the BBC screens eleven hours dedicated to the show.
The biggest garden so far was the Eden Project Garden in 2010 which covered 590 square metres.
In 2004 the RHS Chelsea Flower Show was extended from four days to five. The Show celebrated its hundredth birthday in 2013, and to mark the occasion, the Chelsea Plant of the Year became the Plant of the Centenary – Geranium Rozanne.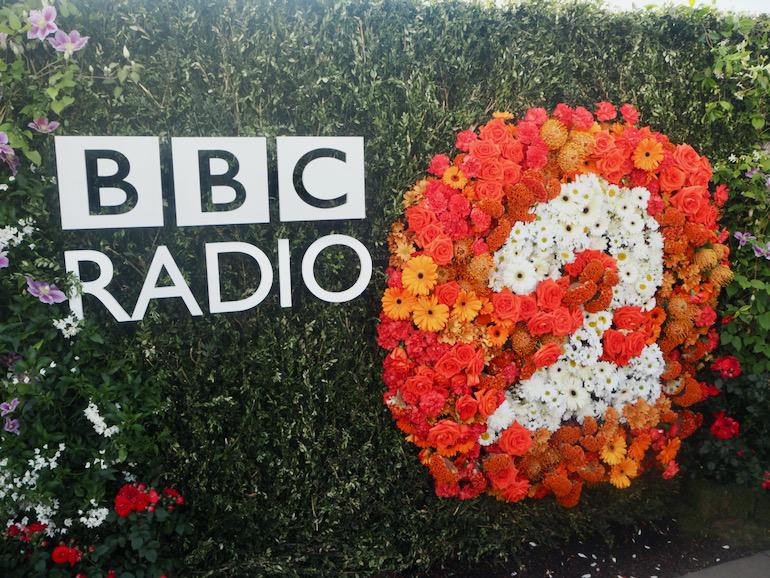 BBC Radio 2 sign at the 2016 RHS Chelsea Flower Show. Photo Credit: © Ursula Petula Barzey.
The RHS Chelsea Show Today
The planning cycle for the RHS Chelsea Flower Show lasts fifteen months. It takes 800 people thirty-three days to build the show.
There are over 100 exhibits in the Great Pavilion and around 270 stands. The Pavilion is 12,000 square metres (130,000 square feet). That is enough room to park 500 London buses and is the equivalent of 3,230 average British gardens.
The Great Pavilion is a hub of colour, scent and expertise with growers from all over the world showcasing their finest blooms. The RHS Potting Bench in the Pavilion is an enclosed space where you can drop in to listen to and watch demonstrations from experts on all things floral.
A more formal feature is the RHS Talks Theatre with space for around 100 people. Here you can hear speakers, conversations and panel presentations spanning horticulture and gardening. All events here are ticketed.
Today's RHS Chelsea Flower Show site spans 23 acres with 500 exhibitors and gardens, including Show, Artisan and Fresh Gardens. Show Gardens are built from scratch in 19 days and dismantled in five days. Over 2,000 tonnes of the earth are moved every year.
The Royal family are huge fans and attend every year. Queen Elizabeth II is the patron of the RHS and has attended all but twelve shows. Prince Harry became involved after Jinny Blom designed a garden in aid of his charity, Sentebale.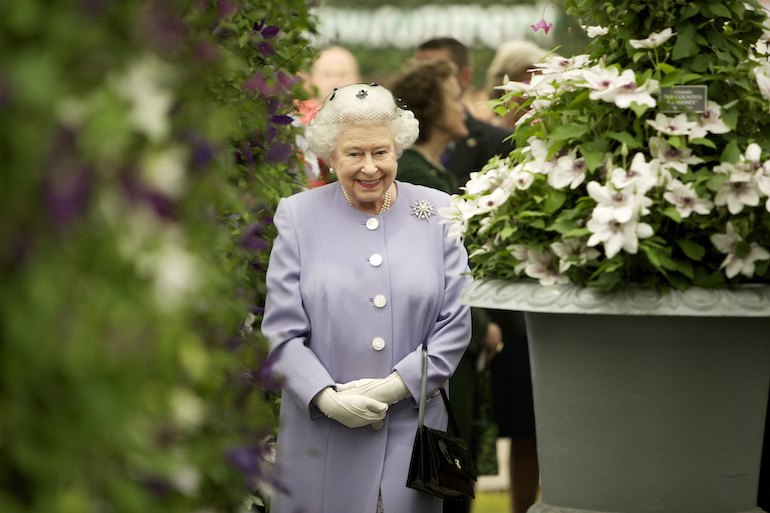 Queen Elizabeth II arriving at the 2012 RHS Chelsea Flower Show. Photo Credit: © Andy Paradise via Wikimedia Commons.
The show is becoming a magnet for garden-loving celebrities, attracting stars such as actors Rosamund Pike and Demi Moore and cook Mary Berry. Benedict Cumberbatch has taken his mum, Jerry Hall was spotted enjoying ice cream and Gwyneth Paltrow launched a healthy eating book there.
Garden designers face getting 'the Chelsea flu.' Designer Nina Baxter said: 'It is difficult to concentrate with lorries going past, and when people are stone-cutting, you get covered in dust. Everyone hopes for a big strong wind overnight.'
There will be changes in the pavilion and we can expect to see growers going peat-free, using biodegradable pots, biological pest controls and harvesting rainwater for irrigation.
It takes fourteen judges and two moderators twenty-five hours to judge the gardens at the show and fifty judges and four moderators three hours to judge exhibits in the Pavilion.
In 1979 turnstiles were added after it became too crowded. Numbers were capped at 157,000 a day, now increased to 166,000.
Visitors at the RHS Chelsea Flower Show prefer Pimms over champagne. Staff serve 32,145 pints of Pimms in show week to 9,051 glasses of champagne.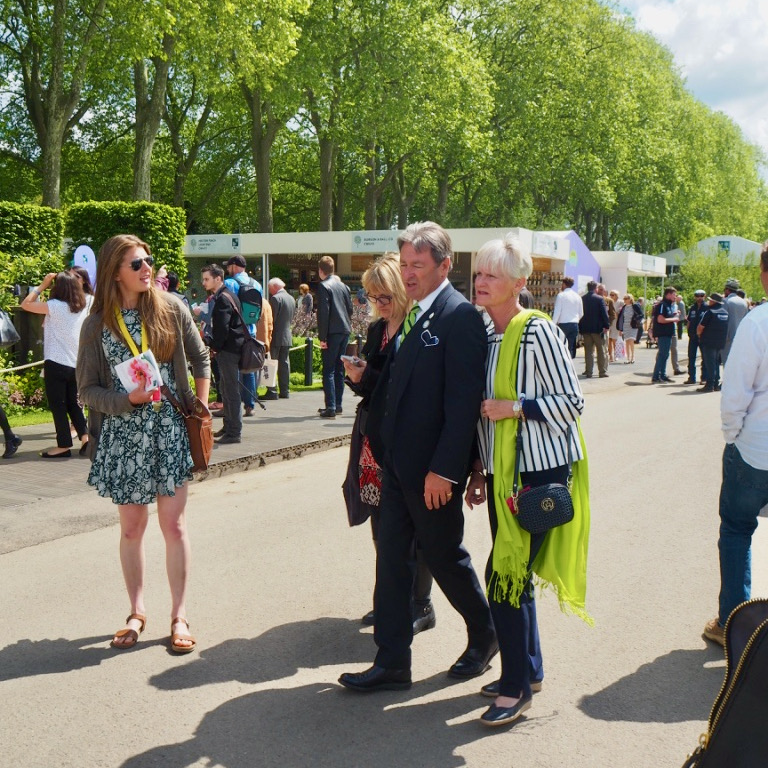 Alan Fred Titchmarsh, English gardener and TV presenter at RHS Chelsea Flower Show. Photo Credit: © Ursula Petula Barzey.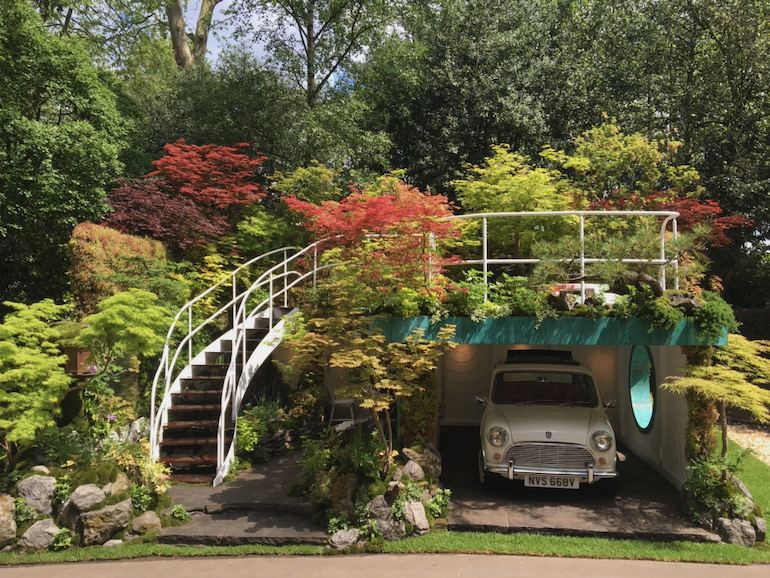 Senri-Sentei Garage Garden was designed by Kazuyuki Ishihara at the 2016 RHS Chelsea Flower Show. Photo Credit: © Ursula Petula Barzey.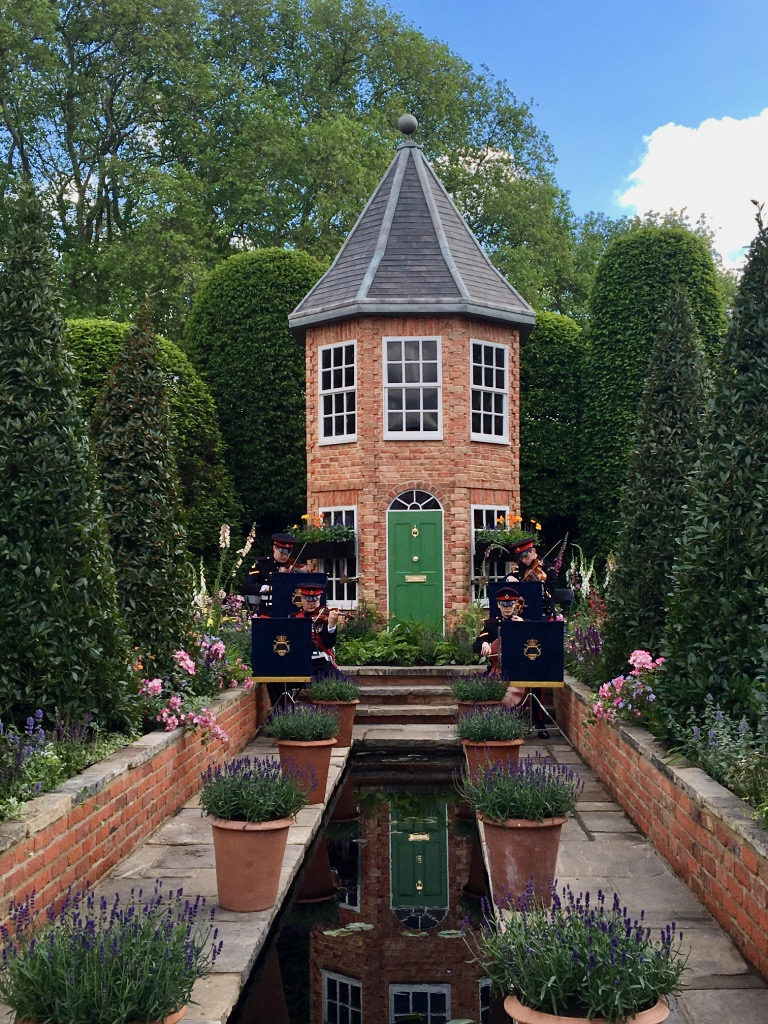 Harrods British Eccentrics Garden was designed by Diarmuid Gavin at the 2016 RHS Chelsea Flower Show. Photo Credit: © Ursula Petula Barzey.