Coaches usually take one of three roads into/out of London – the M3, the M4 or the M40. I was coming back to London along the last recently and talked about football (soccer to our American visitors) as we passed Wembley and the Battle of Britain as we passed RAF Northolt and between the two I gave a mention to Art Deco architecture as we passed the Hoover Building. It is one of London's most distinctive structures, built in the early 1930s and at its peak 3,000 people were employed there making and selling upright vacuum cleaners.
During the Second World War the factory was converted to make aeroplane parts some of which were used by the Spitfire and Hurricane fighter planes based at nearby Northolt. One of the spitfires can be seen at the entrance to the airfield, which is now used mainly by Lear-jetting businessmen, whose fancy machines can be seen on the runway as you pass. At this time it had to be disguised so that it could not be seen by the Luftwaffe pilots who would have targeted it.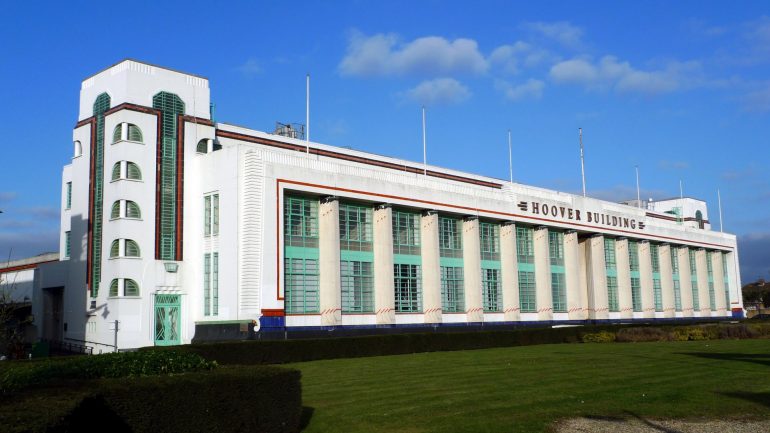 The Hoover Building. Photo Credit: © Ewan Munro via Wikimedia Commons.
The German architectural critic Nikolas Pevsner would have been happy if it had been bombed to oblivion, describing it as "perhaps the most offensive of the modernistic atrocities along this road". Pevsner was a demi-god to many lovers of old buildings but I have always been rather fond of the Hoover and enjoyed pointing it out, sometimes even going to the trouble of differentiating between Art Deco (1920s/30s simple lines, elegant curves) and Art Nouveau (turn of the century, more ornate, inspired by nature).
The site fell into decline in the 1980s when Hoover moved out after reductions in demand and strikes. It was taken over by the Tesco in 1989 in a brave attempt to bring new life to the building, which was never entirely convincing. I remember contacting them to find out more about their plans for the site but they never got back to me. Tesco is a supermarket which sells you cheap food and wasting resources on architectural history was never part of their mindset or mission.
As is the way of things in London nowadays the building is now being converted into apartments by a property company called IDM who are building sixty six luxury flats there. (From factory to supermarket to luxury flats – that is almost a potted history of modern London.) They have a greater commitment to preserving its features than Tesco ever did and, in a nice touch, are including Hoover appliances such as an oven, dishwasher and washer/dryer in every flat. I think they should go the whole hog and add a vacuum cleaner as well. After all, at one time the company's products were so dominant in the market that to 'Hoover' a room always meant to run over the carpet with a vacuum cleaner.
Note: This blog post was first published on Diary of a Tourist Guide.