ZSL London Zoo's most majestic residents were given a Royal welcome on 17 March when the brand new Asiatic lion exhibit was officially opened by Her Majesty The Queen and HRH The Duke of Edinburgh. The Royals toured the Zoo's new Land of the Lions and spent time talking to staff about the incredible interactive experiences the exhibit will have on offer to visitors. Lionesses Indi, Rubi and Heidi even showed their respect for the Royal guests – coming to within a whisker of Her Majesty and His Royal Highness in the exhibit's stunning 3600 Temple Clearing.
Director General Ralph Armond said: "We were delighted to welcome Her Majesty and His Royal Highness to ZSL London Zoo this morning to open our new Land of the Lions exhibit. Her Majesty actually opened our previous lion enclosure 40 years ago and it was an honour to have her return with HRH The Duke in the year of her 90th birthday."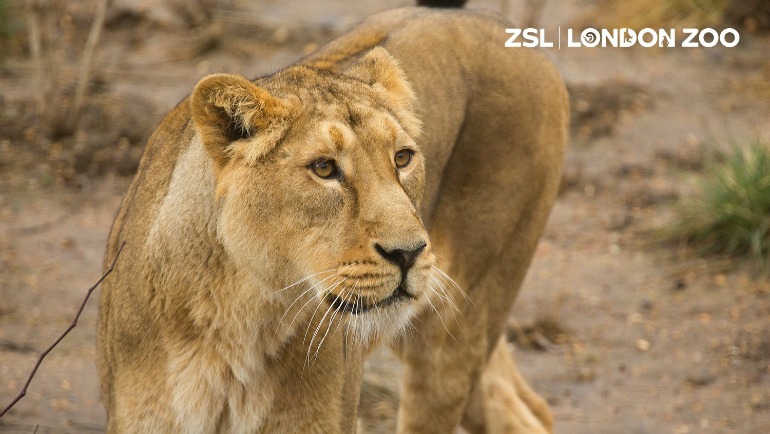 ZSL London Zoo – Meet Rubi! The oldest of our three sisters and also the shyest. You'll most likely find her doing her own thing, lying in the sun or watching her sisters Indi and Heidi play. Photo Credit: ©ZSL London Zoo.
Land of the Lions, a £5.2m development at the ZSL London Zoo, has been created to transport visitors from the heart of London to the vibrant setting of Sasan Gir in Gujarat, India – the last remaining stronghold of Asiatic lions – and bring visitors closer than ever to the big cats.
Covering an expanse of 2,500 sqm (27,000 sqft), visitors will enter Land of the Lions through a grand stone archway, pick up a 'park pass' at the Gir Tourist Information centre and explore Sasan Gir Train Station – where the odd lion might be spotted snoozing on the tracks – before being awed by the exhibit's incredible centrepiece, a 360° Temple Clearing where the big cats will roam just metres away, separated only by fine wires.