On Friday 26 February, Guide London which represents the members of the Association of Professional Tourist Guides visited Westminster City Hall. Chair Steven Szymanski and Branch Councillors Ruth Polling and Dolly Collins and Guidelines editor Tina Engström were delighted to be invited to Westminster City Hall to meet the Lord Mayor Christabel Flight and Councillors Jacqui Wilkinson and Nickie Aiken. We must thank Dolly for organising this as a Westminster resident and also a personal friend of the Lord Mayor and Councillor Wilkinson.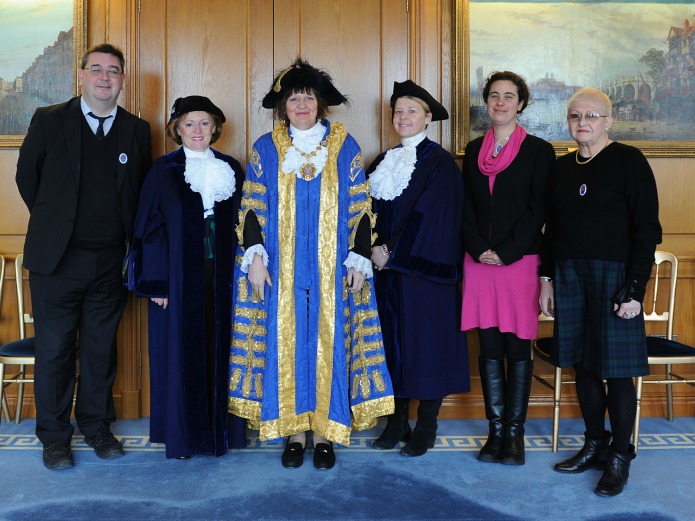 From left to right: Steven Szymanski, Councillor Jacqui Wilkinson, Lord Mayor Christabel Flight, Councillor Nickie Aiken, Ruth Polling and Dolly Collins. Photo Credit: ©Tina Engstrom.
As well as taking tea in the Mayor's parlour on the 18th floor with fabulous views across to Buckingham Palace, the Victoria Memorial and St James's Park, we were also able to see the fantastic silverware held by the Council, the amazing art collection and even got to hold the  Ceremonial Mace! Of course, the primary objective of the meeting was to introduce ourselves to the City Council and to say how we as Blue Badge Tourist Guides can help them understand issues that affect us in our working lives within Westminster, for example, provision of adequate refreshment and toilet facilities, traffic flows and parking. It is not going to be an overnight fix, but we have initiated dialogue and hope to build on this to be able to have a harmonious working relationship with Westminster City Hall.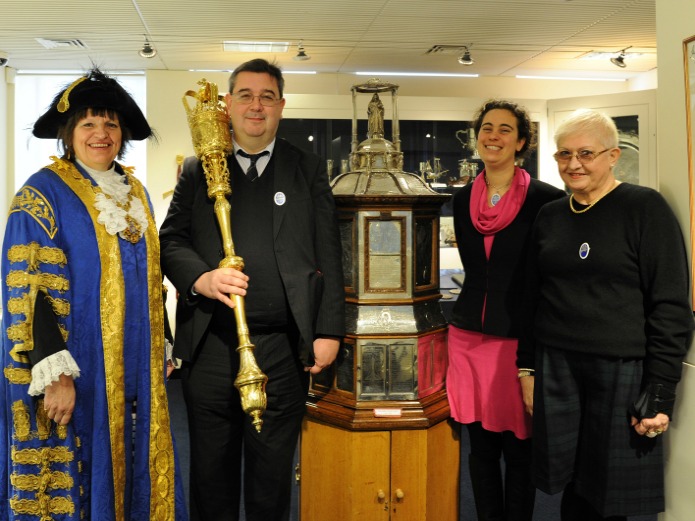 The visit included a look at the Mayoral Plate Room, where the ceremonial mace and other municipal treasures of the City of Westminster are kept. Photo Credit: ©Tina Engstrom.