28 successful candidates from the 2013-2015 London Blue Badge Course were presented with their badges by the Reverend David Stanton, Canon of Westminster at a ceremony in Westminster Abbey on Thursday 16 April.
Of the successful candidates now Blue Badge Tourist Guides, 14 are qualified to guide in languages other than English, including Danish, Dutch, French, German, Italian, Japanese, Mandarin, Portuguese, Russian and Swedish. The Association for Professional Tourist Guides prize for the Best Overall Practical Exams was presented to Sophie Malerba by Steven Szymanski. The Katrine Prince Award (Guide of the Year) was presented to Fiona Lukas by Martin Prince. Jennifer Bassanavar and Wendy Hammerston were thanked for their time as course director and course administrator.
PRIZE WINNERS:
Guide of the Year (Katrine Prince Award): Fiona Lukas
Best Overall Written Exam (Guild Prize): Sean Moran
Best Overall Practical Exams (APTG Prize): Sophie Malerba
Best Coach Presentation: Cathy Bayly
Best St Paul's Presentation: Alex Lacey
Best Westminster Abbey Presentation: Lesley Gardner
Best Tower of London Presentation: Simon Whitehouse
Go Make It Happen Prize: Xiao Yu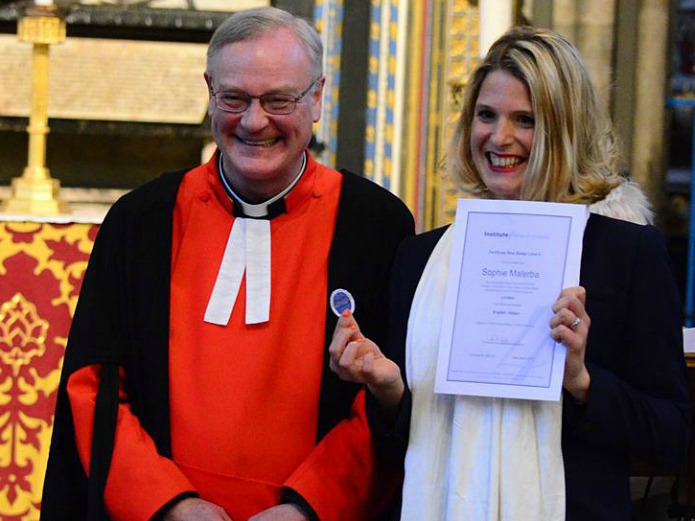 Association of Professional Tourist Guide prize winner Sophie Malerba receiving her Blue Badge from the Reverend David Stanton, Canon of Westminster. Photo: ©Alex Lacey.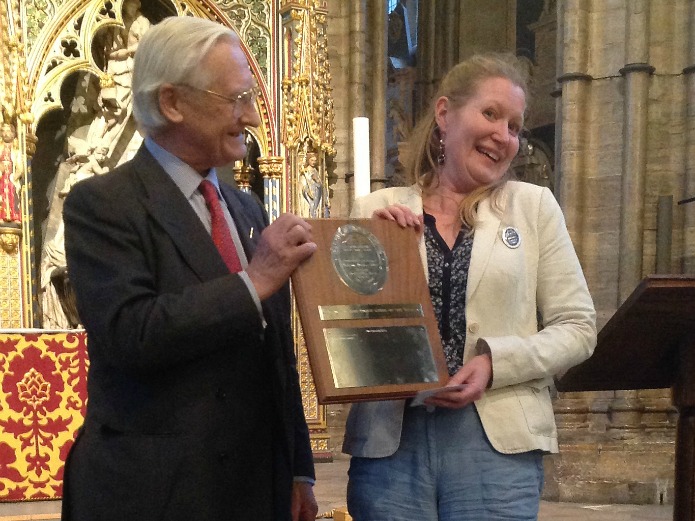 Guide of the Year Fiona Lukas receiving her Katrine Prince Award from Martin Prince. Photo: ©Dawn Blee.