28 New London Guides Receive Their Blue Badges
28 successful candidates from the 2013-2015 London Blue Badge Course were presented with their badges by the Reverend David Stanton, Canon of Westminster at a ceremony in Westminster Abbey on Thursday 16 April.
Of the successful candidates now Blue Badge Tourist Guides, 14 are qualified to guide in languages other than English, including Danish, Dutch, French, German, Italian, Japanese, Mandarin, Portuguese, Russian and Swedish. The Association for Professional Tourist Guides prize for the Best Overall Practical Exams was presented to Sophie Malerba by Steven Szymanski. The Katrine Prince Award (Guide of the Year) was presented to Fiona Lukas by Martin Prince. Jennifer Bassanavar and Wendy Hammerston were thanked for their time as course director and course administrator.
PRIZE WINNERS:
Guide of the Year (Katrine Prince Award): Fiona Lukas
Best Overall Written Exam (Guild Prize): Sean Moran
Best Overall Practical Exams (APTG Prize): Sophie Malerba
Best Coach Presentation: Cathy Bayly
Best St Paul's Presentation: Alex Lacey
Best Westminster Abbey Presentation: Lesley Gardner
Best Tower of London Presentation: Simon Whitehouse
Go Make It Happen Prize: Xiao Yu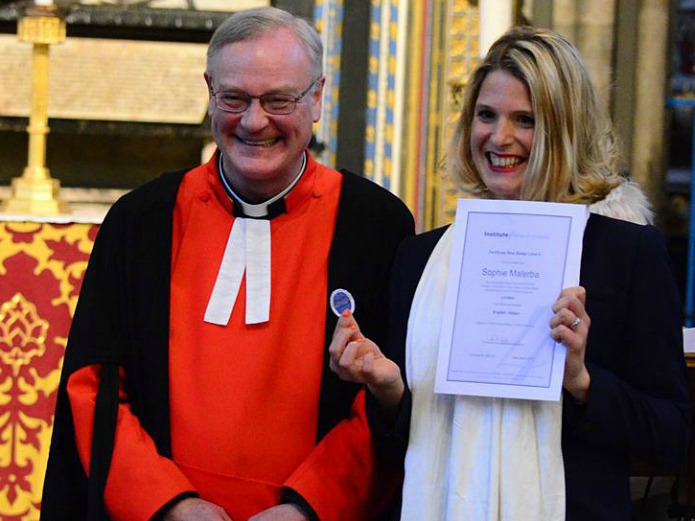 Association of Professional Tourist Guide prize winner Sophie Malerba receiving her Blue Badge from the Reverend David Stanton, Canon of Westminster. Photo: ©Alex Lacey.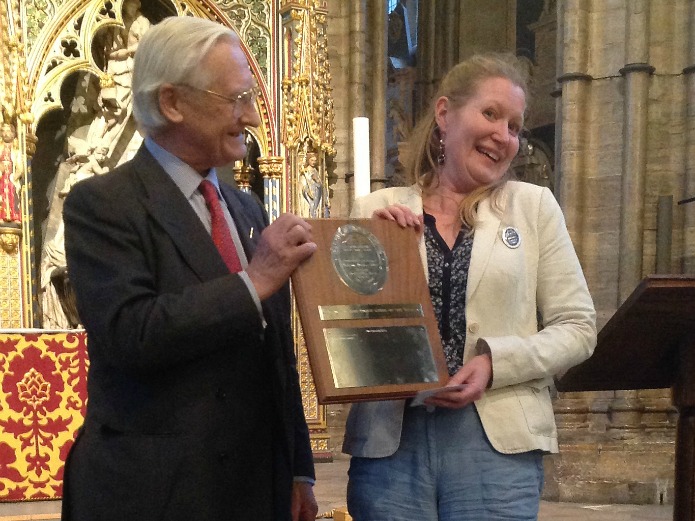 Guide of the Year Fiona Lukas receiving her Katrine Prince Award from Martin Prince. Photo: ©Dawn Blee.

You may also like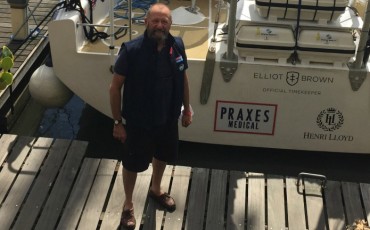 05 October 2015
On Sunday, 30 August we gathered with tears in our eyes and hankies at the ready to wave off our friend, colleague and now officially super-hero, Brian Harlock, on the greatest adventure of his life – the 10th Clipper Round the World Race. Over the next 11 months he will sail as part of the crew (The Warriors as they are known) on board Mission Performance, one of twelve 23-metre yachts, on a route that covers 9 countries, stops at 14 ports, covers 6 continents, and involves 6 ocean crossings and 40,000 nautical miles. During this time they are likely to get through 561,600 tea bags and 10,200 loaves of bread (baked on board by the crew) and they will use over 1,000 wet wipes per week! Those of you who visited him on board before he sailed will understand the importance of the wet wipes!
Read more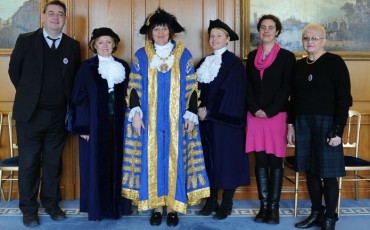 28 March 2016
On Friday 26 February 2016, Guide London which represents the members of the Association of Professional Tourist Guides visited Westminster City Hall. Chair Steven Szymanski and Branch Councillors Ruth Polling and Dolly Collins and Guidelines editor Tina Engström were delighted to be invited to Westminster City Hall to meet the Lord Mayor Christabel Flight and Councillors Jacqui Wilkinson and Nickie Aiken.
Read more