RHS Hampton Court Palace Garden Festival
Hampton Court Palace, East Molesey, Surrey, KT8 9AU
Tickets range from £22.75 to £72.75+

The RHS Hampton Court Palace Garden Festival is a wonderful summer's day out packed with gardening inspiration, stunning floral displays and workshops in a majestic setting. The world-class Show Gardens will be full of inspirational ideas to try at home: from contemporary to traditional, there will be plenty of tips for revitalising green spaces. There'll also be experts galore at the show, all on-hand to teach you new skills and crafts that you can use throughout your home, garden and beyond. Visitors to the RHS Hampton Court Palace Garden Festival can also browse stalls brimming with gardening products and delicious food, as well as picking up treats for friends and family.
Hampton Court Palace Tour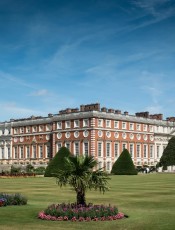 Explore historic Hampton Court Palace and its stunning landscaped gardens
A Hampton C0urt Palace Tour is unmissable because . . .
Hampton Court is one of…
VIEW TOUR NOW