Soundscapes (8 July – 6 September 2015) is part of the National Gallery Inspires programme of exhibitions. Drawn from the National Gallery collection, the exhibitions take a fresh view of National Gallery paintings. Soundscapes has commissioned musicians and sound artists to select a painting from the collection and compose a new piece of music or sound art in response. Immersive and site-specific, the experience encourages visitors to 'hear' the paintings and 'see' the sound.
The artists are:
Nico Muhly is a composer of chamber, orchestral, and sacred music, as well as opera and ballet. Muhly's chosen painting is The Wilton Diptych.
Susan Philipsz OBE is a Turner Prize-winning sound artist. Philipsz's chosen painting is Holbein's Ambassadors.
Jamie xx is a DJ, music producer, and member of Mercury Prize-winning band, The xx. Jamie's chosen painting is Van Rysselberghe's Coastal Scene.
Gabriel Yared is an Oscar-winning film composer, whose work includes the scores for 'Betty Blue', 'The English Patient' and 'The Talented Mr Ripley'. Yared's chosen painting is Cézanne's Bathers.
Chris Watson is one of the world's leading recorders of wildlife and natural phenomena. Watson's chosen painting is Gallen-Kallela's Lake Keitele.
Janet Cardiff and George Bures Miller are internationally renowned installation and sound artists. Cardiff and Miller's chosen painting is Antonello da Messina's 
St Jerome in his Study.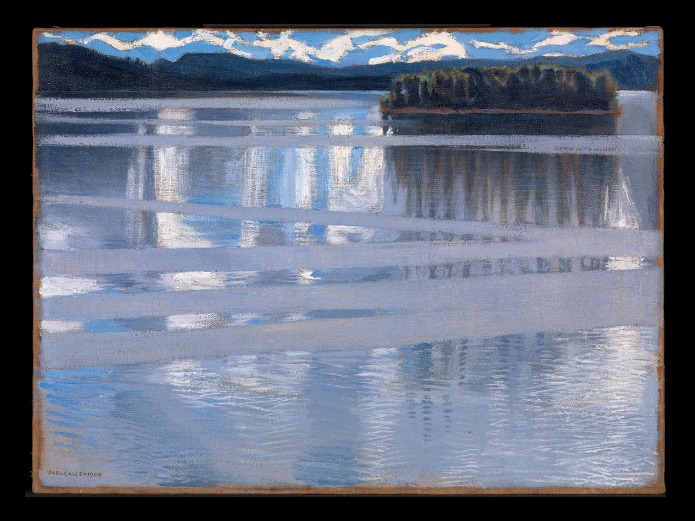 Akseli Gallen-Kallela, Lake Keitele, 1905. Photo: © The National Gallery, London.