England's two greatest artists were contemporaries born a year apart who lived much of their lives in London and were both inspired more by the natural world than the people who inhabited it. Beyond that they had little in common. JMW Turner (1775 – 1851), the son of a Covent Garden barber, led a bohemian life, had several liaisons but never married and specialised in dramatic representations of the power of nature. In contrast, John Constable (1776 – 1837) came from the country to the capital, portrayed a calm, unchanging England and was devoted to one woman, whom he waited for, married and then mourned when she died from consumption after bearing seven children in nine years.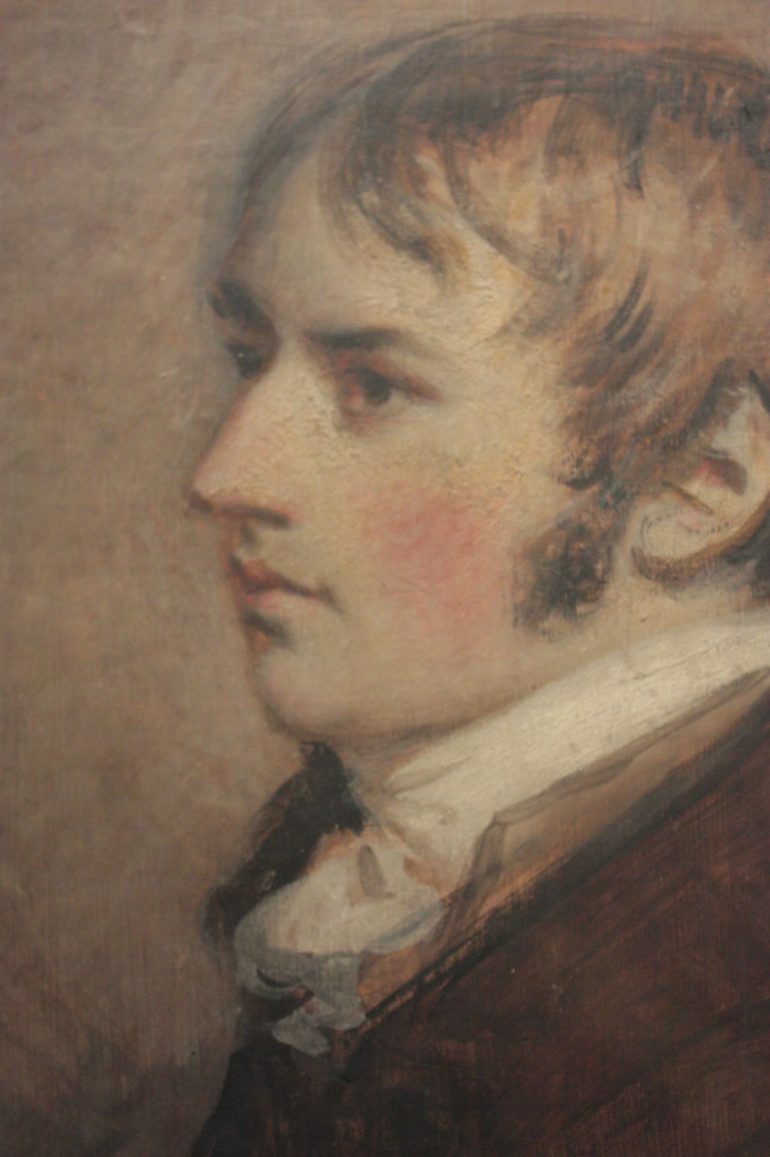 John Constable portrait by Daniel Gardner, 1796. Photo Credit: © Stephencdickson via Wikimedia Commons.
JMW Turner was portrayed by Timothy Spall in Mike Leigh's film Mr Turner in which John Constable makes a brief appearance as a rather ineffectual character, no match for the charisma of his self-confident rival. The two men knew each other and their paths often crossed but they were never close. John Constable led a quiet life but had great inner steel and persuaded his father that he could make a living from painting rather than take over the family milling firm. His wife's family looked down on the painter and he had to wait until he was forty before he could marry his childhood sweetheart Maria Bicknell. They were married at St Martin's in the Fields by his friend John Fisher, later Bishop of Salisbury. Some of Constable's best known pictures are of Salisbury Cathedral, made when he and Maria visited the Fishers.
A less well known part of John Constable's life was his fondness for Brighton, which is the subject of an exhibition at the Brighton Art Gallery. Maria suffered from tuberculosis and so Constable took his wife out of the smoky air of London to the coast where her health improved dramatically. He did not care much for the town, which he referred as 'Piccadilly by the sea', or 'those hideous, amphibious animals – the bathing women', who helped visitors out into the sea in bathing machines. However, he loved to wander into the countryside and along the coast and, like Turner, painted the chain pier stretching out into the English Channel. One small watercolour of a storm breaking out over the sea could almost be by Turner.  The exhibition was curated by the artist Peter Harrap who found that he was living next door to the house where John and Maria stayed when in Brighton, which was a brisk twenty minute walk from he gallery.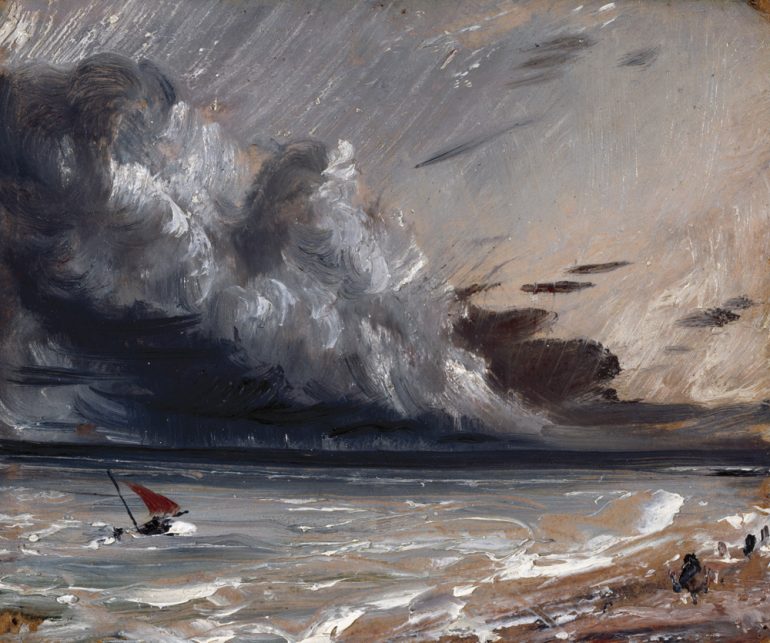 John Constable, R.A. (1776-1837), Seascape Study- Boat and Stormy Sky, ca. 1824-1828. Photo Credit: © Royal Academy of Arts, London; Photographer: John Hammond.
Despite the health-giving properties of Brighton, Maria died in 1828 at the age of forty-one soon after the birth of their seventh child. Constable was inconsolable and never remarried, looking after his children by himself before he too died at the age of sixty. He and Maria are buried in the parish church of Hampstead, where they made their London home, and which he often painted, portraying the area long before it became a mecca for actors and writers.
John Constable was much admired in France and sold as many paintings there as he did in England. The gold cross he was given by the French Academy is on display in the Brighton exhibition. This quiet, determined man was, however, the most British of painters and said that 'he would rather be a poor man in England than a rich man abroad'.
The Constable and Brighton exhibition at the Brighton Museum & Art Gallery will be on display until 8th October 2017.
Note: This blog post was first published on Diary of a Tourist Guide.